Spider Cupcakes.
I have made several Halloween treats this fall and love them all. I can't say Spider Cupcakes are my all-time favorite, but I sure can say they are one of my all-time favorites. Ha-Ha!!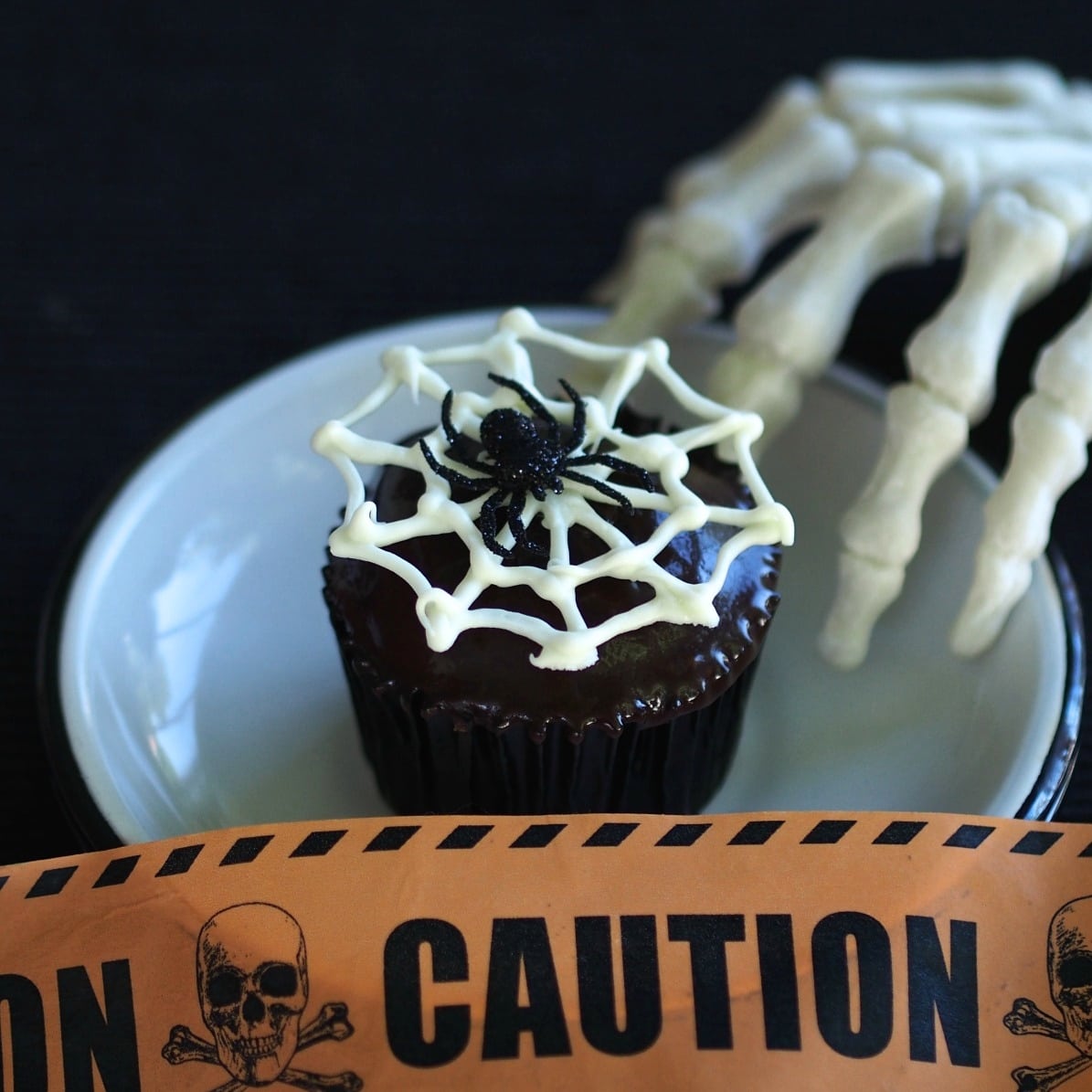 It is hard to believe Halloween is right around the corner – eight days to be exact. How does time go by so quickly?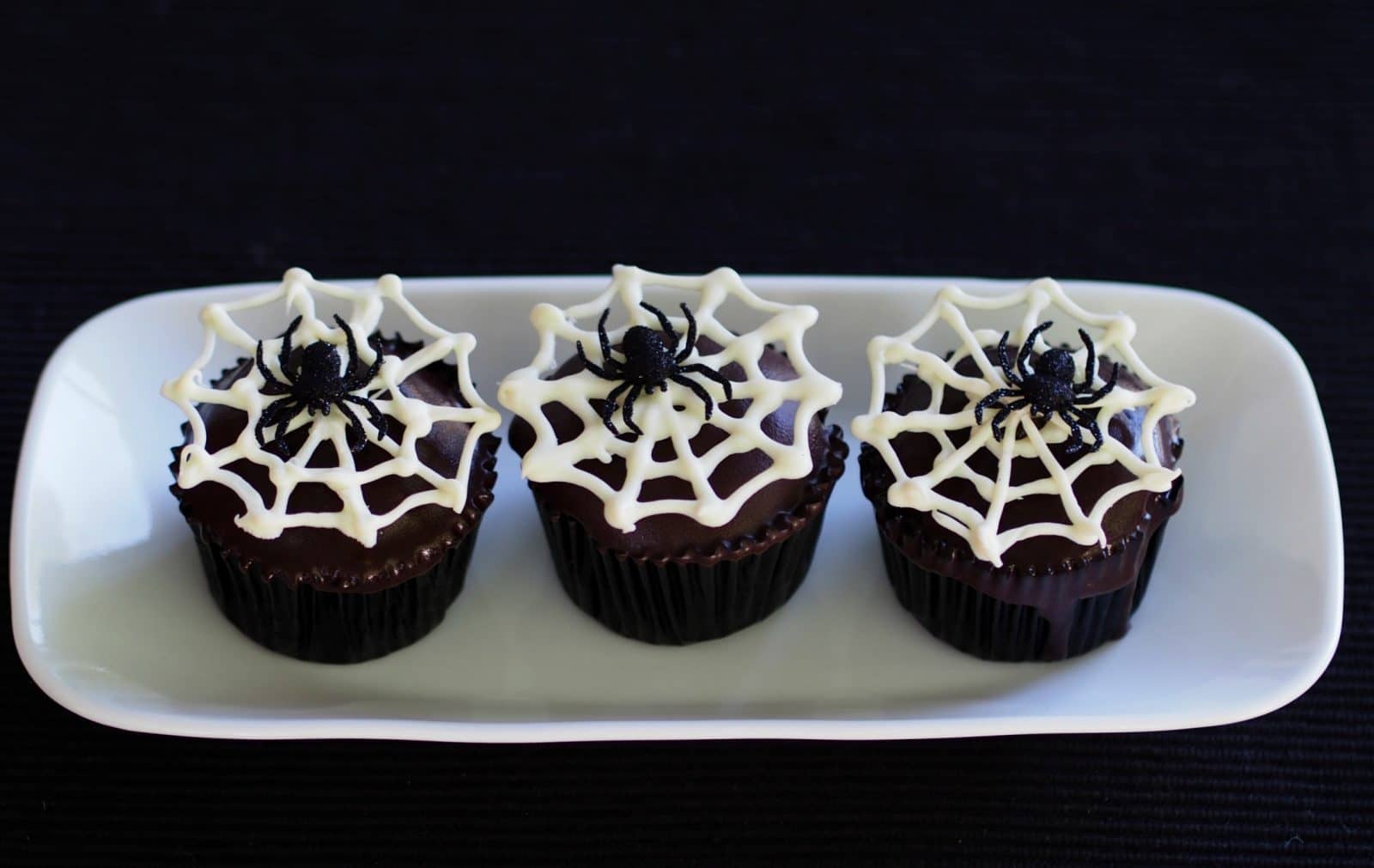 My friend, Callie, and I made Spider Cupcakes the day she came over to work with me in the kitchen. Callie is eleven years old and we had a terrific time making several Halloween goodies: Halloween Glow Cake, Meringue Ghosts, Witch Pretzel Fingers and Candy Apple Cookies.  Here she is dipping cooled cupcakes in dark chocolate fudge melted frosting (easy ganache).
Spider Cupcakes are much easier to make than they look, and by using this spider web template from Country Living magazine to make the white chocolate spider webs along with 3D spider stickers, box cake mix for the cupcakes and dark-chocolate fudge frosting, they take no time at all.
All of the Halloween treats shared on Simply Sated this year are relatively simple.  If you make any of them, please take some photos to send me.  I would love to see your creative efforts.
Enjoy!

Spider Cupcakes
Ingredients
1

box Chocolate cake mix

1

tub Dark-Chocolate Fudge frosting

2

cups

white-chocolate chips or white candy melts

3

D Spider stickers or spiders - edible or not
Instructions
For the Cupcakes:

Preheat oven to 350F.

Place cupcake liners in muffin pans.

Fill 2/3 full with cake batter.

Bake for 15-20 minutes at 350F, then set on a cooling rack until cool.

Once cupcakes are cool, frost with the glaze/ganache found below.

-------------------------------

For the Spider Webs:

While the cake is baking, print enough spider web templates to make 24 cupcake toppers. (http://www.countryliving.com/cm/countryliving/data/spiderwebs.pdf).

Line a cookie sheet with white parchment paper.

Slide spiderweb template underneath paper - it should be possible to see the spider webs through the parchment paper.

Place white-chocolate chips or White Candy Melts in a microwave-safe bowl and heat on high per package directions.

Place in a decorator's bag fitted with a small round tip (no. 2 or no. 3 tips work well) or pour into a Ziploc bag and snip off one tip to create a piping sleeve.

To make each web, use decorator's bag or piping sleeve to trace white chocolate along design - , making sure to connect all lines.

Repeat process until you've created 24 toppers.

Chill the spider webs in refrigerator until hardened.

After cupcakes are baked, cooled and glazed, use a flat spatula to remove webs carefully from parchment and position one on each cupcake.

----------------------------------------

For the Glaze/Ganache:

Place frosting into a microwave-safe bowl and microwave on high for 10 seconds.

Stir and repeat until thin enough to pour.

Dip cooled cupcake upside down into frosting, submerging the top - try not to touch the liner if possible.

Let excess drip off before turning upright.

Repeat the process until all cupcakes are glazed.