Meringue Ghosts are the most fun Halloween treat – ever!! I came across this cute Haunted Ghost Cake on the King Arthur Flour blog after Halloween last year then waited almost a year to make these spooky guys.
King Arthur's recipe for the Meringue Ghosts was originally posted on the Joy of Baking website – a food blog I have followed and trusted for years, so I went to that site to do a little research. The video and instructions found here were so helpful and made my efforts at Meringue Ghosts making foolproof.  I highly recommend watching the video before making your own ghosts.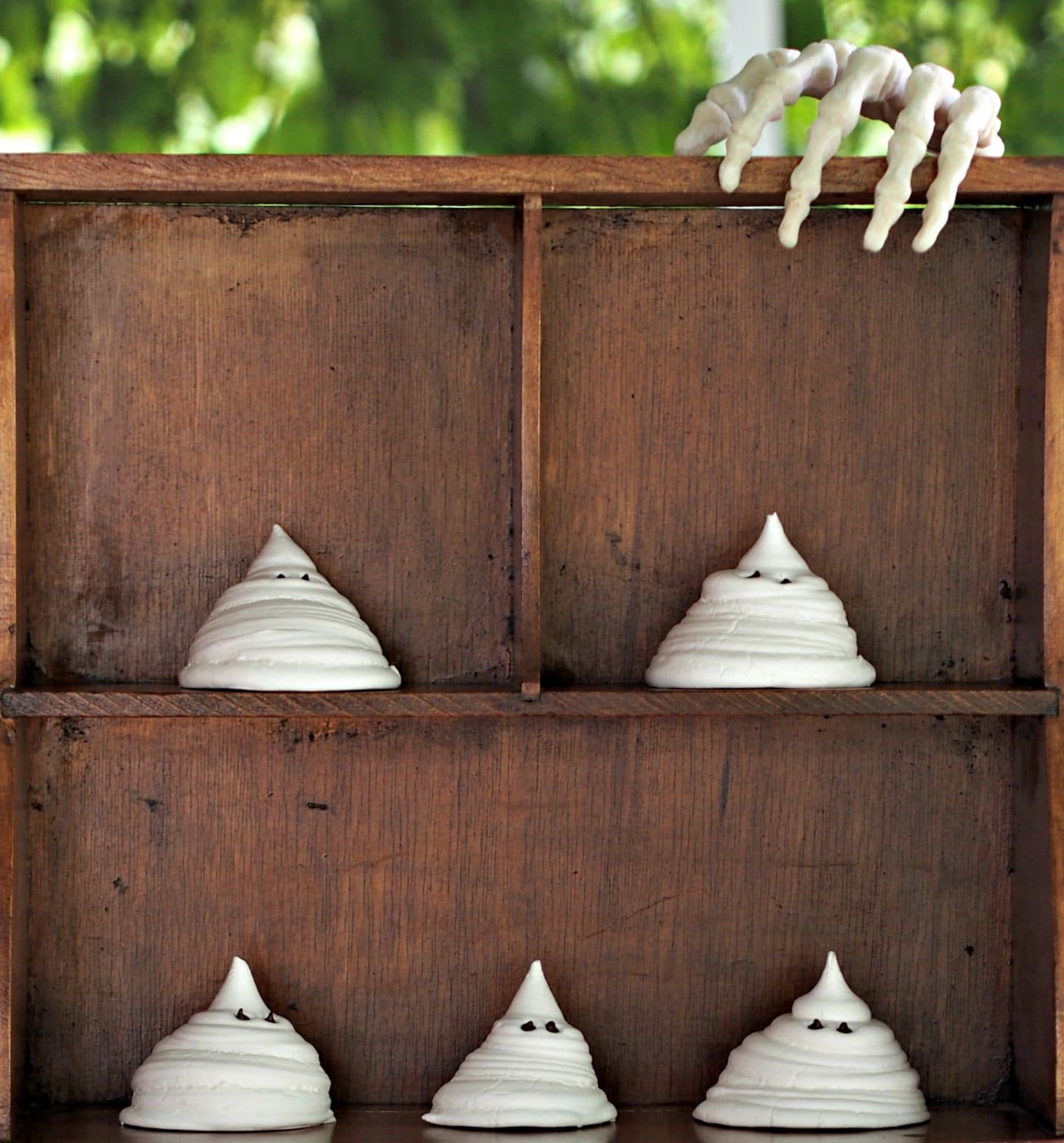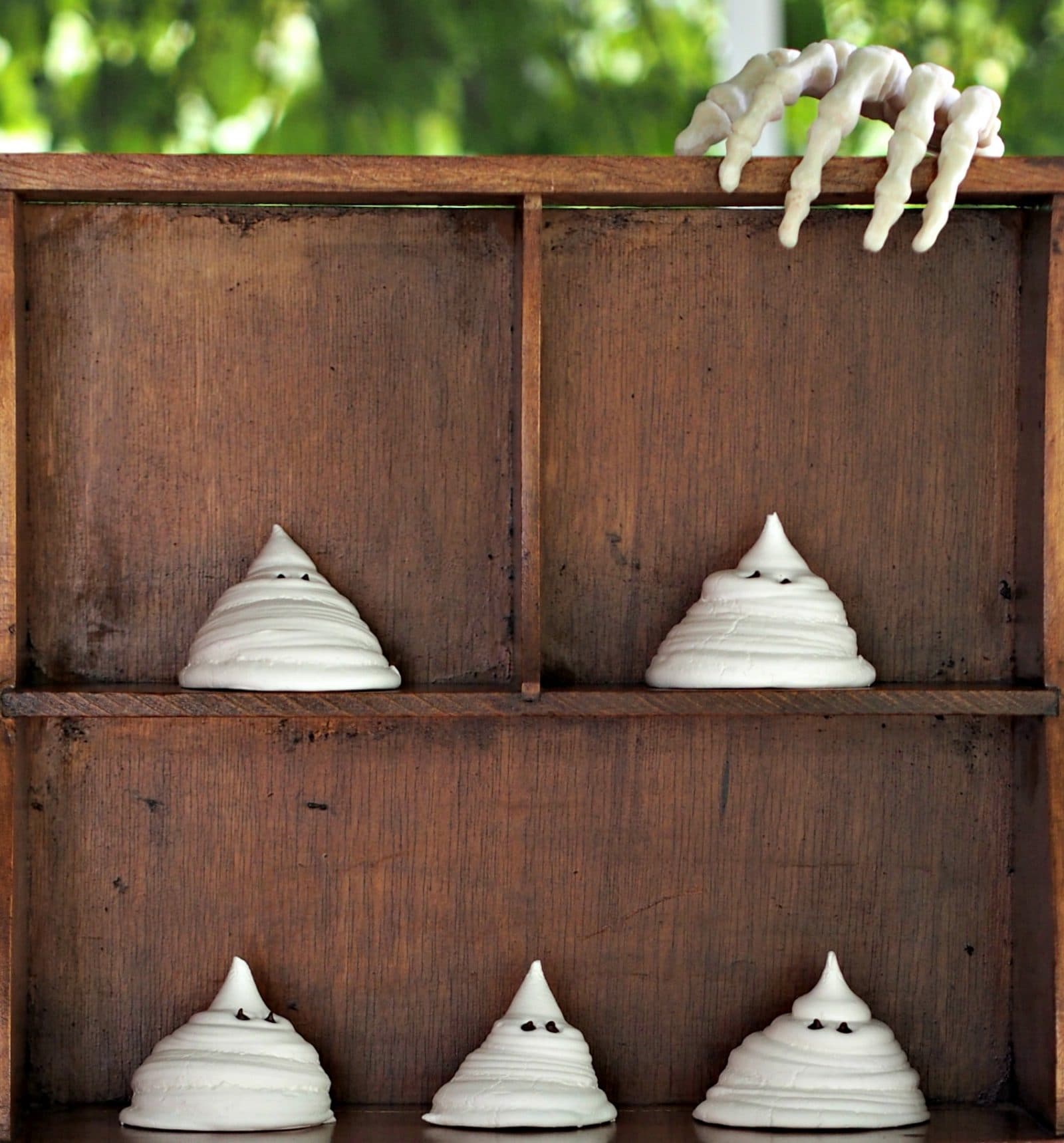 Meringue Ghosts are relatively easy so please don't be deterred. Instead, face your fears and be confident – these are just too adorable not to try.  As an added bonus they can be made several days before you need them, can be used as cake and cupcake decorations or as a delicious treat.  Even the accidental meringue slug seen below on the far left turned out darling.
Come back in a few days to see my friend Callie's and my Halloween Glow Cake. We love it and hope you do, too.
Have fun and let me know how your Meringue Ghosts turn out.
Enjoy!

Meringue Ghosts
Meringue Ghosts are great for using as cake or cupcake decorations or served as individual treats. Inspiration: King Arthur Haunted Ghost Cake (http://www.kingarthurflour.com/blog/2013/10/22/haunted-ghost-cake-fantastically-frightening-frosting/)
Total Time
8
hours
20
minutes
Ingredients
4

large egg whites

120 grams – room temperature

½

teaspoon

cream of tartar

1

cup

200 grams superfine or caster sugar (If you don't have superfine sugar, you can to make it by taking regular granulated sugar and processing it in a food processor for 30 seconds or so. (Do NOT process the sugar too long or you will make powdered sugar.)

½

teaspoon

pure vanilla extract or white vanilla flavoring

Miniature chocolate chips for eyes
Instructions
Preheat oven to 200F.

Place the rack in the center of the oven.

Line a baking sheet with parchment paper.

Prepare a pastry bag by fitting it with a 1/2-inch (1.25 cm) plain tip.

Place the egg whites in a completely clean bowl or an electric mixer.

Using the whisk attachment of an electric mixer and beat the egg whites on medium-low speed until foamy.

Add cream of tartar and continue beating the whites until they hold soft peaks.

Add sugar slowly while beating continually.

Beat until stiff peaks are formed.

Beat in the vanilla extract.

**To test if the meringue is done, rub a little between your thumb and finger. If it still feels gritty then the sugar has not fully dissolved; continue beating until it feels smooth.

To secure the parchment paper on the cookie sheet, place a dab of meringue under each corner.

Spoon the meringue into the pastry bag and pipe 2-3 inch high mounds of meringue on the parchment paper.

Add the miniature chocolate chip eyes and bake meringue ghosts 1 ½ hours. They should be dry and crisp on the outside.

Turn off the oven, crack the oven door open and leave meringues in the oven several hours or overnight to dry.

The Meringue Ghosts will keep up to seven days at room temperature.

Enjoy!
Recipe Notes
Meringue Ghosts can be made 1-4 inches tall, but when cooking, all ghosts on the cookie sheet should be relatively the same size.