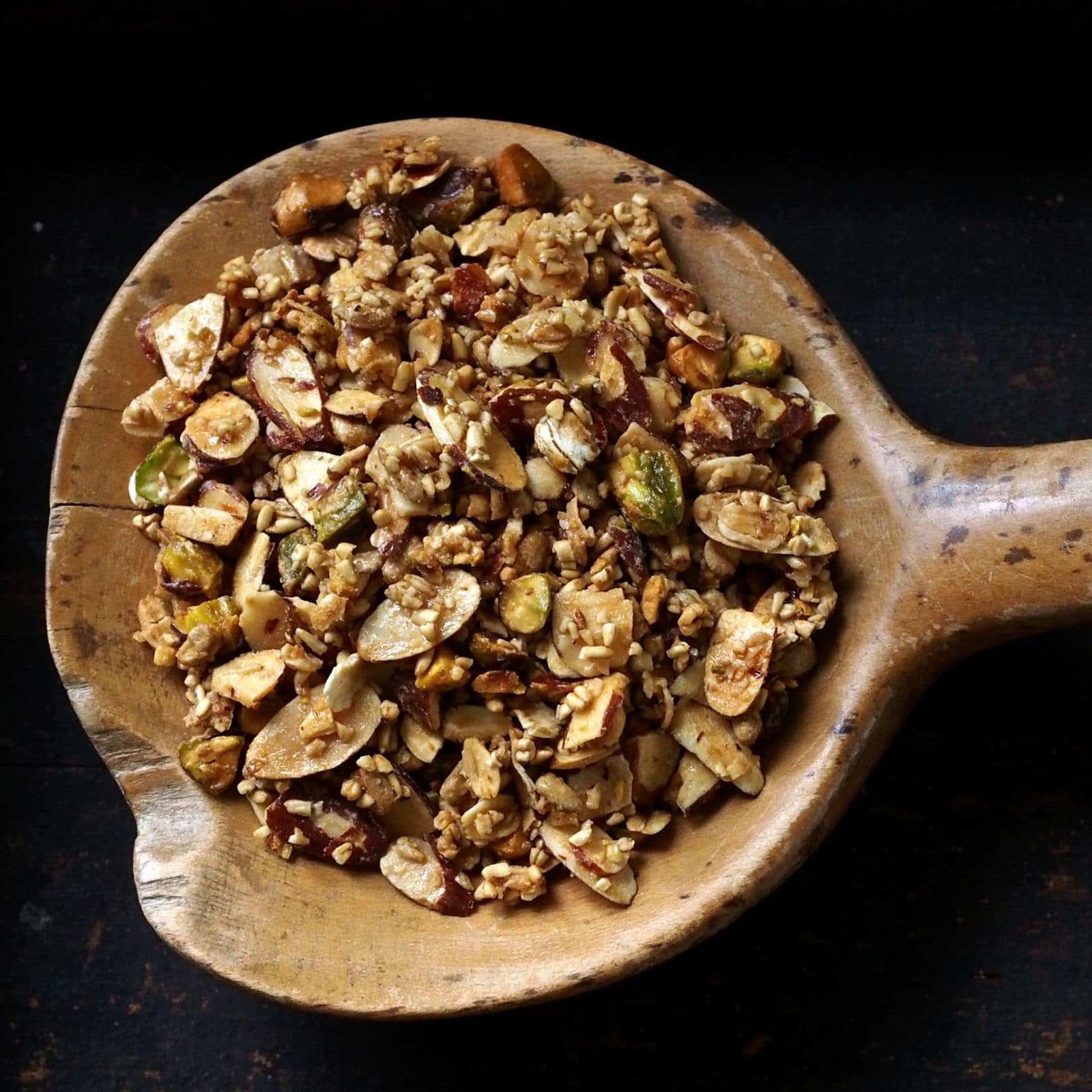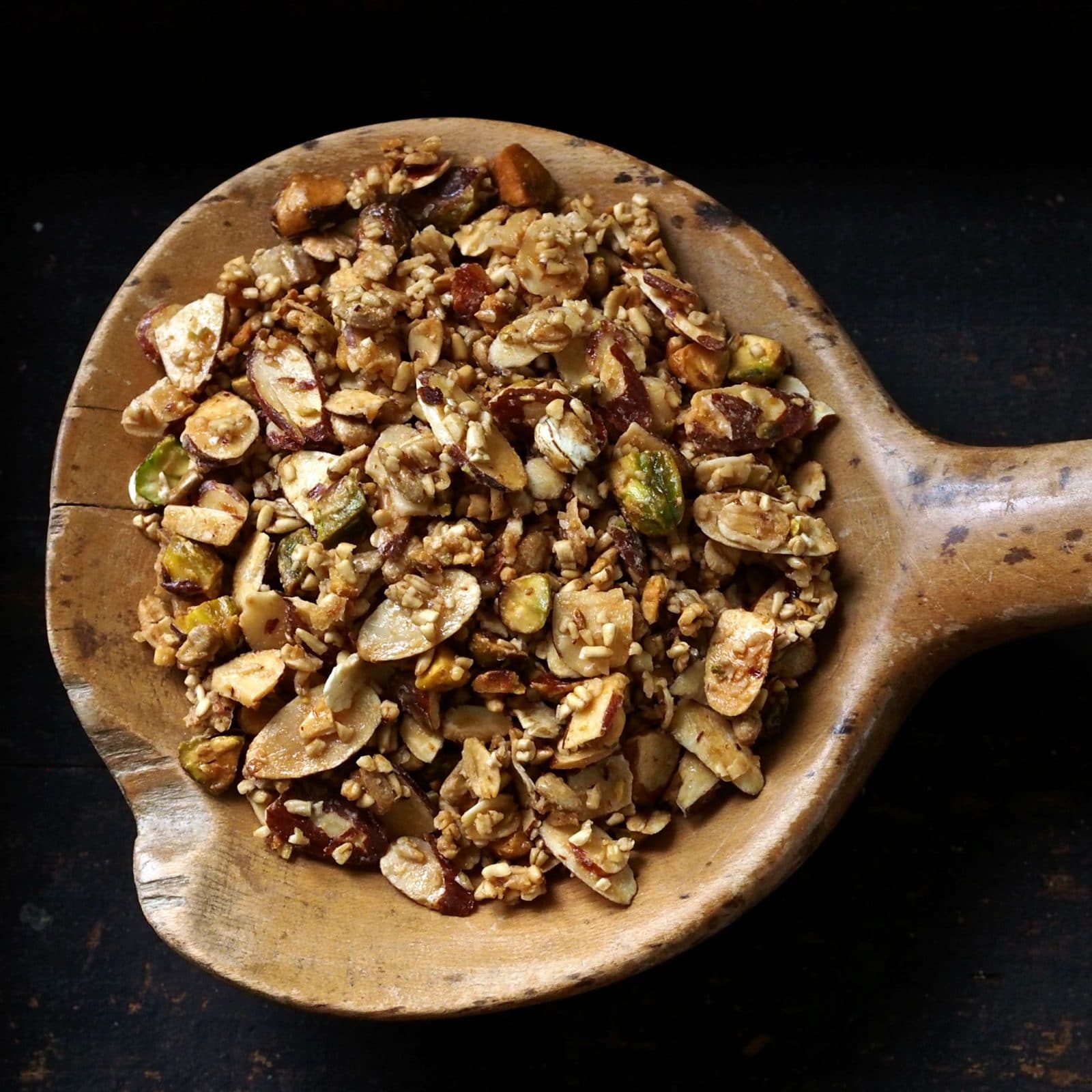 Maple Granola has nothing to do with Frito Corn Chips, even so, I have been humming the Frito's 1970's jingle all morning. The jingle is all about the crunchy goodness of a snack, so humming it this morning does make sense. I'm not losing my marbles after all – whew!
Munch, munch, munch a bunch of Frito's Corn Chips. It's not polite to smack your lips, but you can't help it with Frito's Corn Chips. Munch, munch, munch a bunch of Frito's Corn Chips! (Jerry Abbs)
Maple Granola also has lots of munch. Oats, almonds, pistachios and sunflower seeds are bathed in pure maple syrup then cooked to crunchy perfection. It is also healthy with a dose of natural sweetness and a dash of salt.
Texture adds an interesting element to most foods and Maple Granola is ideal for adding that crispy touch. Try sprinkling it on smoothies, cereal, fruit, French toast, cobbler, ice cream, pancakes, cakes & cupcakes, muffins, salads, gratins, puddings, cookies & bars and sweet potatoes. It is great as a mid-afternoon energy boost and is the perfect after-school snack with or without added fruit.
One of my favorite ways to use Maple Granola is layering it with fruit and yogurt for a healthy morning meal. Later this week, I'll share my Blueberry Peach Yogurt Parfaits – the perfect way to kick-start your day.
With all my thoughts on Maple Granola, the afore-mentioned jingle continues its loop through my semi-subconscious, but this time with a twist: "Munch, munch, munch a bunch of may-ple…gra-noe-luh!"
I can't help it – I mean the humming. I hum all the time and don't realize I'm humming. I'm not sure if it is an affliction or a blessing. Maybe I should ask my spouse, because the answer probably depends on being me or being one who lives with me. None-the-less, I hum often and think it derives from having a certain joy in my heart.
It must also be genetic. My dad used to hum and my daughter has since she was an infant. When she was in 1st grade, she told me her teacher once asked the class, "Who's humming?" Bec kept very still and tried to hum stealthily after that. One December, I overheard my dad humming the Chatty Cathy jingle. I was pretty sure "Santa" would fulfill my Christmas wishes that year and he did.
In 1981, I heard the song Talkin' Baseball on the radio. Since the song mentioned several KC Royals, I wanted to give it to my husband for his birthday, but it was nowhere to be found. In desperation, I called the radio station and they were kind enough to make a recording. I was so excited about my gift, but ended up ruining the surprise. When my husband heard me happily humming the song, my secret was exposed.
Keep your ears open, you never know what secrets might be revealed.
"Hum, hum-hum, hum…hummm!!"
Enjoy!
Maple Granola
Maple Granola tastes great and is great for you. Oats, almonds, sunflower seeds and pistachios bathed in pure maple syrup and baked for that perfect crunch.
Ingredients
½

cup

steel-cut oats

½

cup

regular rolled oats

oatmeal

1

cup

slivered

sliced or chopped oven roasted almonds

½

cup

honey roasted sunflower seeds

pine nuts or pepita seeds

½

cup

shelled pistachios

chopped

½

cup

100% real maple syrup

1/8-1/4

teaspoon

coarse kosher salt

----------------------------

Optional Additions:

Dried Fruit

add after baking

Other nut varieties

Coconut

Ground Cinnamon

nutmeg or pumpkin spice
Instructions
Preheat oven to 350F.

Mix together all granola ingredients except salt. Pour onto the parchment or foil-lined baking sheet sprayed with cooking oil.

Sprinkle with coarse salt.

Bake 25-30 minutes or until golden and crispy.

Remove from the oven to cool.

If desired, add dried fruit and mix well.

Enjoy!

*See notes for freezing.
Recipe Notes
*Maple Granola (without dried fruit) freezes beautifully. Place in double freezer bags and squeeze out as much air as possible. Seal and freeze up to 3 months. Remove the amount needed from the freezer and add dried fruit when ready to eat.