Classic Caesar Salad – there is so much to love. Crispy and leafy romaine lettuce, freshly shredded Parmigiano-Reggiano cheese & freshly ground black pepper, Homemade Garlic Parmesan Croutons drizzled with a creamy, umami-infused dressing. This is the ultimate Classic Caesar Salad.
When I say Classic Caesar Salad, I mean as "classic" as I can make it. It may not be Julia Child's version of classic, but it is mine and it's terrific.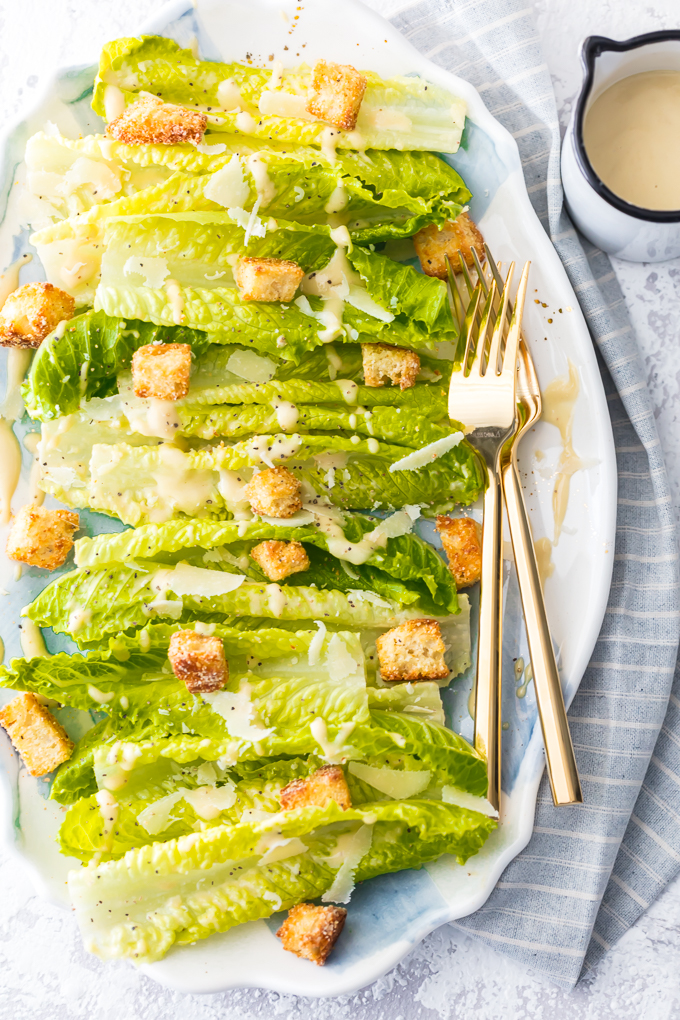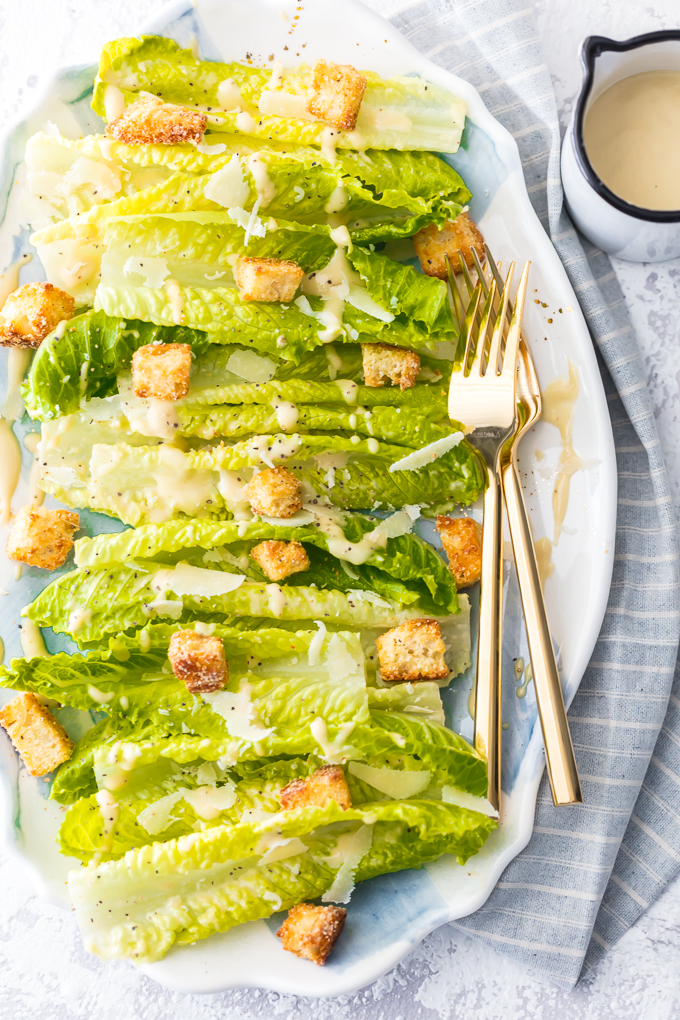 There is so much to learn and share about Classic Caesar Salad, and we have two people to thank for that…Julia Child (for sharing) and Caesar Cardini (for creating).
Here is an interesting article, including vintage photos, about the history, and the arguments debunking the history, of Caesar Salad. From: Food History – "The History of Caesar Salad".
"According to Caesar's daughter Rosa, on July 4th 1924 the salad was created on a busy weekend at Caesar's Restaurant. It is said that Caesar was short of supplies and didn't want to disappoint the customers so he concocted this salad with what was on hand. To add a flair to this he prepared it at the table. This story is not certifiable however but it very well could have happened. I can vouch for the fact that this happens frequently in the restaurant business. The salad soon became a hit and people came to the restaurant just to get the salad. In particular the Hollywood set loved Caesars."
While some family members and friends dispute this story, Julia's own story supports it. Here is Julia's story per LaBelle Cuisine
Julia: "I am probably one of the few people around who saw the real
Caesar Cardini making his salad. I was about 9 when my parents took
me to his restaurant in Tijuana, just the other side of the border from
San Diego. They were so excited when big jolly Caesar himself came
to the table to make the salad, which had already been written up and
talked about everywhere. And it was dramatic: I remember most clearly
the eggs going in, and how he tossed the leaves so that it looked like a
wave turning over.
My version is quite close to the original, and you can see it is really a
very simple salad. Use small, tender whole leaves, real Parmigiano-
Reggiano – none of the fake stuff – and the 1-minute egg for creaminess
(though you can substitute 1 teaspoon of mayonnaise for the egg). But
you don't want herbs and anchovies and things like that – then you
have adulterated it."
"According to Chef Caesar Cardini's daughter, with whom I talked at length before doing this recipe for our TV show some years ago, the original
contained no anchovies. However, you may certainly add them if
you wish, mashing them into a puree with a bit of olive oil and
tossing them in before adding the cheese."
"When Caesar Cardini first served his famous salad in the early 1920s,
he used just the hearts of the romaine lettuce, the tender short leaves
in the center, and he presented them whole. The salad was tossed and
dressed, then arranged on each plate so that you could pick up a leaf
by its short end and chew it down bit by bit, then pick up another. How-
ever, many customers didn't like to get their fingers covered with egg-
and-cheese-and-garlic dressing, and he changed to the conventional
torn leaf. Too bad, since the salad lost much of its individuality
and drama. You can certainly serve it the original way at home —
just provide your guests with plenty of big paper napkins. And plan
to be extravagant."
I'm placing my bets on Caesar and Julia. If I can't trust Julia, whom can I trust?
My Classic Caesar Salad recipe was born from collaboration. Four chefs, (cough-cough), well three real chefs and one I call chef, worked diligently over the past two weeks creating this masterpiece. My team consisted of Mark Bittman (NYT fame), J.Kenji López-Alt (Serious Eats and Food Lab fame), Julia Child (Global fame) and…me (re: Cookie Break). (I just had to throw that in to give me props.)
I had a wonderful time with my team. We all have special gifts and I gleaned every bit of information I could to patchwork this great recipe together.
Please don't skip any steps – each one adds a special touch. Please don't skimp on inferior ingredients, terrific olive oil and Parmigiano-Reggiano are musts.
Chop the leaves or leave whole – totally up to you – it doesn't affect the taste. Anchovies or not – totally up to you, but be sure to add Worcestershire either way.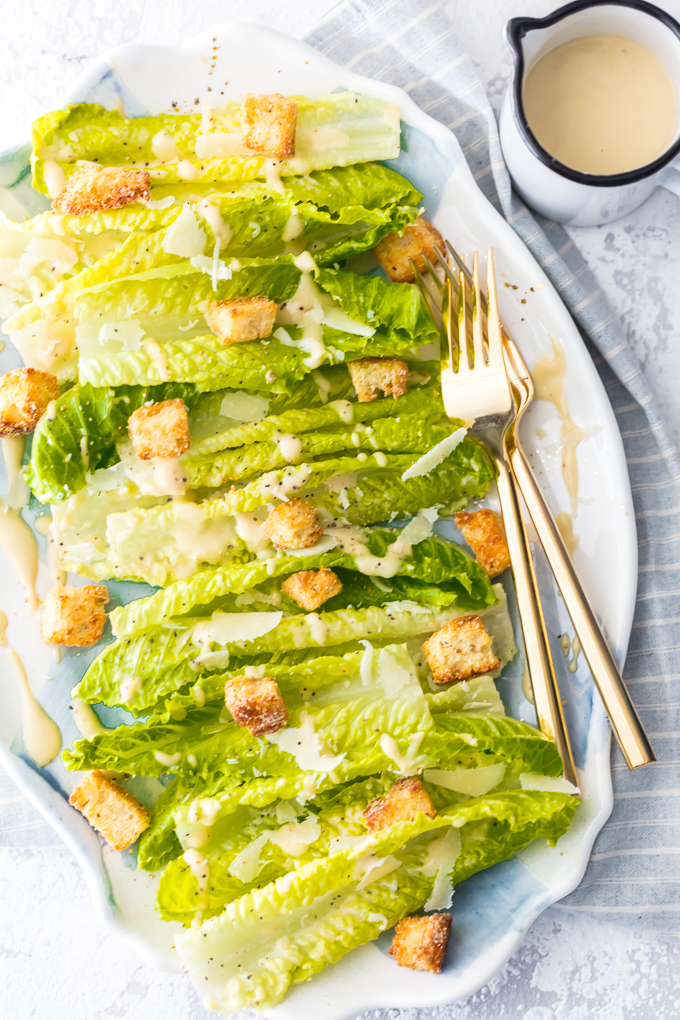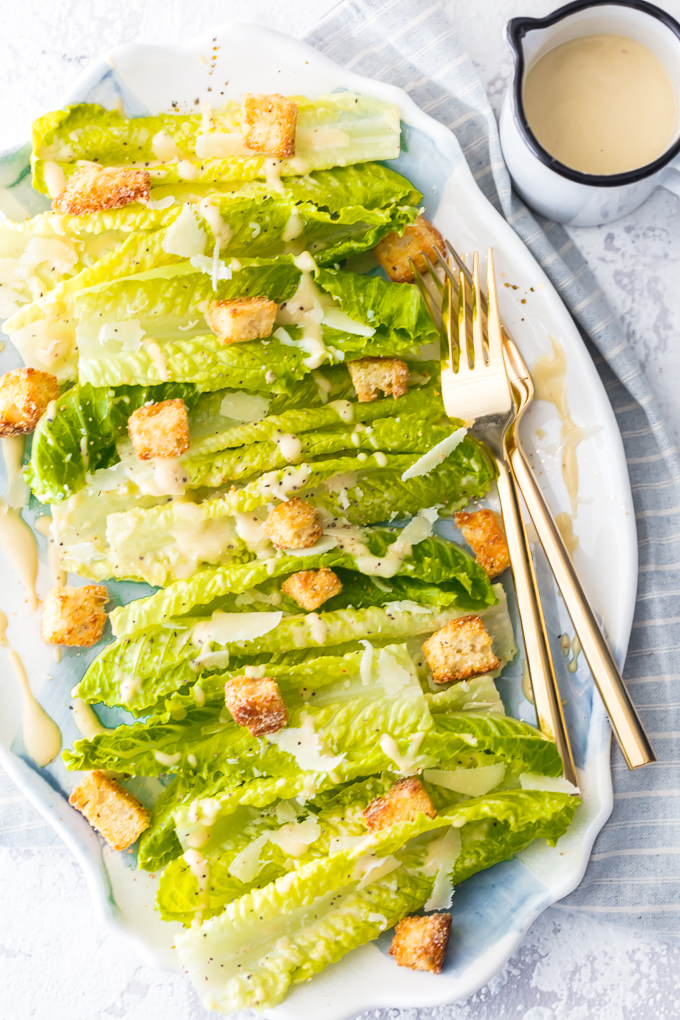 I hope you enjoy this recipe as much as I do. One of the wonderful "sides" of being a food blogger is learning about the history of foods. Most famous foods have many historical discrepancies and every recipe is born from collaboration. Maybe next time I can work with these famous chefs in-person. Oh, just how much fun would that be?!
Thank you Caesar Cardini and Julia Child. Bon Appetit and Enjoy!
Please check out a couple of my favorite recipes: Secret Ingredient Shrimp Cocktail and Chicken Tortilla Soup. These are both terrific recipes with layers of flavor.
Speaking of collaborative efforts. Becky 'Gall' Hardin, my daughter, and I have such a working arrangement and I couldn't keep this blog going without her help. She is the pro behind the camera – snapping, aiming, bending, stretching, creating and editing these beautiful photos. I love and thank you, Bec!
Classic Caesar Salad
Classic Caesar Salad - there is so much to love. Crispy and leafy romaine lettuce, freshly shredded Parmigiano-Reggiano cheese & freshly ground black pepper, Homemade Garlic Parmesan Croutons drizzled with a creamy, umami-infused dressing. This is the ultimate Classic Caesar Salad.
Ingredients
2

cups

Homemade Garlic Parmesan Croutons

recipe HERE

2

heads romaine lettuce

large leaves discarded

¼

cup

freshly grated Parmesan cheese

plus more cheese for shaving. (Parmigiano-Reggiano is best.)

For the Caesar Dressing:

3

anchovies

packed in oil, drained

2

large eggs

2

medium cloves garlic

halved

1½

tablespoon

freshly squeezed lemon juice

1

teaspoon

Worcestershire sauce

1

teaspoon

dry mustard

Freshly ground black pepper

½

cup

extra-virgin olive oil
Instructions
For the Lettuce:

Remove the large outer leaves from the lettuce, discard or save for another use.

Wash and gently dry the remaining lettuce leaves.

Carefully wrap the leaves in paper towels and refrigerate until ready to serve.

For the Caesar Dressing: Have all salad dressing ingredients ready.

In a small bowl, soak the anchovies in a bowl of water for 5 minutes. Drain and pat the anchovies dry. Mince the anchovies and mash to form a paste; set aside.

While anchovies soak, bring a small saucepan of water to a boil. Pierce a tiny hole in the large end of each egg with a pushpin. Boil the eggs exactly 75 seconds. Remove with a slotted spoon.

Rub the inside of a salad bowl with the cut sides of the garlic cloves.

Crack the eggs into the bowl and remove any whites clinging to the shells. Whisk the eggs and gradually add the lemon juice. Add mashed anchovies, Worcestershire, dry mustard and freshly ground black pepper; whisk to combine. Whisk in the olive oil in a slow drizzle until emulsified. Season with salt and more pepper, if needed. Keep dressing refrigerated, in an airtight glass container, until ready to serve. *See note.

To Serve:

If making a chopped salad, tear large leaves into smaller pieces and keep the smaller leaves intact.

If using whole leaves only, use leaves no bigger than 7 inches long.

Place the lettuce in a large bowl and drizzle with desired amount of dressing. Gently mix. Add 1-cup croutons and grated Parmigiano; toss gently.

Transfer salad to preferred salad bowl and sprinkle with additional croutons and shaved Parmigiano.

Serve immediately.

Enjoy!
Recipe Notes
*Note: If the dressing thickens when refrigerated, thin to desired consistency; whisk in small equal amounts of lemon juice, Worcestershire sauce and oil. Whisk until smooth and desired consistency.
**Note Adapted from Mark Bittman's Classic Caesar Salad