Rainbow Pepper Hummus Dip is tasty and gorgeous. It's also described with a 7-letter word…HEALTHY! It's a dip veggie-lovers love! It's a dip veggie-haters love! It's a dip children love, and it's a dip that will make you adored by the masses. So come on, join the Rainbow Pepper Hummus Dip party and you, too,  will be loved by all.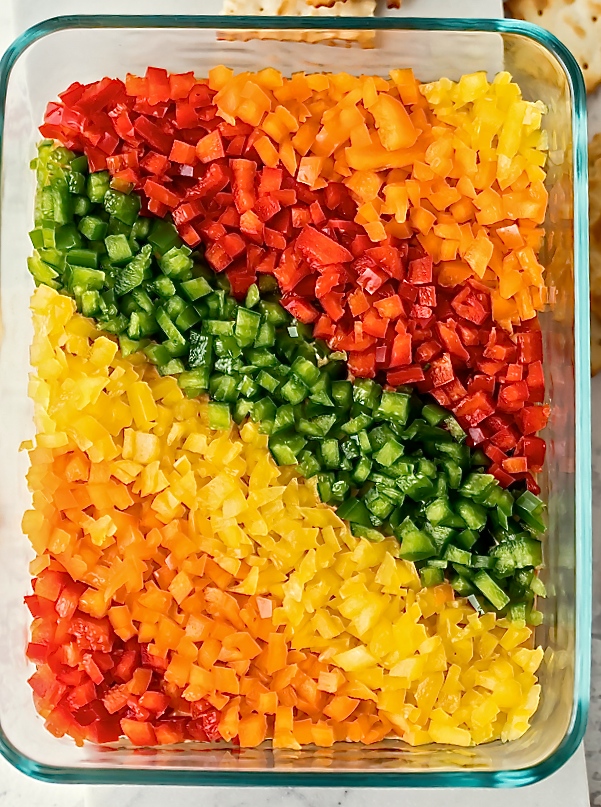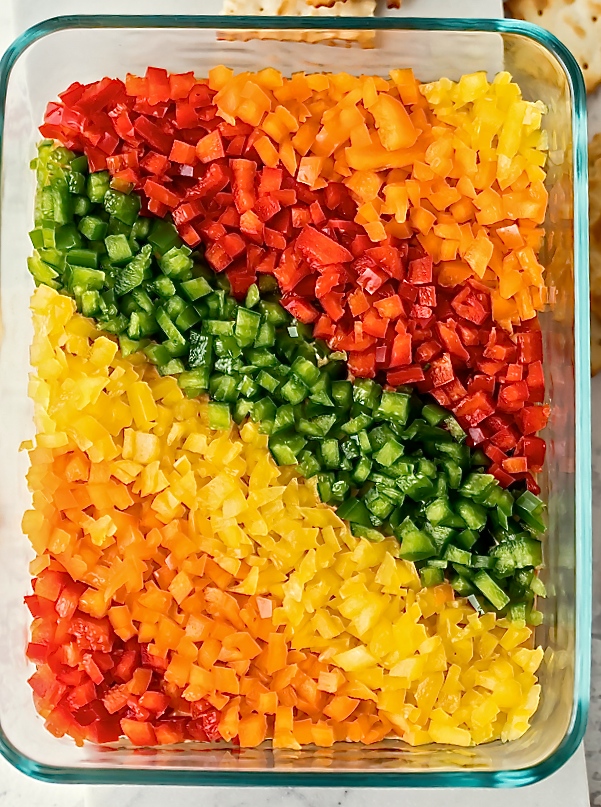 That is one powerful statement.  It is also a statement one could challenge, but it it's a challenge I'm confident the challenger would lose.
Rainbow Pepper Hummus Dip is beautiful in its simplicity.  Does that sound kind of crazy when talking about a dip or do you get what I mean? Seriously, how could a homemade dip be easier to make than hummus and bell peppers?
And…how could a hummus dip be prettier than this one with its red, orange, yellow and green; almost all the colors of the rainbow?
There is only one minor problem with this rainbow dip…it's missing the color purple.  If one can find me a blue or purple bell pepper, I will gladly add it to my Rainbow Pepper Hummus Dip.  Only then will my rainbow and my happiness be complete.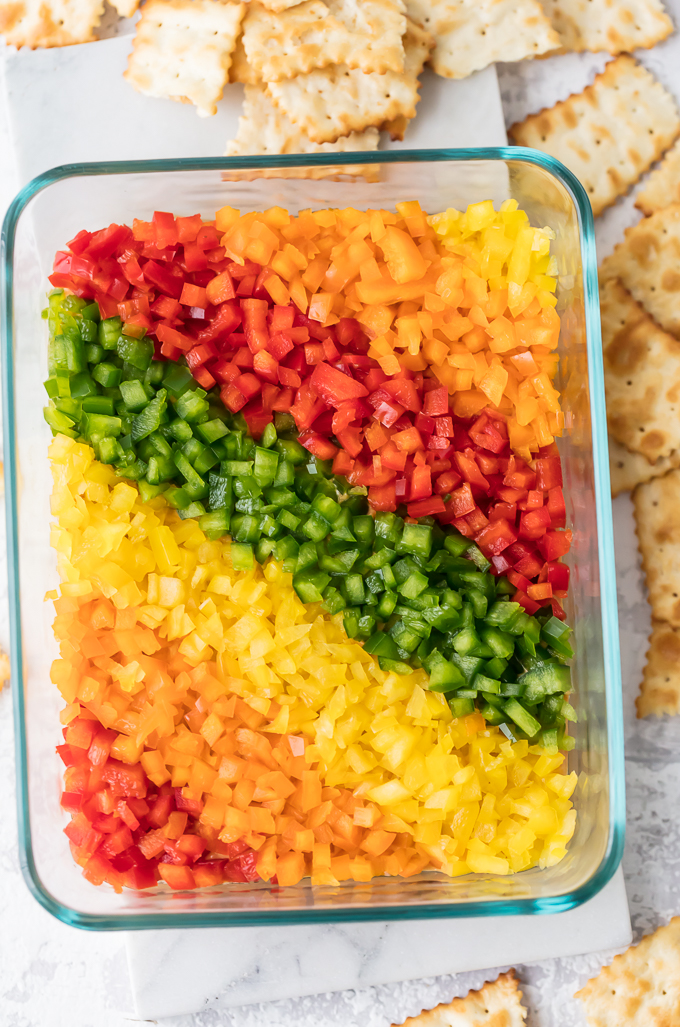 Here is one variation of the rainbow dip theme:  Rainbow Buttermilk Ranch Veggie Dip.  This, indeed, has a complete rainbow with the addition of the color purple.
Am I putting too much thought…too much weight…into this post?  One answer is probably and another is probably not.  There really is beauty in simplicity and simple recipes can be the most delicious.
Here are two of my other easy favorites:
A huge thanks to Becky Hardin, The Cookie Rookie, for her amazing photos.
Here are two more easy and wonderful recipes:
Strawberry Balsamic Glazed Pears
My recipe is an adaptation of the recipe found here:  Macheesmo's Rainbow Veggie Ranch Dip.
If interested in reading a silly, true, personal story about me, read the short story I added below the recipe.  If not interested, go straight to the recipe and…
Enjoy!
Rainbow Pepper Hummus Dip
Rainbow Pepper Hummus Dip is tasty and gorgeous. It's also described with a 7-letter word...HEALTHY! It's a dip veggie-lovers love! It's a dip veggie-haters love! It's a dip children love, and it's a dip that will make you adored by the masses. So, join the Rainbow Pepper Hummus Dip party and you will be loved by all.
Ingredients
10

ounces

store-bought hummus. …some of my favorites: Tribe Classic, Mediterranean-Style or any of the flavors.?, Sabra Red Pepper or Caramelized Onion Hummus – all work well, or your favorite hummus. *See note for a variation of this recipe.

½

cup

diced sweet red bell pepper

1/2

cup

diced sweet orange bell pepper

1/2

cup

diced sweet yellow bell pepper

1/2

cup

diced green bell pepper
Instructions
Dice all vegetables and pat with paper towels to remove excess moisture. **See note for making more than 2 hours ahead.

Spread hummus in an 8x6x2-inch dish and cover with plastic wrap.

Up to two hours before serving, top the hummus with the diced peppers. Keep the colors separated and place in rainbow-color order.

Cover with plastic wrap and serve within 2 hours.

Serve with tortilla chips, crackers or pita chips.

Enjoy!
Recipe Notes
*Note: If needing to make the dip more than 2 hours before serving, spread the hummus or mix the ranch dip and spread it into the pan. Cover with plastic wrap and refrigerate (up to 48 hours ahead). Cut all the peppers and/or vegetables and place them in separate, individual, airtight containers each lined with a paper towel. If using tomatoes, they will sweat a lot, but will be fine, just remove the paper towel, and stir slightly to perk them up and they will be fine.
**Note: This recipe is written for a 6x8x2 inch casserole dish. If using a 7x11-inch dish use additional ingredients.
Nutrition Facts
Rainbow Pepper Hummus Dip
Amount Per Serving
Calories 91
Calories from Fat 36
% Daily Value*
Fat 4g6%
Sodium 180mg8%
Potassium 208mg6%
Carbohydrates 9g3%
Protein 4g8%
Vitamin A 860IU17%
Vitamin C 64.5mg78%
Calcium 18mg2%
Iron 1.4mg8%
* Percent Daily Values are based on a 2000 calorie diet.
…a silly, true and personal story about me.
From L-R, Susie Gall, Cheri Irwin, Cheryl Stringer Singers and (front) Phyllis Harrel, circa 1979.
This is my Sweet Adeline (barbershop) quartet the first, and only, year I competed with them, at the regional competition. Aren't we looking grand in our sequinned, sateen-vested, triple polyester suits, our perfectly coiffed hair and sculpted makeup?!  We had only been a quartet a couple of months when this photo was taken.
These Sweet Adeline friends and I decided to form a quartet.  We had all been in Sweet Adelines for awhile, we could all sing (the three of them better than I), we could all harmonize, but most importantly, we laughed ourselves silly.
We decided to call our quartet The Rainbow Connection after the song Kermit sang in The Muppet Movie (I guess we all just loved the song).  I mailed the proper form to the Sweet Adeline organization to get our quartet registered and was very excited the day our registration confirmation arrived.  That is, I was excited until I read the name on our registration certificate.  Someone misread our name and registered us as The Rainbow Confection.  (hahaha!)  I was able to get the name corrected, but that just part of this funny story.
We practiced and practiced until the day came for us to compete.  We were excited and knew we wouldn't win over twelve other quartets, but we thought we would at least win the Novice Quartet Award.  We were confident we would beat the other novice quartet because they quit singing midway through their performance.  Needless to say, we were giddy while holding hands and trembling with excitement when it was time for the beginners award to be announced.
"…and the winner of the Novice Quartet Award is" …blah, blah, blah, buzzing, buzzing in my ears.  Surely I didn't hear that right.  We were all confused and dazed and 'smiled' to be polite just like the losers at the Academy Awards.  We were stunned.  We kept thinking there had been a mistake.  How could we lose to a quartet that didn't finish singing their songs – we lost to a quartet that STOPPED SINGING?
After the ceremony, our husbands, my father-in-law and the four members of our quartet went up to our hotel room.  We were all talking when my husband, Jeff, interrupted and said, "Here, Honey, I got this for you before I left Kansas City."  I looked up to see he was holding a beautiful rose.  He was holding a beautiful, broken rose.  He stammered and said, "It fell into the spokes of my bike as I was riding home from work. I didn't have time to buy you another, but thought I should give it to you anyway."  The head of the poor rose was just dangling – barely holding on to the stem – it was almost completely snapped off.  I actually felt sorry for it.  At first I laughed so hard I cried, and then, all of a sudden, I broke into room-shaking sobs and ran into the bathroom. (I had never done that before and have never done that since.) My poor husband and friends must have thought I had lost my mind.  My father-in-law summed it up beautifully as I ran past him, "What's wrong with Susie?  Why is she crying?  Wasn't she just laughing?"
I felt like an idiot as I sat on the toilet crying.  If my memory serves me right, when I came back out, the entire quartet started crying and then we started laughing again.  The wretched rose became a symbol of that competition.  Out of thirteen quartets, we came in thirteenth.  "Lucky" number 13!
Because of time constraints, I had to quit Sweet Adelines, but my mother-in-law replaced me in the quartet.  I'm not sure how many years they continued singing (and competing), but I know they never again came in last, and they had a ton of fun together.
My husband and I learned some great lessons that competition.  We learned there is an extremely skinny bridge linking laughter and tears, and we should honor both.  My husband learned to never give me another broken rose. We both have always delighted in laughter and our senses of humor have gotten us through almost forty-two years of marriage. I'm hopeful it will get us through the next forty-two.