Here, as promised over the past few days, is the Halloween Glow Cake my friend Callie and I created using some of the treats we made the day she came over to work with me.   I love our Halloween Glow Cake, but I especially love it because Callie and I made it together.  We put our creative minds to work and this is our masterpiece.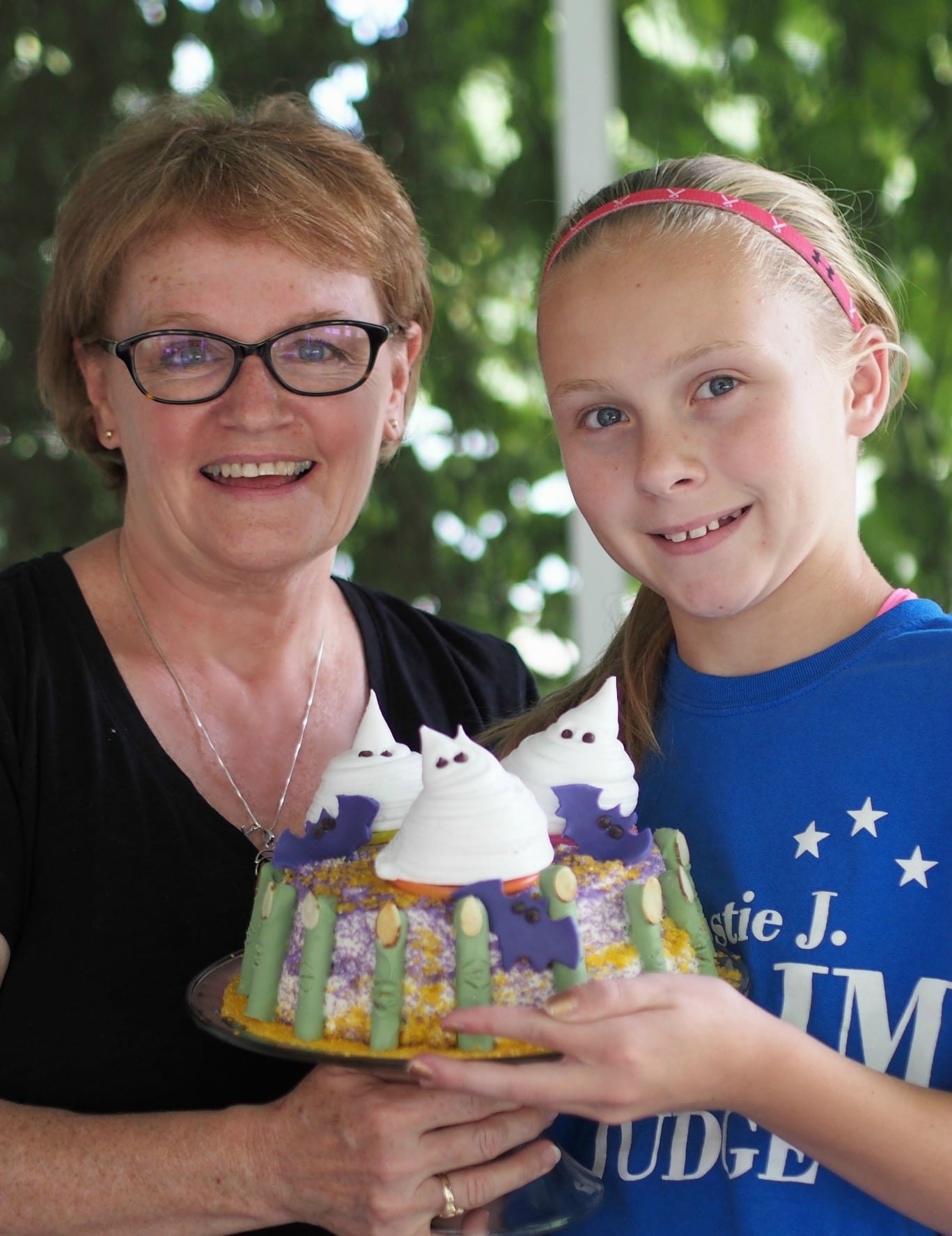 Callie's mom, Angela, and I have been friends and coworkers for sixteen years.  I first met Callie when she was just a few weeks old, and she is as adorable now as she was then.  Over the years, Angie often mentioned how much Callie loved to bake and how much she loved to watch some of the baking shows on TV.  I thought it would be fun for her come over to bake with me, learn how to make and pipe icing and to make fondant decorations.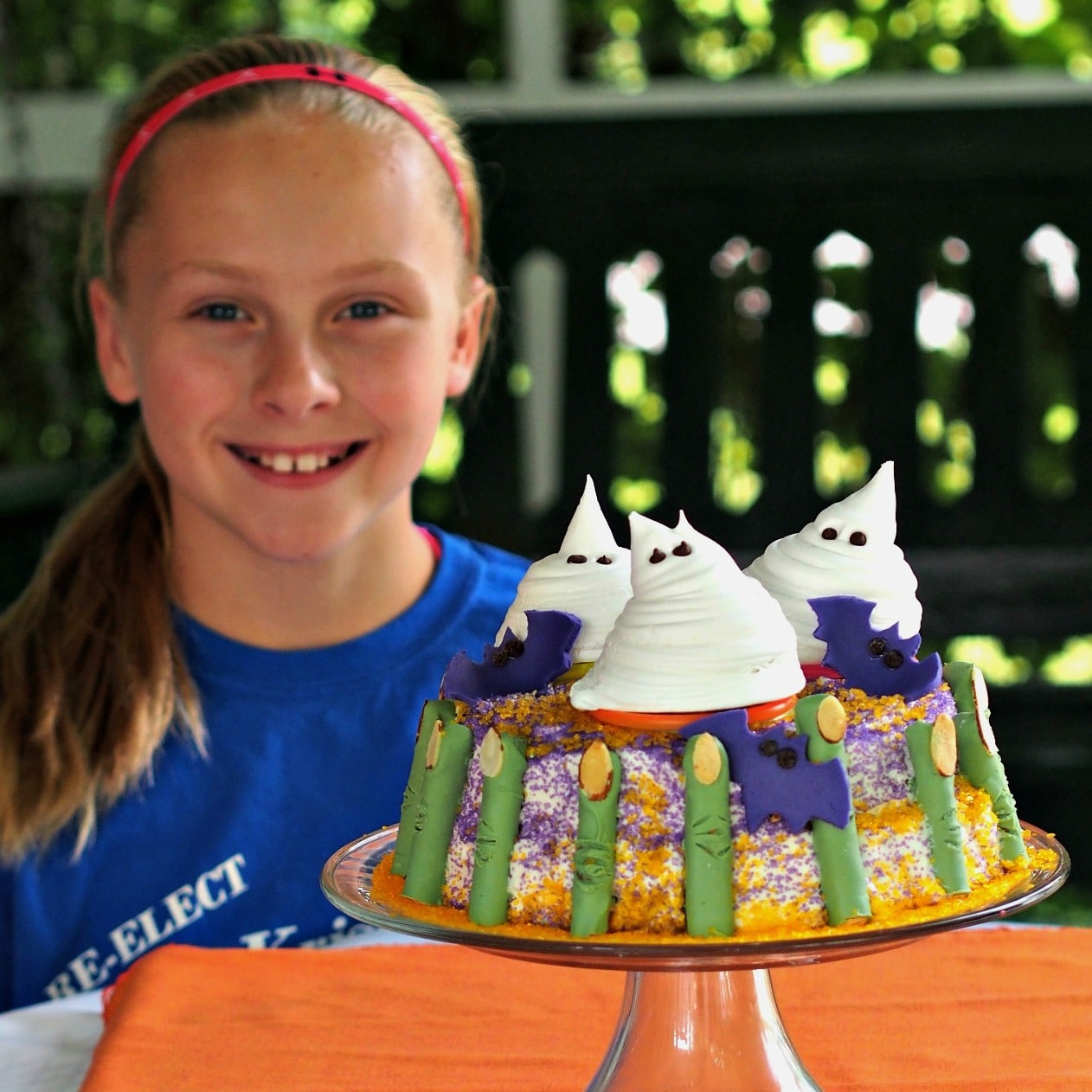 She was nine years old the first time she came to my house to work beside me in the kitchen. That year we made Swiss Meringue Buttercream, piped it on cupcakes then decorated them with multi-colored fondant flowers.   Callie sold them at a bake sale fundraiser and the proceeds went toward her church camp. The next year, we iced and decorated cakes; one was decorated with rose buttercream and soft pink pearls; we named it the "Desdi Rose Cake" after my new granddaughter. Callie decorated her other cakes with fondant and flowers, another with purple icing for her mom and another with buttercream roses and gold sugar.
Callie is now eleven but her innate love of baking and decorating cakes began at a much earlier age. When she was seven, she discovered the Cake Boss. At that time, she didn't know it was the second season of the show and was thrilled when she found out there was an entire first season yet to watch. She has two Cake Boss cookbooks and, I'm sure, she has read them through. Some of her favorite Christmas gifts are her complete DVD sets of Buddy Valastro's show and, I believe, she hasn't missed an episode. Her very favorite cooking shows are Cake Boss and Cupcake Wars. One of her favorite things to do is work with fondant and she has a terrifically creative eye for color and natural ability. She isn't just good; she is terrific!
Like most great bakers, some of Callie's first delicacies were cooked in her Easy Bake Oven, a birthday gift from her aunt at age six. Her love of baking is a generational love. Callie's mom is a wonderful cook and Callie, her sister and her mom make a Gingerbread House and decorate sugar cookies every Christmas. Her maternal grandfather is famous for his baking skills and, in particular, his crazy-good cinnamon rolls.
This year I decided to make it all about Halloween and, before Callie came over, I made a list of fun treats for us to make.   The list was fairly ambitious and included Spider-Web Cupcakes, Witch Finger Pretzels, Fondant Bats, Candy Apple Cookies and a glow cake using Meringue Ghosts and glow sticks.  For our cake inspiration, we used the Haunted Ghost Cake found on the King Arthur Flour website last year.  The only prep work I did before Callie came over was make the ghosts the night before so they had time to dry overnight in the oven.   We worked hard, completed everything on our list and even got it all photographed.
The only problem was with the Candy Apple Cookie icing.  I didn't get the taste quite right so it won't be posted at this time, but it was still a ton of fun cutting the cookies out and decorating them.
I knew we would create a fun cake, but had no idea the end product would turn out so great. We used a box cake mix, an easy buttercream frosting recipe, fondant bats, Witch Finger Pretzels, Meringue Ghosts, colored sugar and glow stick bracelets.
We had a scarily fun day full of baking, decorating and laughing.  We hope you enjoy our cake as much as we loved making it.
Thank you, Callie, for inspiring me to be a better cook and thanks also for teaching me more about fondant.  I can't wait to see what our next creation will be.
Please come back to find out how to make our Spider-Web Cupcakes.
Enjoy!
*The photo of Callie and me was taken by Jeff Gall.  Thank you, Jeff, for helping me and always with a sweet spirit.  Love you!

Halloween Glow Cake
Halloween Glow Cake-lots of fun treats come together to create a dessert all guests will love. ------------For inspiration: http://www.kingarthurflour.com/blog/2013/10/22/haunted-ghost-cake-fantastically-frightening-frosting/
Ingredients
1

Box cake or homemade cake of your choosing.

6

or more Glow Slick Bracelets

1

tub Vanilla store-bought icing or homemade icing of your choice.

Purple sanding sugar

Orange sanding sugar

Witch Pretzel Fingers

Meringue Ghosts - http://www.simplysated.com/meringue-ghosts/

Fondant Bats - *See Notes

Plastic wrap to wrap the glow sticks
Instructions
Bake the cake according to directions for a 9" round cake.

Ice the cake with white icing.

Sprinkle the iced cake with purple sanding sugar, then sprinkle it with orange sanding sugar.

Connect the glow sticks into bracelets then wrap them tightly with plastic wrap.

Place the glow sticks on the cake. Stack two bracelets together and place them in three spots on top of the cake. Press down slightly so the bottom glow stick barely shows.

Place the cooked and dried meringue ghosts on top of the glow sticks.

Break or cut the Witch Pretzel Fingers in half then space them around the cake.

Decorate with Fondant Bats. *See Notes

Turn off the lights and...

Enjoy!!

**See Notes
Recipe Notes
Fondant Bats: roll out purple fondant, use a bat cookie cutter or make your own template. Press mini chocolate chips in the bats for eyes and place in a small shallow bowl or place on a fondant dish to get a curved shape. Let dry.
------------------------------
*Add the glow stick bracelets and Meringue Ghosts right before showing off your cake.
--------------------------------
After activating, the glow sticks will last longer if placed in the freezer.