BOO Halloween Cookies.
While in Kansas City recently, I bought a set of alphabet cookie cutters and I love them. Who doesn't love letter cookies? When I made BOO Halloween Cookies, I also made extra cookies in the letter "D" for my granddaughter. They were her favorites, but I could kick myself since I didn't get a picture of her eating them. I also had some fun playing with other words that have the letters B and O, but it is best I don't share them here:-)

Iced butter cookies are my favorite cookies and this recipe is my ideal. It has a little crunch on the outside, but is tender on the inside. The icing is more of a glaze and has just the right sweetness with a mild taste of almond.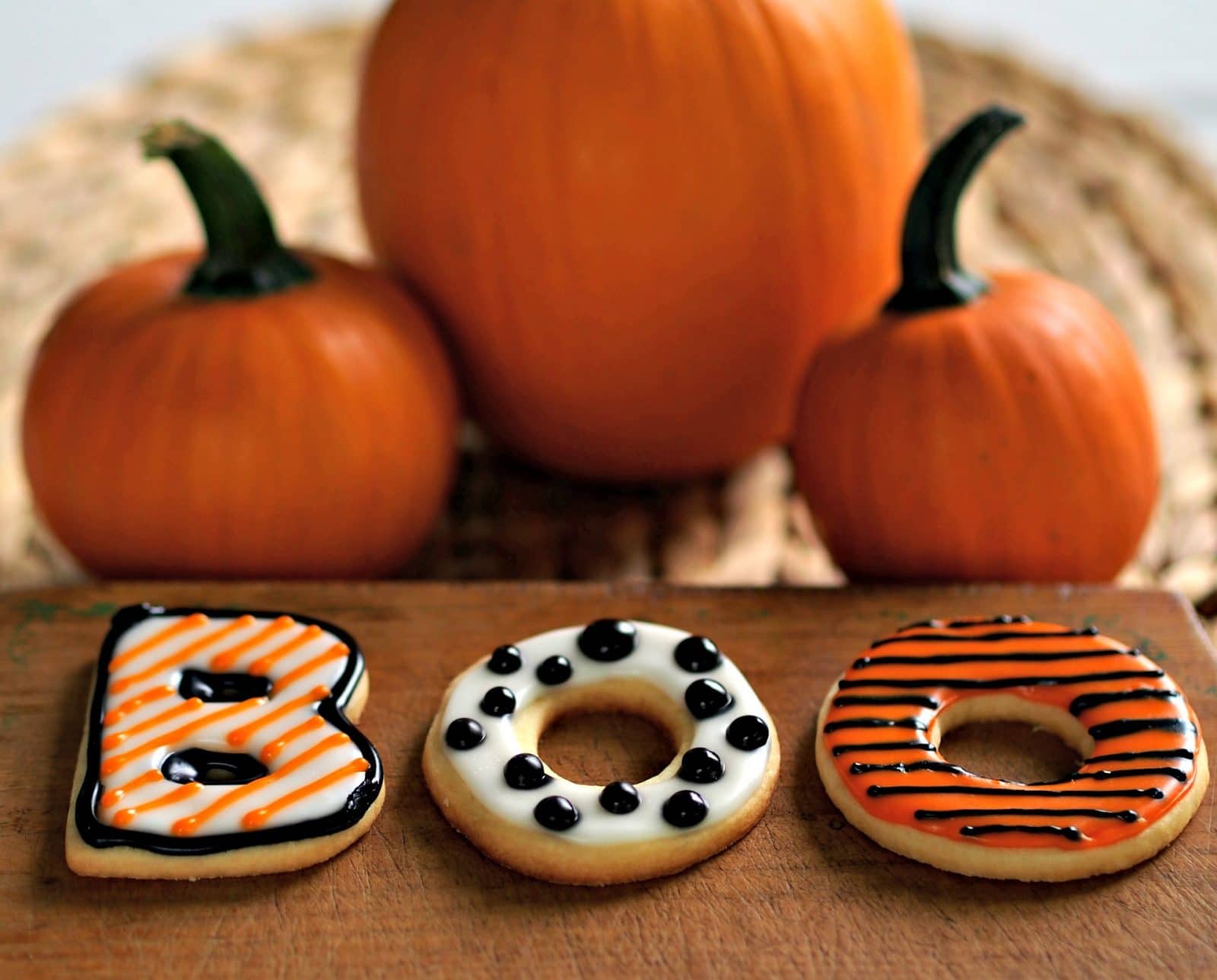 When I make Butter Cookie dough, I roll it out and freeze it until time to use. If I have already decided the cookies I want to make, I cut them into the desired shapes, bake them, place them in an airtight container and freeze them until time to decorate them. They turn out beautifully but be sure you let them defrost (covered) in the same container in which they were frozen.
This recipe was first shared on The Cookie Rookie, my daughter's blog. It is a recipe I first found from the Joy of Baking website. After testing several recipes, this was the perfect recipe with just a few tweaks – it is delicious.
I hope you enjoy this recipe as much as I do. If you can, buy a set of alphabet cookie cutters and have a good time.
Enjoy!
BOO Halloween Cookies
BOO Halloween Iced Butter Cookies taste like a sugar cookie and shortbread combined. The perfect crunch on the outside with a tender crumb on the inside. Topped the perfectly sweet glaze with a hint of almond.
Prep Time
2
hours
15
minutes
Total Time
2
hours
27
minutes
Ingredients
1

c.

Butter - unsalted

room temperature (226 grams)

2/3

c.

sugar

1

Egg

1

t.

Lemon or Orange Zest

optional - and I leave this out

1

t.

Vanilla Extract

¼

t.

Almond Extract

2¼

c.

Flour

295 grams

¼

t.

Salt

¼

t.

Coarse Sea Salt

-------------------------------------

Icing ingredients

4

c.

Powdered Sugar - sifted

3

T.

Corn Syrup

3

T.

water

½

t.

Almond Extract - can use Vanilla Extract

Food coloring

¼

c

corn sryup and ¼ c. water

mixed together and set aside
Instructions
To Make the cookies:

Combine butter and sugar and beat until lighter in color and fluffy. (approx. 3-4 minutes)

Beat in the egg, vanilla and almond until well blended. (this is when the lemon or orange zest is added, if using)

In a separate bowl, whisk together the flour and salt.

Add the flour mixture to the butter mixture all at one time.

Mix on low speed just until incorporated.

------------------------------------------------

This is how I prepare the dough before refrigerating:

Lay out a sheet of parchment paper or waxed paper and sprinkle a little flour on top.

Divide the dough equally into 2 portions (more if you have doubled the recipe).

Using lightly floured hands, hold 1 portion of dough and gently shape it into a disc.

Place the disk on the floured paper roll gently into a ¼ in. high oval or rectangle.

Lift the paper and place it on a cookie sheet.

Repeat the process until all the dough is used.

Tightly cover the pan of all the layers of dough and refrigerate for at least two hours (or overnight).

-----------------------

When ready to bake the cookies:

Preheat the oven to 350 degrees.

After the oven has preheated, take out one sheet of dough at a time and cut into the desired cookie-cutter shapes.

Place the cut-out dough on parchment covered cookie sheets and bake approx. 10 minutes or until the edges begin to turn.

Take out of the oven, remove from the baking pan and cool on a cooling rack.

Once completely cooled, the decorating fun can begin.

________________________________

Powder Sugar Glaze

Sift the powdered sugar into a mixing bowl.

Combine the corn syrup, milk (or water), and flavoring.

Turn the mixer on low until everything is moist - scrape the bowl often.

Turn the mixer to medium and mix until everything is well blended and smooth.

(a little more syrup/water mixture might be needed at this point)

Refer to my tutorial on decorating cookies: http://www.thecookierookie.com/perfect-decorated-cookies/