Traditional Eggnog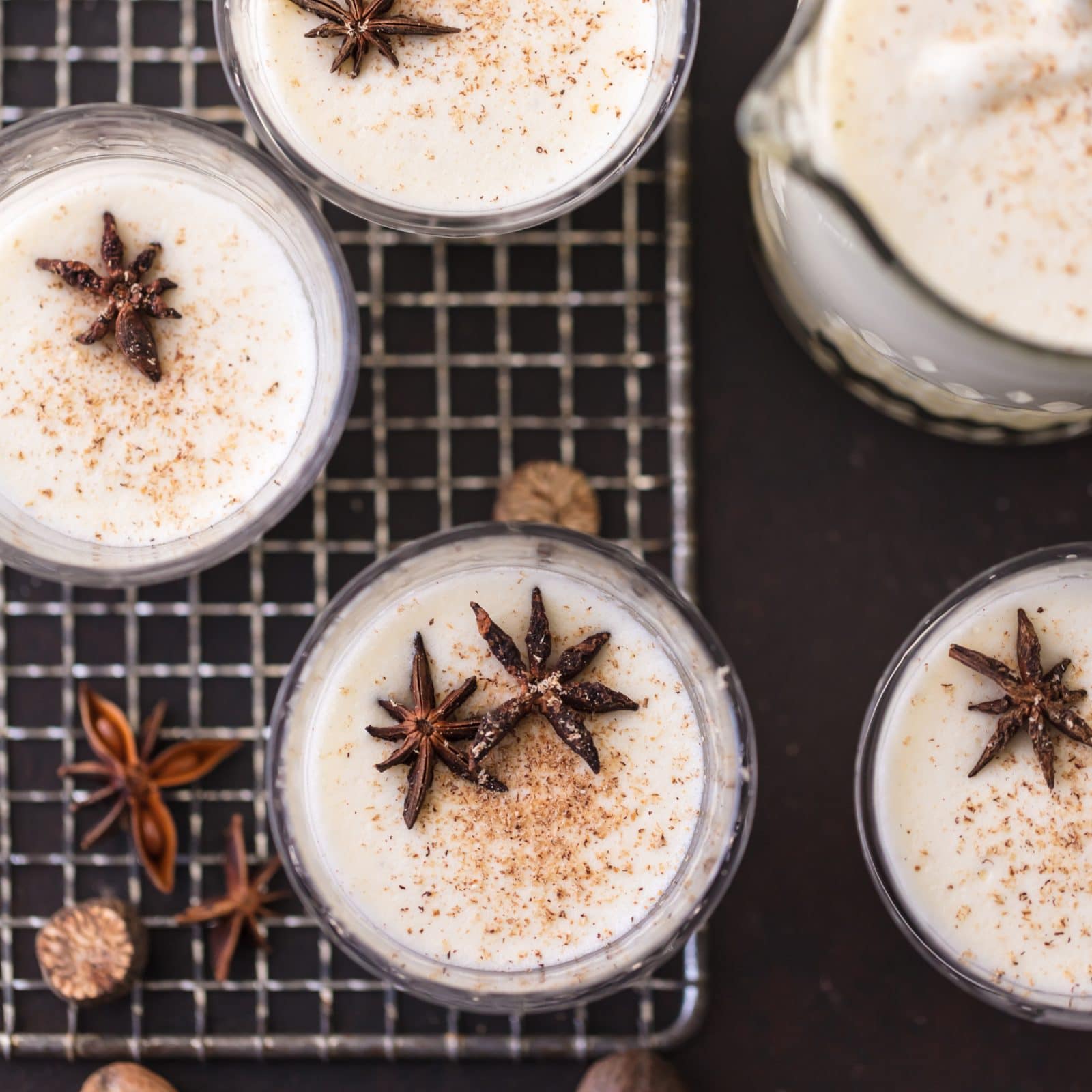 I don't remember exactly how old I was the first time I tasted store-bought eggnog, but I know I was very young.
My mom brought some home from a grocery store a few weeks before Christmas one year. I was apprehensive to drink something with "egg" in the name, but my mom kept saying it was delicious. So…I had one tiny sip…then another bigger sip…and then a full swig. I had fallen in love.
I grew up in a household with four sisters and was fortunate just a couple of us liked eggnog. I'm not normally a selfish sort, but I was with eggnog and guzzled down more than my fair share anytime it was in the house. I also know "someone" in my family would hide the quart of eggnog behind the huge gallons of milk so it couldn't be seen.
I do remember exactly the first time I tasted homemade Traditional Eggnog. It was just three weeks ago, and I fell even more deeply in love.
I immediately went into a trance – a trance where I envisioned myself playing the The Minister's Cat, a Victorian game, while frolicking around the parlor at Scrooge's nephew's Christmas Eve party, in A Christmas Carol by Charles Dickens.
Traditional Eggnog is frothy, the flavors and spices perfectly balanced, and it's smoooooth. I'll never understand why I waited until middle age to make it myself.
Since I had never made homemade Traditional Eggnog before the age of sixty-three, I did my homework and researched recipe after recipe.
Eventually, I decided two of my favorite, and most knowledgeable, foodie gurus, Alton Brown of Food Network and J.Kenji López-Alt of Serious Eats, had the best info (and recipes) on the topic.
The ultimate decision was whether, or not, to cook the egg mixture. I had to find out if raw eggs were safe to drink, so I did a great deal of research on the topic. HERE and HERE are the best answers to that question. I encourage you to research for yourself, but what I decided is I'll use pasteurized eggs anytime I make uncooked eggnog.
I also needed to know which type of eggnog tasted best. I made eggnog with cooked eggs and Traditional Eggnog with uncooked eggs, then I conducted a taste test of both eggnogs. The results are as follows:
2-0, in favor of the non-cooked version. (I wanted more people to sample, but only my son and I were available at taste-testing time.)
And, by the way, the "2" were strong votes from two store-bought-eggnog-loving people. The cooked version of eggnog tasted much thicker, sweeter and similar to most store-bought varieties. It wasn't bad, it just wasn't nearly as good as the uncooked version.
I continued to study, taste, cook and ponder. Eventually, I was able to glean all I could and drank myself to my favorite version – my own.
Alton's recipe was a tad sweet and J. Kenji's recipe was a tad dangerous (especially if one had the need to stand up straight after imbibing).
Finally, I needed to decide the best amount of time to age Traditional Eggnog before drinking.
You see, the claim is, the longer eggnog ages in the fridge, up to a year, the mellower it gets. J.Kenji López-Alt's article explaining his research proved that isn't correct. In truth, at 3 weeks, eggnog is at its peak, and after that, more booziness comes to the forefront. In my own testing, the eggnog was very good when made – even better the next day and terrific at 3 weeks.
I couldn't test it after that simply because I had none leftover. One thing for certain…NEVER, ever throw away leftover Traditional Eggnog. It will keep, safely, at least a year in an airtight, glass container. I'm sure you can drink the leftovers within a year.
So, (c)heres to you. I hope you will get into Traditional Eggnog this year and many years to come.
Enjoy!
*By the way, I know star anise isn't used in eggnog. I used it for photographic beauty, and isn't it gorgeous!?
While you are visiting, please check out My Famous Chex Party Mix and Pumpkin Pie Hot Chata
Thanks again to Becky Gall Hardin for the terrific photos. Please visit The Cookie Rookie – she has a ton of delicious (and gorgeous) holiday recipes, such as her Toasted S'more Martini.
Recipe adapted from Alton Brown's Food Network Eggnog recipe.
Traditional Eggnog
Traditional Eggnog is frothy, the flavors and spices perfectly balanced, and it's smooth with no aftertaste. One sip and you know Christmas is near.
Ingredients
4

large eggs

yolks & whites separated

¼

cup

plus 1 tablespoon, white granulated sugar, (Use ultrafine sugar, if possible, it dissolves more quickly.)

2

cups

whole milk

1

cup

heavy cream

¼

cup

brandy or bourbon *See Note

¼

cup

dark rum *See Note

½

teaspoon

plus more for garnishing, freshly ground nutmeg

¼

teaspoon

kosher salt
Instructions
In the clean, dry bowl of a stand mixer, whisk the egg whites until soft peaks form. With the mixer still running, slowly add 1 tablespoon sugar and beat until stiff peaks form. Gently pour the egg whites into a different bowl and set aside.

In the same mixing bowl used for the egg whites (no need to clean the bowl first), place the egg yolks and ¼ cup sugar. Beat the mixture until the sugar completely dissolves and the yolks lighten in color. Add the milk, cream, liquor, nutmeg and salt. Beat on LOW until well combined, about 1 minute.

With the mixer on FOLD, add the beaten egg whites. Place in an airtight, glass container and chill several hours, overnight or even up to 1 year. Research has proven Traditional Eggnog is best served aged 1-3 weeks.

When ready to serve, fill a cocktail glass 2/3rd full, grate a little fresh nutmeg on top and serve.

Enjoy!
Recipe Notes
Traditional Eggnog is made with liquor, but it is still delicious without liquor. Add 1 teaspoon vanilla extract and an additional 1/2 cup milk or cream if not adding liquor.