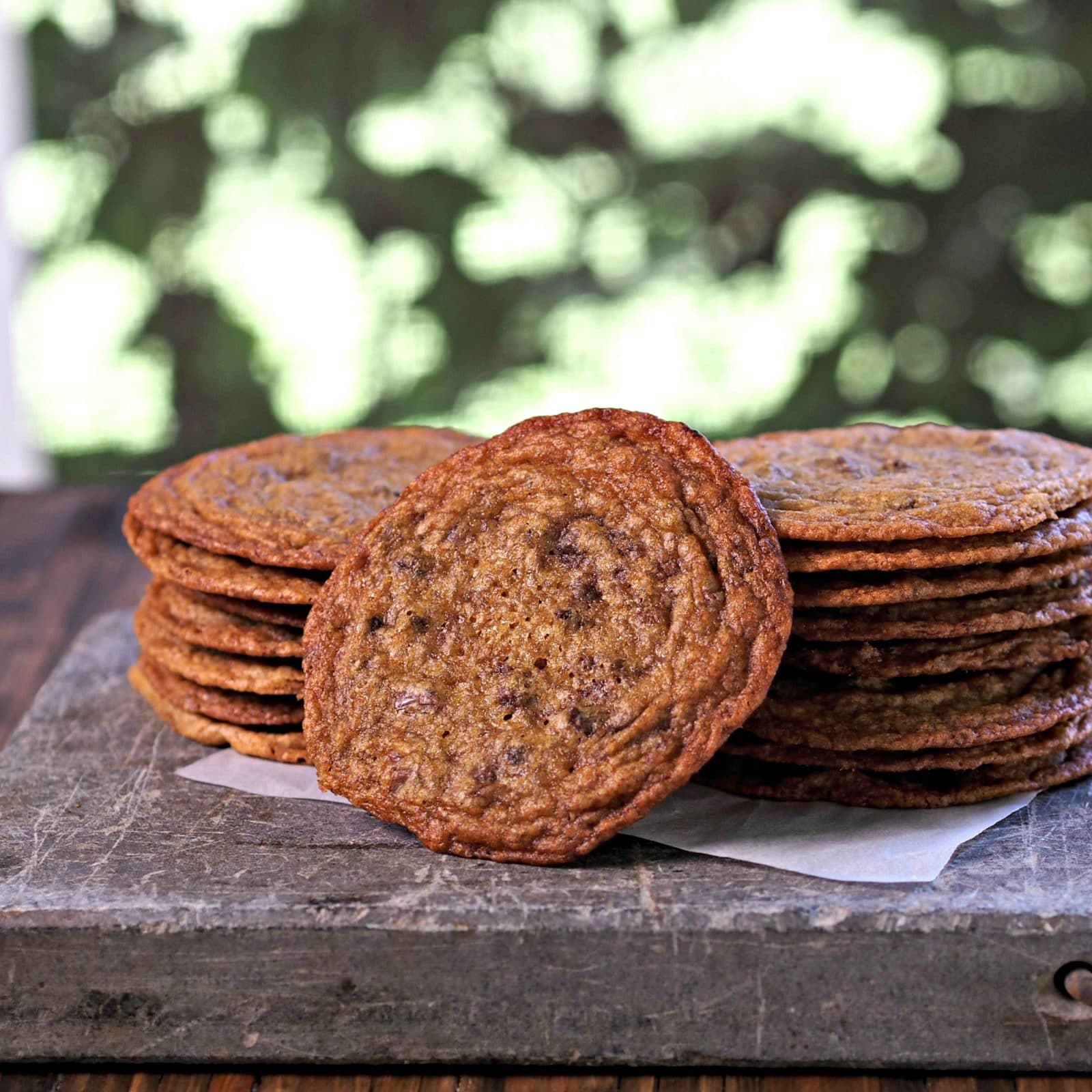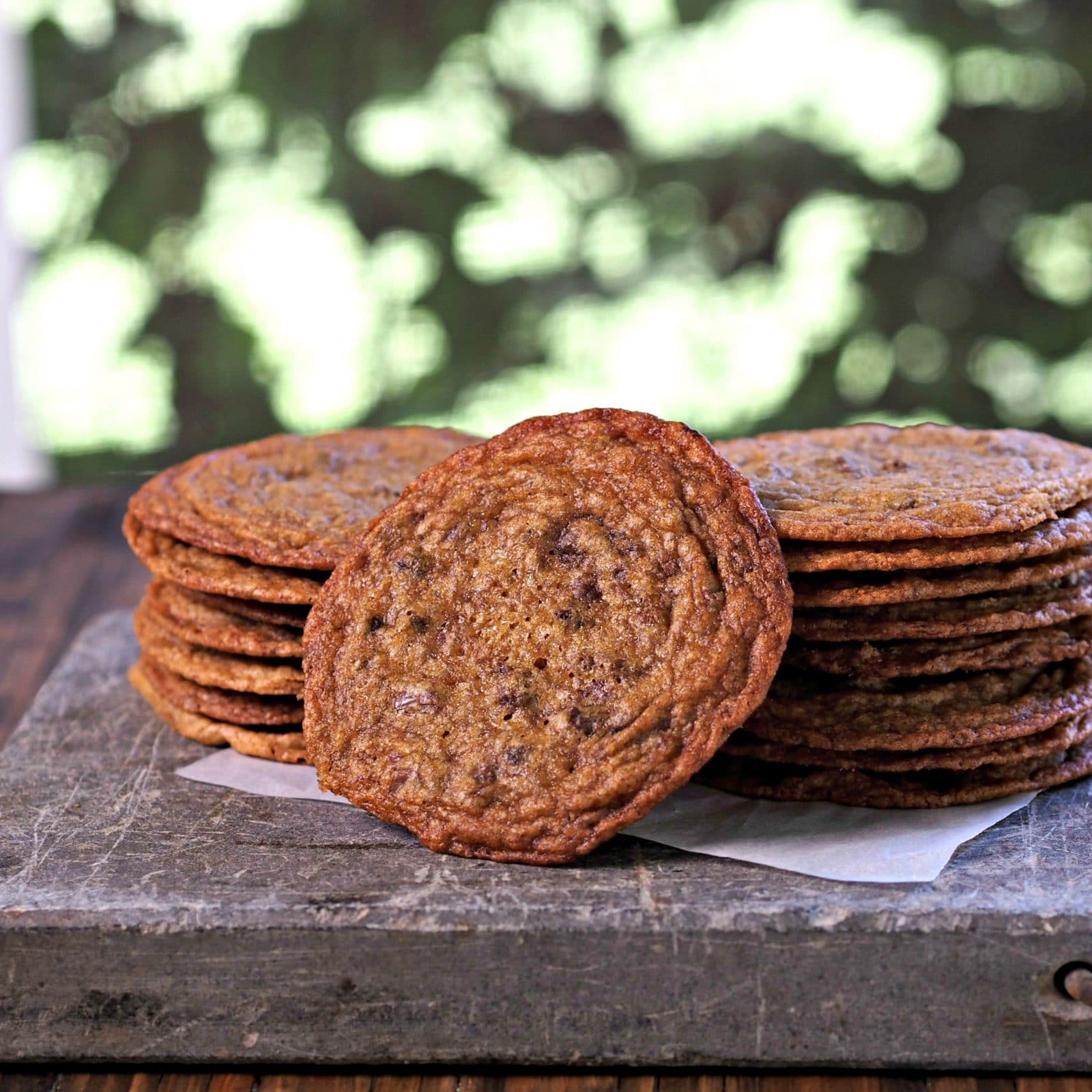 Welcome! Come in and sit awhile. This last tray of Cow Chip Cookies is going in the oven, and the aroma of fresh-baked cookies is in the air.
The table is set with beautiful plates and ice-cold milk, and I'm thrilled you're here. We have a delivery to make in a few minutes, but right now – let's share a bite and enjoy the moment.
Just the smell of cookies baking in the oven sends me down memory lane. I love making cookies, and they have played a major role in many aspects of my life.   That might sound funny, but it's true. My first homemade cookies were baked, at age nine, on my Easy Bake Oven. I felt a sense of pride and loved how happy my parents looked when offered one of my creations. I knew I had found one of my true loves.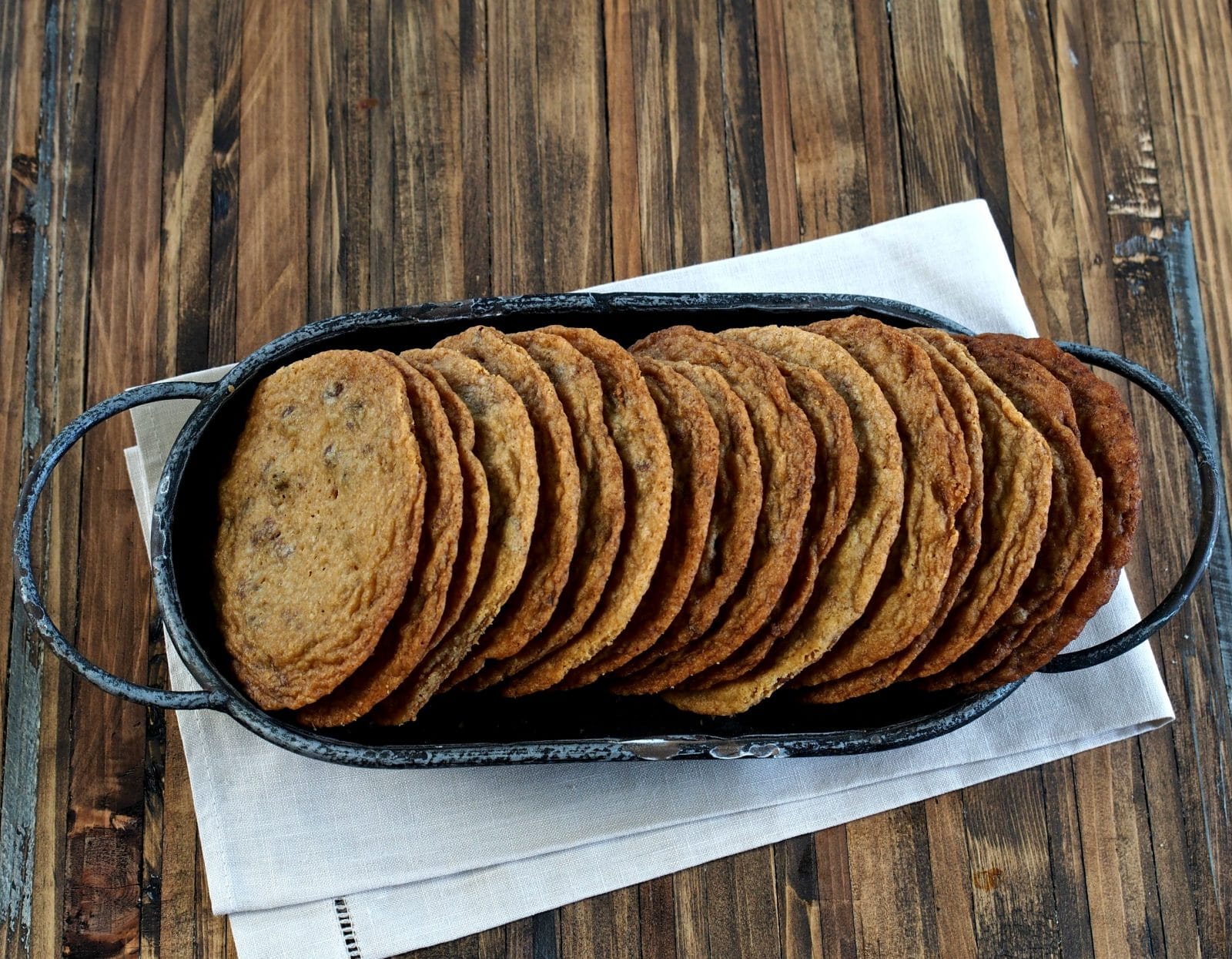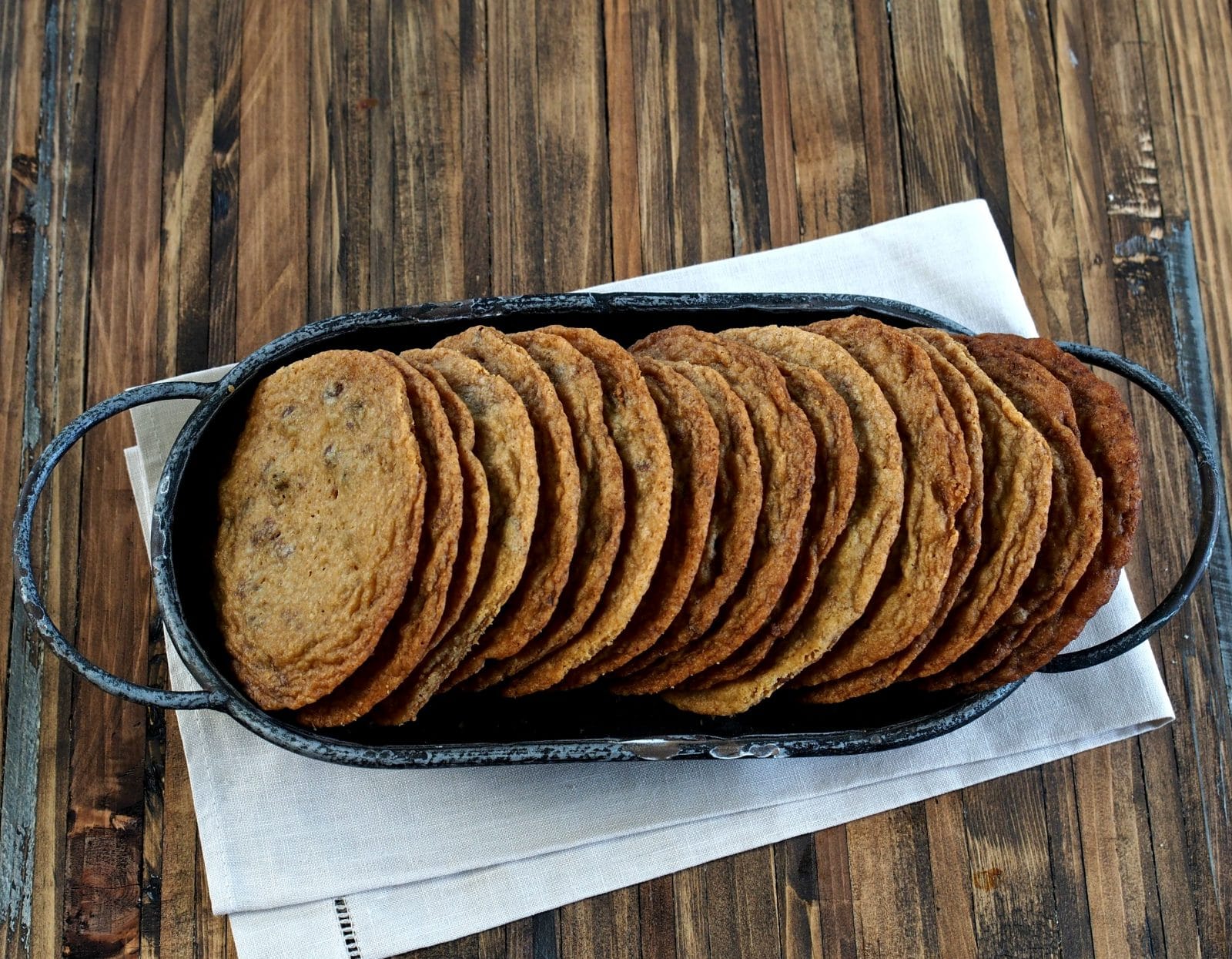 Since then, I have baked thousands of cookies for family, friends, bake sales, school activities and church events.  I made homemade cookies for my son and his baseball teammates for every game; cookies seemed to help celebrate their wins and soothe their losses, and Cow Chip Cookies always brought the biggest cheers.  Cow Chip Cookies have been gifts to welcome newborns into their families and friends into their new homes.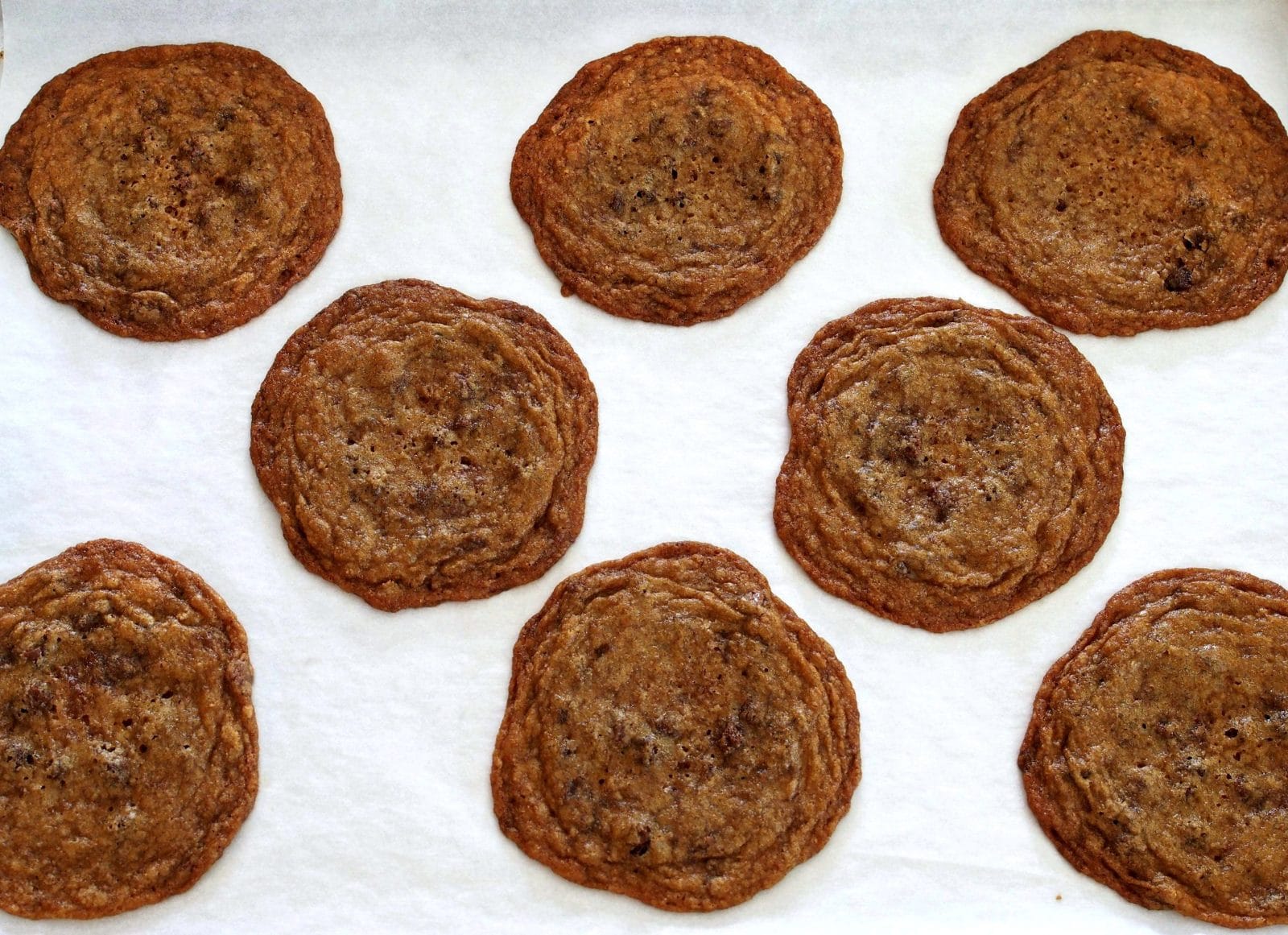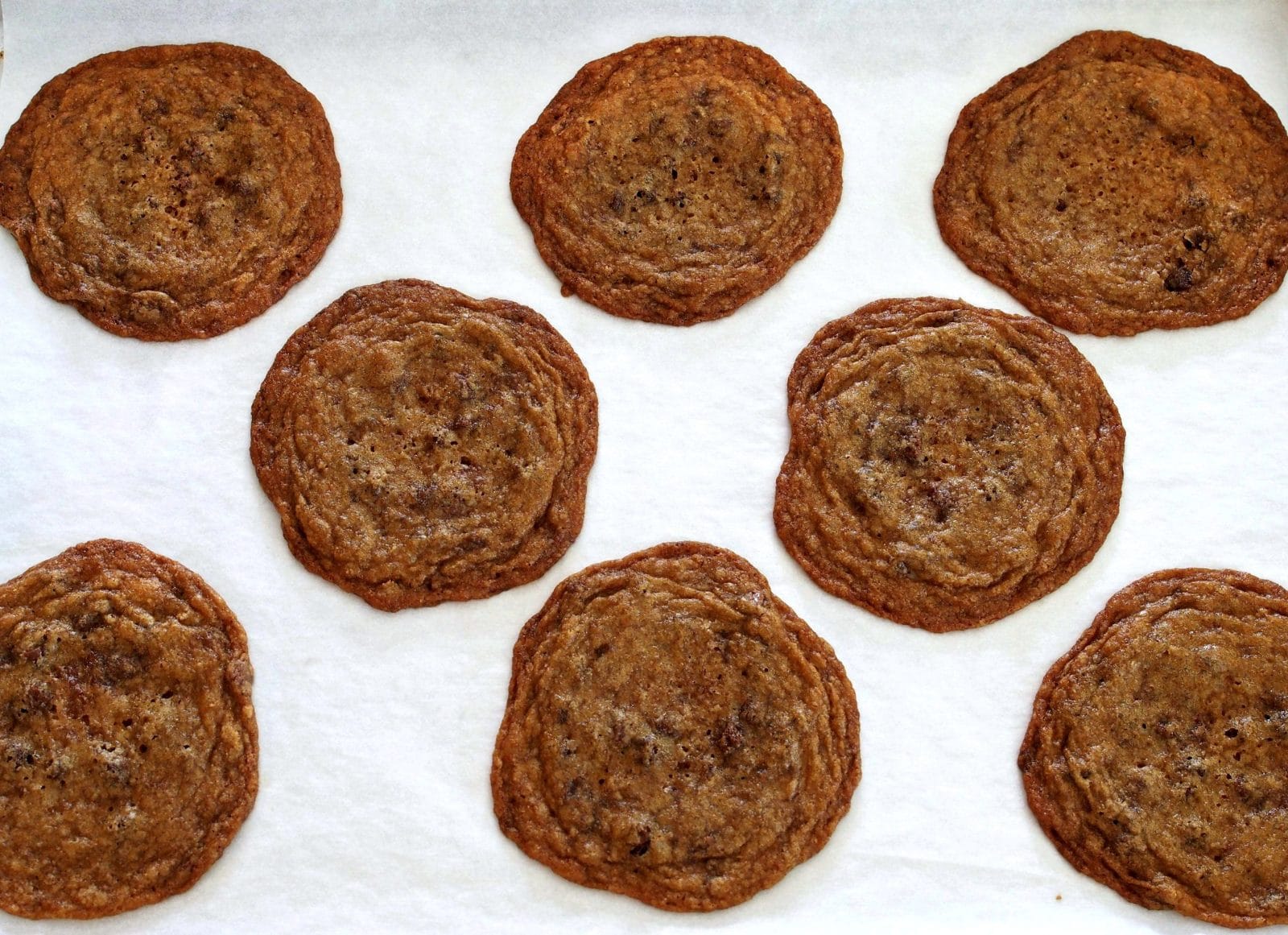 There was a time in my life when I was known as The Cookie Lady. I had a small cookie business in which I would make and deliver freshly baked cookies within an hour of an order being placed. It was so much fun and people were always happy when their cookies arrived. The favorite part of my company was called "Celebrate Kindness." Customers could nominate someone they knew just for being kind or someone that had shared an act of kindness toward them. I would then surprise the chosen recipient with balloons and a box of fresh-from-the-oven homemade cookies. It was so much fun and often brought tears to my own eyes.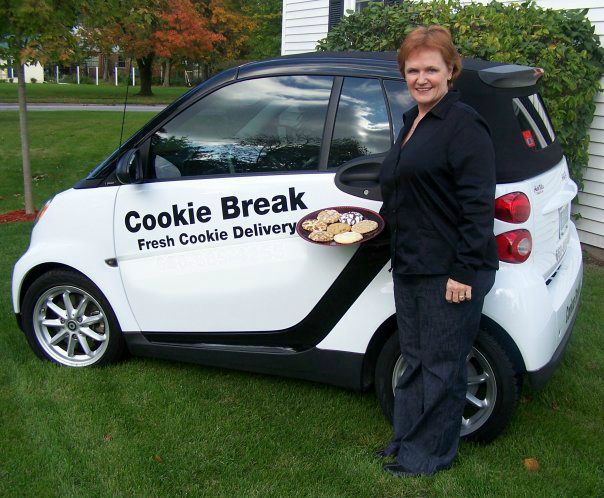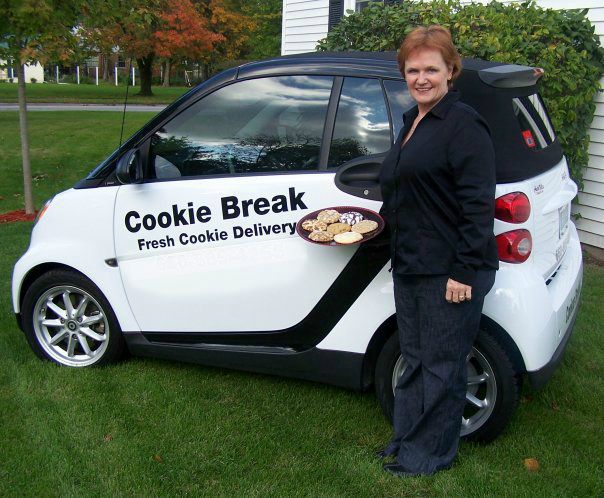 My time spent making homemade cookies has been worth every second as I have never offered someone a cookie without receiving a smile in return.
The Dixie® Be More Here campaign is about being in the moment. It's about family and friends and spending time doing simple things that connect us – all the while keeping things simple so we can focus on each other and enjoy the moments that truly matter. Creating lasting traditions with your family and friends are the moments that count in our lives. Please check out this slideshow to read how others create lasting traditions.
I'm thinking about my coworkers right now. It has been quite awhile since I have shared a home baked treat with them and today seems like the perfect time. I'll grab my Cow Chip Cookies, some fun paper plates and my homemade Fresh Peach Jam. Perfect. Let's go together to see my friends.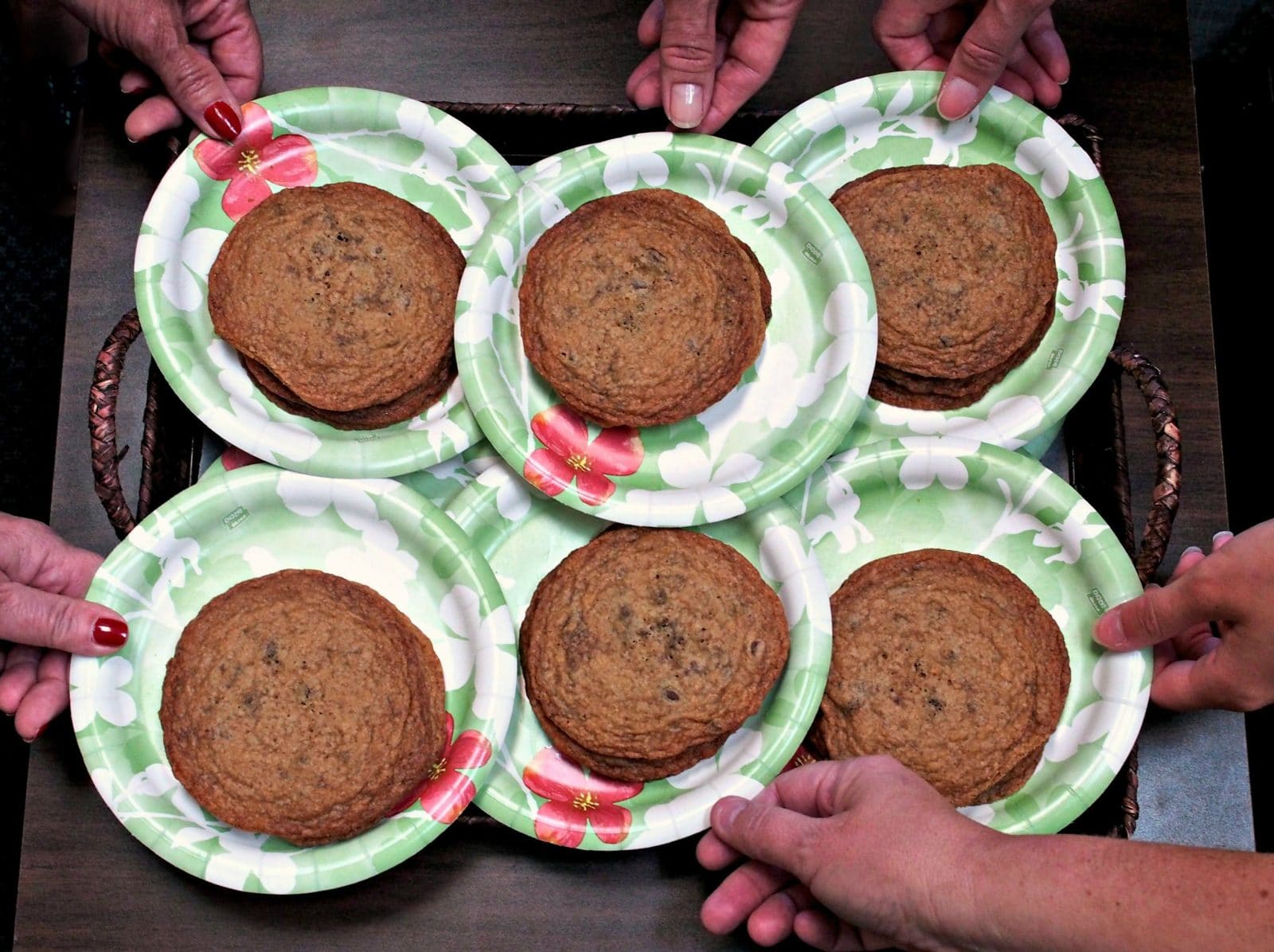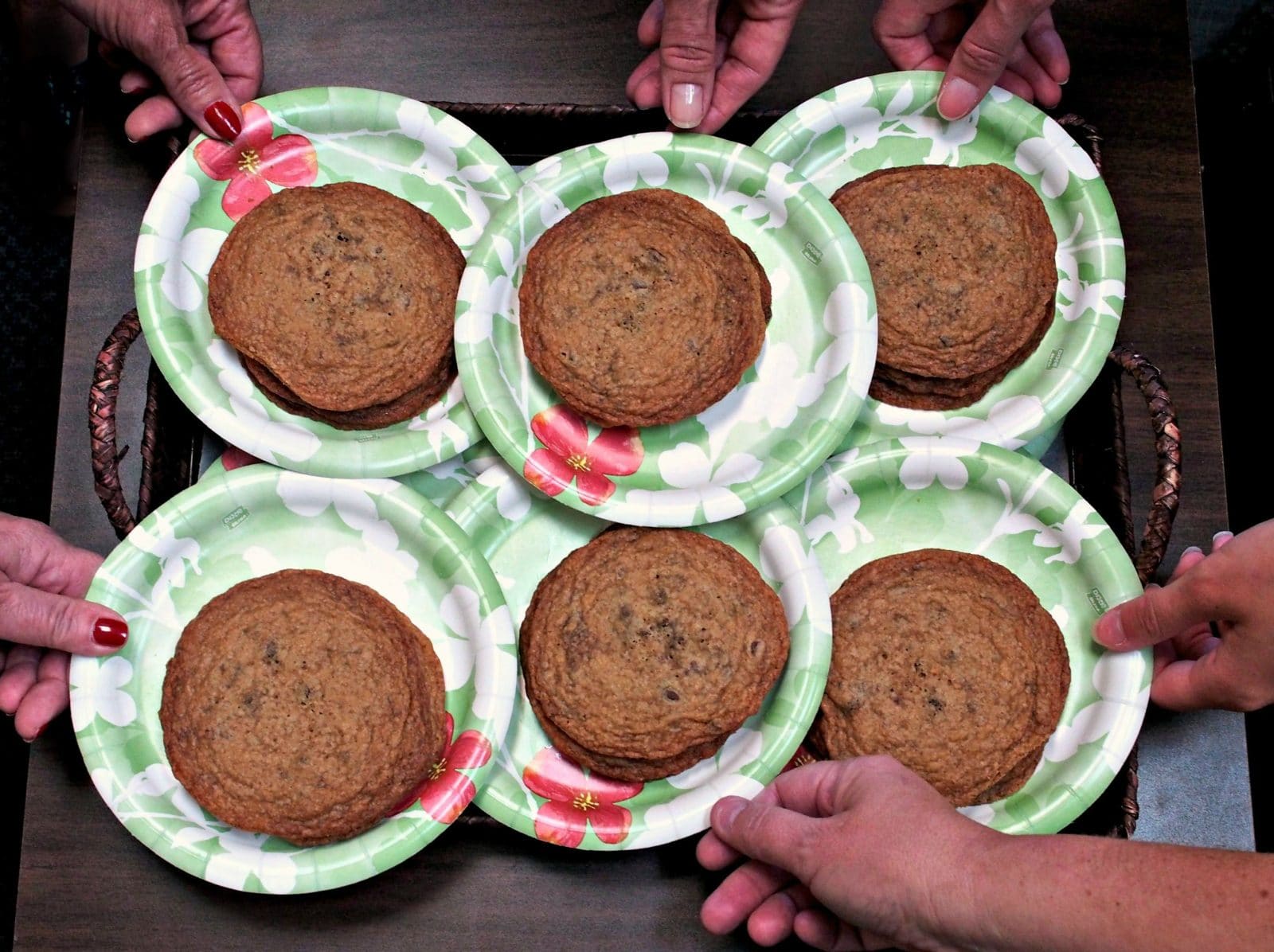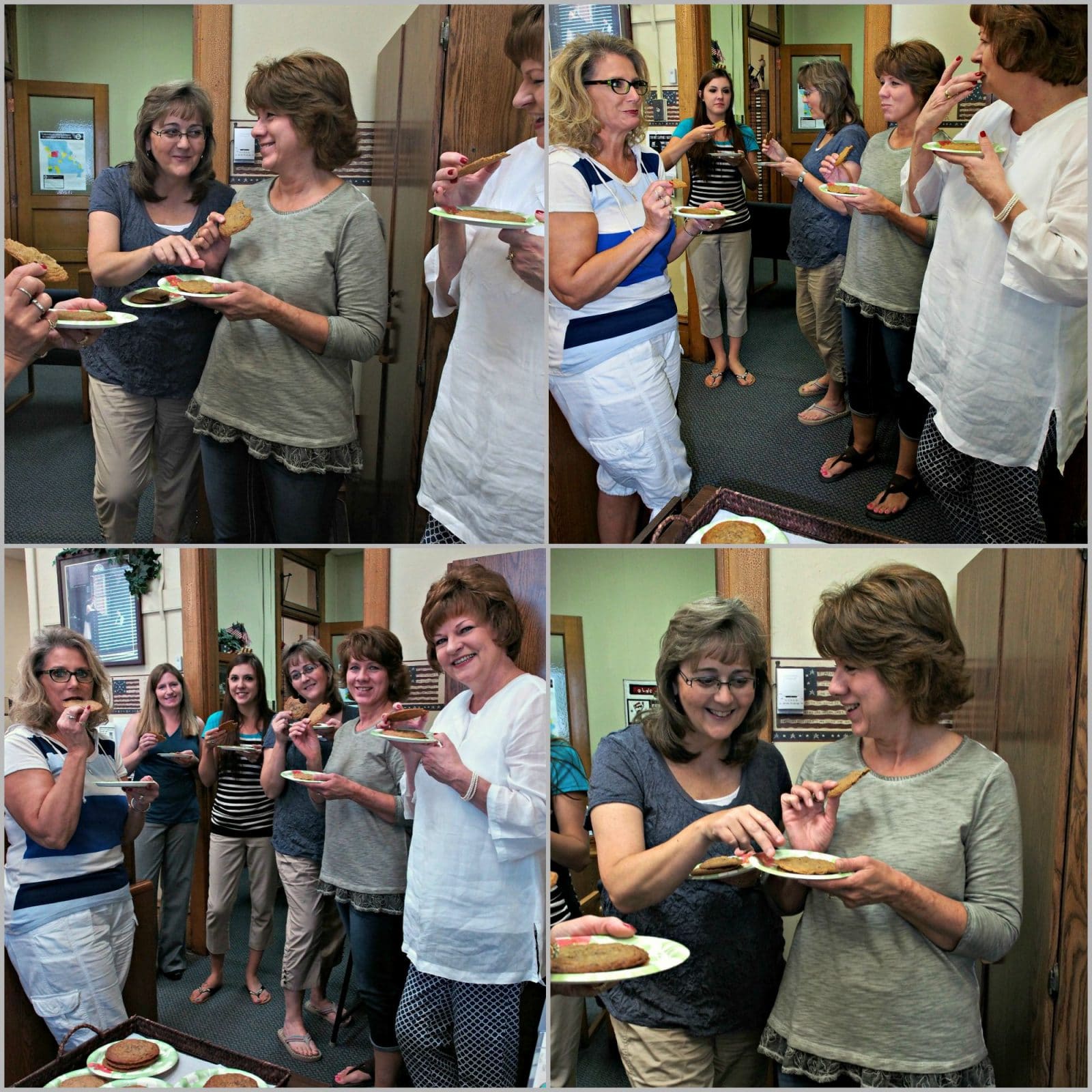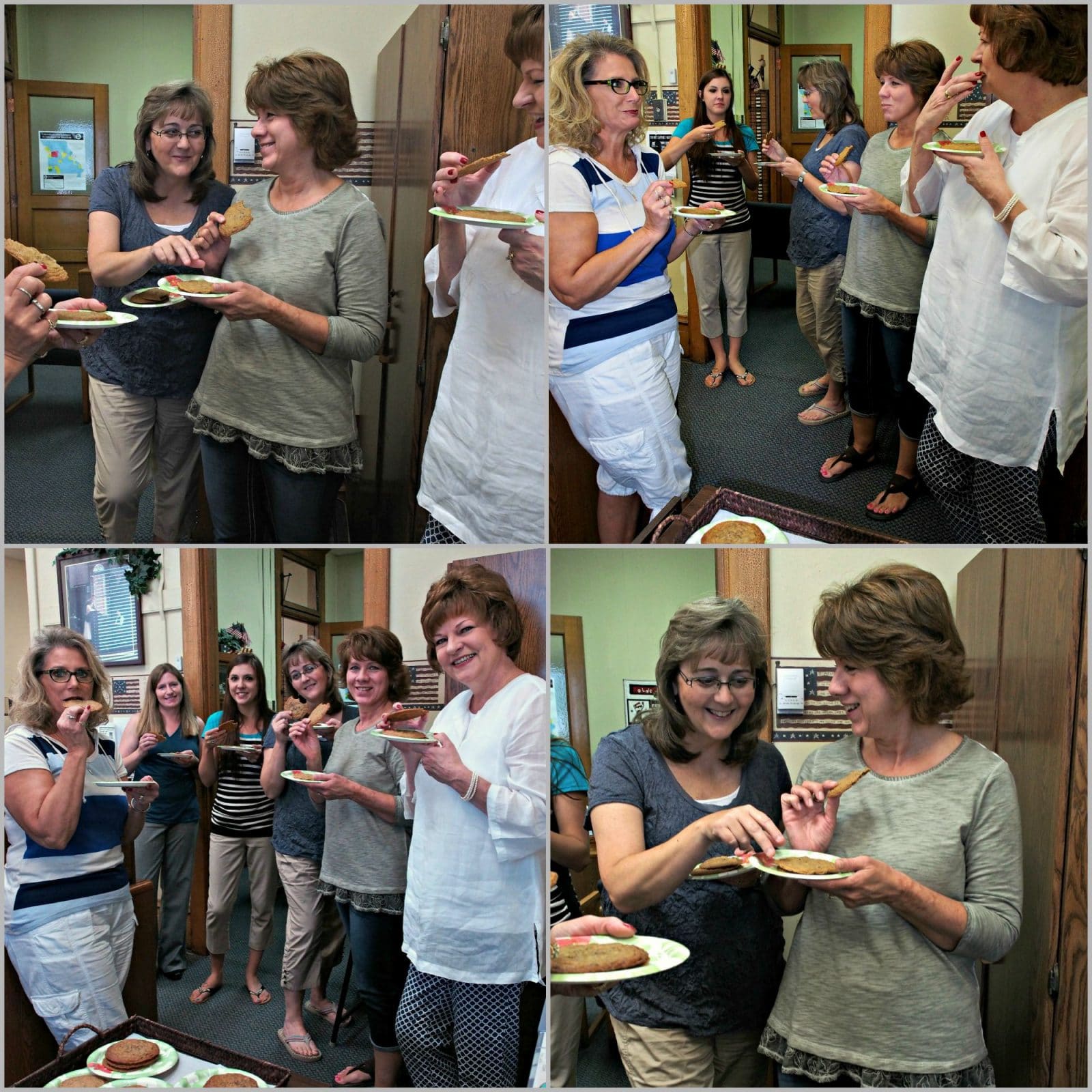 Just look at those smiles! I tell you, there is no payment as sweet. The old adage of "…the way to a man's heart" isn't just true for men. Women's hearts are opened wide when offered a tray full of fresh, homemade cookies – especially when the cookies are made with love.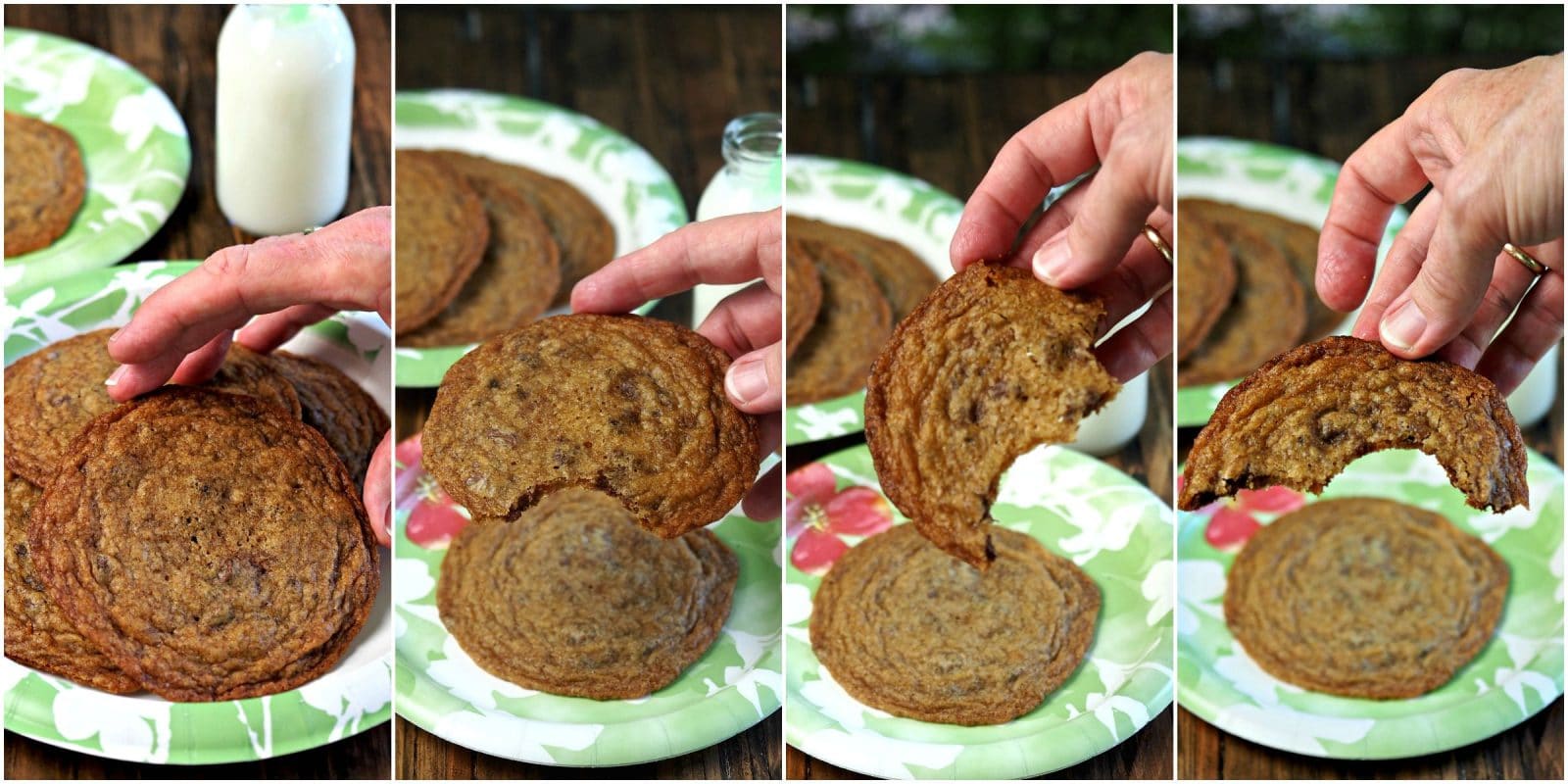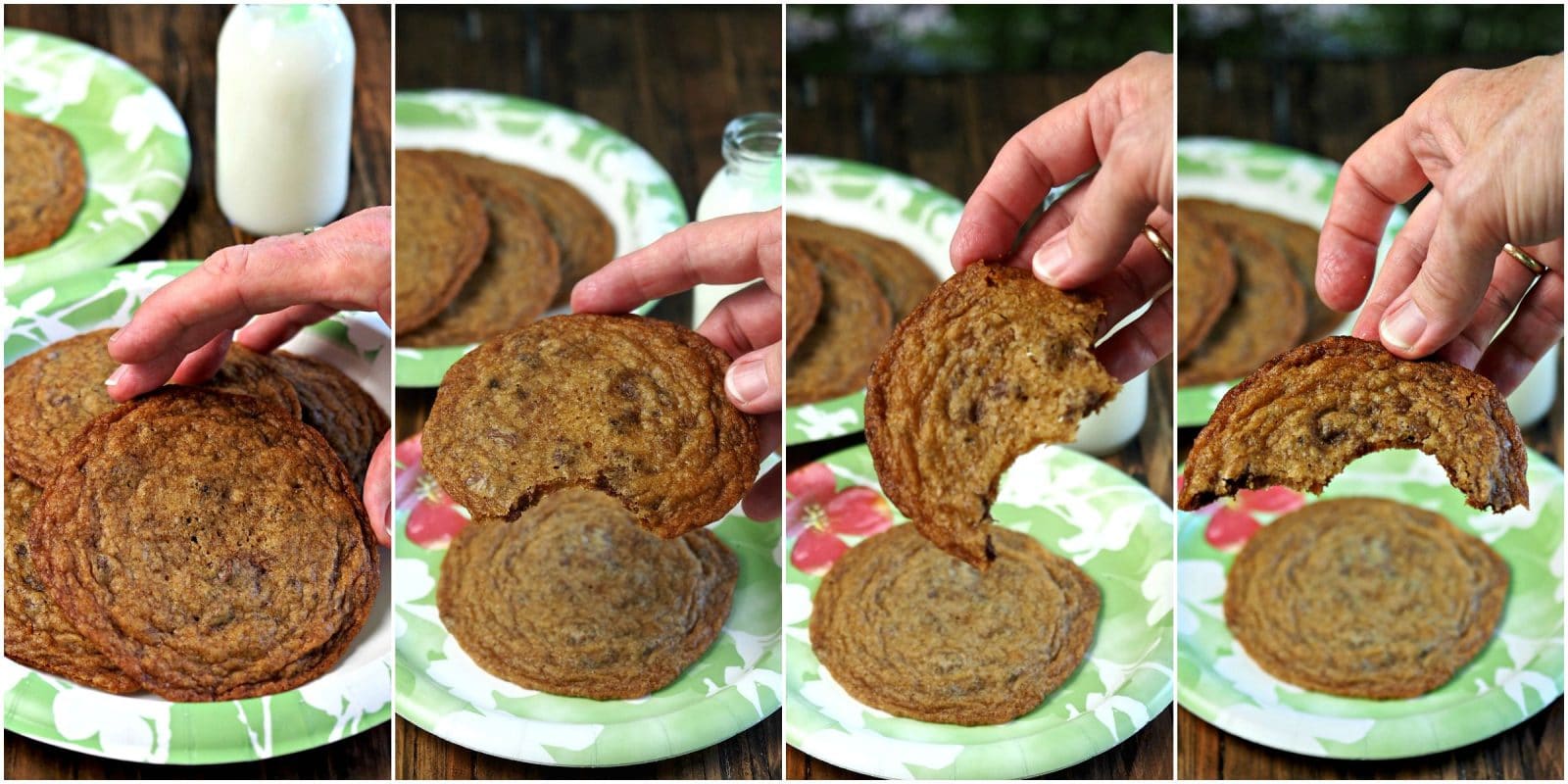 Thank you for coming over today and listening to my story about cookies and sharing time with my friends. I hope you had as great time and I did.   I encourage you to take a few extra minutes to sit with your loved ones and share a story or two of your own.
Enjoy!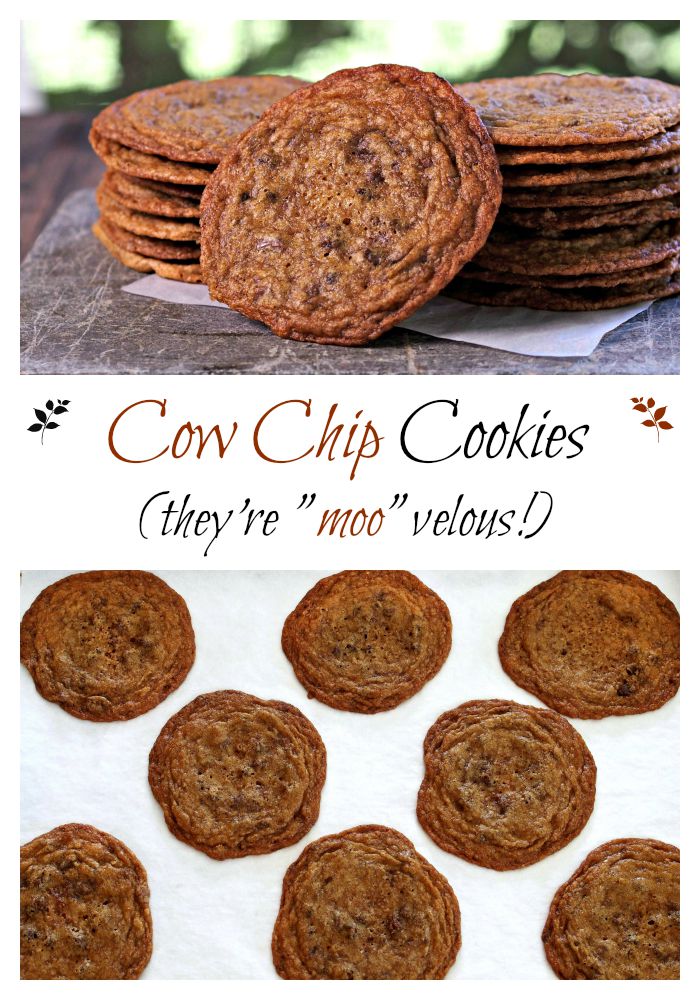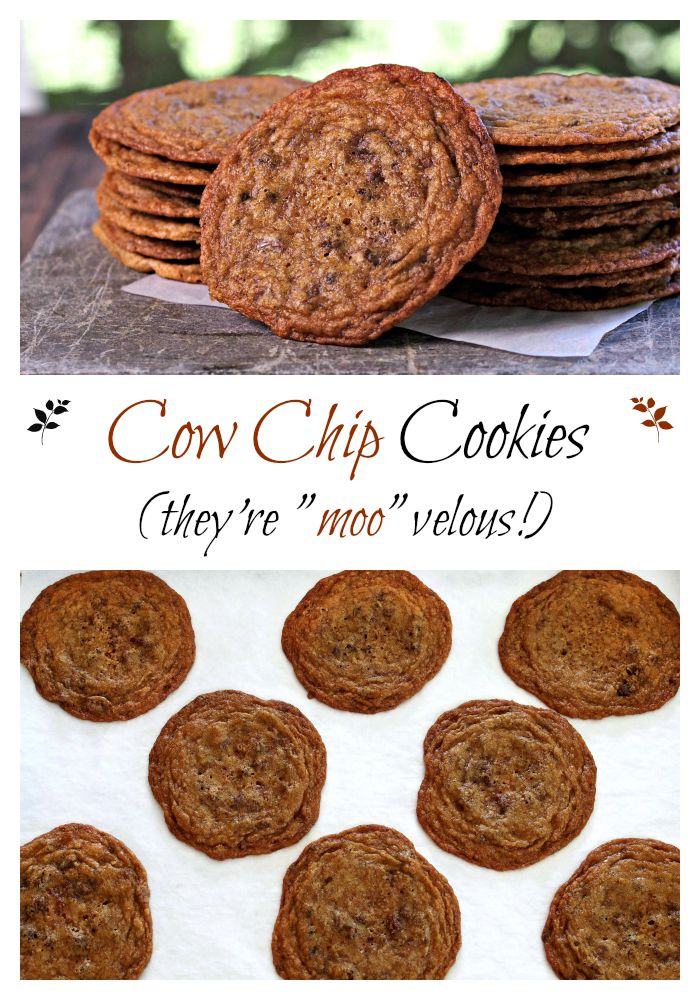 Compensation for this post was provided by Dixie® via AOL Media.  The opinions expressed herein are mine and are not indicative of the opinions or positions of Dixie® or AOL.
Be sure to follow Dixie® and AOL on their social networks found below:
https://www.facebook.com/AOLLifestyle
https://www.pinterest.com/AOLLifestyle/
https://instagram.com/aollifestyle/
https://www.facebook.com/DixieProducts
https://instagram.com/dixie/
https://www.pinterest.com/dixieproducts/
Cow Chip Cookies
Chewy and buttery with crispy edges. These chocolate chip cookies will become a family-favorite. *Recipe adapted from Martha Stewart Alexis Brown Sugar Chocolate Chip Cookies: http://www.marthastewart.com/350439/alexiss-brown-sugar-chocolate-chip-cookies
Ingredients
1-

pound

4 sticks butter, unsalted, softened

1½

cups

dark brown sugar

packed

1½

cups

light brown sugar

packed

1

cup

granulated or white sugar

4

large eggs

room temperature

2

teaspoons

vanilla extract

3½

cups

all-purpose flour

sifted

1½

teaspoons

table salt

¼

teaspoon

coarse sea salt

optional

2

teaspoons

baking soda

1½

cups

good quality mini semi-sweet and milk chocolate chips

or 9 ounces chopped chocolate
Instructions
Preheat oven to 375F and line three baking sheets with parchment paper or Silpat.

In a large bowl, sift together flour, salt and baking soda.

Cream butter on MED-HIGH until smooth; add all sugars and beat on HIGH until smooth - approximately 2 minutes.

Add eggs and vanilla and beat on MED-HIGH until incorporated.

Add flour mixture, place mixer on LOW and blend until dry ingredients are moistened.

Fold in chocolate chips.

Make balls with 2 tablespoons dough (or us a 2-tablespoon scoop) and place dough balls 4" apart on the baking sheet. 8 cookies to each cookie sheet. Cookies will be 4" in diameter when cooked.

Bake cookies at 375F for 9-11 or until golden brown. I bake them 10 minutes in my oven.

Remove cookies from oven and let cool on the cookie sheet 3 minutes.

If possible, use a thin-gauged metal spatula to transfer cookies to a cooling rack to completely cool.

Enjoy!