Hot Onion Dip with Boursin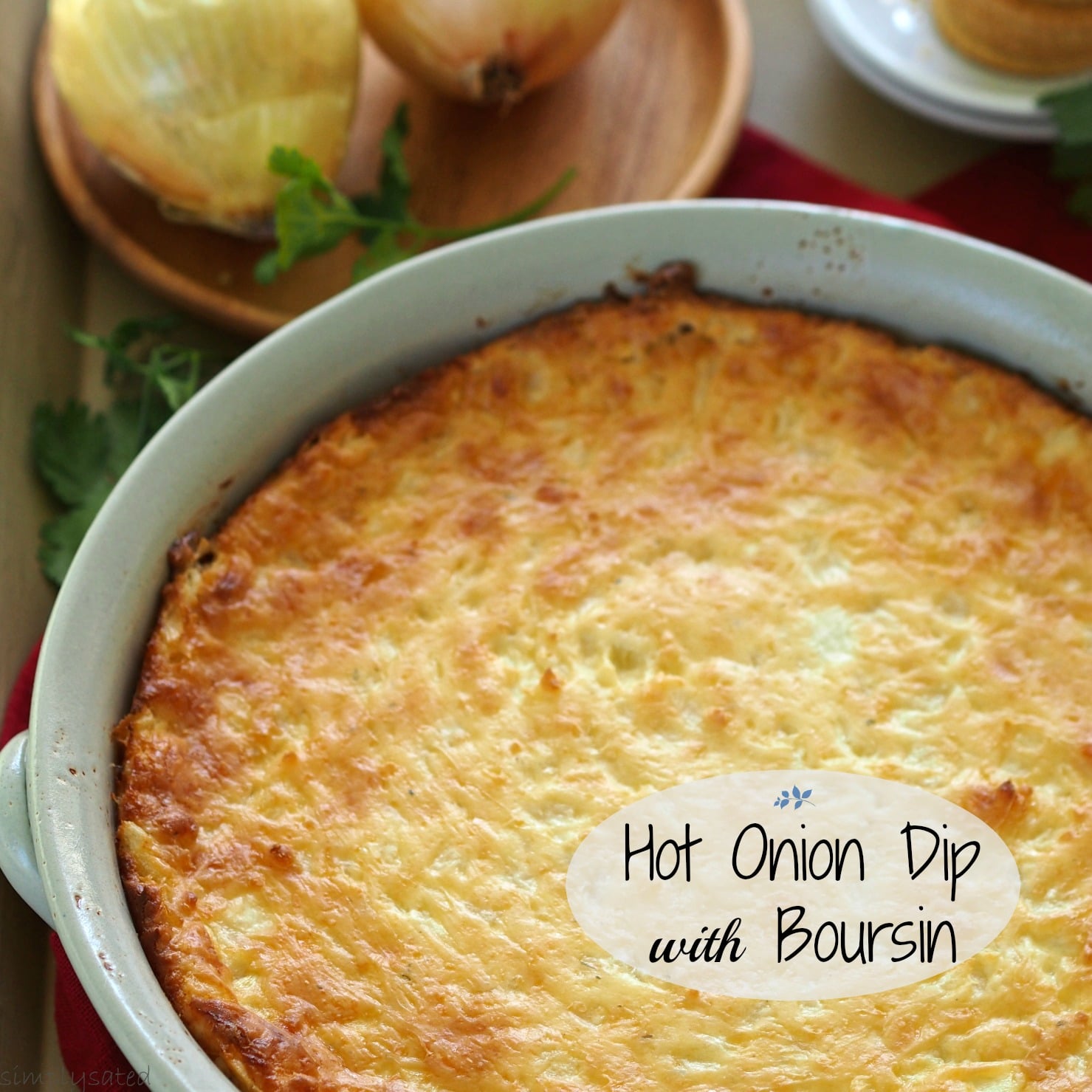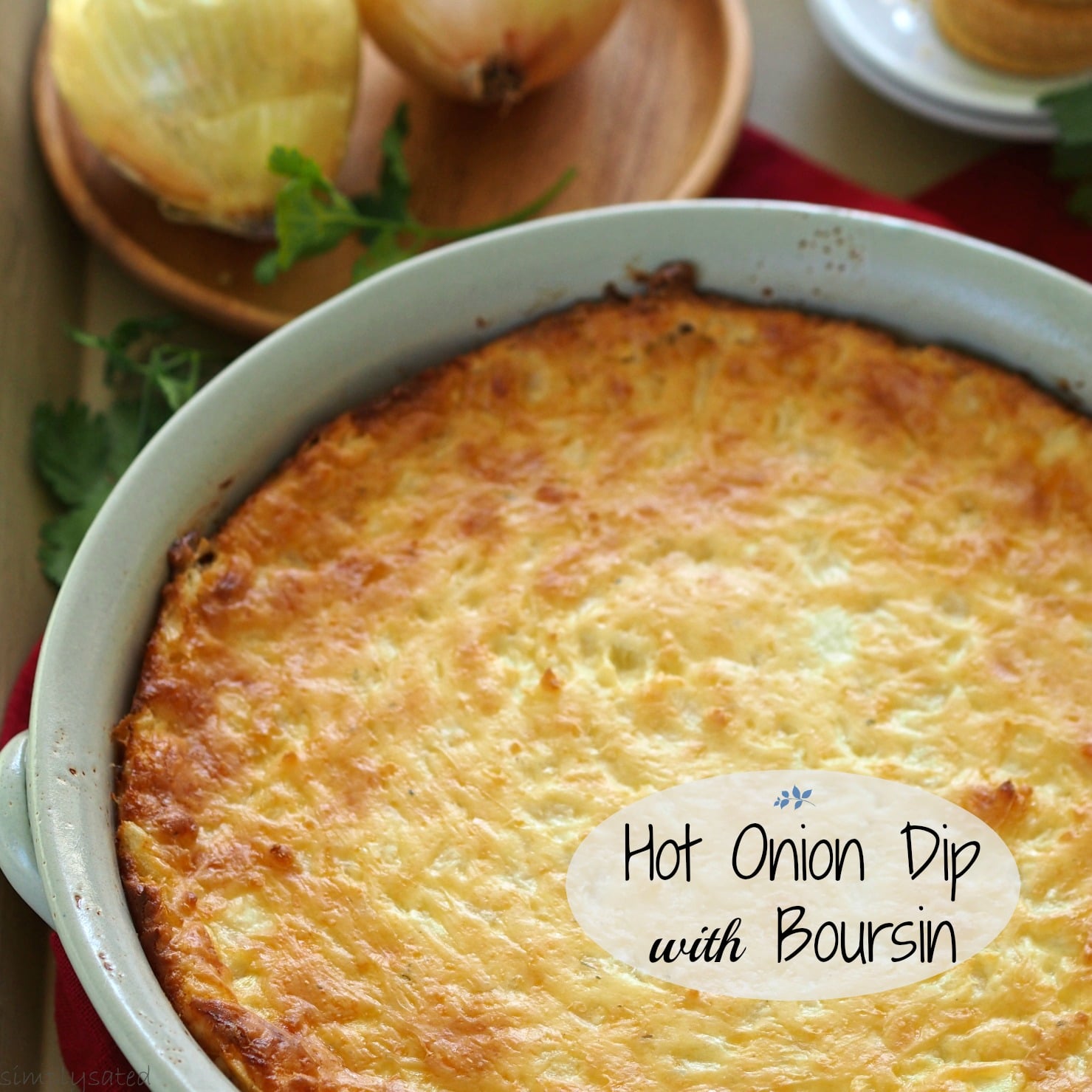 I think I know what you might be thinking, "Hot Onion Dip with Boursin?
Hot Onion Dip? I would rather not, thank you very much!!"
That is exactly what crossed my mind the first time this dish was placed in front of me.
There is a transparency about me and my inner thoughts are often easily read.
I wasn't looking forward to pasting a phony "I love this dip" look on my face while gagging it down my throat. I broke out in a sweat and silently wished I could excuse myself to make a large, yellow, Smiley-Face mask to cover my face.
I love sautéed sweet yellow onions – in almost any savory dish. I even like mild onions in salads, but I was fairly certain I would NOT be a fan of a dish using onions as the main ingredient.
The one thing that gave me hope was that my husband's cousin's wife Paula, a terrific cook and one of the sweetest women on Earth, made the dip.
I was comforted by the thought she loves me and would never ask me to eat anything unpalatable while holding my taste buds hostage.
Bravely, with chip firmly in hand, I steadied myself against the kitchen counter and slowly went in. I scooped up the tiniest bit of dip, swiped most of it off on the edge of the dish then took a bite. "Well okay – that wasn't so bad – let's give it another chance."
The second dipping brought up an actual bite of onion and I thought, "Hmm, this is pretty good stuff."
The third time, my chip was halfway covered with dip and I put the entire onion-dip-covered section into my mouth.
OMGsh, I was hooked.
Let me describe, in the most gentle of ways possible, what happened from there.
Honestly stated, I turned into a rabid dog. I sidled up next to the dish, circled my paws around it then slobbered and snarled at anyone who dared to try to dip their cracker into my golden concoction of the gods.
I love, adore and worship (okay, not worship) Hot Onion Dip with Boursin.
It is creamy, has a touch of tang from the cream cheese, sweetness from the onions and has the perfect hints of garlic and herbs from the added Boursin cheese.
It is delicious eaten with almost any cracker, chip or vegetable. If you want to bump it up – add bacon, ham, sausage or maybe some other herbs, but it really isn't necessary.
Both my children-in-law dislike onion, but they love this dip – unless, of course, they are faking me out and are begging silently for a few minutes to make their own masks.
Please, please give Hot Onion Dip with Boursin a chance even if onions are a food you avoid.
I challenge you not to bare your teeth while eating more than your fair share.
Enjoy!
PS – Check out The Cookie Rookie for the original recipe from my cousin-in-law Paula. From her recipe, I substituted 1 package of Boursin Cheese for 1 package cream cheese. Both versions are terrific.
PPS – Once again, a huge thanks to my daughter Becky, aka: The Cookie Rookie, for taking these beautiful photos.

Hot Onion Dip with Boursin
Hot Onion Dip with Boursin. The hot dip food gods decided to create the best dip ever, and this is the result - the BEST dip on the face of the earth.
Ingredients
2

8-ounce packages cream cheese – softened

1

5.2 ounce package Boursin cheese – softened

3/4

cup

grated Parmesan cheese

¼

cup

Gruyere cheese or Swiss cheese – shredded – optional

but oh so good.

2

cups

sweet yellow onion

peeled & diced

Crackers

chips or vegetables for dipping.
Instructions
Preheat oven to 375F.

Spray a 2-quart shallow baking dish with cooking spray.

In a mixing bowl and using the paddle beaters, combine cream cheese and Boursin cheese. Mix until incorporated and creamy.

Add in grated Parmesan, Gruyere and onion. Mix together well.

Pour the mixture into the prepared dish.

Bake at 375F for 45-60 minutes or until the top is turning golden brown.

Remove from oven – let cool 10 minutes then serve with favorite crackers, chips and/or vegetables.

Enjoy!