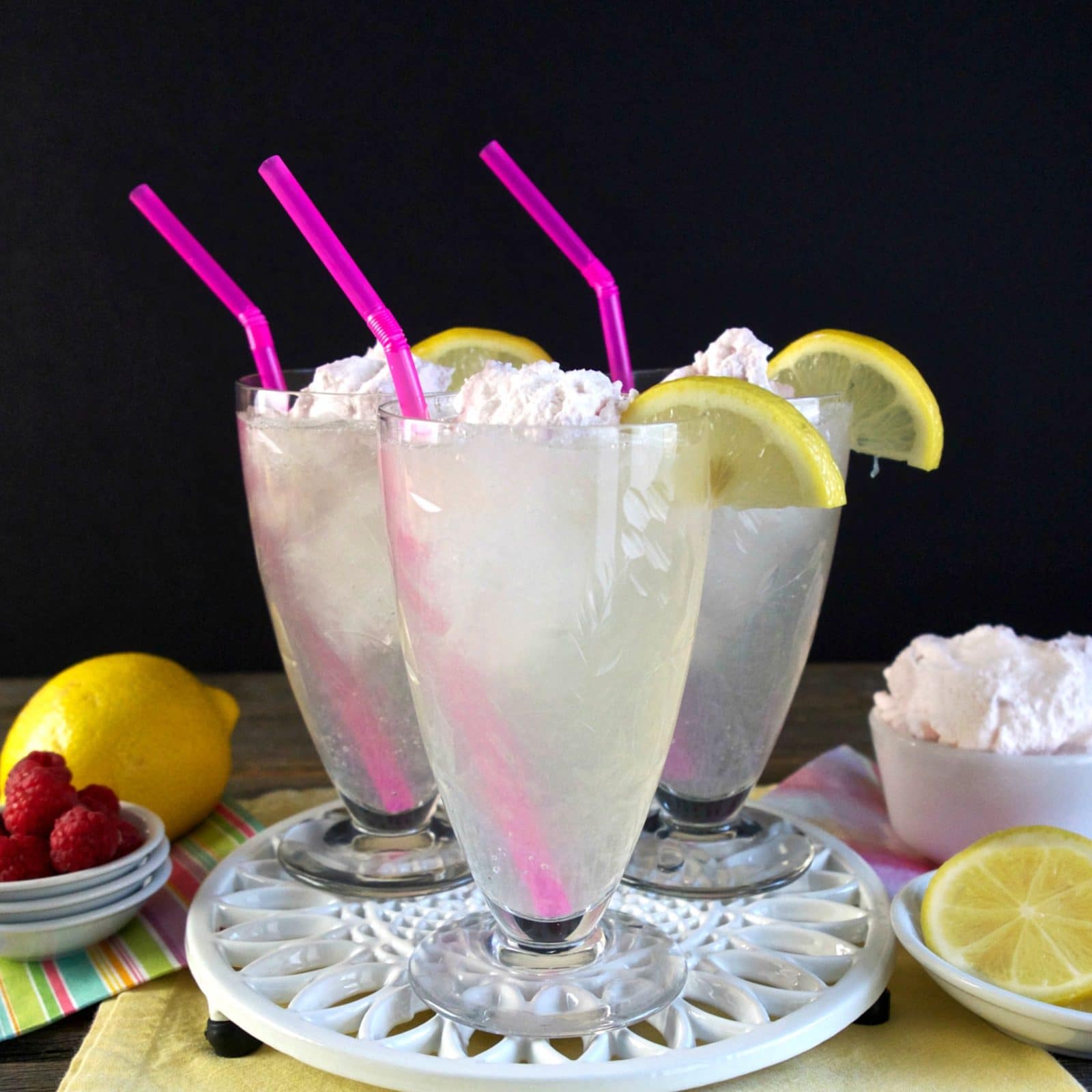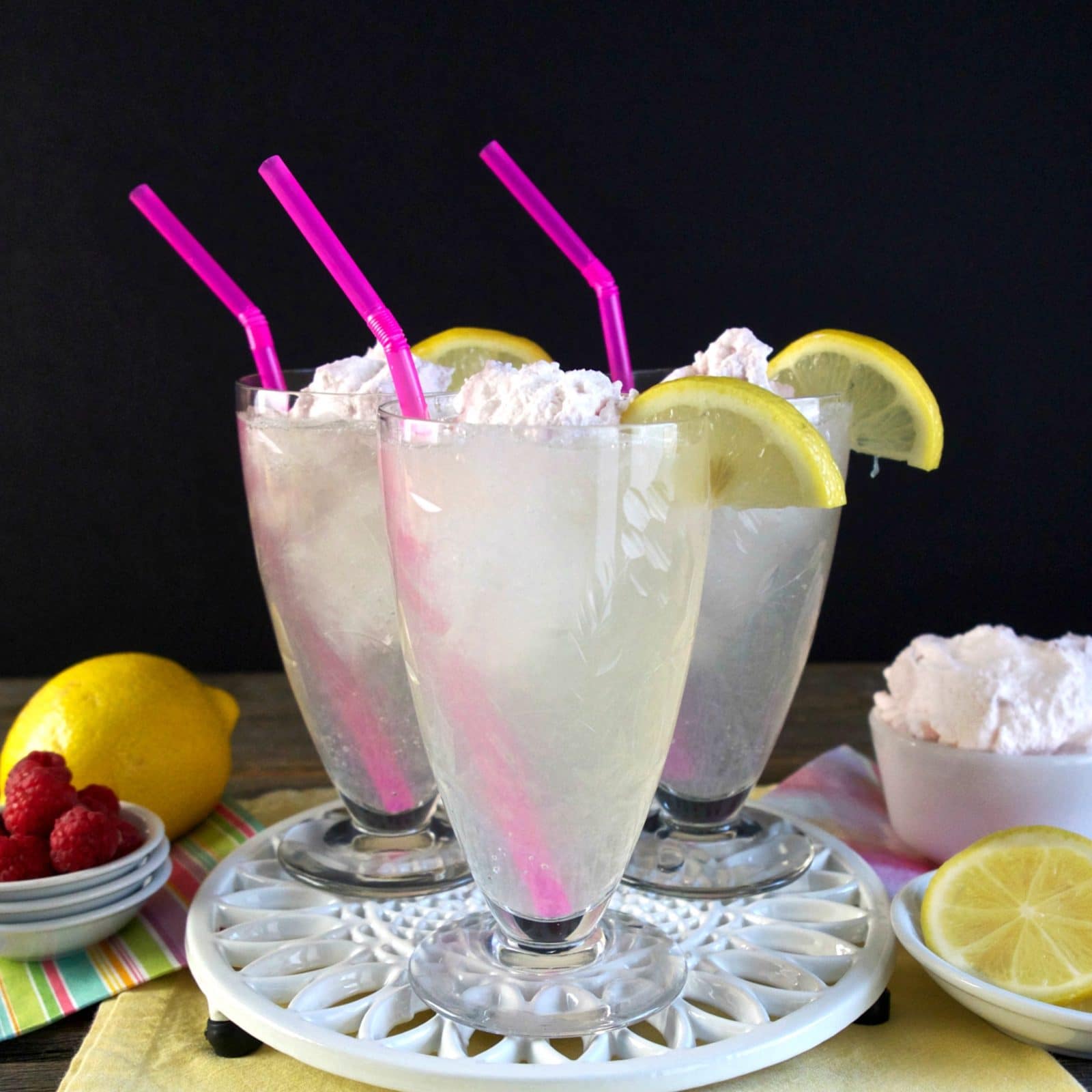 Homemade Lemonade with Raspberry Cream.
I am so excited to have a guest host today, my husband, Jeff. Neither one of us had any idea he was going to sub for me until an hour ago when we had the following conversation.
Me, "My brain is mush. I have this gorgeous lemonade, but I can't think of anything interesting to write."
Jeff, "Lemonade always makes me think of Lemonade Guy at Royal's Stadium. Write about him."
Me, "Why don't you (pointing my finger) write about him? I'm sure you remember him better than I."
(I really was teasing, but he took the bait.)
Jeff, "Okay."
Me, "Yay, for Lemonade Guy!!!" "Yay, for Homemade Lemonade with Raspberry Cream!!!" "Yay, for Jeff!!!"
Take it away, Jeff.
Lemonade has great memories for me. Growing up, Mom stirred up Wyler's on hot days. Always refreshing! In high school during two-a-day football practices in the August heat, she would have a large thermos full of lemonade and ice ready for me as I walked out the door. I would guzzle the whole thing between the morning and afternoon practices. Nothing has ever tasted better.
Back when Susie's and my kids were young (late 1980s, early 1990s), lemonade provided great memories for them when we went to Royals games in Kansas City. The most creative vendor I have ever seen was a fellow by the name of Chuy Gomez. Chuy sold lemonade at Kauffman Stadium and he had an incredible pitch. He would call out "Leeemonaayde, leeemonaayde, leemonayyyyde, WOOOO!!!" He could be heard all around the stadium, and when he yelled "WOOO!" everyone would join in.
With the Royals playing horribly and the stadium largely empty in those days, he WAS the show, and his voice echoed through the stands. Becky and Micah always HAD to have a glass of icy cold lemonade. When we moved to northeast Missouri and would listen to games on the radio, we could hear Chuy's call in the background as the Royals' announcers called the game – it took us back to the "K" in our minds.
Lemonade is a classic, and Susie has given it a great new twist. It is incredible and I know you will enjoy it. Leeemonaayde, WOOOO!!
Thank you, Jeff!
Now, it's time to take a few moments to tell you about this incredible lemonade. My daughter and I were recently at Disney World for the Food Blog Forum. While there, we ate breakfast at The Grand Floridian Café where we both ordered Lemonade with Berry Swirl. We each took a sip and I said, "Wow, that is sooo good, I'm recreating it when I get home." We downed both drinks then slurped and slurped 'till we could slurp no more.
Back home, I got busy and created the most recent of my two favorite summertime drinks. My other favorite sip is Orange Brown Sugar Sweet Tea. Both drinks are delicious and fun and I know you will love them.
This is how to make Homemade Lemonade with Raspberry Cream (quick version): Make the BEST homemade lemonade then top it with berry cream (a mixture of berry compote, whipped cream and mascarpone cream.) Pour lemonade over ice then place a dollop of cream on top. Once served, mix the cream and lemonade together and you will have the most luscious, smooth and refreshing lemonade – ever!
Homemade Lemonade with Raspberry Cream is lemonade worthy of your best cheers.
Yay for Homemade Leeemonaayde, Leeemonaayde, Leeemonaayde with Raspberry Cream! WOOO!!!
Enjoy!
Thank you, Jeff! I appreciate you being Simply Sated's voice today, and this cheer's for you.
Jaayeff, Jaayeff, Jaayeff! WOOO!!!
Homemade Lemonade with Raspberry Cream
Fresh squeezed lemonade swirled with Raspberry (or any berry) Mascarpone Cream. **Read notes before making. Perfect Lemonade recipe: Allrecipes
Ingredients
For the Raspberry Cream:

1/2-

pint

raspberries

blackberries or strawberries (reserve some for garnish)

2

tablespoons

granulated sugar *depending on the sweetness of the berries

more sugar might be needed.

3

tablespoons

water

pinch

of salt

OR - ½ cup All Natural Berry Preserves *See Notes

2

tablespoons

powdered sugar

2

cups

whipping cream or heavy cream

--------------------------

For Homemade Lemonade:

1 1/4

cup

granulated sugar

if available, ultra fine sugar works best

4 1/2

cups

water

divided

1 1/4

cups

fresh squeezed lemon juice

seeds removed
Instructions
For Berry Cream:

Bring raspberries, granulated sugar, water and salt to a boil.

Boil until raspberries are soft and juices have reduced to thick syrup.

Drain through a mesh strain to remove seeds.

Cool to room temperature.

After berries have cooled, prepare Berry Cream.

Whisk cream 1 minute then add powdered sugar.

Whisk 1 minute then add ¼ cup berry mixture. (add enough to your liking)

Whisk until soft peaks form.

Serve immediately over Freshly Squeezed Lemonade or place in an airtight, refrigerator container until ready to serve.

For Homemade Lemonade:

Bring sugar and 1 1/4 cups water to a boil, in a small saucepan, and stir to dissolve sugar.

Remove from heat, pour into a heat-proof dish and cool on the counter for 10 minutes.

Once syrup has cooled, pour into a 2-quart pitcher, add lemon juice and 4 more cups of water. Stir well. Refrigerate until cold.


When Ready to Serve:

Pour lemonade into 8 ounce glasses over ice and place a large dollop of Raspberry Cream on top. Serve with a straw.

Have each person stir the cream into their own drink.

Enjoy!

Berry Cream will keep in fridge up to 2 weeks.
Recipe Notes
**Berry Cream can be made using ½ cup All-Natural preserves.
Place preserves in a microwavable dish and heat on HIGH in 10-second intervals until soft and pourable. Cool 5 minutes and add to whipped Mascarpone.