Fresh Strawberry Pie – a mound of glazed, fresh strawberries nestled in a crispy tender crust & topped with whipped cream. It is as beautiful as it is delicious.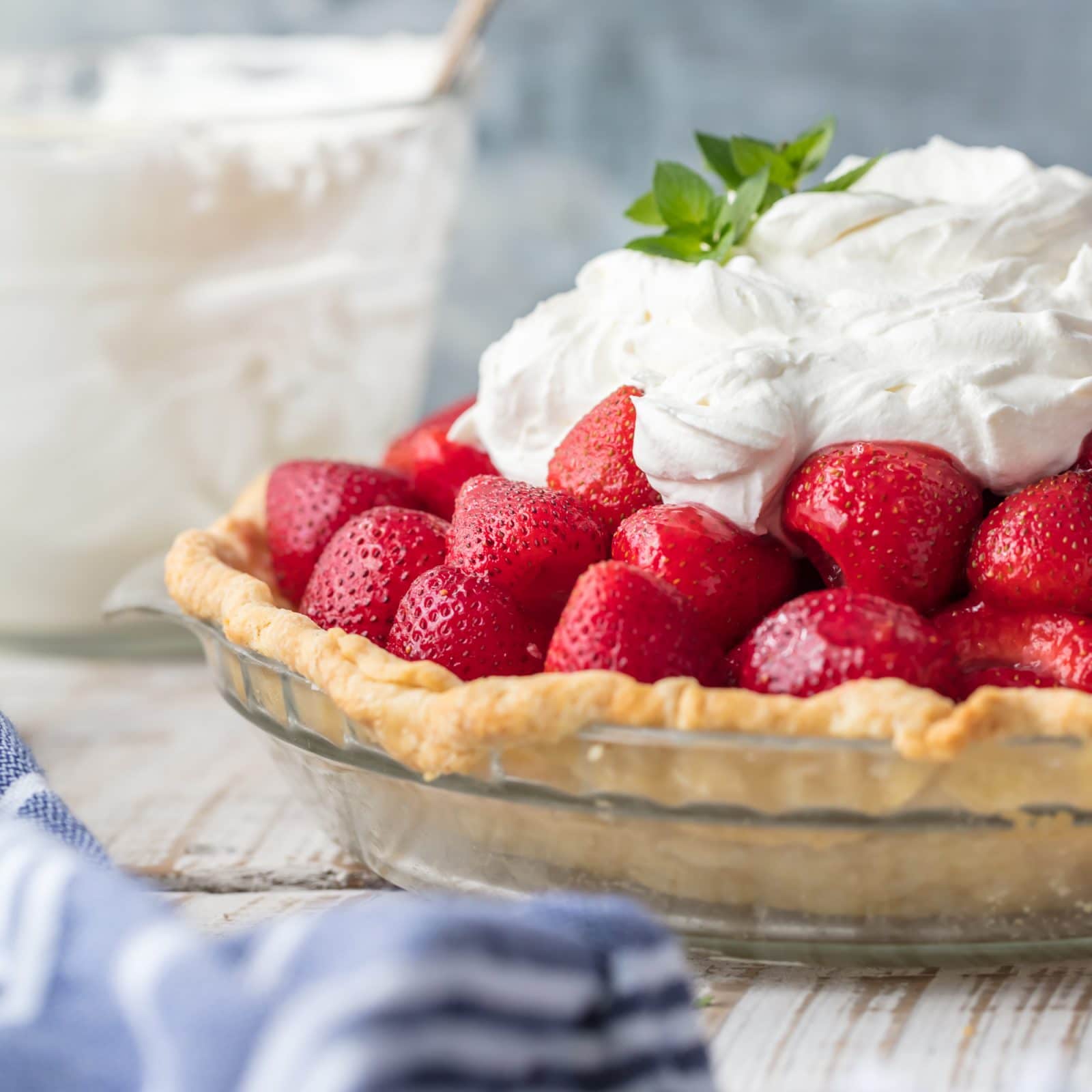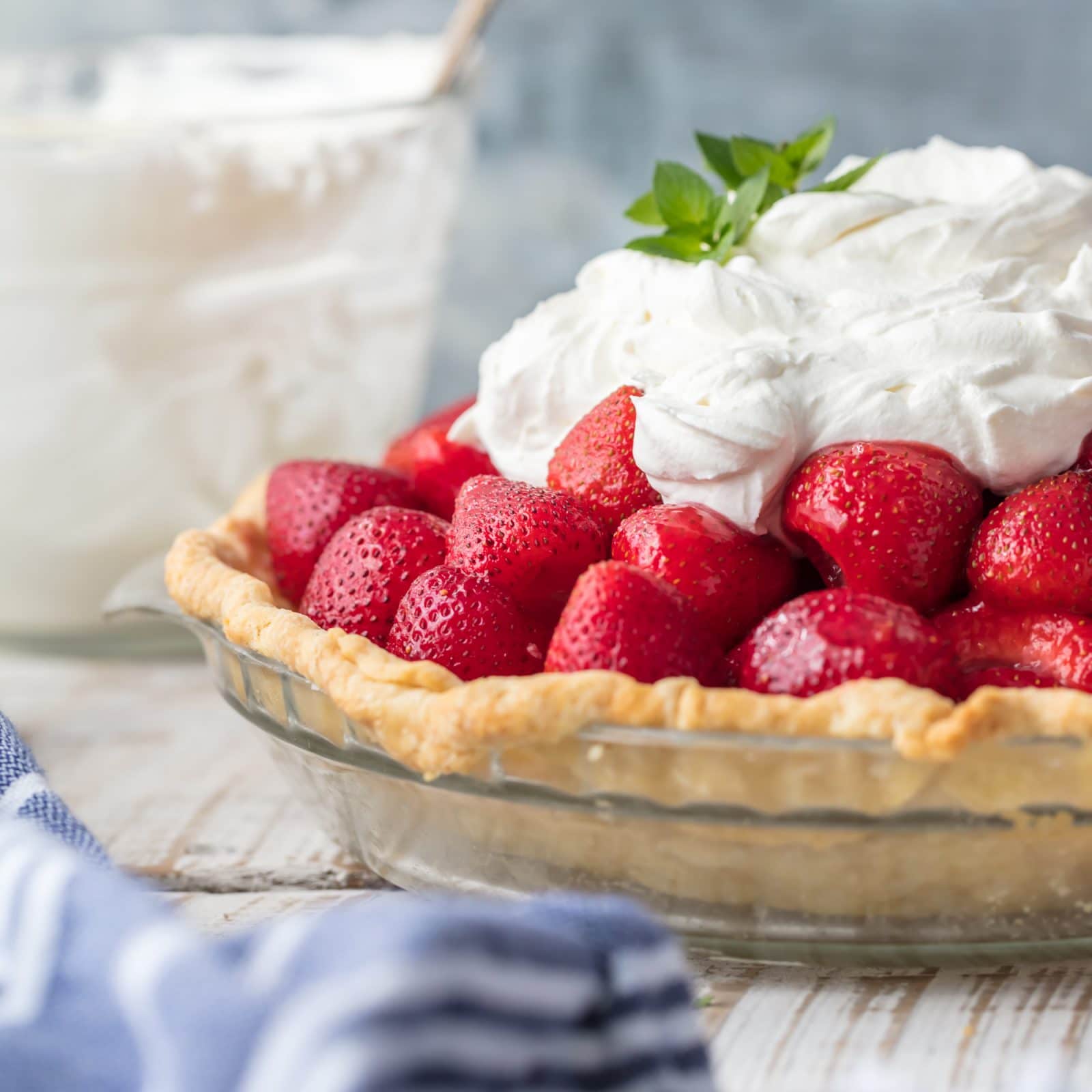 Fresh Strawberry Pie, oh how I love, love, love, love, love you!!
As a child, I loved fresh, juicy, sweet, bright red strawberries even more than I loved candy. I have mentioned my Aunt Mary Lou on Simply Sated more than once. She was probably the best cook I have ever known, and I sure wish I had copies of all her recipes. Without ever knowing it, she was one of the people who fed (literally and figuratively) my love of cooking. My first taste of Fresh Strawberry Pie was Aunt Mary Lou's creation. I remember how beautiful it was and how I sucked in my breath when I saw it as it was carried into our home for our annual 4th of July celebration. I also remember sitting as close to it as possible, during the meal, to ensure I got a piece of it when dessert was served. With a large extended family, one had to stake their claim on food in order to survive. For me, survival meant getting a huge slice of that gorgeous strawberry pie. While this isn't my Aunt Mary Lou's Fresh Strawberry Pie, it is its peer.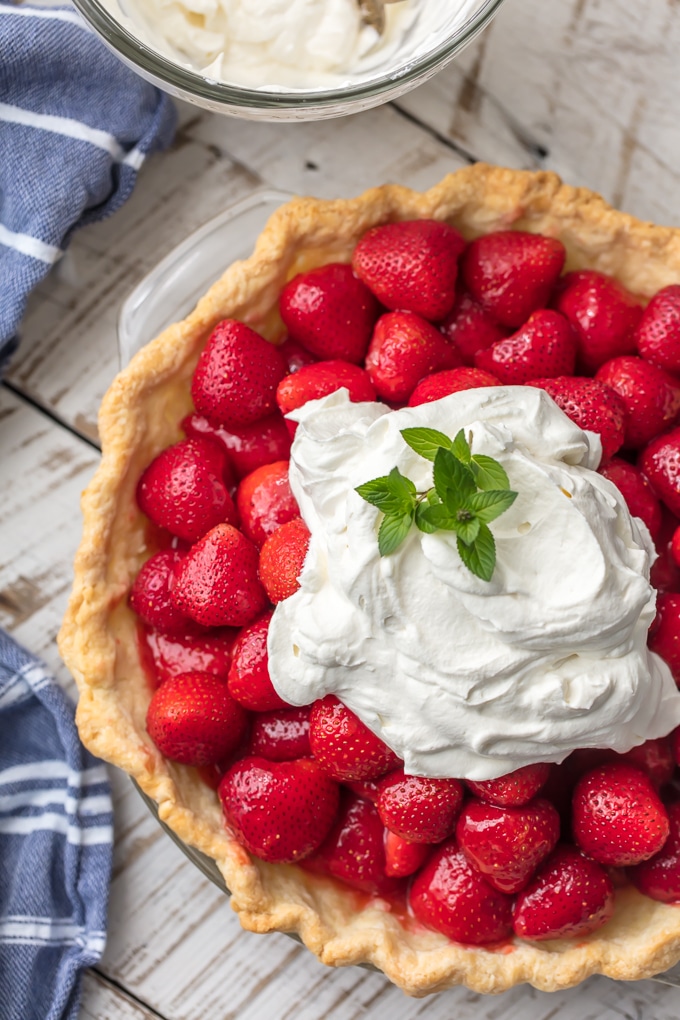 Many of the recipes I share on Simply Started are adapted from America's Test Kitchen or Cook's Illustrated. I have found, over many years, they have some of the most delicious, reliable recipes. Sometimes I tweak the recipe a little; sometimes I don't. The sites charge for access to their recipes, but the money spent is well worth every penny. This is one of their recipes that needed a few minor adjustments (in my oh-so-humble opinion). I also substituted their whipped cream recipe for my recipe for stabilized whipped cream. It can be made a few days ahead of time and kept refrigerated until ready to use. Fresh Strawberry Pie is an easy pie to make, but please read the notes, first, to ensure your pie doesn't get soggy.
Enjoy!
Thanks to Becky Gall aka: The Cookie Rookie for taking these gorgeous photos. Additional photos are shared here.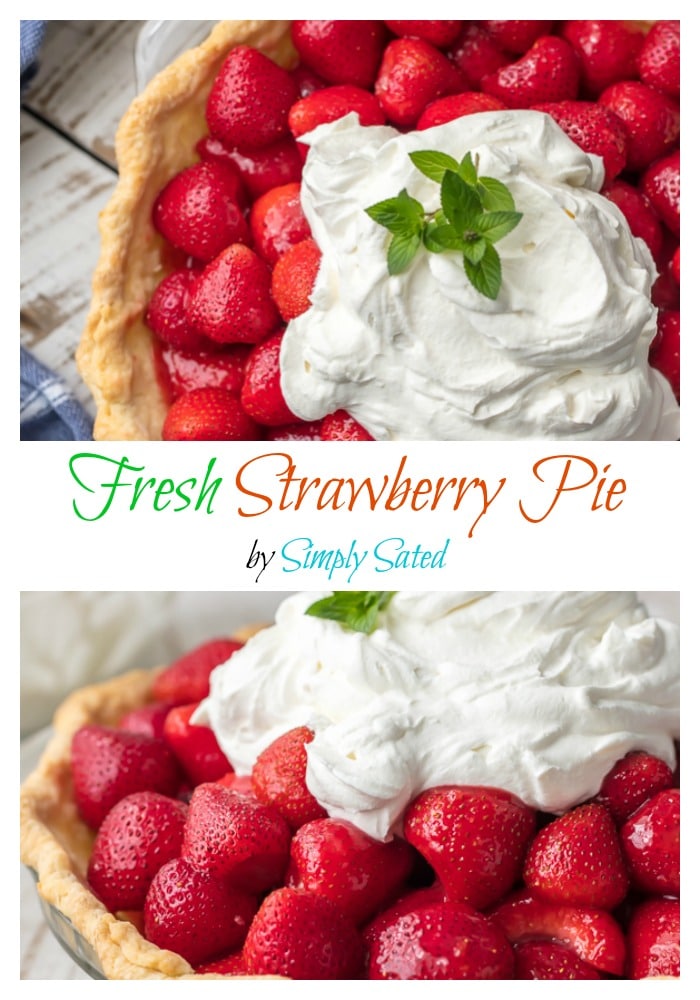 Fresh Strawberry Pie
Fresh Strawberry Pie - a mound of glazed, fresh strawberries nestled in a crispy tender crust & topped with whipped cream. As beautiful as it is delicious. Please read *Notes before making this pie.
Ingredients
For the Pie Crust:

1

recipe Baked Pie Shell; store-bought or homemade

cooked and cooled.

For the Pie Filling:

4

pints

3 lbs fresh strawberries, rinsed, dried & stems removed.

¾

cup

5.25 oz granulated sugar

2

tablespoons

+ 1 teaspoon cornstarch

2

teaspoons

Low-Sugar Sure-Jell

¼

teaspoon

salt

1

tablespoon

juice from 1 lemon

For the Whipped Cream:

1½

cups

cold heavy cream

whipping cream

3

tablespoons

powdered sugar

confectioner's sugar

1

teaspoon

vanilla extract

1

tablespoon

Nonfat Instant Dry Milk or powdered milk
Instructions
For the Pie Filling:

Choose 6 ounces (1½ cups) strawberries (larger ones halved). Add berries to a food processor and purée until berries are smooth (20-30 seconds). Scrape down the sides of the bowl as needed. There should be ¾ cup puréed strawberries.

In medium saucepan, whisk sugar, cornstarch, Sure-Jell and salt. Stir in the puréed strawberries and cook over medium0high heat (stirring constantly) while bringing to a full boil. Boil 2 minutes (scrape the bottom and sides of pan frequently to prevent scorching. Transfer to a large bowl and stir in lemon juice. Allow to cool to room temperature.

Choose 2 pounds of the best strawberries from the remaining berries and cut the extra-large ones in-half. Gently fold these berries into the cooled strawberry glaze until berries are evenly coated. Transfer the berries to the cooked pie shell, piling them into a mound. Turn any of the cut strawberries, cut-side down and arrange berries so holes are filled. Refrigerate 1 hour before serving. It is best served within 2 hours of chilling (The glaze becomes softer and wetter as it continues to chill. It will still taste great, though, if served later.) *See notes above.

For the Stabilized Whipped Cream:

Pour 1½ cups whipping cream (heavy cream) in a mixing bowl of an electric mixer. Beat the cream until it thickens slightly, then add the powdered sugar, vanilla extract and Nonfat Instant Milk. Whip the cream until it thickens enough to hold its shape. Do not beat the cream too long or it will have a stiff, butter-like consistency.

When ready to serve the pie, top it with a huge dollop of whipped cream and a mint leaf, for garnish. Beautiful!

Enjoy!
Recipe Notes
This pie is best eaten within 2 hours after putting it together. If making it more than 2 hours ahead, prepare the piecrust, strawberries, glaze and whipped cream but don't put the pie together until ready to serve. (It is especially important not to combine the strawberries and glaze more than 1 hour ahead.) The separate parts of the pie can be prepared up to 24 hours ahead.