Watermelon with Mascarpone.  Watermelon is one of the foods at the top of my All-Time Favorite Summer Foods list.  It is filled with all kinds of goodness, it is healthy,  sweet, juicy and beautiful.  There really isn't anything NOT to love.  Just look at it – it is gorgeous!
To learn How-to-Cut-Watermelon Sticks, go here.
I had never heard the word Mascarpone until four or five years ago while watching Giada on Food Network.  She explained Mascarpone is an Italian cheese made from heavy cream mixed with citric acid.  It is lighter, has a creamier texture and might be a tad sweeter than creamed cheese.  It can be used in sweet or savory dishes and is delicious.  I bought some that day and fell in love.  It is somewhat expensive, so I plan to make homemade Mascarpone soon.  I'll let you know how it turns out.
This week, I was watching Giada as she prepared her recipe, Mascarpone-Filled Watermelon.  I thought it was such a great idea and looked so yummy I decided to share it on my blog.  I am looking forward to making it for my watermelon-loving granddaughter.  I know she will love it!
I love cute things as you can read here and this recipe is so delicious, easy and cute.  I think they look like tiny packages.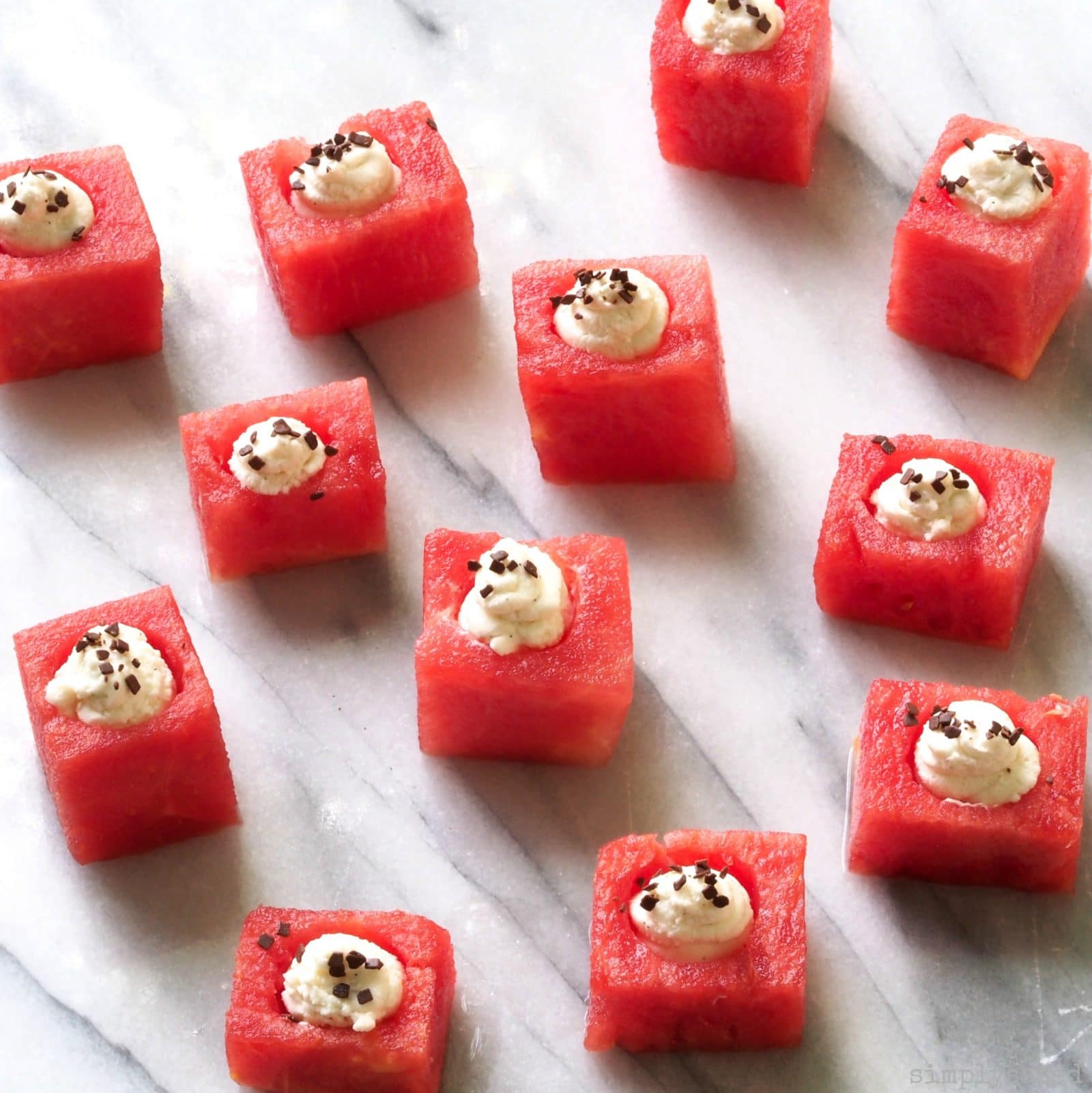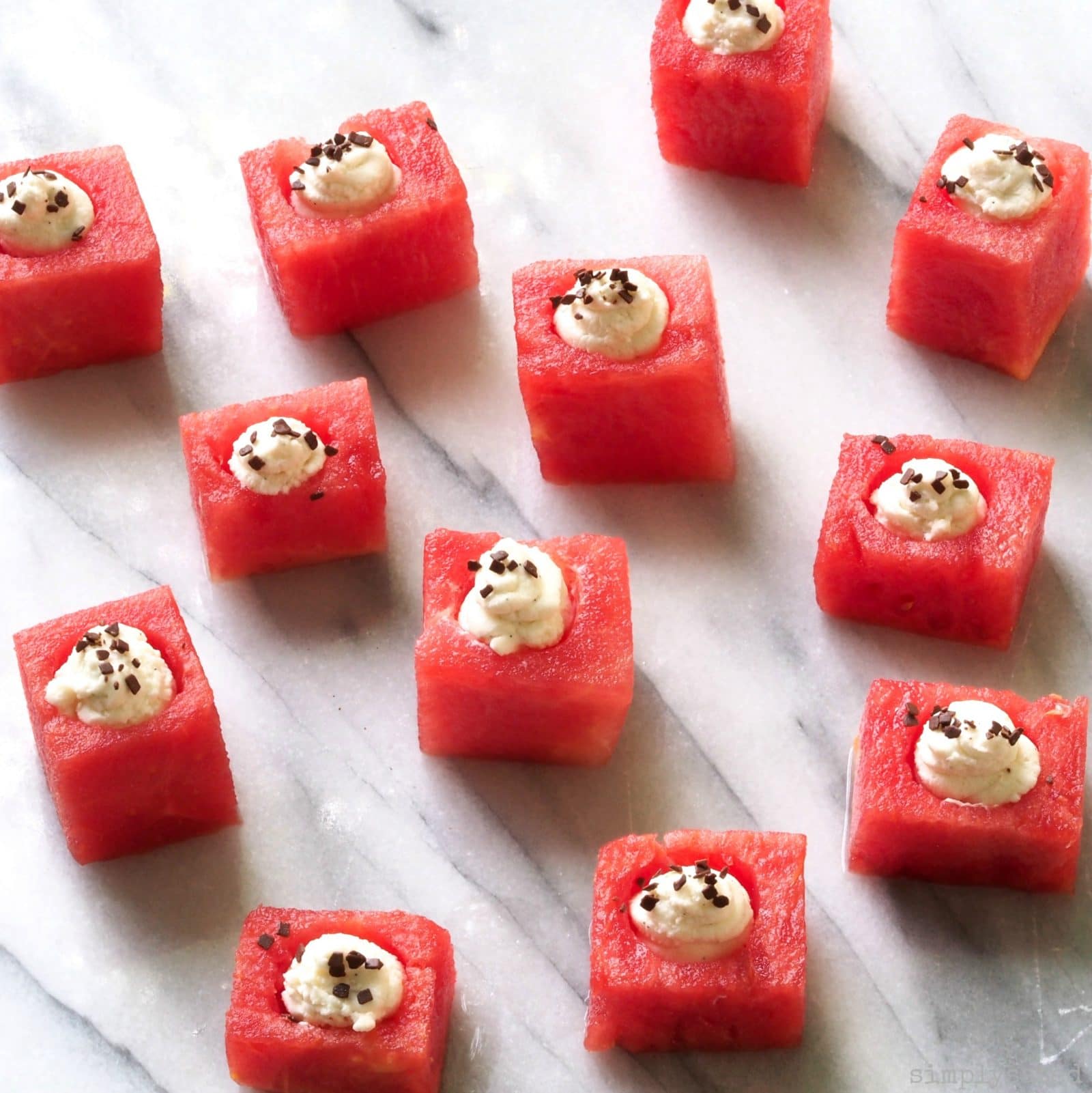 Ok – I've talked enough – now grab a watermelon, cut it up into Watermelon Sticks then let the fun begin.  Cut the watermelon sticks into cubes, scoop out a tiny hole on one side, fill the hole with Mascarpone cream then top the cream with a few sprinkles of chocolate.  That's it!
I bet you can't eat just one.
Enjoy!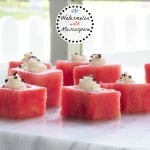 Watermelon with Mascarpone
Watermelon cubes filled with Mascarpone cream then sprinkled with chocolate. Original recipe - Giada De Laurentiis - Mascarpone-Filled Watermelon (Food Network)
Ingredients
1

medium seedless watermelon

cut into 1-inch cubes

1

cup

heavy cream

1

cup

8 ounces mascarpone cheese

1/8

teaspoon

vanilla extract

1

teaspoon

agave syrup or honey

1

lime - zest & juice

1/4

cup

mini chocolate chips or chocolate sprinkles
Instructions
Using a 1/2 teaspoon measuring spoon or a strawberry hulling spoon, scoop out the center of one side of each watermelon cube.

Set the cubes upside-down on a paper-towel-lined plate or tray. (If left upright, the scooped-out cubes will fill with watermelon juice.)

Set aside until ready to fill.

---------

Combine cream mascarpone, cinnamon, vanilla, agave, lime zest and lime juice in a medium bowl.

Beat with an electric mixer until thick.

---------

Flip the watermelon cubes over.

Fill each with Mascarpone filling and top with chocolate chips or sprinkles.

Serve immediately.

Enjoy!