White Chocolate Strawberries Christmas Tree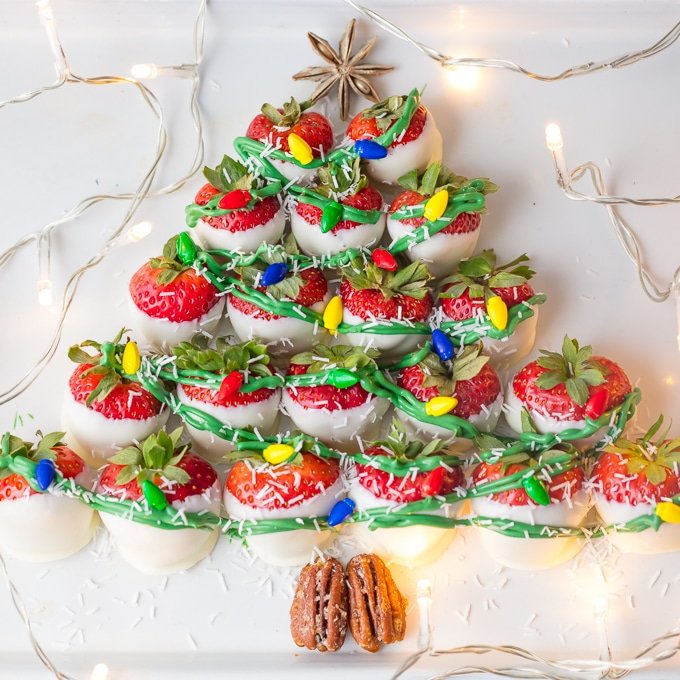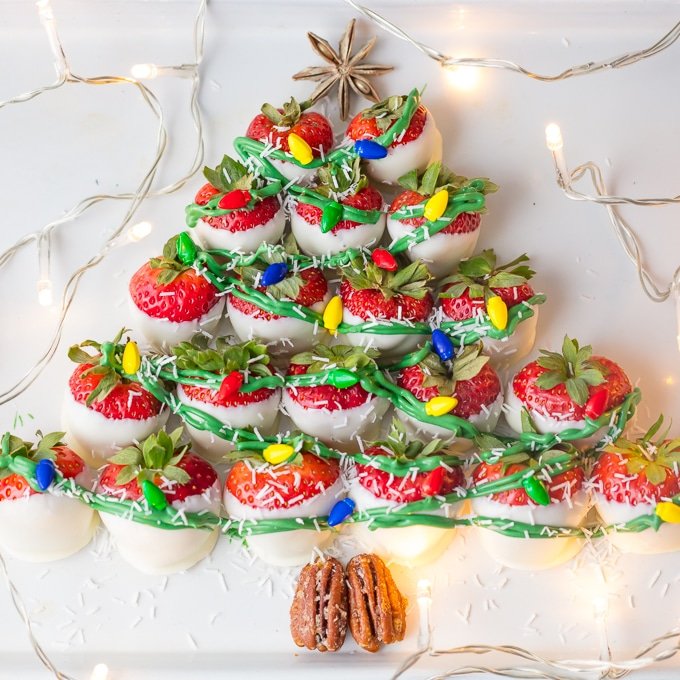 This is a short and sweet blog post about one of the easiest, tastiest and cutest Christmas desserts or appetizers – ever! It is the type of recipe we all love and need during "…the most wonderful time of the year."
There are very few foods better tasting than fresh strawberries dipped in creamy white chocolate. There are very few appetizers or desserts cuter than this Christmas tree made of white chocolate, strawberries, candy sprinkles, pecans and star anise. Seriously (like my granddaughter says), just how adorable is this tree?!!
So, gather your favorite edible decorations, white chocolate, fresh strawberries, a couple of sugared pecans and one star anise and join in the fun. All you will have to do, after presenting White Chocolate Strawberries Christmas Tree at your next holiday party, is to stand back, smile and say "You're welcome, it was my pleasure."
Enjoy!

Here are two other terrific holiday desserts:
Cranberry Orange Almond Shortbread Cookies
and
Thanks to Becky Hardin for these gorgeous photos.
Please take a moment to check out her food blog, The Cookie Rookie. Here are two holiday favorites:
Sherbet Mimosas and Grape and Walnut Baked Provolone.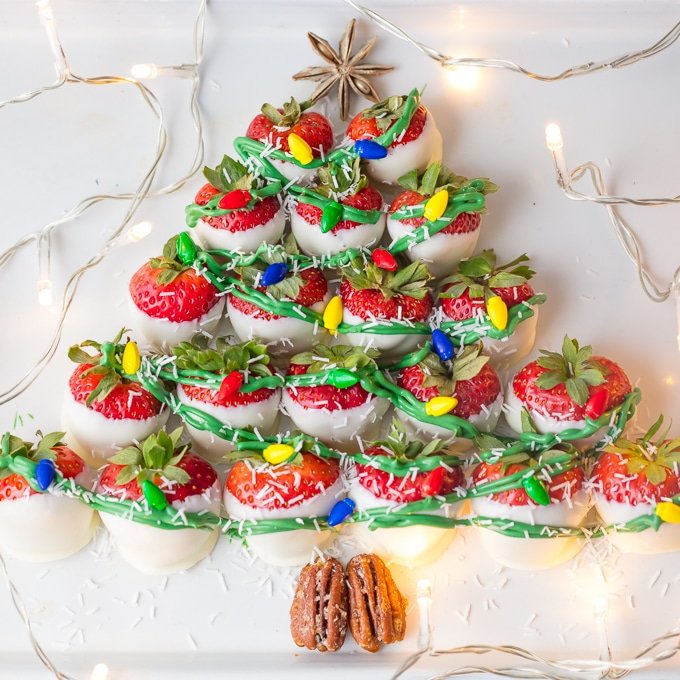 White Chocolate Strawberries Christmas Tree
White Chocolate Strawberries Christmas Tree is a whimsical, easy & tasty Christmas dessert or appetizer. White chocolate and strawberries. Everyon'e favorite Have fun decorating this tasty and fun Christmas tree.
Ingredients
2

pints

fresh strawberries

washed and completely dry (21 strawberries are needed)

1

10 ounce package white chocolate melting wafers, I love Ghirardelli

2-4

honey roasted or sugared pecan halves

Cookie or cake sprinkles

I used Wilton Jumbo Lightbulb sprinkles for the lights and ChocoMaker white candy shreds for the snow.

1

whole star anise for the star atop the tree

edible gold glitter to brush on the star anise
Instructions
Melt ¾ package of the white chocolate wafers in a microwave-safe bowl per package directions (30 seconds on defrost, stir, then 15 seconds. Stir and repeat until the white chocolate has melted). Do NOT over heat – the chocolate will sieze (harden).

Line a baking sheet with parchment paper and lightly spray the paper with cooking spray.

Dip each strawberry into the melted white chocolate and place on the prepared parchment paper. Place the strawberries in the fridge to harden.

*I made a six-tier Christmas tree and used 2(or 4) pecan halves for the tree trunk, 6 of the largest strawberries for the tree's bottom tier, then 5 for the next higher layer, 4, 3, 2, 1 for each ascending tier and ended with one star anise at the top.

In a small bowl, melt the remaining white chocolate wafers and add green food coloring. Mix well then pour into a piping bag (or something comparable). Pipe the green white chocolate, like garland, over the tree and add the tree light and snow sprinkles. Top the tree with the gold star anise.

Enjoy!
Recipe Notes
*Note: This is just one way to decorate the Christmas tree. Use your imagination to make it as simple or detailed as you prefer. Have fun!