My goal of becoming a magician came to fruition this past week. Who knew? Who knew, with this recipe and a quick flip of the wrists, a once-upon-a-time dream would be realized?
I came across this recipe two weeks ago, although it first appeared in Cook's Country in 2007. The name of the recipe and the photo piqued my curiosity, but when I read the introduction, I knew I couldn't keep my foodie self-respect if I ignored this challenge.
"This Peach Puzzle recipe has all the pizzazz of a magic trick, as well as beautiful presentation and all-around good taste. The unusual recipe's technique includes placing a custard cup upside down in the center of a pie plate. Peeled peaches are arranged around the cup and drizzled with a mixture of brown sugar, butter, and vanilla. Buttery biscuit dough is domed over the peaches, and then the Peach Puzzle goes into the oven. Once cooled, the pie plate is flipped over to reveal tender peaches nestled into the flaky biscuit—and a butterscotch-like sauce in the ramekin."
I tried it and it worked!! My first effort was less than stellar, but my second attempt was blog-worthy. Here are the results.
It is obvious I had much more success with the second try and, I imagine, my third try will be even better.
Here, in photos, is the process:
First: Peel the peaches.
Second: Place an upside-down, buttered ramekin in the middle of a pie plate and space 6-7 peaches around it. Prepare the sauce and pour it over the peaches.
Third: Make the biscuit crust then drape and tuck the crust over the ramekin and the peaches. (On my second try, the crust was not as crumbly.)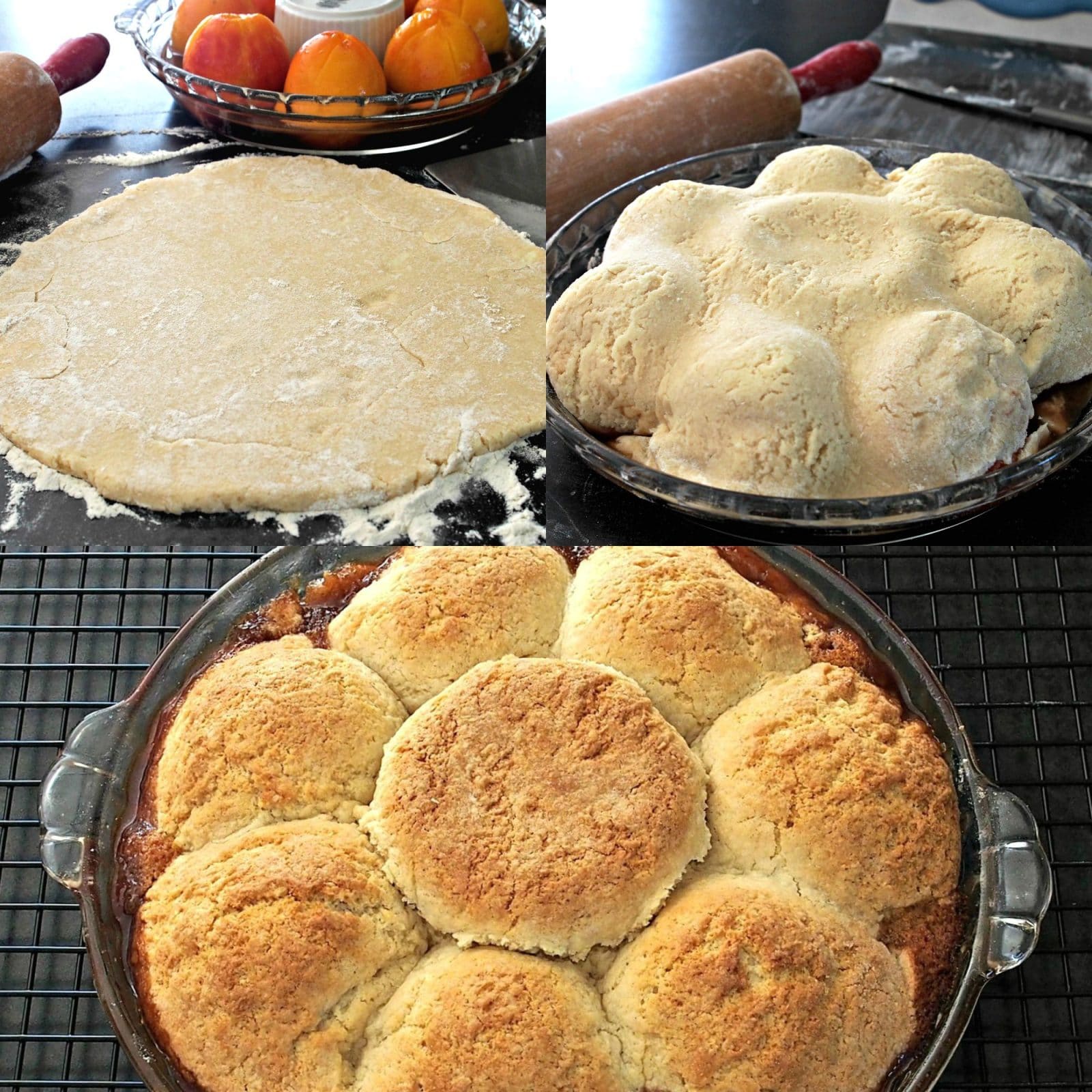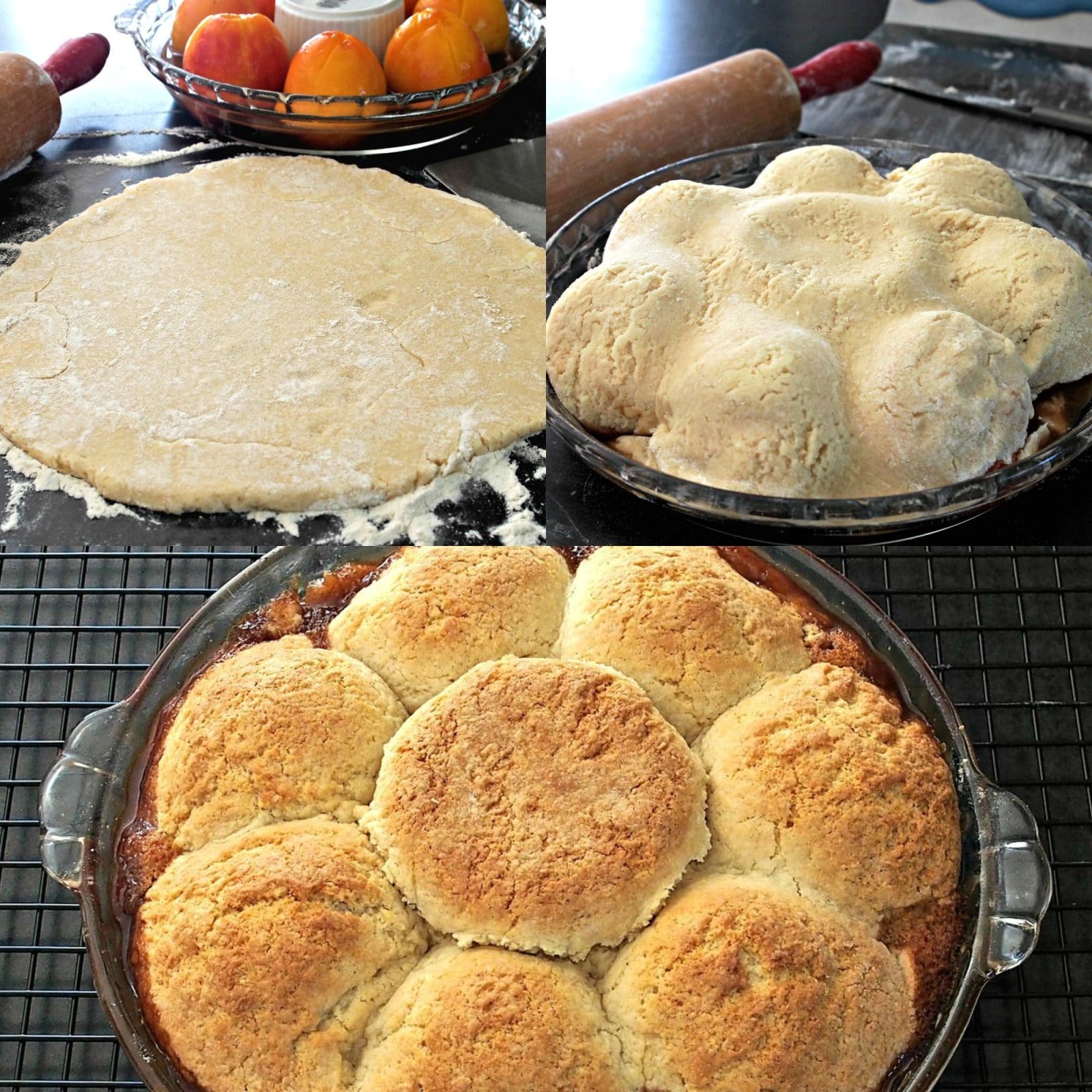 Fourth: Cook the Peach Puzzle, cover with a slightly larger plate, and quickly flip the Peach Puzzle over (I apologize my assistant was not on-site and I couldn't get a video of the actual flip without assistance).
Fifth: Admire the results of your magic trick. Just look at that syrup IN the ramekin – whew – and wow!
Sixth: Top the Peach Puzzle with ice cream and warm magic sauce and dig in.
Oh. My. Goodness!!
I'm telling you, it was as if I waved a magic wand and sprinkled fairy dust in my kitchen. I might have actually seen pixies holding hands and dancing around the Peach Puzzle.
This dessert is a magical concoction not only in appearance. After smelling the aroma and tasting the cinnamon, nutmeg, brown sugar, peaches and magic sauce-soaked biscuits, you will be dancing right along with those pixies. Peach Puzzle is indeed a mind-blowing surprise.
Enjoy!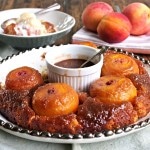 Peach Puzzle
Peach Puzzle is no ordinary cobbler. It is magical and extraordinary w/fresh peaches, spices & a self-making butterscotch sauce surrounded with a sweet buttery crust. *Recipe adapted from
Cook's Country Peach Puzzle
Ingredients
6-7

peaches

they should give a little when squeezed, peeled.

-------------------------

For the Magic Syrup

sauce:

6

tablespoons

water

¾

cup

packed light brown sugar

2

tablespoons

unsalted butter

½

teaspoon

vanilla extract

½

teaspoon

ground cinnamon

¼

teaspoon

ground nutmeg

¼

teaspoon

table salt

1

teaspoon

fresh lemon juice

½

teaspoon

fresh lemon zest

-------------------------

For the dough:

1¼

cups

all-purpose flour

3

tablespoons

granulated sugar

1

tablespoon

baking powder

¼

teaspoon

table salt

¼

teaspoon

coarse salt

optional

5

tablespoons

cold unsalted butter

cut into ¼-inch pieces

6

tablespoons

milk
Instructions
Place oven rack to middle position and preheat oven to 400F.

Spray a 9-inch glass pie plate with cooking spray.

Spray a 6-ounce ramekin with cooking spray (inside and out). Place the ramekin upside down in the center of the pie plate.

------------------------------------------

To Peel the Peaches:

Fill a large mixing bowl with ice water and set aside.

Bring water to boil in a large pot then turn the heat to simmer.

Score the bottom or pointed end of each peach with an x-shape just deep enough to cut through the skin.

Submerge the peaches in the simmering water for 1 minute or until the skin slightly pulls away from the scored end.

Remove the peaches from the hot water and immediately plunge them in the iced water to cool. This cooling method will prevent the peaches from becoming mushy.

Pull the peach skins off from the cut ends of the peaches. If the skins don't easily remove, place the peaches back in the water and simmer a little longer.

Set peaches aside until ready to use.

-----------------------------

For the Magic Syrup:

Combine all syrup ingredients in a medium saucepan over medium heat. Stir until sugar dissolves and butter melts.

-----------------------------

Arrange 6-7 peaches around the ramekin (depending on size of peaches).

Pour syrup over peaches in the pie plate.

----------------------------

For the Dough:

Place flour, sugar, baking powder and salts in the bowl of a food processor fitted with a metal blade. Pulse until blended.

Add cold butter and pulse until mixture resembles coarse cornmeal, 5-6 pulses.

Transfer flour mixture to a medium bowl and fold in the milk using a rubber spatula. Press mixture against sides of bowl while adding milk to form dough.

Lightly flour work surface, flatten dough into a disk and roll dough into 9-inch circle.

Carefully lay dough over peaches and ramekin. Press dough snuggly around peaches, but do NOT attach dough to pie plate.

Bake at 400F until golden brown, 25-30 minutes. Cool on rack for 30 minutes.

Place a large rimmed plate over the pie plate (the plate should be slightly larger than the pie plate).

While holding the pie plate and top plate firmly together, quickly flip the Peach Puzzle over and onto the plate. Be sure to invert the pie plate quickly to avoid losing any syrup.

Cut each piece to include one peach per serving.

Top with ice cream and/or fresh whipped cream and drizzle with warm syrup.

*Remember the peaches have not been pitted. If serving to guests, remind them.
link