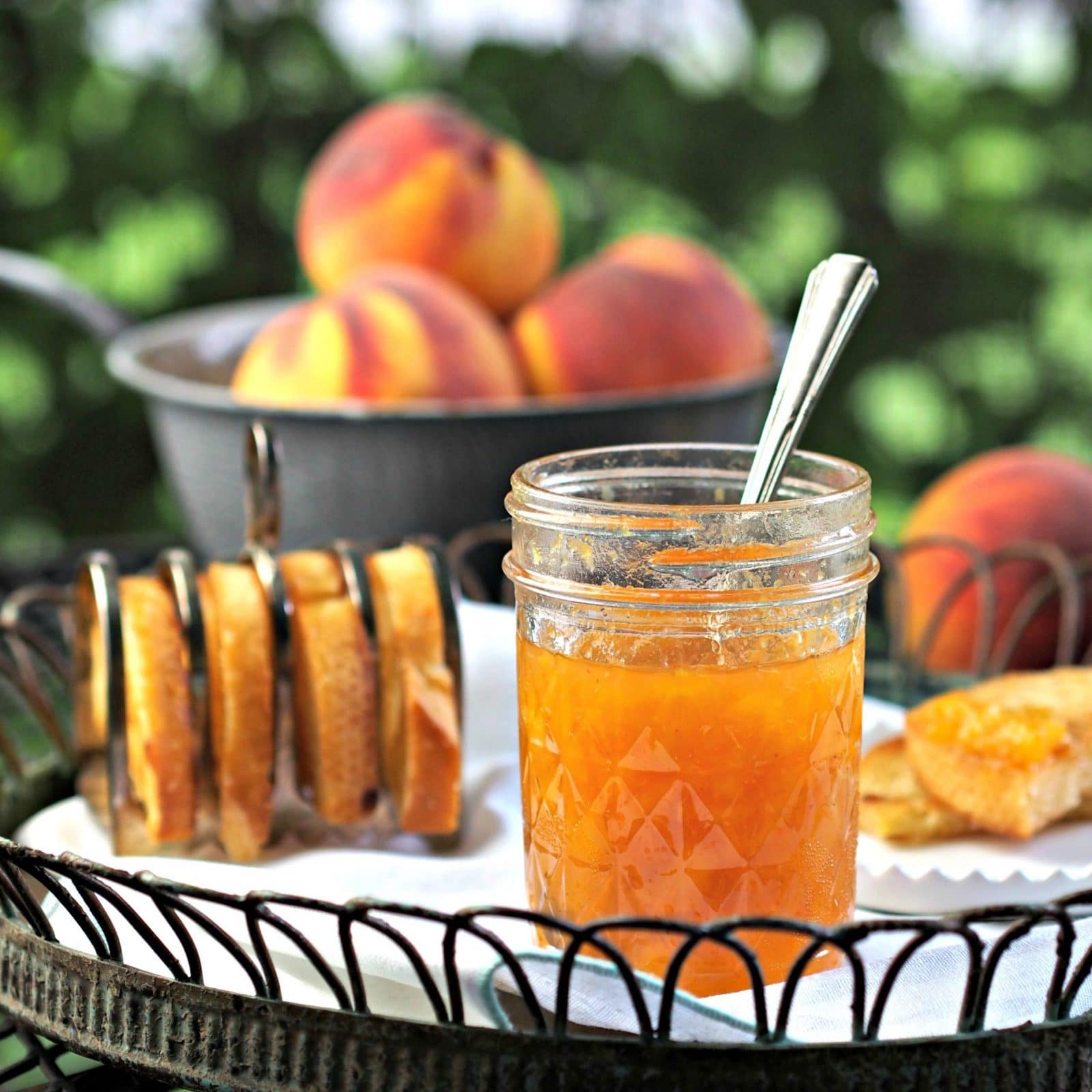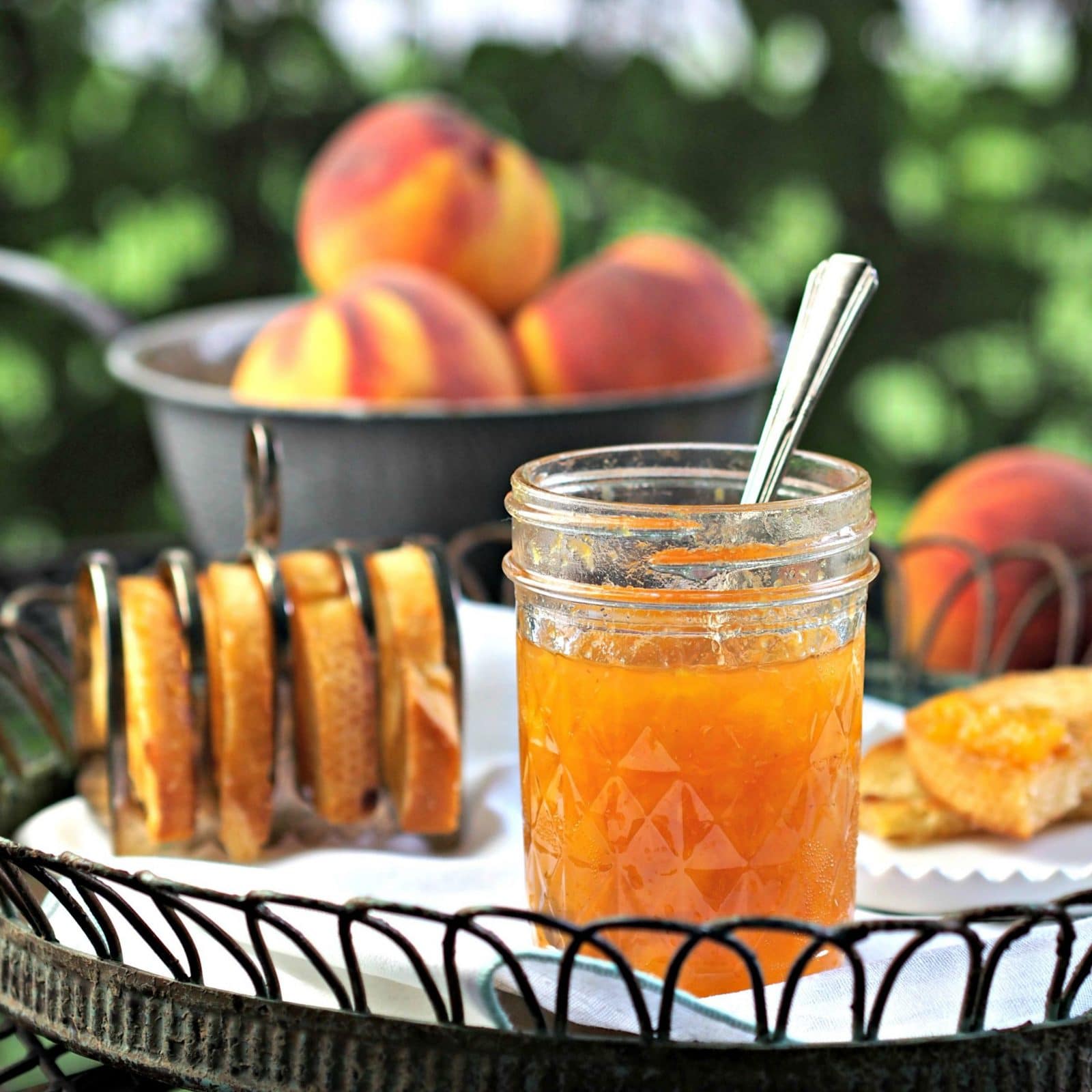 Fresh Peach Jam is my gift to you. Not only for today, but every day from now until eternity. No, no – it's okay! Don't even think about returning the favor; just pretend it's your birthday.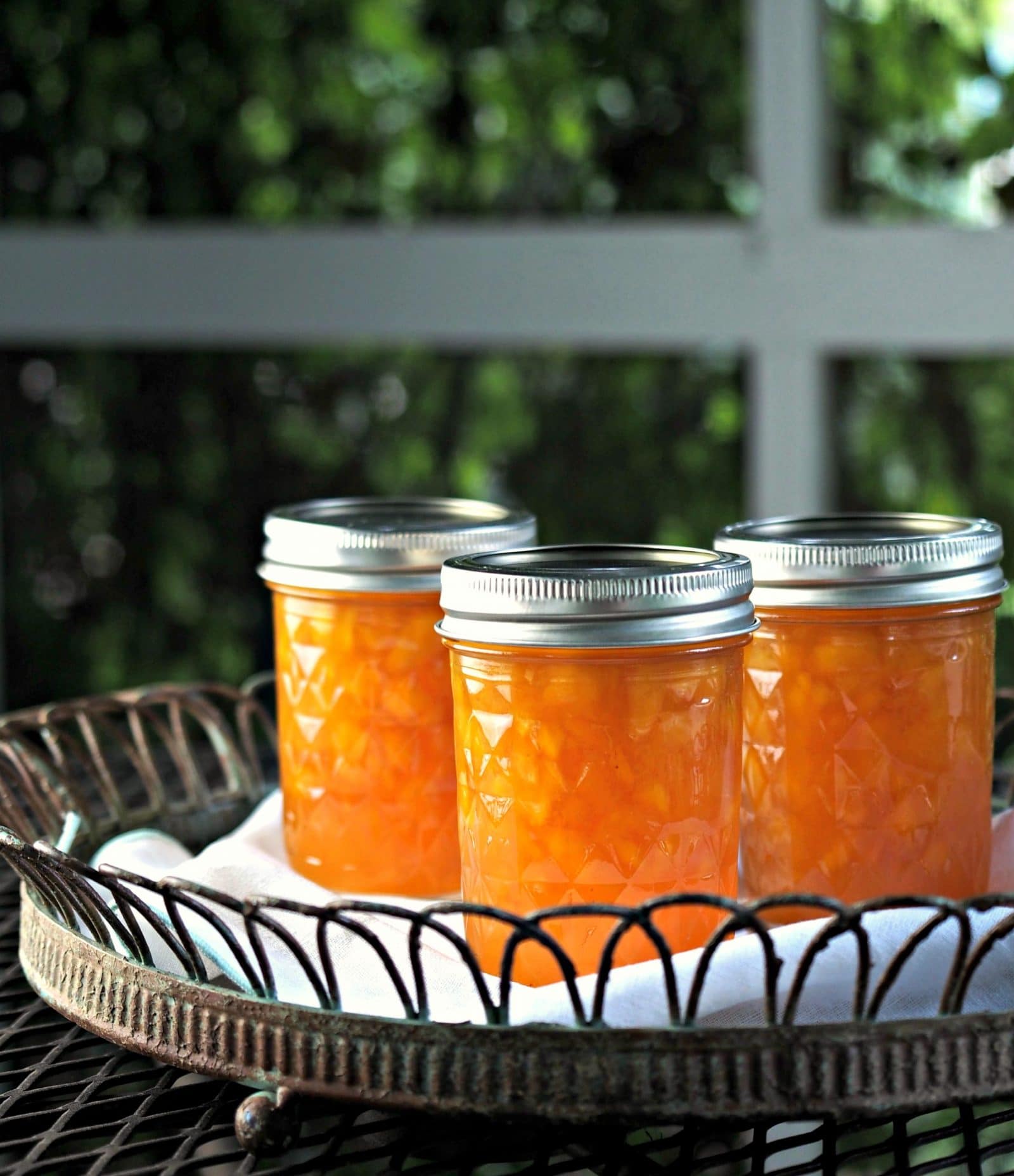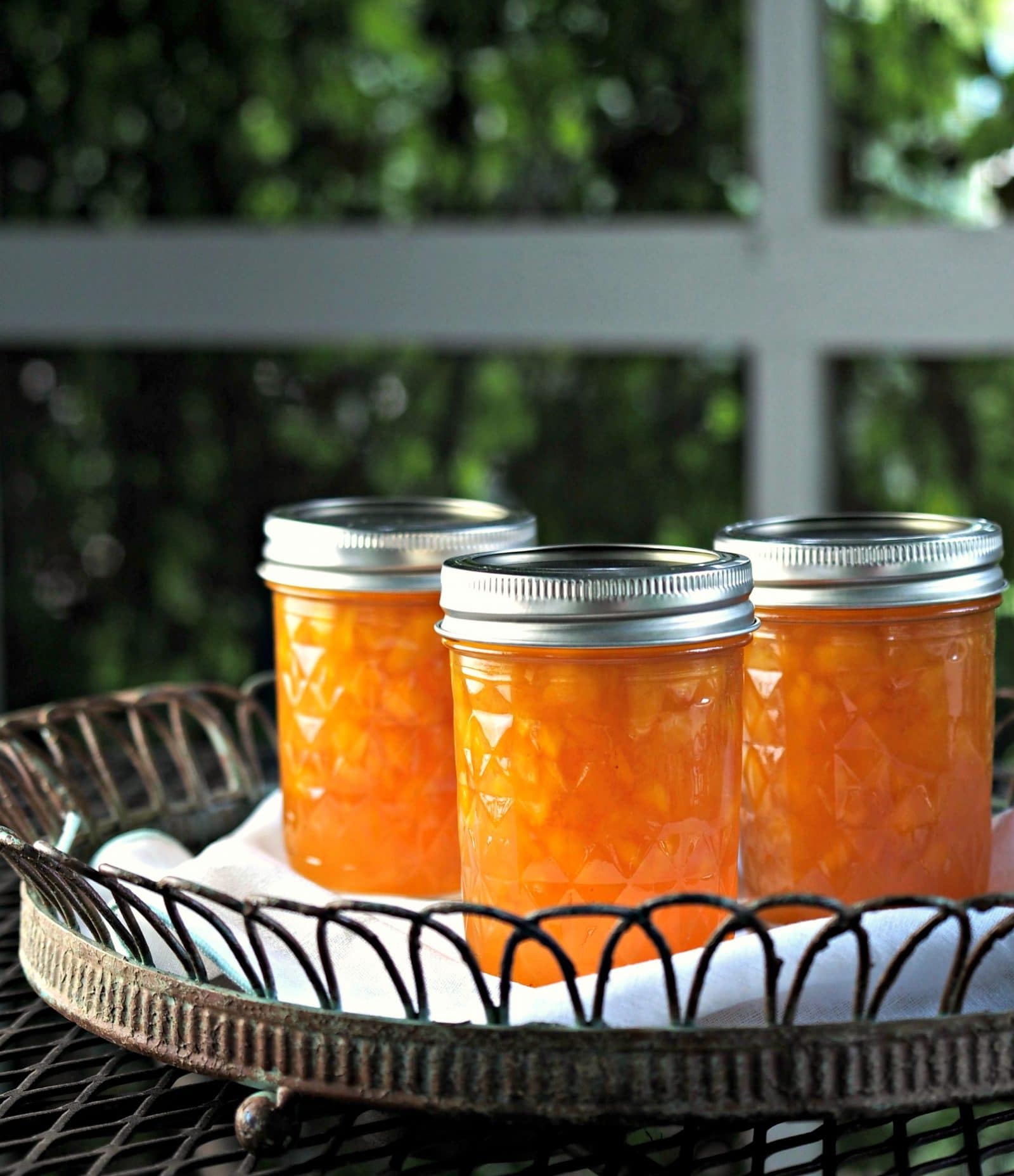 For the past fifteen years, I have bought the best peach jam in the world, from my favorite booth, at my city's farmer's market. Two very sweet women sell their wares out of the booth, and everything they make is made with homegrown vegetables and fruits – the freshest produce summer has to offer. My favorite canned good they sell is peach jam made with peaches grown in their own yard. It is full of the peachy, juicy vibrancy of a fresh-plucked peach, and it is phenomenal. It is a seasonal treat and I look forward to eating it every summer.
Jeff and I went to the market last Saturday, and the top item on my list was fresh peach jam. I was almost giddy as I made my way to the jam booth with the hope of purchasing all that was available. I was crushed when one of the women said "I'm so sorry, but our peaches won't be ready until next week." I walked away with no jam, but I did walk away with something better – the recipe. Thank you peach jam lady! I will be forever in your debt.
I am not a "canning" expert. I made strawberry preserves once in 1977 and I make amazing apple butter every other year (or so). If I can make Fresh Peach Jam, you can, too, and you will be so happy you did. If you have questions not addressed in this post, I recommend researching a couple of "canning 101" sites to learn all you can. It isn't difficult, but there are important steps to follow and a few tools that make canning easy.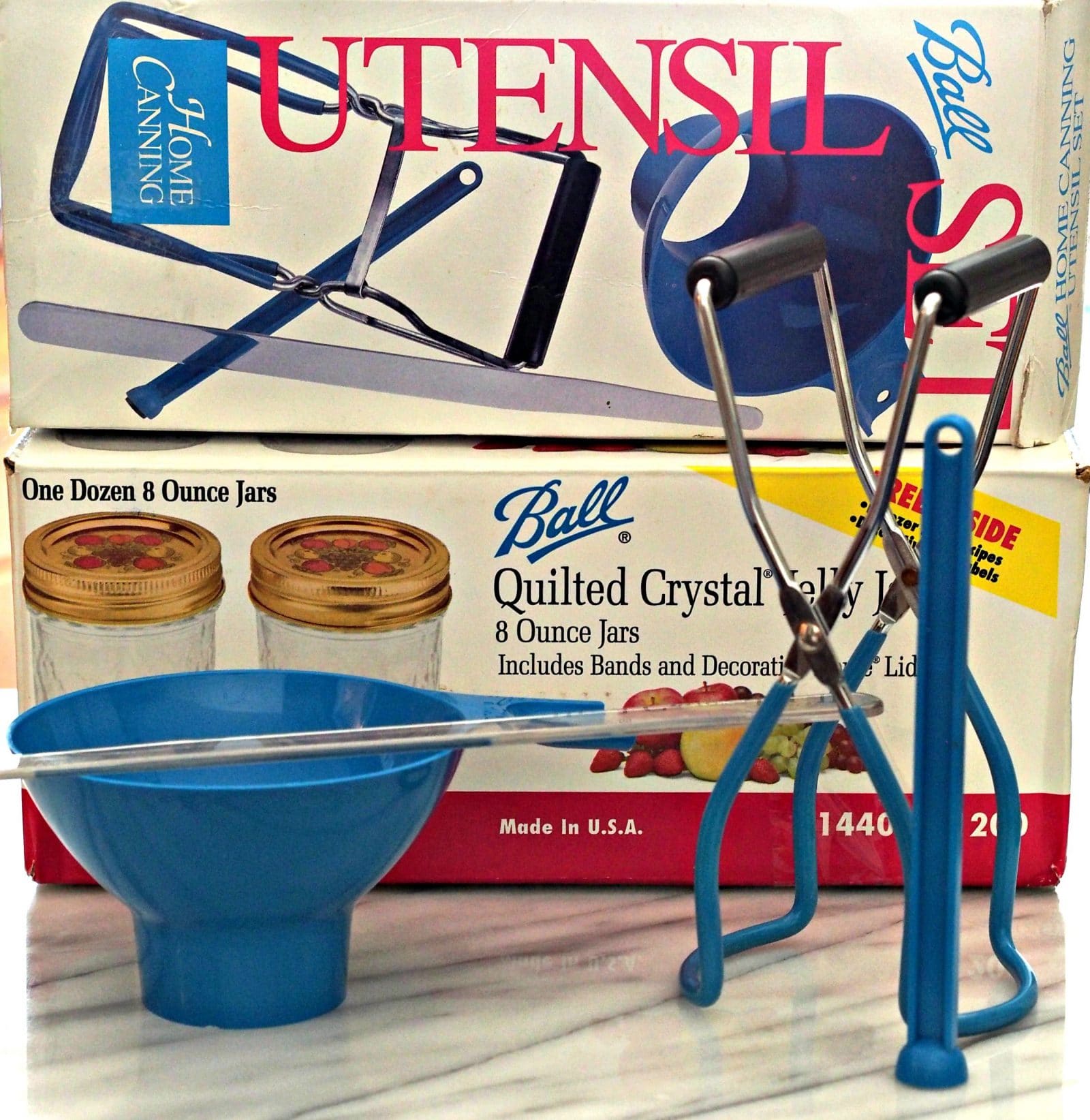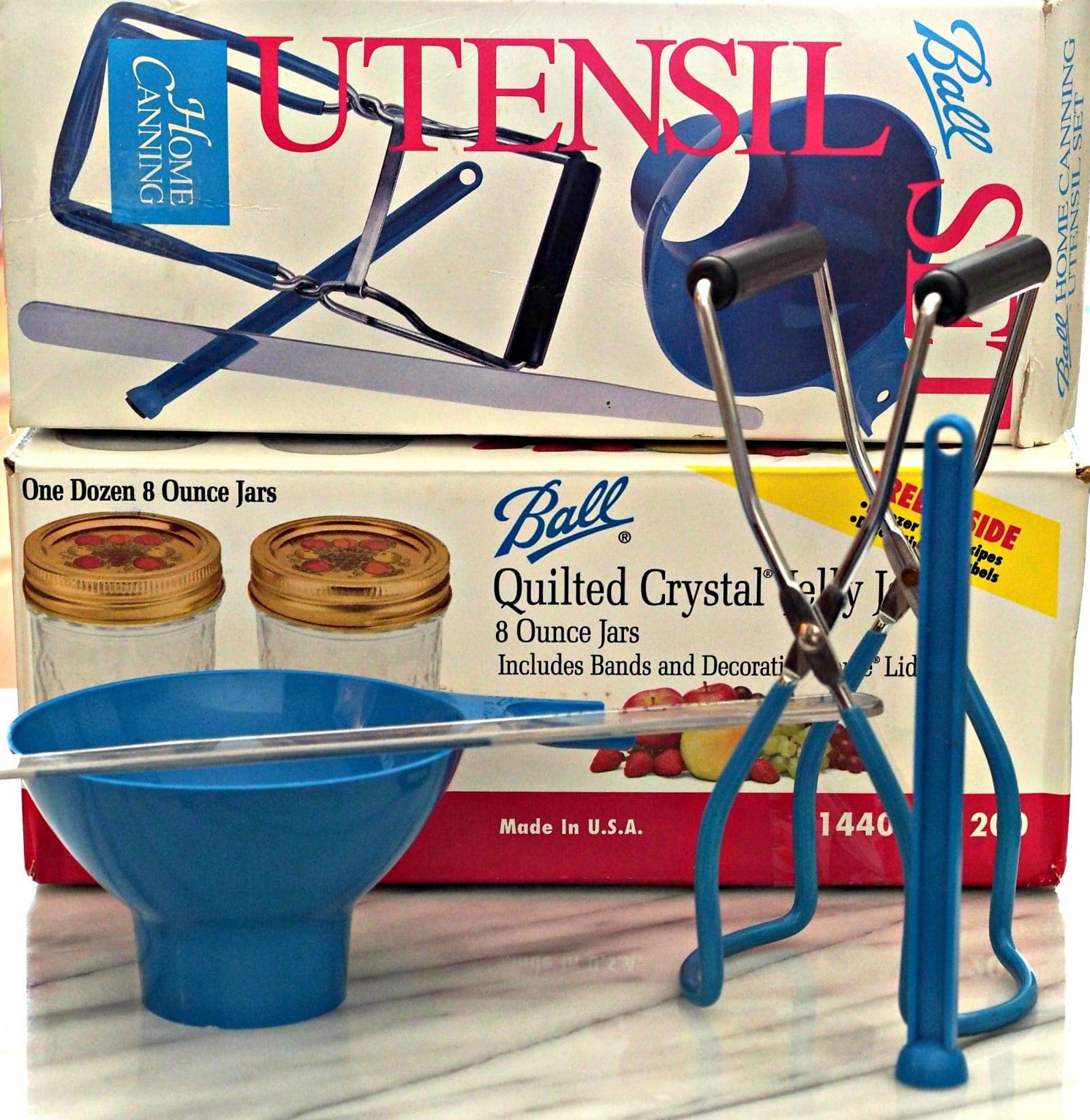 I purchased Ball's Home Canning Utensil Set the first year I made apple butter. It has been invaluable to me. The set includes a jar lifter for lifting jars in and out of boiling hot water; a lid wand for retrieving metal lids that fall to the bottom of the canner or pot; a funnel for easier filling of jars and a bubble-freer-spatula for setting loose any air bubbles that form in the jars after filling. The other two items needed are a canning pot (or very large, deep pasta pot or similar stovetop pot) and canning or jelly jars and lids.
The process for making Fresh Peach Jam is relatively simple, and here are the abbreviated steps:
Wash and sterilize jars & lids.
Peel & dice peaches.
Combine jam ingredients and cook peach jam.
Fill jars with peach jam.
Seal and sterilized jars with peach jam in a boiling water-bath.
Let jam cool, then label.
Eat Fresh Peach Jam on anything & everything you want to eat.
I'm happy to report the first bite of my Fresh Peach Jam proved to be as tasty and perfect as jam from the farmer's market. This weekend I'm making another batch. Upon second thought, I better make a double batch. I know my kids will be putting their dibs in after they read this post.
So there you have it – Fresh Peach Jam lady's gift to me that I have now regifted to you.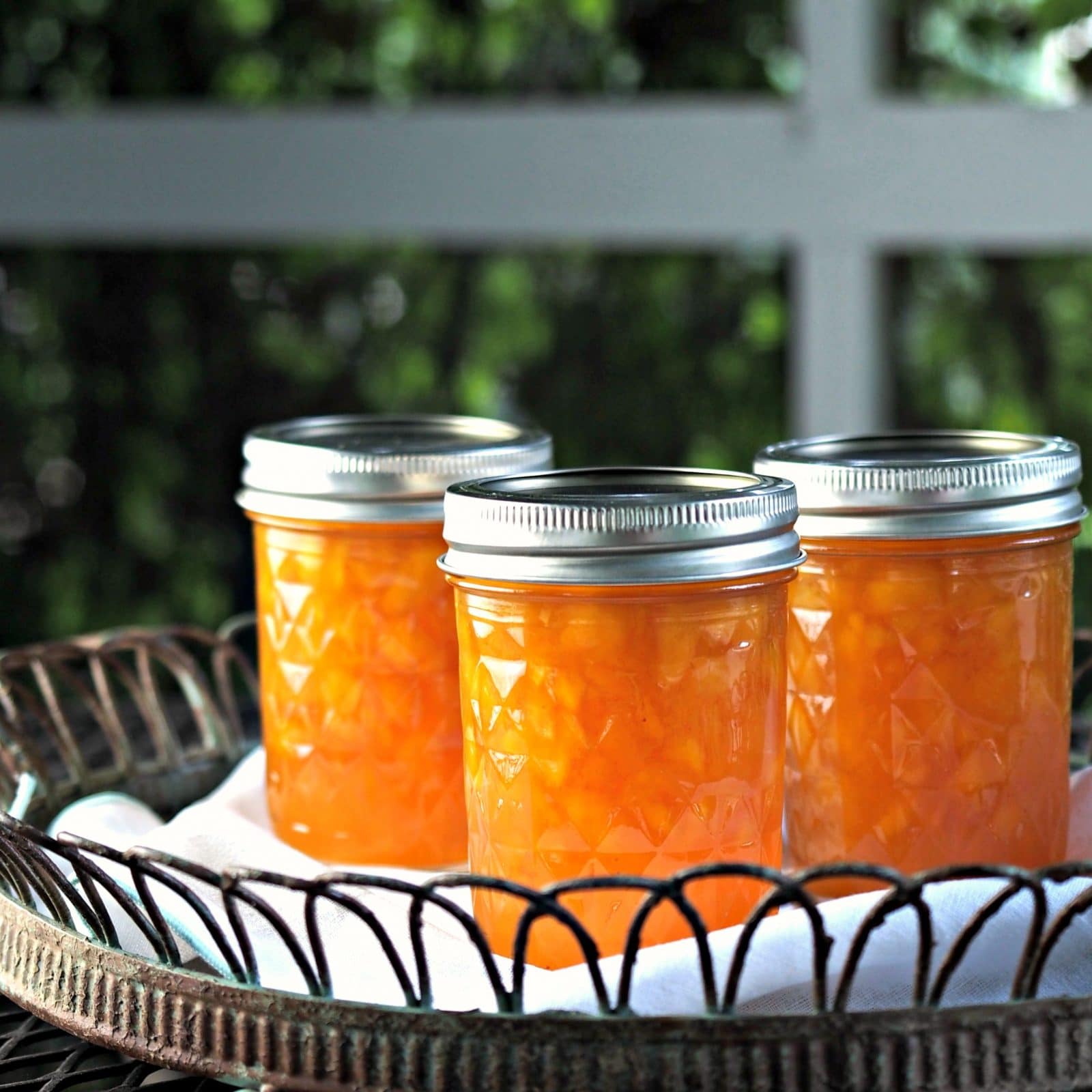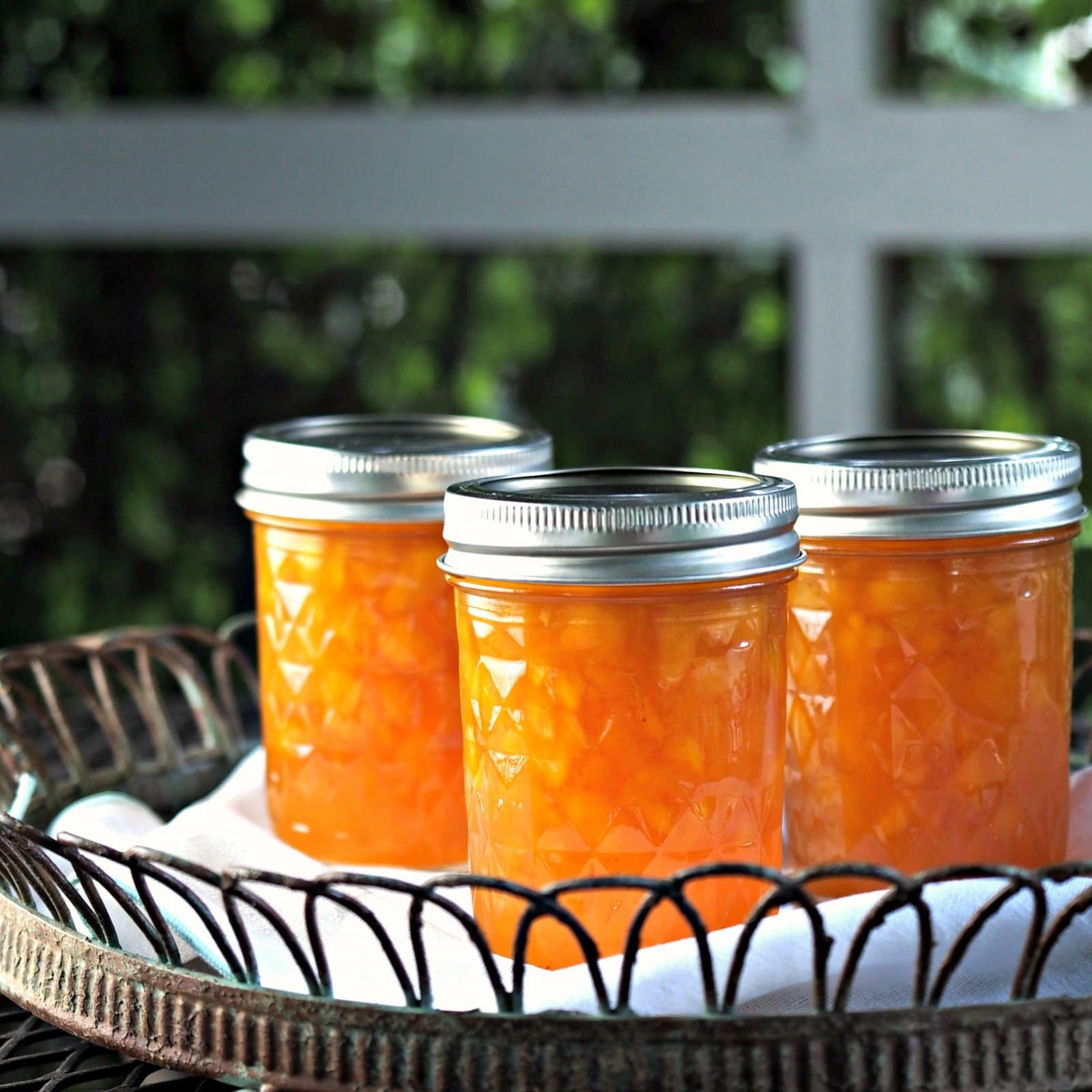 Enjoy – now until eternity!
You might have noticed my love of peaches. If you aren't familiar, here are several scrumptious Simply Sated examples proving how deeply my love . Grilled Peach & Pepper Jack Pizza, Peachy-Keen Grilled Peaches, Peach Bourbon Baby Back Ribs, Rustic Peach Tart and the pièce de résistance, my famous Peach Shortcake.
Fresh Peach Jam
This peach jam is absolutely delicious and tastes just like fresh peaches. It has chunky peaches and a consistency thinner than most store-bought peach jams. It is fantastic served as jam or on pound cake, ice cream or a sauce for pork or chicken.
Ingredients
3

pounds

peaches

about 12 peaches

¼

teaspoon

table salt

or fine sea salt

2

tablespoons

freshly squeezed lemon juice

½

teaspoon

unsalted butter

to prevent foaming

1

packet

liquid pectin

4-6

cups

sugar

depending on the sweetness of the peaches
Instructions
Directions:

Prepare jars and lids according to manufacturer's directions.

__________________________

To peel & prepare the peaches:

Fill a large mixing bowl with ice water and set aside.

Bring water to boil in a large pot then turn the heat to simmer.

Score the bottom or pointed end of each peach with an x-shape just deep enough to cut through the skin.

Submerge the peaches in the simmering water for 1 minute or until the skin slightly pulls away from the scored end.

Remove the peaches from the hot water and immediately plunge them in the iced water to cool. This cooling method will prevent the peaches from becoming mushy.

Pull the peach skins off from the cut ends of the peaches. If the skins don't easily remove, place the peaches back in the water and simmer a little longer.

Cut peeled peaches in half, remove the pits and dice the peaches.

____________________________

For the jam:

Combine peaches, salt, lemon juice, butter & pectin in a medium saucepan.

Mash peaches with a potato masher (2-3 mashes) but leave almost all peaches diced.

Bring the peach mixture to a rolling boil (ie: continuous full boil) while stirring.

Add sugar, stir and bring the peach mixture back to a rolling boil - stir continuously.

Continue boiling the mixture for 1 minute while stirring.

Remove from the heat and skim off any foam from the top of the jam.

____________________________

To "can" the jam:

*Note: The jam can be placed in sterilized jars at this point, cooled and refrigerated if eaten within 3 weeks. If not eating within 3 weeks, follow the water-bath, canning directions below.

First, fill a large soup pot or canning pot with enough water to cover jars by 2-inches. Cover and bring to a boil over high heat.

Ladle the peach jam into sterilized jars - leave ¼" space from the top of the jar.

Wipe off jar rims with a clean cloth or paper towel.

Cover jars with 2-part canning lids and screw the lids on tightly.

Once the water comes to a boil, carefully place jars in the canner, place the lid back on pot and bring the water to a simmer.

Simmer the jam-filled jars for 5 minutes or more depending on the altitude (check the altitude chart on the canning jar box.) In Missouri, the boil time is 5 minutes.

Remove jars and allow to cool for 24 hours on a towel-lined countertop.

At this point, leave them alone – do NOT retighten the metal bands on the lids.

If using metal lids, you will hear a "ping" and the seal will be slightly indented when the lids are successfully sealed.

After 24 hours, check the seals on each jar of jam and, if needed, tighten the bands. The seal should be slightly indented. To test for a good seal, slightly press on the seal, if it springs back, that jar of jam does not have a proper seal and refrigeration is needed.

Enjoy!