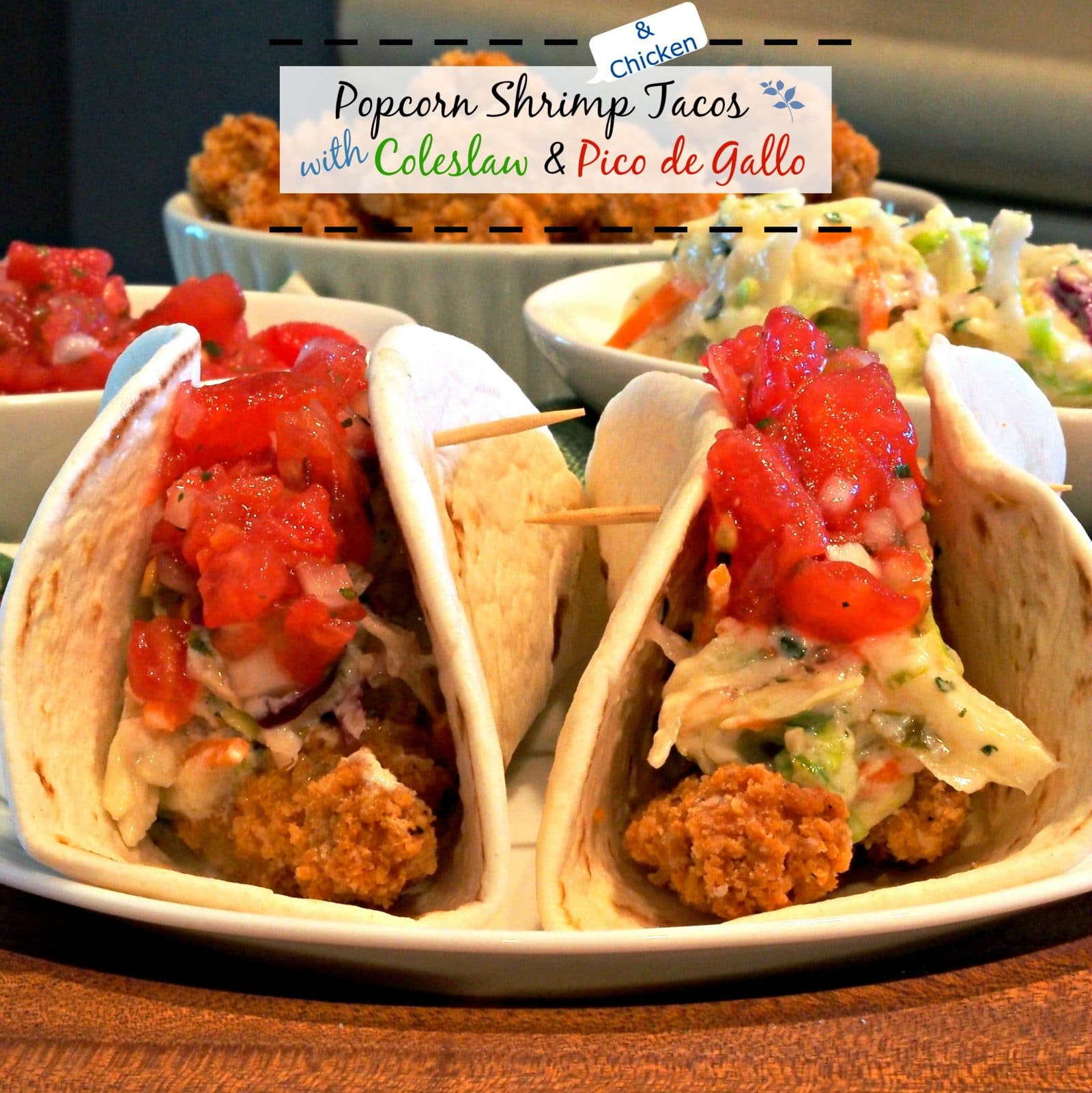 Popcorn Shrimp Tacos with Coleslaw & Pico de Gallo. When I first saw this recipe in my new favorite cookbook (of the month), St Louis Chef's Recipes, Volume 2, I flipped right past it. I have just begun my journey eating things that swim, so maybe that is why I gave it no thought. The second time through, I stopped to take a closer look.
I wasn't convinced popcorn shrimp, coleslaw and pico de gallo flavors would be tasty piled together in a flour tortilla. Would each of these flavors commingling in every bite play nice with each other or would a "Get out of here, I'm the flavor of this dish" fight break out? I wasn't sure, but was willing to give it a try. I also wasn't sure I would love a shrimp taco, but I thought it would be delicious made with chicken.
Wow!! This dish is fantastic and I'm so happy I gave it a chance.  I made it with chicken and with shrimp and both are delicious.  I love the crispy texture of the shrimp and chicken, the lime, the cumin, the crunch, the heat and the sweet. It is like all these flavors and textures came together and shook hands on a great deal.
I had to convince my husband he would like Popcorn Shrimp Soft Tacos w/Coleslaw and Pico de Gallo (goodness, that is a mouthful). He has never liked coleslaw, but he is a trooper and gave it a try. Since he is a history professor I asked him to give the dish a grade. He gave it a "B".  I thought it deserved better so asked for an explanation.  He explained it in this way: "I gave it a "B" because I really, really liked it, but it isn't on my list of all-time favorites like Grilled Chicken with Cilantro Butter, Pot Roast (coming soon), Chicken Fajitas and so many others."   I cried, told him I would lose my scholarship and talked him into a "B+".
Except for a few minor changes, I followed the recipe exactly. I'm always cautious when it comes to hot peppers, so I cut back on the jalapenos a bit. The dish, as adjusted, was perfect for me but some might want to add the entire tablespoon of jalapenos (or more). Also, the slaw seemed a little soupy, so I made a minor change there. The recipe that follows reflects my changes.
I know it looks complicated and time-consuming, but it isn't. I promise you love-at-first-bite.  I also pretty sure you give Popcorn Shrimp Tacos with Coleslaw & Pico de Gallo an "A".
Enjoy!

Popcorn Shrimp Tacos with Coleslaw and Pico de Gallo
This recipe looks complicated, but please, DO NOT let that keep you from trying this delicious dish. In reality, it is simple. There is some prep work, but most of that is done at least an hour in advance. Popcorn Shrimp (or Chicken) Tacos are interesting and full of flavor – spicy, crunchy and sweet with a splash of lime. Recipe found in St Louis Chef's Recipes Volume 2, pg. 112 Helen Fletcher, The Ardent Cook & Tony's.
Prep Time
1
hour
45
minutes
Ingredients
8

small flour tortillas

----------

For Popcorn Shrimp or Chicken:

32

small-medium raw shrimp

peeled, deveined and tails removed or

2

chicken breasts – cut into 1" bite sized pieces

2

cups

Panko Bread Crumbs

1

cup

flour

salt

pepper

2

egg whites – beaten

1

tablespoon

water

canola or peanut oil

----------

For Coleslaw:

½

cup

mayonnaise

½

cup

sour cream

2

tablespoons

fresh lime juice

1-2 limes

1

tablespoon

lime zest

approx. 2 limes

1½

tablespoons

honey

1½

tablespoons

fresh parsley – finely chopped

1½

tablespoons

fresh cilantro – finely chopped

2-3

teaspoons

jarred Jalepenos – diced

2-3

teaspoons

Jalepeno liquid from the jar

2

teaspoons

ground cumin

¾

teaspoon

salt

¾ - 1

pound

bag shredded coleslaw mix – depending how moist you want coleslaw

-----------

For Pico de Gallo:

1½

cups

tomatoes – seeded

peeled & rough chopped

1/3

cup

sweet yellow onion or red onion – finely diced

1-3

teaspoons

jarred jalapeno

finely diced

2

tablespoons

fresh cilantro – rough chopped

2

tablespoons

fresh lime juice

1-2 limes
Instructions
Please read all directions before beginning. Pico de Gallo and Coleslaw need to be

made 1-4 hours early so flavors can meld in the fridge.

------------

For the Coleslaw:

-5 hours beforehand, combine all ingredients except the shredded coleslaw mixture in a large bowl and stir until all ingredients are well mixed.

Refrigerate the mayonnaise mixture in covered container until ready to serve.

When ready to serve, add the shredded coleslaw mix and blend well.

------------

For the Pico de Gallo:

-5 hours beforehand, stir together all ingredients in a medium and refrigerate covered until ready to serve.

------------

For the Shrimp or Chicken:

Preheat oven to 200F

Prepare a parchment-lined baking sheet

Heat oil in a large skillet (preferably cast-iron) over med-high heat – approximately 1/2" deep.

Cover a baking sheet with parchment paper to have ready once the shrimp/chicken is cooked.

Place flour, Panko crumbs, salt & pepper in a shallow dish and mix well. Set the dish close to the oil-filled skillet.

Pace egg white & water in a different shallow dish – beat with a fork until egg whites are foamy. Set this dish next to the right of the dish with the flour mixture.

Oil is ready when very hot (but not smoking) and around 350F.

Place shrimp/chicken in the beaten egg whites – be sure to coat evenly.

Shake off excess egg white mixture, then place in the flour mixture – both sides and press down gently.

Carefully place shrimp/chicken in the oil – make sure the shrimp/chicken can move freely around – do not overcrowd.

Once the shrimp/chicken is nicely browned on the bottom, turn it over and cook until golden brown on the other side. For shrimp it should be 2-3 minutes per side. For chicken 3-4 minutes per side.

Remove the shrimp/chicken with tongs or slotted spoon and place on the lined baking sheet.

Place in the oven to keep it warm.

-------------

When ready to serve:

Remove pre-made mayonnaise mixture from the fridge then add the bagged shredded coleslaw and mix well.

Remove Pico de Gallo from fridge.

Place 3-4 shrimp/chicken pieces in the middle of each tortilla.

Place a spoonful of coleslaw then Pico de Gallo on top.

Serve with a side of Mexican rice and/or beans, chips & salsa.

Enjoy!