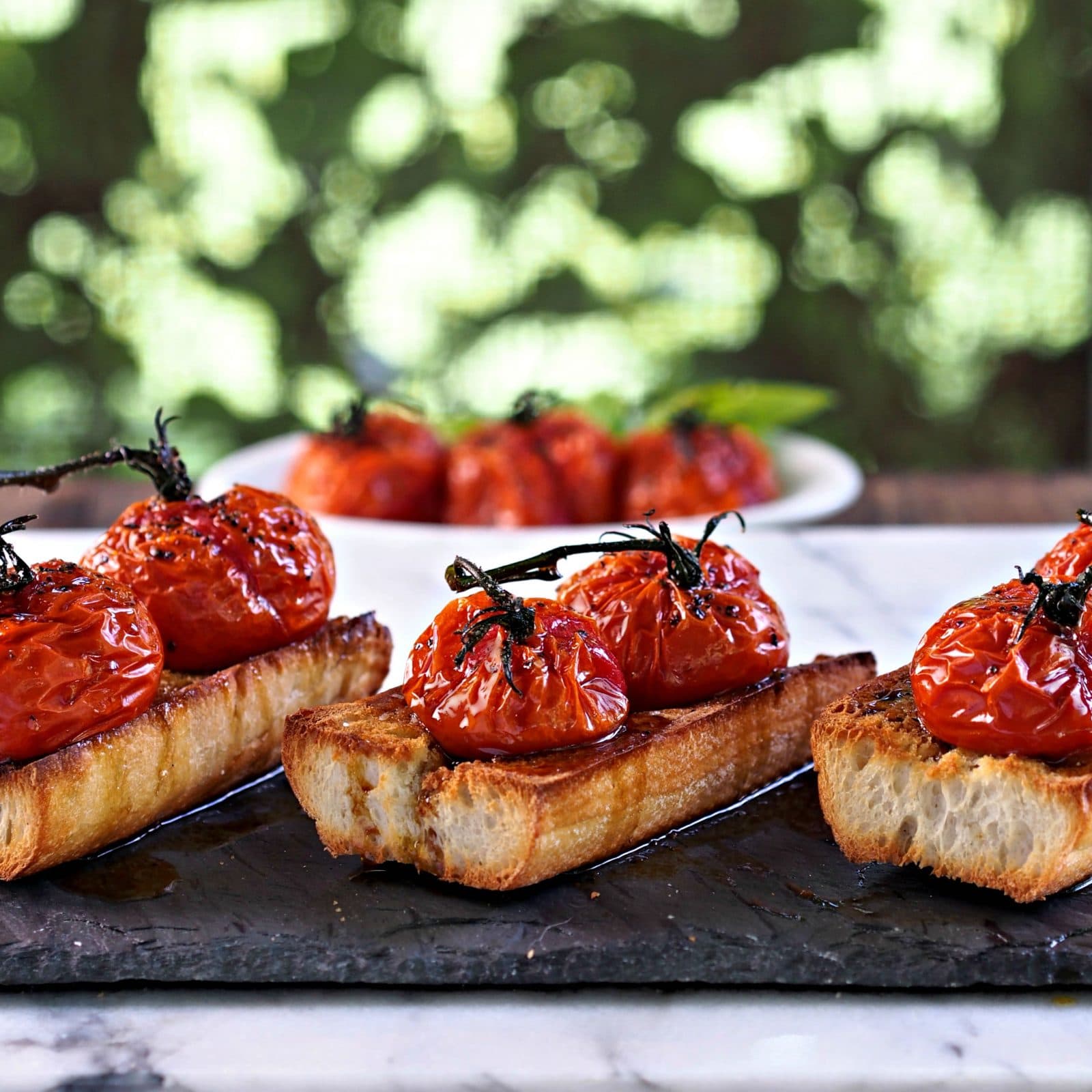 Roasted Tomato Bruschetta. Say it for me, please. I want to hear how you pronounce the word "bruschetta".  My daughter and I have a friendly, ongoing discussion anytime the subject of bruschetta comes up. I say broo-sketa (she rolls her eyes); she says broo-sheta (I arch my eyebrows). I know I'm correct!
I know because I learned the correct pronunciation from Giada De Laurentiis. Anytime I watch her show, Giada at Home, I imagine myself Italian and completely embrace my non-existent Italian heritage. I have also learned to say the word mozzarella with a rolled "r" like this, "moe(t)z-arella" – it drives my husband wild.
Roasting tomatoes concentrates their flavor and intensifies their natural sweetness. When roasted tomatoes are served on toasted bread and drizzled with the balsamic/tomato pan juices, the result is divine.
It truly doesn't matter how you say bruschetta – all that does matter is how delicious Roasted Tomato Bruschetta tastes, and this appetizer is one of the best.
I suppose for my American daughter with Scotch-Irish-German roots, her pronunciation of bruschetta is correct, and for this counterfeit Italian mama, I'll say "broo-sketa" every time.  It's just so much fun!
Enjoy!
Two of my all-time (other) favorite Simply Sated tomato dishes are: Tomato Tart with Mascarpone and Basil
and Perfect BLT with Sweet Spicy Bacon & Avocado.
Roasted Tomato Bruschetta
Toasted Italian bread topped w/roasted tomatoes on the vine - the perfect appetizer for any Italian meal. Roasting tomatoes concentrates flavor, brings out the natural sweetness and adds delicious depth-of-flavor in any dish. *See notes for additional serving suggestions.
Cook Time
2
hours
10
minutes
Total Time
2
hours
20
minutes
Ingredients
15-20

Campari tomatoes or tomato-on-the-vine tomatoes

Campari tomatoes are larger than cherry tomatoes, but smaller than plum tomatoes.

2

tablespoons

olive oil

3

tablespoons

good balsamic vinegar

2

tablespoons

white sugar

½

teaspoon

kosher salt

½

teaspoon

ground black pepper

2

cloves

garlic

minced or sliced

Fresh thyme or rosemary

optional

For garnish:

Fresh basil

grated or shredded Parmesan

1

baguette or loaf of thin Italian bread
Instructions
For the bread:

Preheat oven to 400F.

Cut loaf of bread in half horizontally, cut into fourths. Butter or brush the bread with olive oil then toast in a 400F for 5 minutes then broil until top is golden brown, 1-2 minutes. Remove from oven – watch carefully to avoid burning.

Remove bread and set oven to 275F.

----------------------------

For the tomatoes:

*Be sure the pan used is non-reactive to acidic foods (do NOT use aluminum).

Preheat oven to 275F.

Place whole tomatoes (whole, halved or sliced, with/without stems) on a cooking sheet in a single layer with space between tomatoes.

Drizzle with olive oil and balsamic vinegar

Sprinkle with sugar, salt, black pepper and garlic

Roast 1½-2 hours or until the tomatoes have collapsed and are caramelized. (If roasting sliced tomatoes, the cooking time should be reduced.)

Remove cooking sheet for oven and allow tomatoes to cool for 4-10 minutes.

-----------------------------

To serve:

Place tomatoes on bread and drizzle with pan juices from the roasted tomatoes.

If desired, sprinkle with fresh basil and Parmesan cheese.

Cut and serve into bite-sized pieces.

Enjoy!
Recipe Notes
Serving suggestions: Roasted tomatoes can be served over pasta, sprinkled with feta cheese for a salad, served with eggs or made into sauce.
*Tomatoes can be frozen for up to six months.