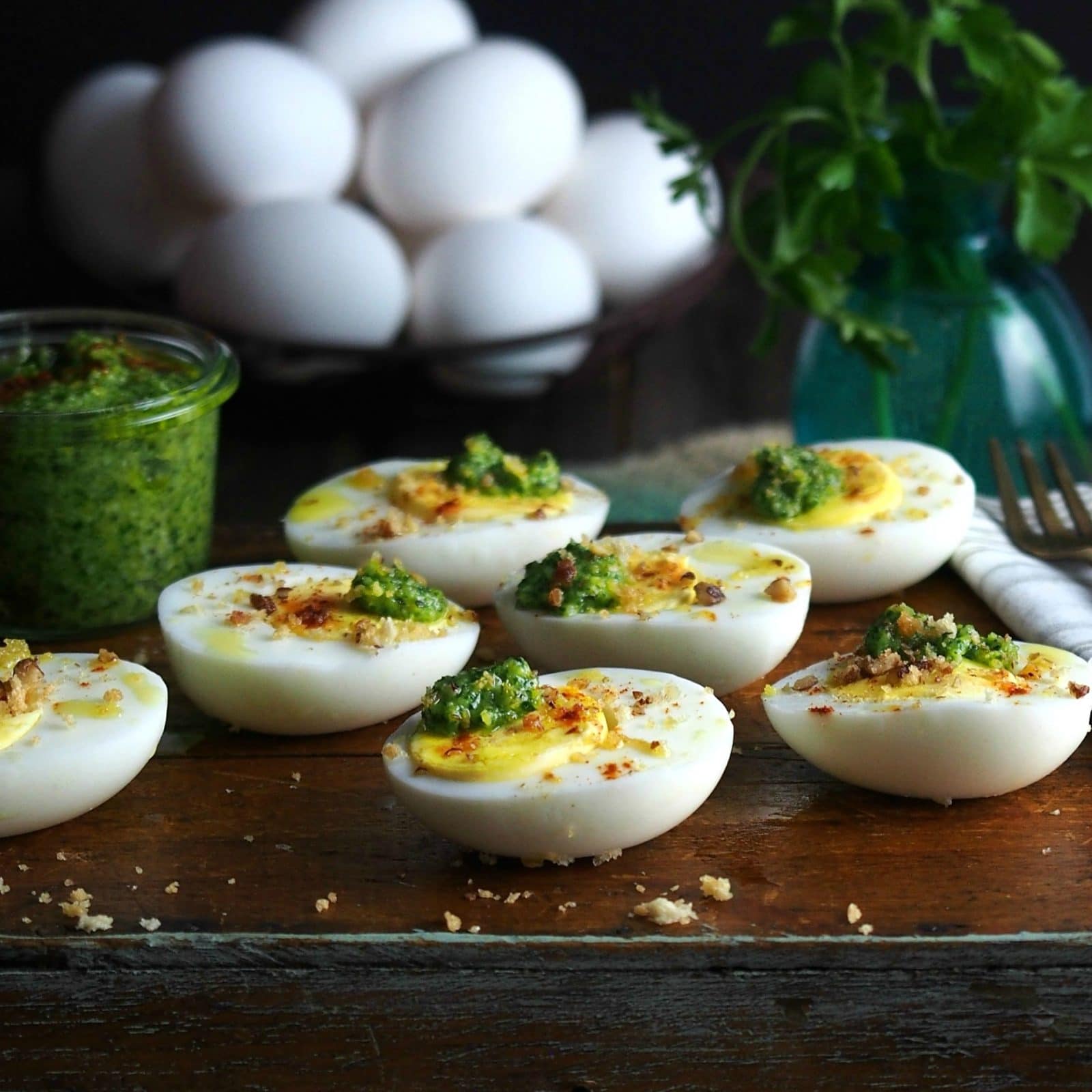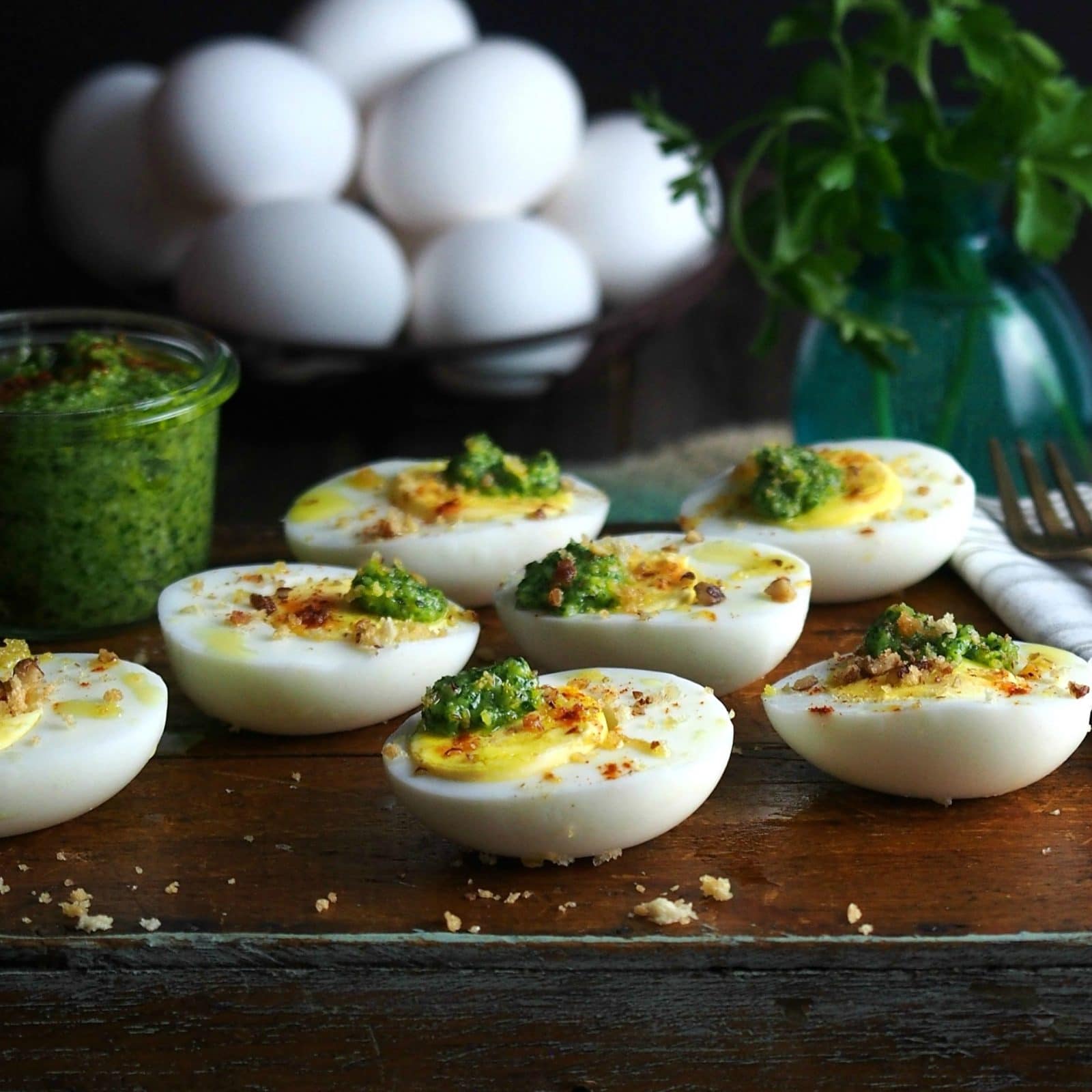 The two main characters in Pesto on Eggs topped with Honey Roasted Pecans are, of course, pesto and eggs.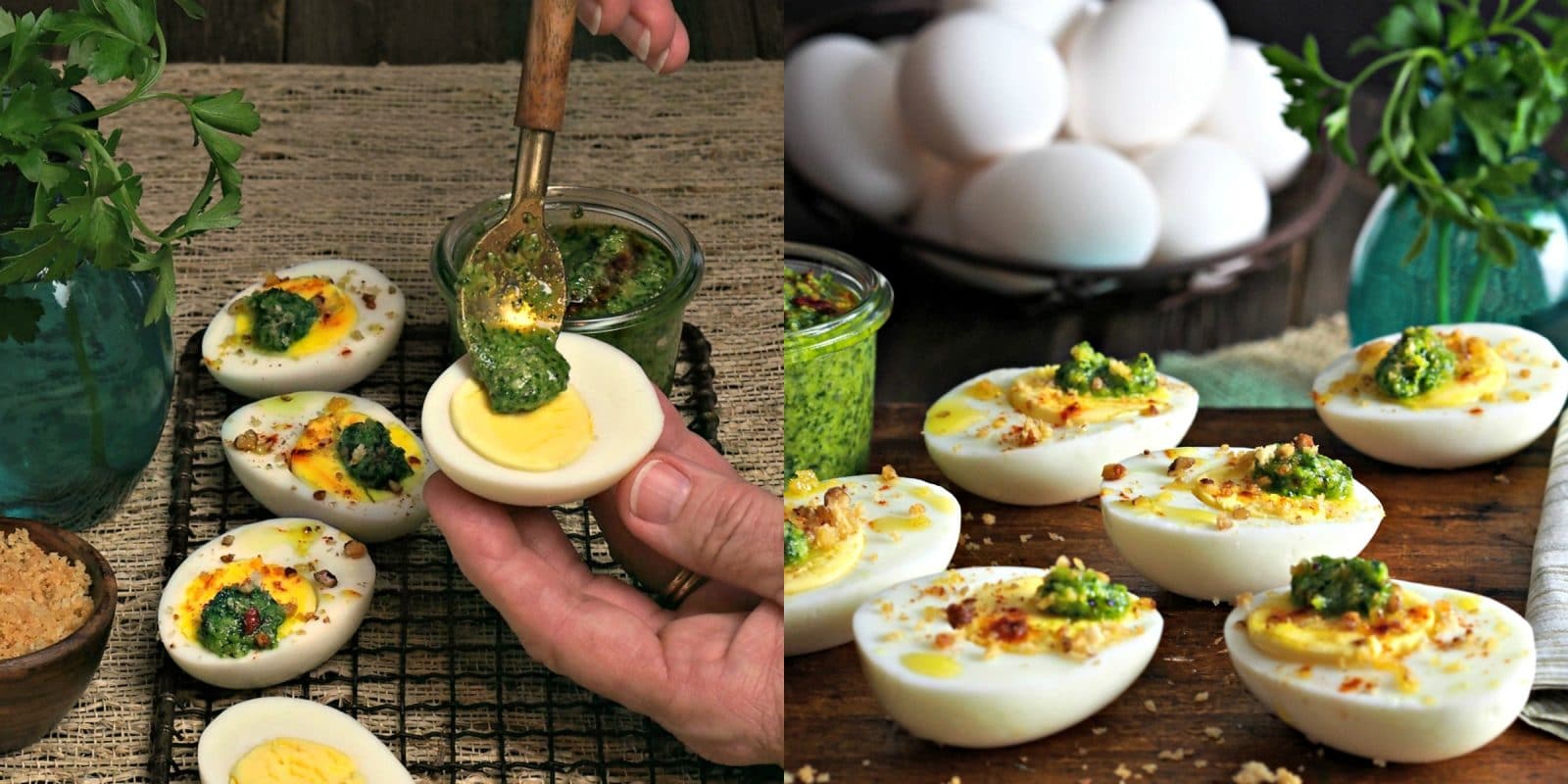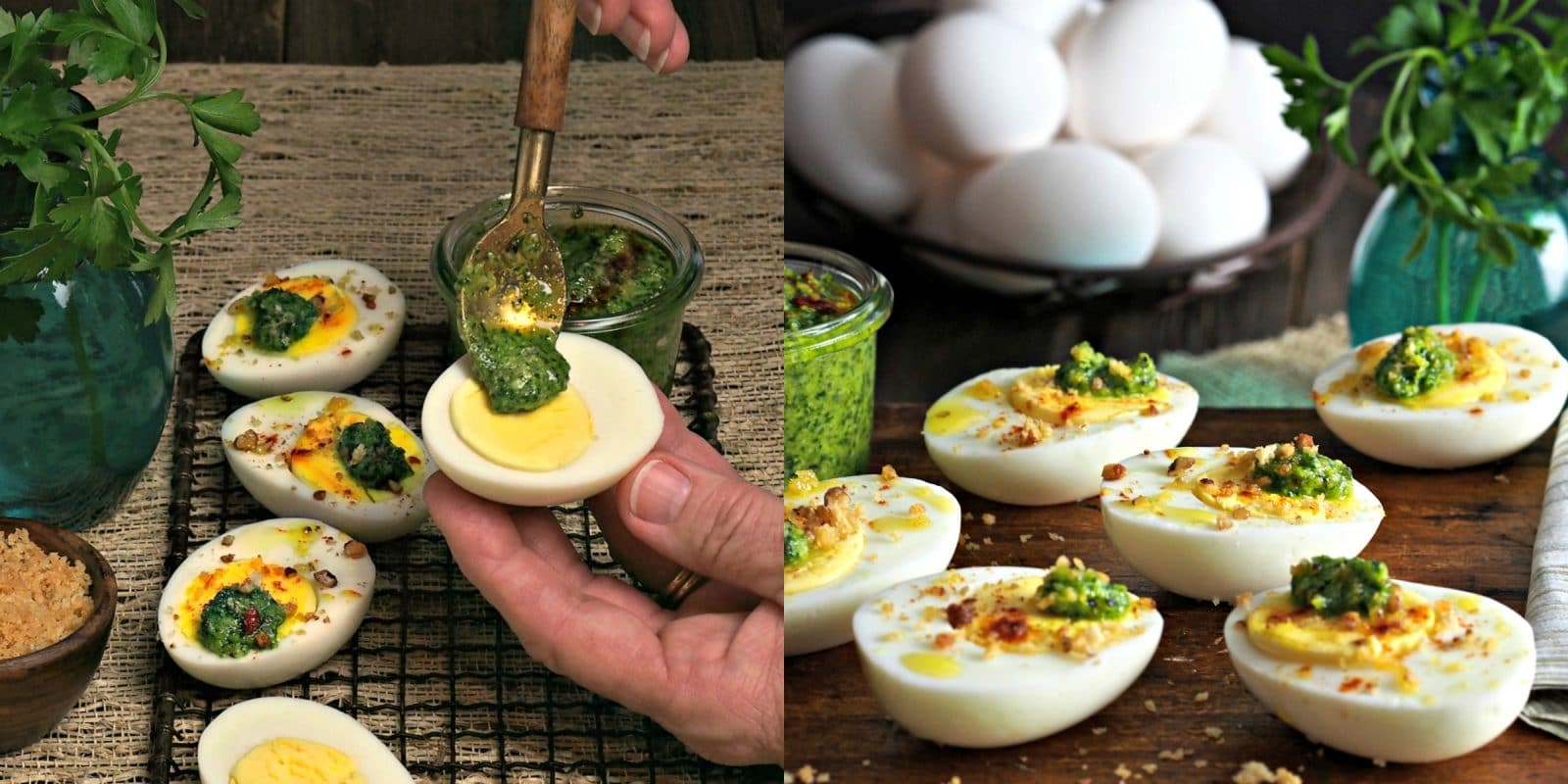 First let's talk about pesto. As I often do when preparing a recipe, I like to learn a little background information on the food I'm preparing. I found some interesting tidbits about pesto I'm willing to share if you would like me to. My assumption is you said, "Yes, I am interested, please tell me more." and I'm happy to oblige. Well, you see, it seems everybody's favorite ancient Romans loved a pesto-like paste made of mashed garlic, herbs and cheese. I imagine they ate it so often it turned their teeth green (okay, I made up that part). Anyway, it wasn't really pesto – it was pesto-like. Many years passed when our friends from India decided the world wasn't much of a place to live without basil, and began serious cultivation of my favorite herb. Thank you, India! From there, basil found its way into Italy and France where even more magic happened, but it wasn't until modern times (1863 modern) that the first recipe for today's version of pesto was found in the book La Cuciniera Genovese by Giovanni Battista Ratto. Aren't you glad we went on that little journey?
Next on the agenda are the eggs, and since Hard-Cooked Steamed Eggs were featured on Simply Sated a few days ago, I won't go into detail here. But please, if you are interested in learning all you need to know about making perfectly cooked steamed eggs, you will want to read that post.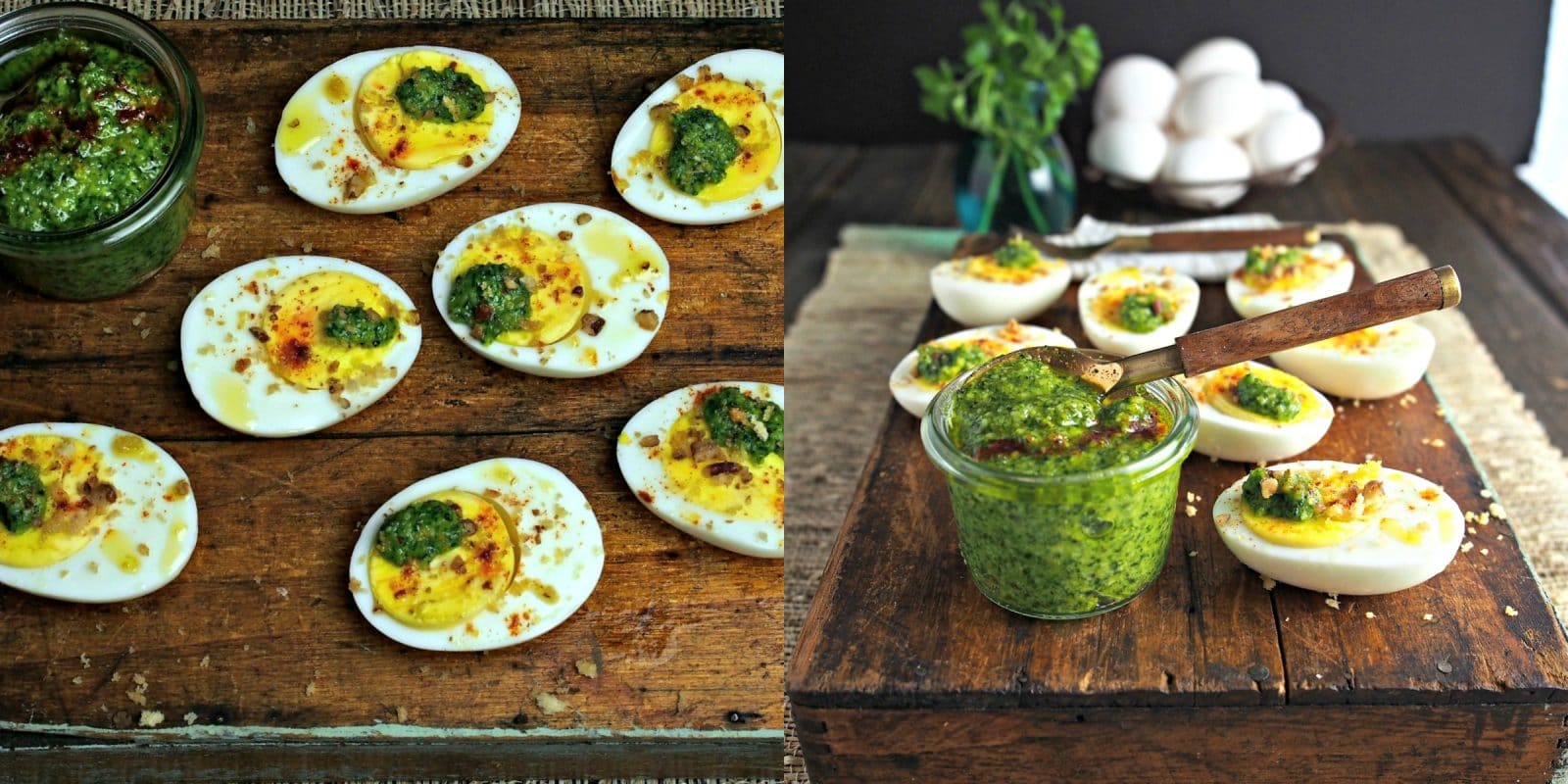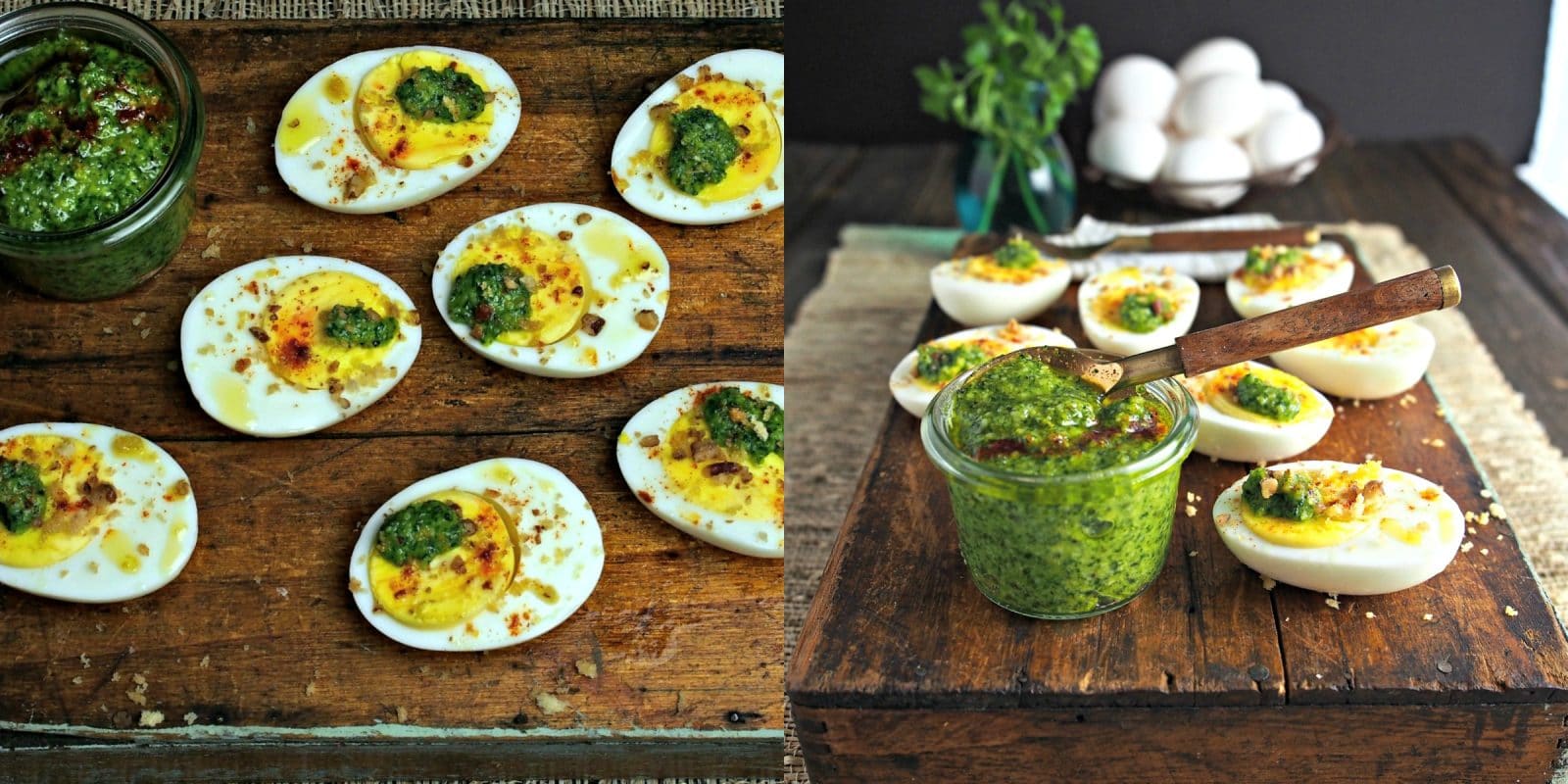 Pesto on Eggs topped with Honey Roasted Pecans is such a simple idea. It might not sound like it is, but trust me, it is. Also, please have fun with it – experiment with the flavors and add your own favorite toppings. The possibilities are nearly endless. If desired, use store-bought pesto instead of homemade – it will still be fantastic.
Pesto on Eggs Topped with Honey Roasted Pecans is a delicious and beautiful way to serve hard-cooked eggs. Be ready to impress.
Enjoy!
Pesto on Eggs
A delicious and beautiful way to serve hard-cooked eggs. Pesto, hard-cooked eggs, smoked paprika, honey roasted pecans & Panko crumbs. Recipe inspiration: Southern Living
Ingredients
6-12

hard-cooked eggs

1-

cup

Italian parsley

2-

cups

basil

¼

cup

pine nuts

toasted

¾

cup

freshly grated Parmesan-Reggiano or Pecorino Cheese

3

cloves

garlic

crushed

Pinch

of freshly grated nutmeg

½

teaspoon

ground black pepper

½-¾

cup

extra-virgin olive oil

Sprinkle of salt

taste first and add only if needed

-----------------------

For topping:

Kosher salt

if desired

Freshly ground black pepper

Smoked Paprika

Honey Roasted Pecans

minced. I love Fresh Gourmet Honey Roasted Pecan Pieces

2

tablespoons

Toasted Panko bread crumbs

Extra Virgin Oive Oil – for drizzling
Instructions
Follow directions for Hard-Cooked Steamed Eggs (http://www.simplysated.com/hard-cooked-steamed-eggs/).

While eggs are cooking, prepare pesto by placing all pesto ingredients except olive oil in a food processor fitted with the metal blade. Pulse until mixture is coarsely chopped. While pulsing the mixture, drizzle in the oil until fully incorporated and smooth. Set aside. *See notes.

Toast Panko crumbs by mixing the crumbs with ½-teaspoon olive oil. Place the crumbs on a baking sheet and place in a 400F oven for 3 minutes, stir, then cook for 1 minute or until crumbs are golden brown.

Remove from pan to cool.

-----------------------

Assembling the eggs:

Cut each cooked & peeled egg in half lengthwise. Place a dollop of pesto on the yolk. Lightly sprinkle eggs with salt, pepper, smoked paprika, pecans and toasted panko crumbs. Drizzle with extra-virgin olive oil.

Enjoy!
Recipe Notes
If not serving Pesto on Eggs immediately, place pesto in an airtight container until ready to use.
*Pesto can be refrigerated, in an airtight container, & covered by a thin layer of good olive oil, up to one week. It can be kept frozen up to 3 months. Again, be sure to add that thin layer of olive oil on top before freezing pesto.