The definition of "perfect" according to the Merriam-Webster dictionary is …having no mistakes or flaws, and that is exactly how I feel about Perfect BLT with Sweet & Spicy Bacon & Avocado. I first saw GZ's (Geoffrey Zakarian's) Ultimate BLT on an episode of The Kitchen. I have put my own spin on it and (in my most humble opinion) it is now the perfect BLT.
Let's break it down.
Step 1. Start with the blank canvas; the bread. Choose your favorite bread for the foundation. Whether rye, country, wheat, Italian or sandwich white bread; it doesn't matter as long as it is your favorite. If you love the bread, you will love the sandwich. As far as the style of sandwich, go with what you love. I love this open-faced version because of the stunning presentation, but if you love a club-style BLT, go with that. Now, this step is a must: butter both sides of the bread and fry it stovetop. The added crunch from toasted bread is especially nice. You can toast just one side, but be sure to put the untoasted side on the inside so extra juices from the tomatoes will be absorbed.
Step 2. Spread a thin layer of mayonnaise on one side of the bread. Be sure to cover the bread to the edges.
Step 3. Lay fresh, crunchy lettuce over the bread. Be sure to wash and dry the lettuce. Pick lettuce with a crunch such as Romaine, Red Leaf, Iceberg or Bibb or use a combination for color and crunch.
Steps 4, 5 & 6. Stack bacon, tomatoes and avocados on top of the lettuce. The order doesn't really matter unless making an open-faced sandwich. What does matter is using the best ingredients. For the bacon, Best-Ever! Sweet Spicy Bacon! Bacon! Bacon! is THE best!
For the tomatoes, vine-ripened fresh is the only way to go.   Be sure to season the tomatoes before placing them on the sandwich. Tomato slices or halved cherry tomatoes work well.  How great is this easy cherry tomato (or grape) slicing food hack?  It works every time.
Step 7. Sprinkle the sandwich with your favorite herb. Dried tarragon or Fines Herbs (a blend of chervil, parsley, tarragon & chives) add fantastic, subtle flavor.
Here is the finished product – AMAZING!
So there you have it – Perfect BLT with Sweet Spicy Bacon & Avocado. This BLT "has no mistakes or flaws" and, therefore, can wear the moniker of "Perfect" proudly and confidently.
I would love to have "perfect" added to my many titles. Don't these sound nice? Susie, the perfect person, perfect daughter, perfect sister, perfect wife, perfect mom, perfect friend, but I have and do fall short of perfect in all those areas of my life.   With that said, there is one area I will proudly claim. I am the perfect Grandma Doozie. If you don't believe me, ask my granddaughter. She would say the same about her Grandma Rat (cliff). Our shared granddaughter owns our hearts and we own hers. Our grandson is too young to verbalize his love, but I know he feels the same. I see it in his laughing eyes and sweet smile every time he sees either one of us.
Enjoy!
I don't use the adjective "perfect" very often when I label recipes, but here are some other "Perfect" recipes on Simply Sated.  Perfect Pot Roast, Perfect Quiche, Perfect Shortcake. I think you just might agree with me.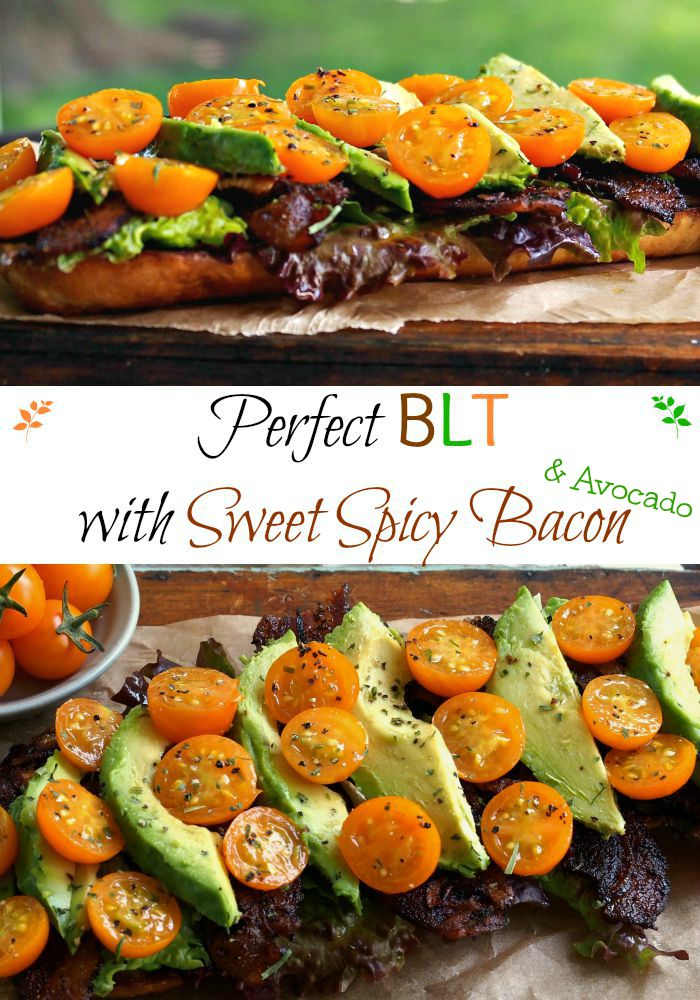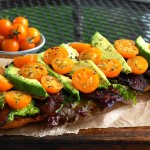 Perfect BLT with Sweet Spicy Bacon & Avocado
THE perfect BLT with sweet, spicy bacon and sliced avocados. After one bite, you will swear you are in Heaven. Adapted from Geoffrey Zakarian's Ultimate BLT: http://www.foodnetwork.com/recipes/geoffrey-zakarian/gzs-ultimate-blt.html
Ingredients
For the Bread:

Two 1/2-inch-thick

4x9 slices Italian or country bread, toasted. *Use your favorite bread and the size you like best.

2

tablespoons

butter

2

tablespoons

grated Parmesan cheese

optional

----------------------------

For the Tomatoes:

Eight 1/2 -inch-thick slices fresh tomatoes or 15-20 cherry tomatoes

1

teaspoon

kosher salt

plus more for seasoning

1

teaspoon

freshly ground black pepper

plus more for seasoning

2

tablespoons

red wine

champagne or cider vinegar

2

tablespoons

extra-virgin olive oil

--------------------------------------

For the Bacon: See Simply Sated's Best Ever! Sweet Spicy Bacon! Bacon! Bacon!: http://www.simplysated.com/best-ever-sweet-spicy-bacon-bacon-bacon/

8

slices

bacon

½

sweet yellow onion

thinly sliced

1-

teaspoon

black pepper

1-

teaspoon

cumin

1-

teaspoon

chili powder

½

teaspoon

smoky paprika

dash cayenne pepper

2-

tablespoons

brown sugar

----------------------------------------------

1

avocado

cut into 1/4-inch-thick slices

Red Leaf or Iceberg lettuce leaves

Fresh tarragon or dried Fines Herbs

for garnish
Instructions
Preheat the oven to 380 degrees F.

For the Bread:

Slice the bread ½" thick and spread with butter on both sides. Heat skillet over med-high heat and add bread. Toast both sides until golden brown. Remove toast to cooling rack to cool. **Alternate toast treatment: Toast bread until bottom side is golden, then flip bread over to toast the other side. Sprinkle top of toast with grated Parmesan cheese. Once both sides of bread are golden, flip toast over until cheese is golden. Transfer toast to a wire rack to let cool.

-------------------------------

For the Tomatoes:

Place the tomato slices on a tray or large plate. Sprinkle with kosher salt and black pepper. Drizzle the vinegar and oil over the tomatoes. Allow tomatoes to rest for 15 minutes. *If using cherry tomatoes, cut tomatoes in half (see photo for how-to quickly.)

------------------------------------------

For the Bacon:

Lay the bacon on a griddle over a foil-lined baking sheet.

Season the bacon with all spices. Top with the sliced onions and sprinkle bacon & onions with brown sugar.

Roast bacon 20 minutes, flip bacon over and roast another 15-20 minutes until almost crispy and onions have caramelized. Remove from oven and drain on a paper towel-lined plate.

------------------------------

To Assemble BLT:

Spread 1 1/2 teaspoons mayonnaise on each slice of toasted bread.

Cut avocado in half, remove pit, cut into slices and sprinkle with salt & pepper.

Layer lettuce, bacon, tomatoes & avocado on top of the toast and sprinkle with chopped herbs.

Cut sandwich into sections and enjoy!