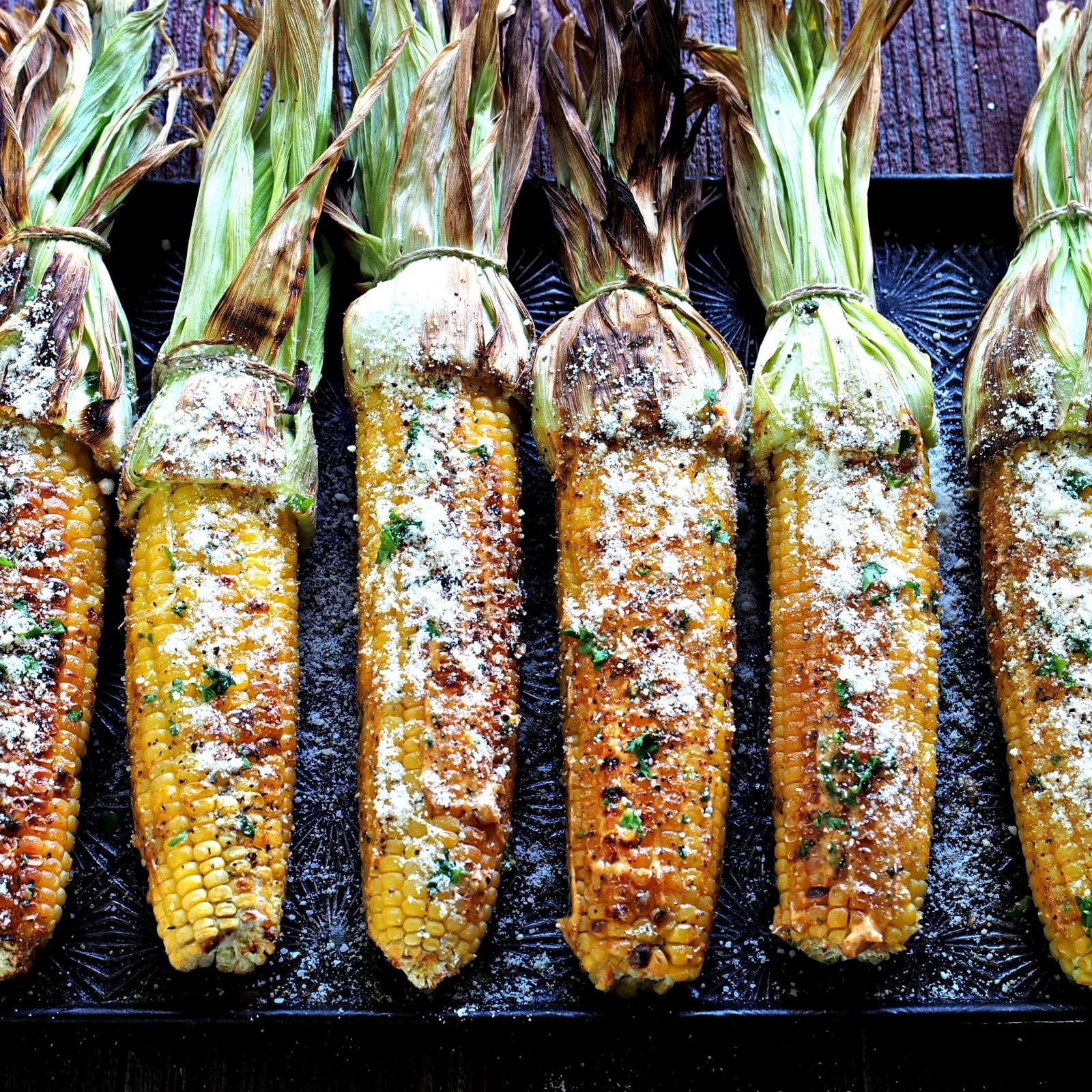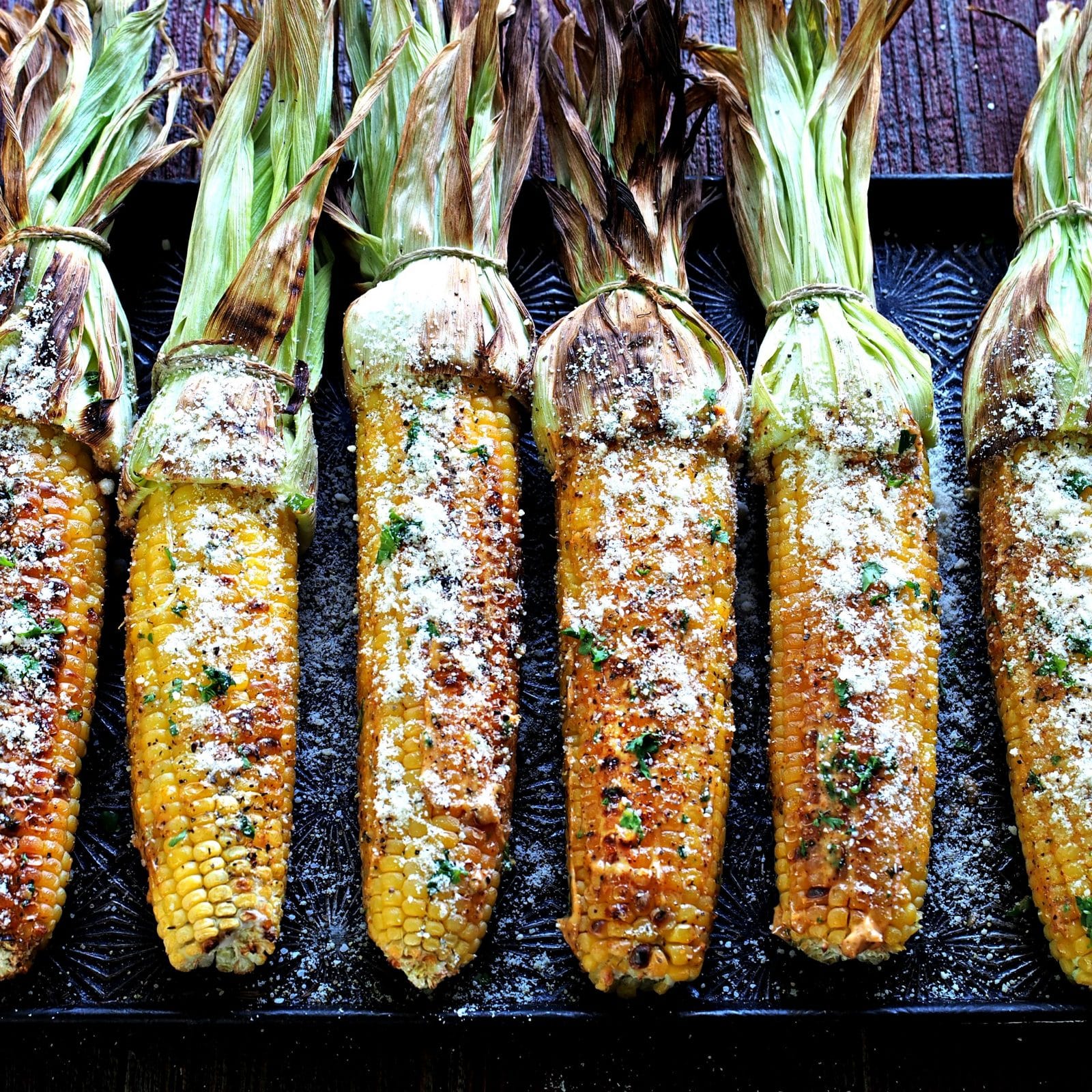 Baby, oh baby! I made Grilled Corn! Smoky, flavor-packed, gorgeous Grilled Corn!
I went through a phase during my childhood when I hated corn – no matter how it was prepared. I know, it sounds crazy! Can you imagine? Thankfully, that phase lasted only one summer and I have gone on to live a full and interesting life.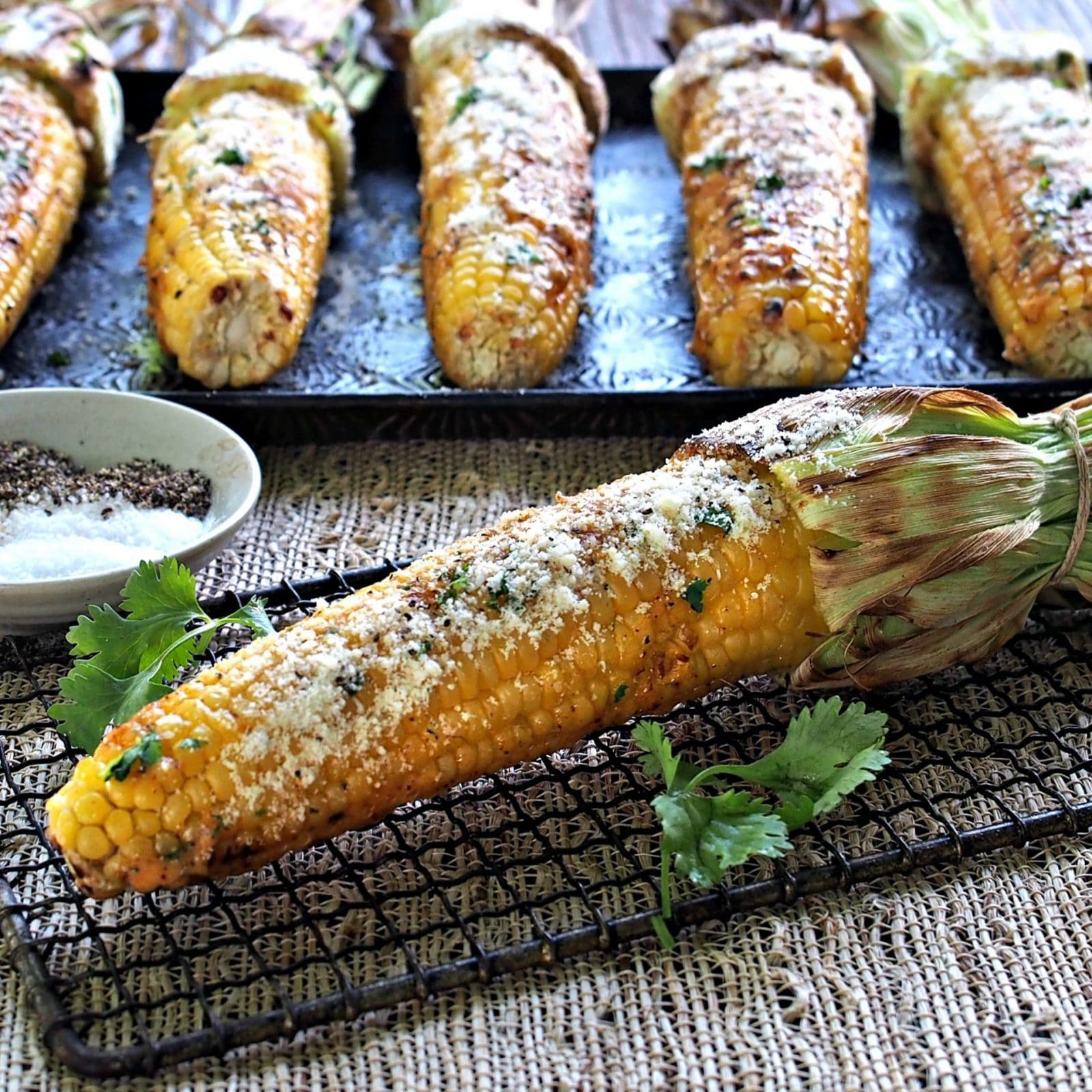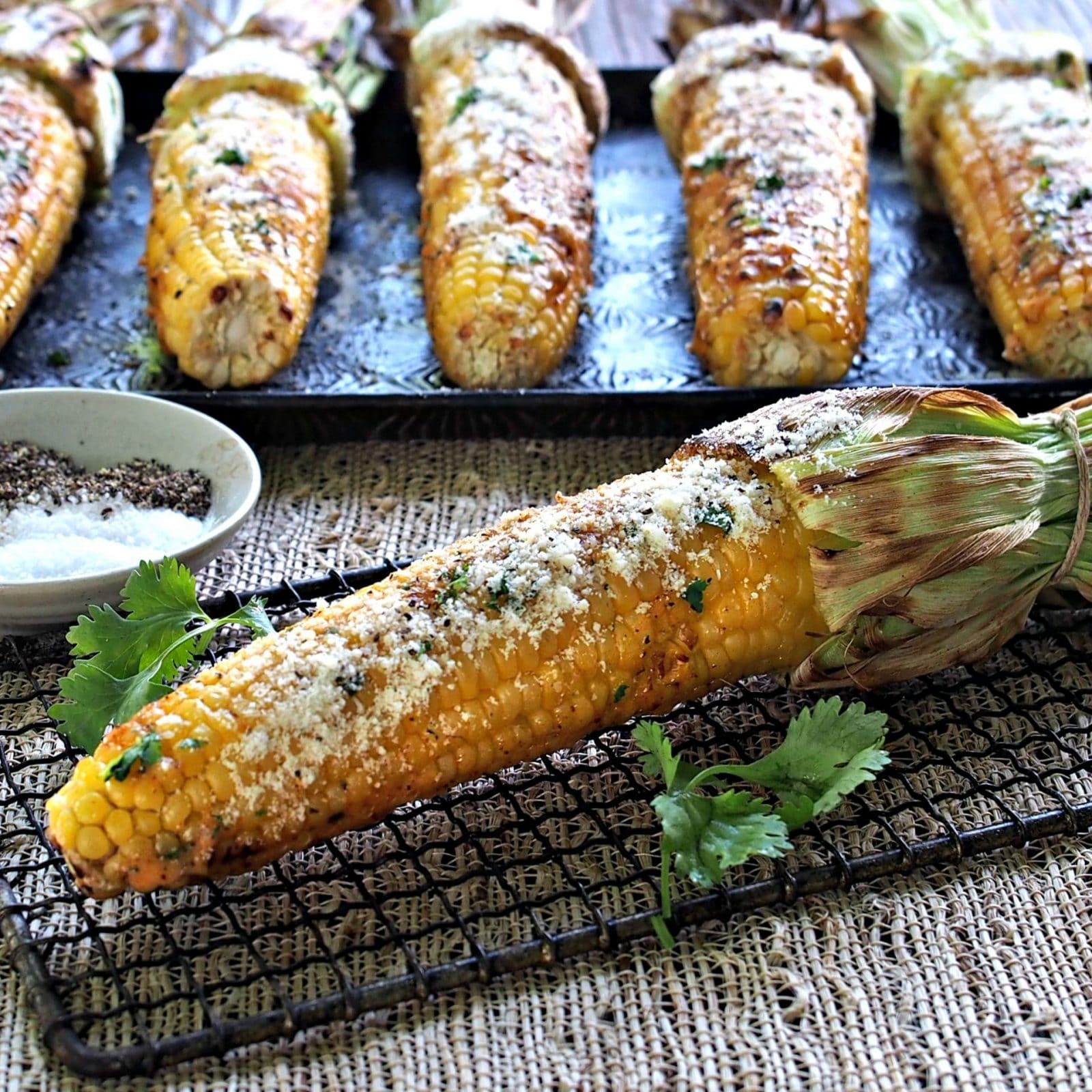 I now love corn in all its' forms: in salsas, casseroles, salads, breads, pizzas, risottos and soups. I love it creamed, boiled, roasted, on-the-cob, and even, raw. If it is near, I'll eat it.
Before I go further, I have a confession to make. You might have noticed something in my photos, so I might as well make things right. In the process of getting great grill marks on the corn, I overcooked some of the ears. I don't know if it was the bright sun, or the squirrel wagging his tail & chirping overhead, or Donald Trump's hair flashing on the TV every time I went inside, but I was distracted. Before I knew it, the corn was much toastier than it needed to be. Please do me a favor and pretend the dark brown patches aren't there. Focus only on the softer, perfectly cooked, golden kernels. Thanks!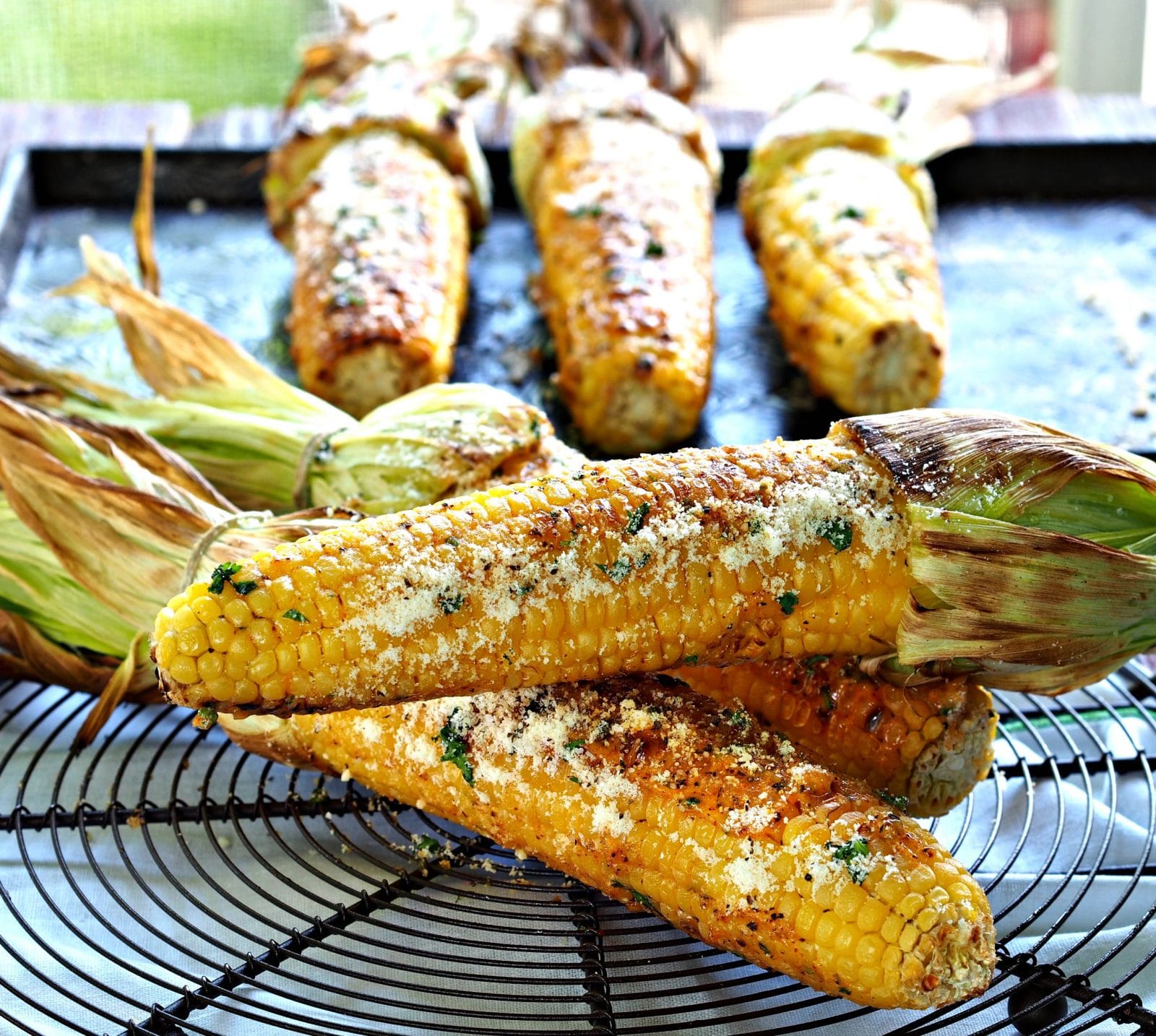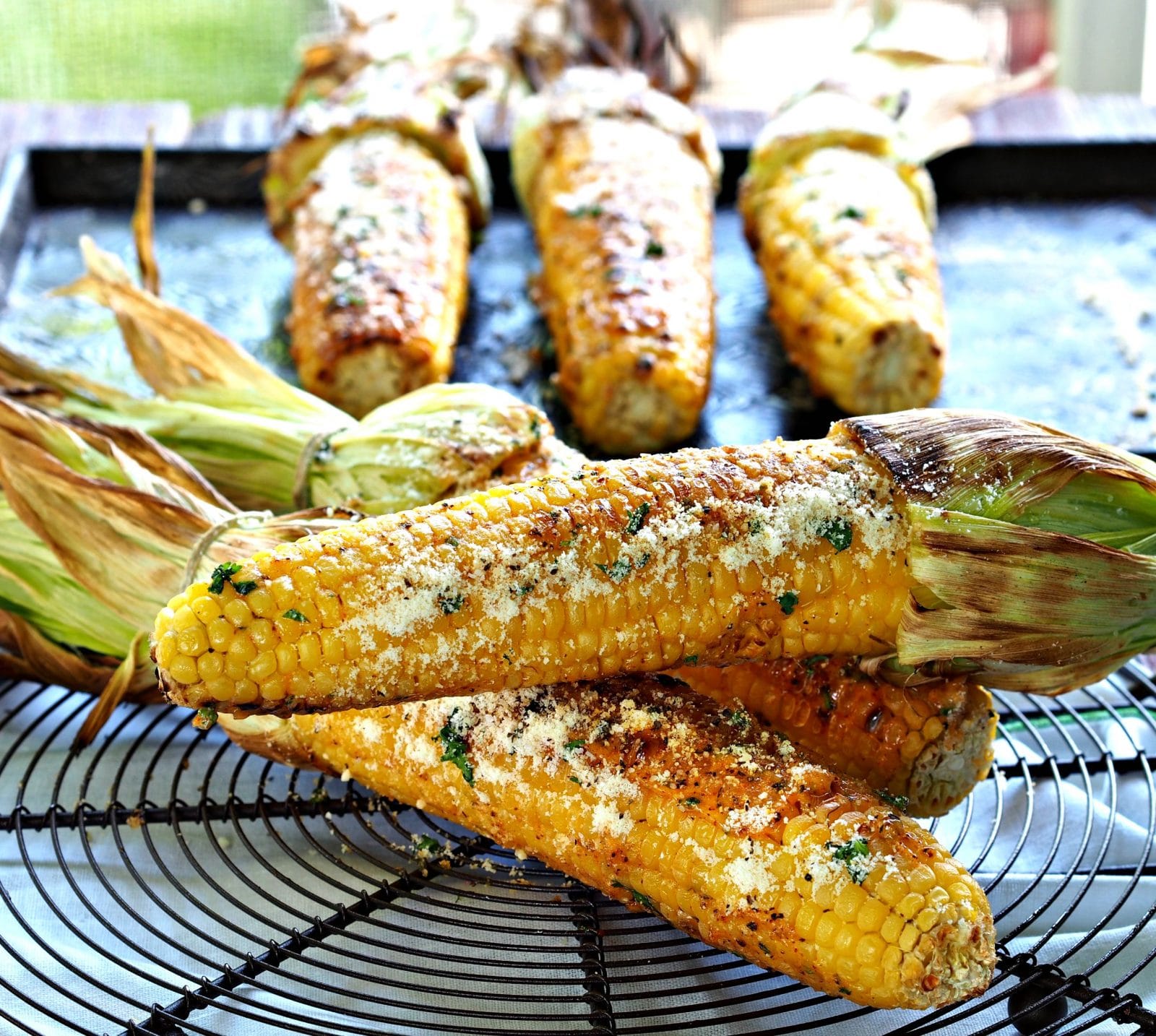 Grilled Corn is extra delicious for one reason – the smoky flavor. Today, I am showing just one way to grill corn-on-the-cob, but there are several. It can be grilled with the husks, with part of the husks, naked (the corn, not you); it can also be pre-soaked or not. I went with this method because the presentation is stunning and the corn is easy to eat while holding onto the husks. Just remember, the most important step is to cook the corn only long enough to give it a smoky flavor and to heat throughout.
I have another confession to make. I forgot to photograph the Mexican-Spiced Mayonnaise I made to be served with the corn. It is scrumptious – not only with Grilled Corn but, also, on hamburgers, chicken and egg sandwiches. No worries, though, I did include the recipe below. So just close your eyes and visualize rust-colored mayonnaise infused with Mexican spices and chopped cilantro. Doesn't it look and smell tasty?
Fresh corn-on-the-cob is one of the foods my husband and I enjoy most during the summer months, and we are both especially grateful my "I hate corn phase" lasted one brief summer of my youth.
Here is an extra how-to tidbit for you. My husband's Grandpa Gall had the best technique for buttering corn, and my husband is a huge proponent. There are only two steps: 1. Butter a slice of bread. 2. Roll the ear of corn on the buttered side of the bread. Ta-da, buttered corn-on-the-cob.
Enjoy!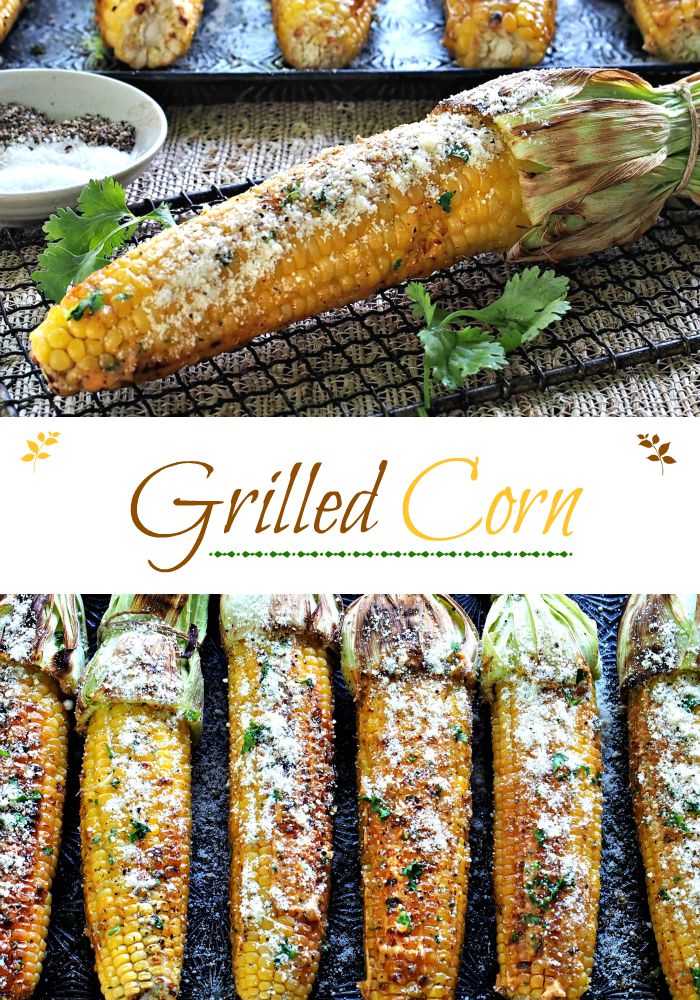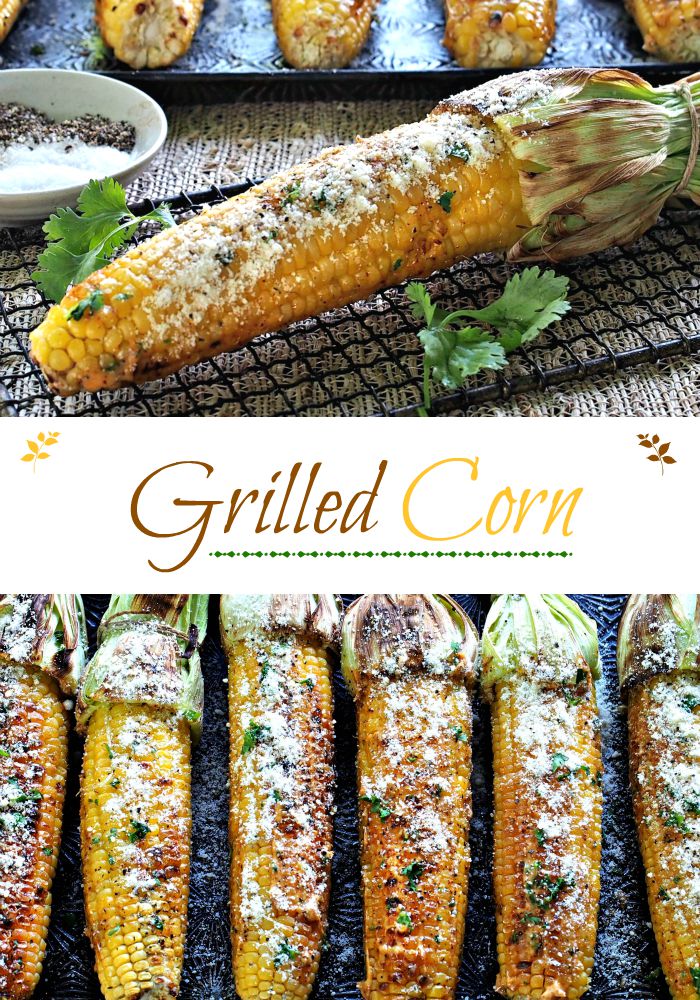 Grilled Corn
Note: Keep in mind corn-on-the-cob is delicious and edible even without cooking. It is best cooked only long enough to give it a smoky flavor and heat through.
Ingredients
6

ears fresh corn-on-the-cob

Thin twine

Freshly ground black pepper

Grated Parmesan Cheese or Mexican Cheese

------------------------------

Mexican Spiced Mayonnaise

optional:

½

cup

low-fat mayonnaise

2-3

teaspoons

chili powder

½

teaspoon

smoky paprika

1-

teaspoon

ancho chili powder

¼

teaspoon

ground cumin

opt.

Grated Parmesan cheese

2

tablespoon

chopped cilantro
Instructions
For the Grilled Corn:

Prepare grill for high heat – about 550F.

Cut 6, 10" pieces of twine, place in a bowl of water to soak and set aside.

Remove the outer, toughest husks from each ear of corn exposing the more tender husks. Pull the tender husks back and tie tightly with the moistened twine to hold it in place. Cut off excess twine.

Remove silk threads from corn and place the corn in a pan large enough to submerge the corn. Allow corn to soak 5 minutes.

Repeat with each ear of corn.

When grill is ready, remove corn from water and gently shake off excess water.

Place corn on grill over high heat. Turn it every 30 seconds until heated through and smoky. *Be careful not to over-cook the corn. It will get chewy and can burn quickly.

--------------------------------

For the Mexican Spiced Mayonnaise:

In a small bowl, whisk all mayonnaise ingredients together until well combined.

--------------------------------

To serve:

Remove corn from heat and, if desired, sprinkle with salt & pepper and spread with Mexican flavored mayonnaise. Sprinkle with grated Parmesan cheese.

Enjoy!