Wild Rice, Jones Sausage Apple Stuffing.
This is a sponsored post on behalf of Jones Dairy Farm, but you can be assured all opinions are my own.

I was so excited when Jones Dairy Farm asked me to create a stuffing recipe using Jones Dairy Farm Sausage for the launch of their new Stuffing & More website.   Their Thanksgiving stuffing website features almost 30 delicious stuffing recipes along with Thanksgiving cooking tips and Jones Dairy Farm coupons. Think of it as one-stop Thanksgiving stuffing shopping.
Jones Dairy Farm is a family owned business that began in Fort Atkinson, Wisconsin in 1889. Just think about that – 125 years. That alone is notable, but the fact they have stayed true to their roots by not using anything artificial in their products is even more amazing and the reason their products have passed the test of time.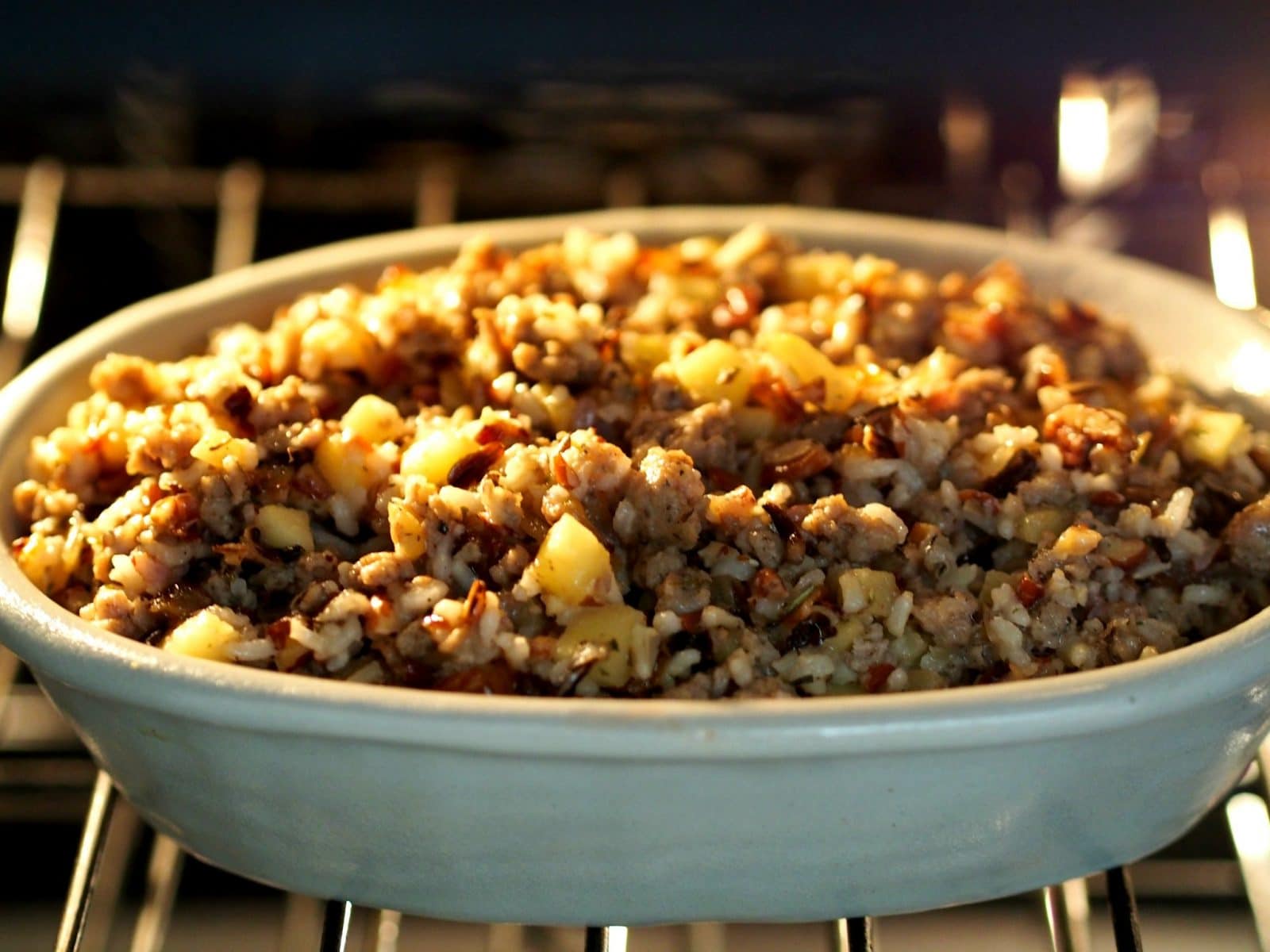 I have always heard great things about Jones Dairy Farm sausage and, after tasting it, I have to say it is the best sausage I have eaten.  It is gluten free, tastes fresh, is all-natural with no added chemicals or preservatives.   Usually after cooking sausage I drain the excess fat, but with Jones Dairy Sausage there is no need.
Any Thanksgiving meal would not be complete without Wild Rice, Sausage & Apple Stuffing. This gluten free recipe is delicious and stunning. It is a fragrant, flavor-filled dish and one of those fantastic recipes that will be passed from generation to generation.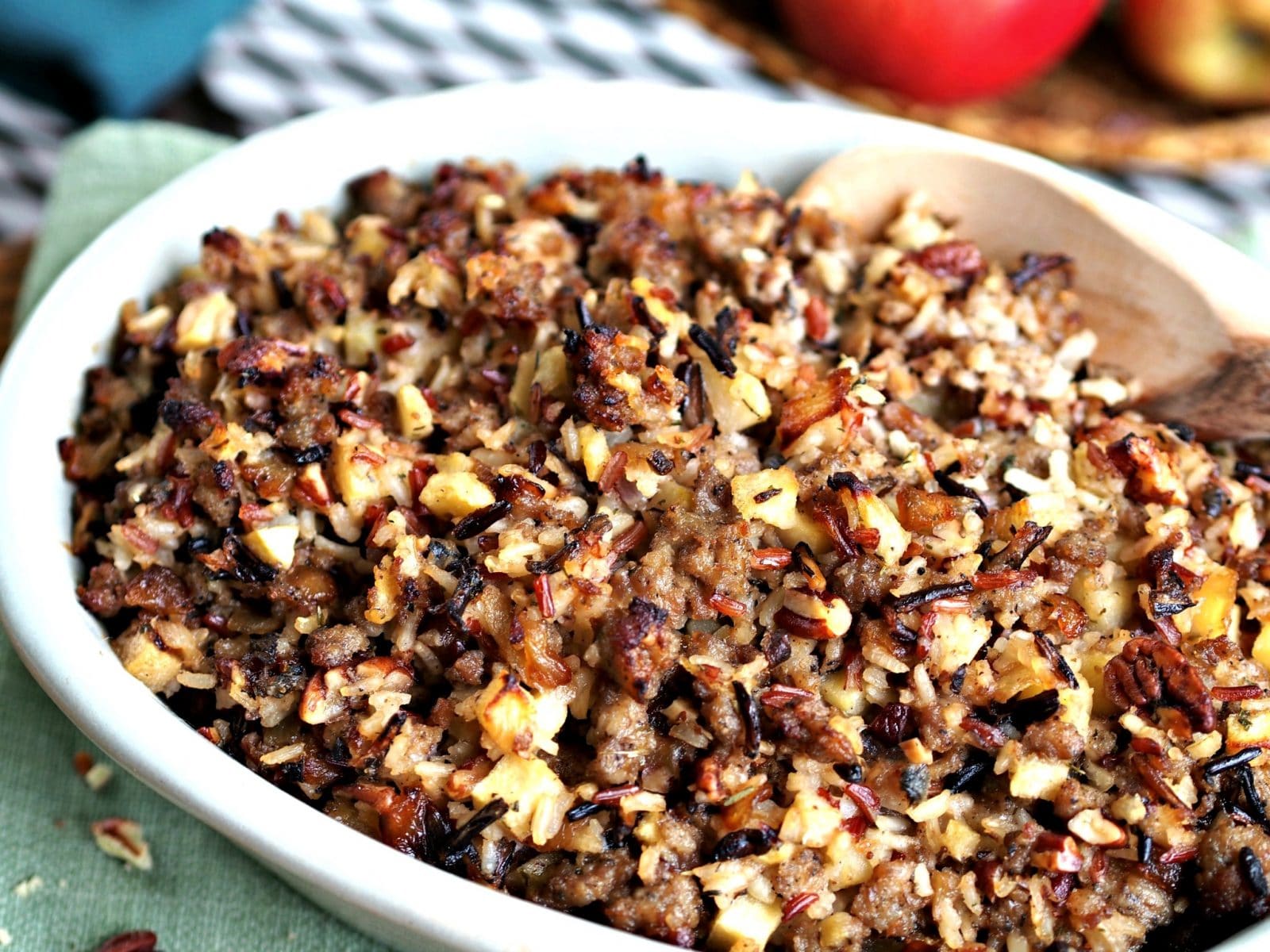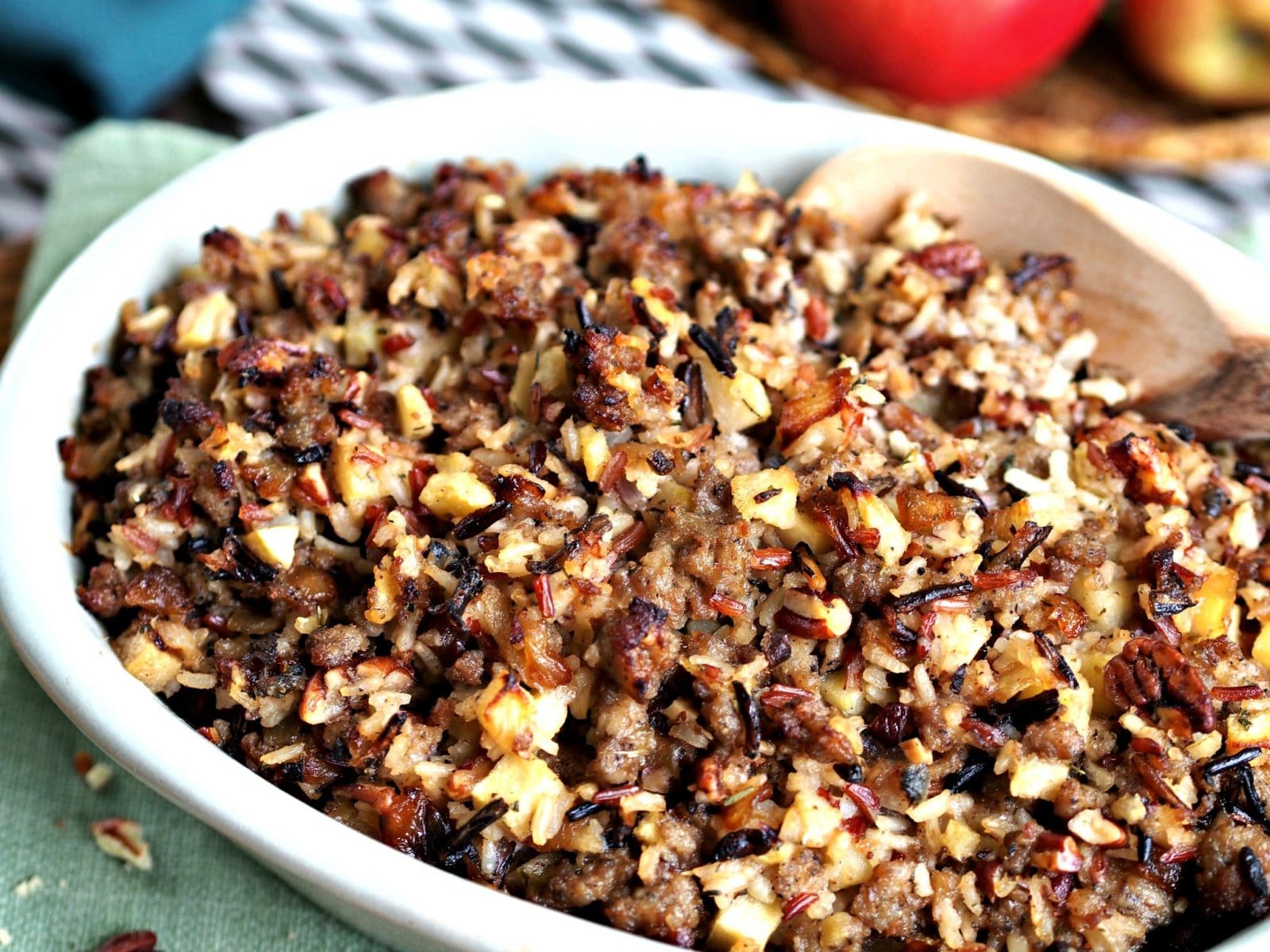 It is what Thanksgiving food dreams are made of and Webster's Dictionary definition of Thanksgiving should read like this:
Thanksgiving is an annual national holiday marked by religious observances and a traditional meal including turkey and – Wild Rice, Jones Sausage & Apple Stuffing.
This recipe includes Jones Dairy Farm Sausage, a blend of rices, toasted pecans, sweet onion, fragrant herbs, brown sugar, juicy apples and a splash of (get ready) Southern Comfort. Thanksgiving Dinner just got a whole lot better.
Wild Rice, Jones Sausage & Apple Stuffing has become a favorite dish in my home. It has layers of flavors and textures with deliciousness in every bite. It is so satisfying; I often serve as an entrée.
I'm wondering – if I get thousands of signatures on an "Add Wild Rice, Jones Sausage & Apple Stuffing to the Definition of Thanksgiving" petition, will Webster's amend the definition. Or maybe I will prepare a big pan of it and take it to Webster's Dictionary Headquarters. Once they taste it, I know they will agree.
Head on over to Jones Dairy Farm and Stuffing and More  for my WILD RICE, JONES SAUSAGE & APPLE STUFFING recipe and to look around at all the other delicious recipes and Thanksgiving tips. You will wonder how you ever managed Thanksgiving before.
Enjoy!