Yes, you read that correctly, Hard-Cooked Steamed Eggs. I can sense your questioning, eye-narrowing stares, so please stay with me while I explain.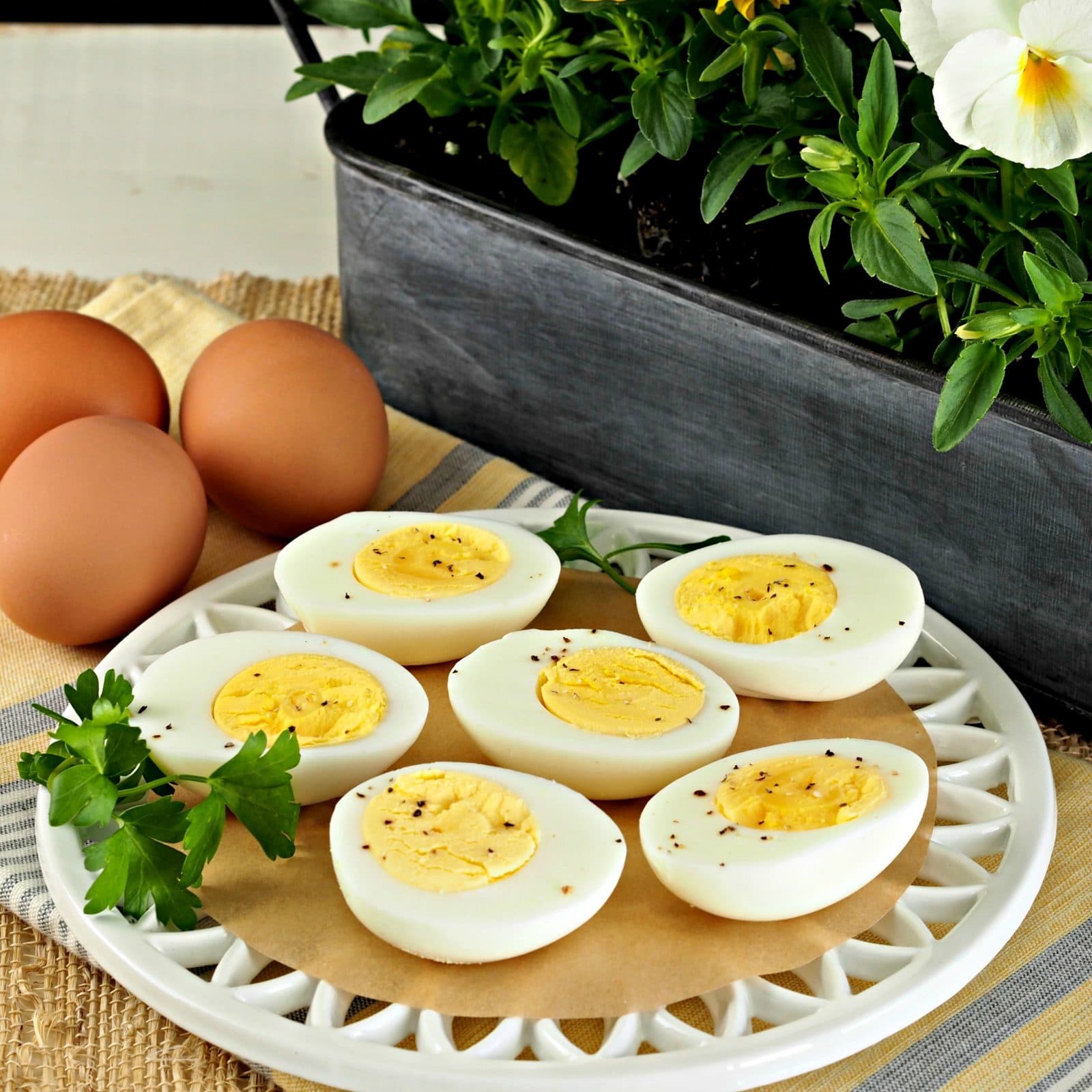 I love hard-boiled eggs and make them frequently to keep in the fridge for a quick, easy breakfast. Until a few years ago, I boiled the eggs and often ended up with eggs ringed with a yucky greenish-gray egg yolk and broken shells. As my two-year old granddaughter would say, "Eww!"
Not now, though. Just look at these beauties.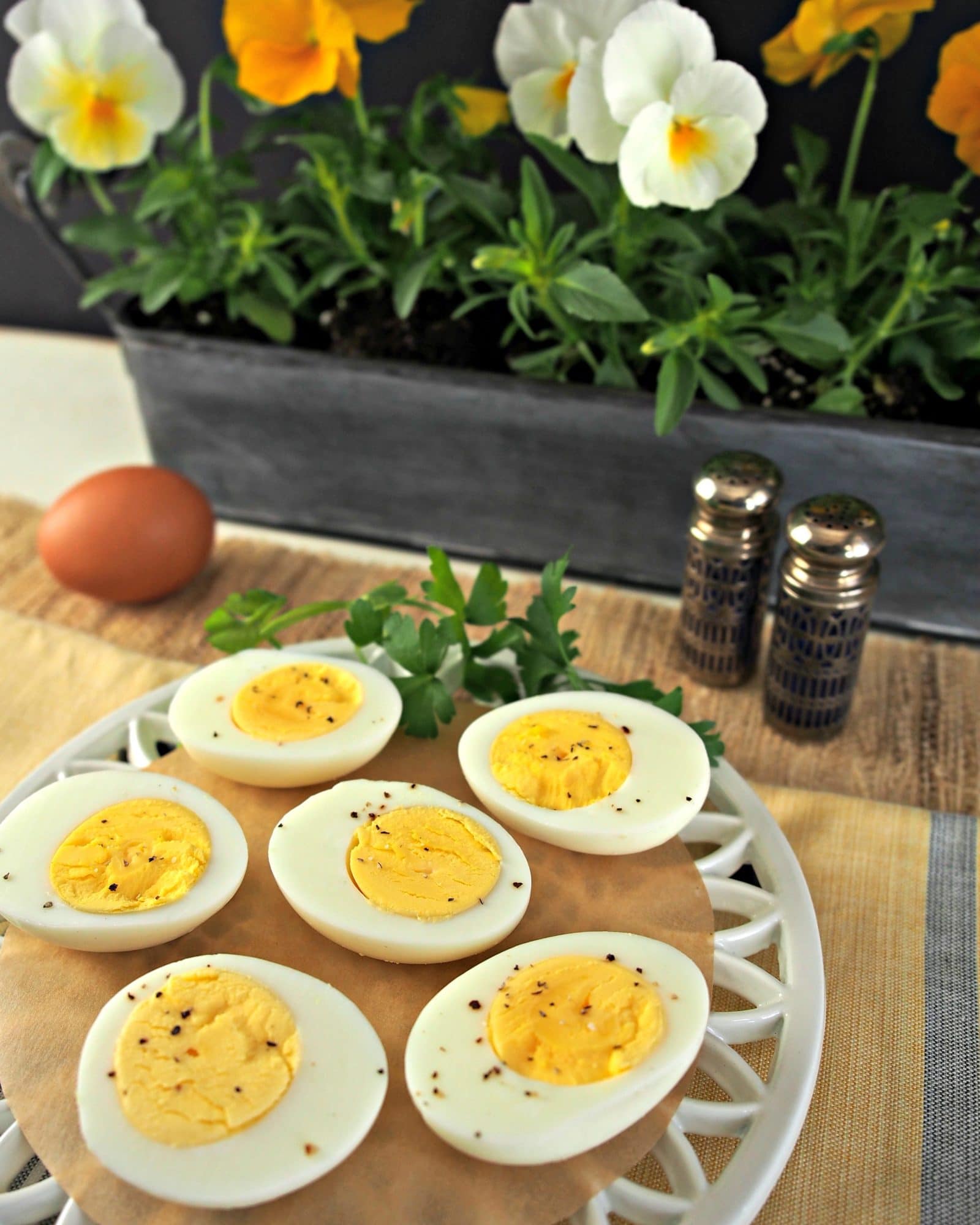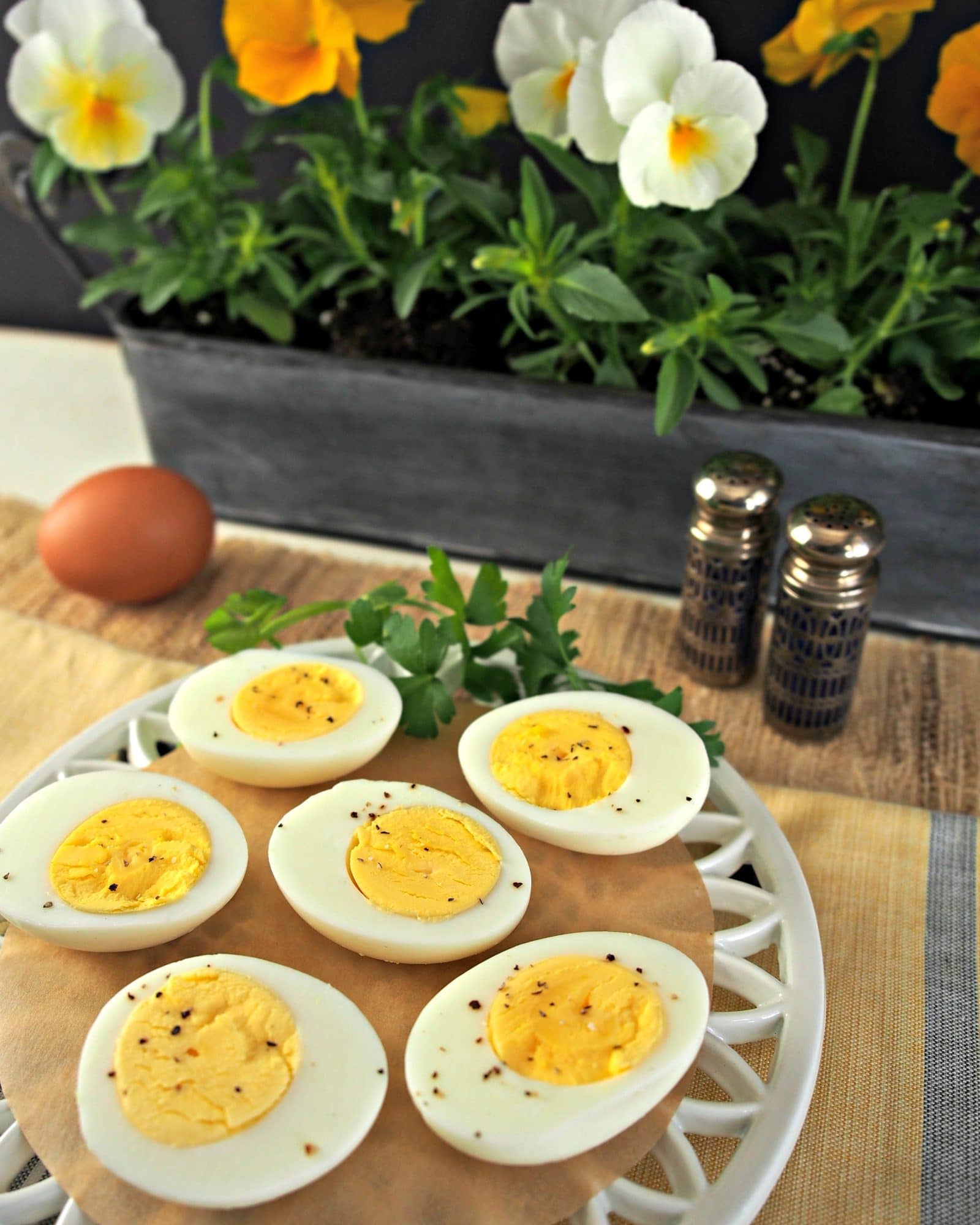 A couple of years ago I discovered that making mashed potatoes from steamed potatoes, instead of boiled, worked best, and my Sweet & Gold Mashed Potatoes are a great example.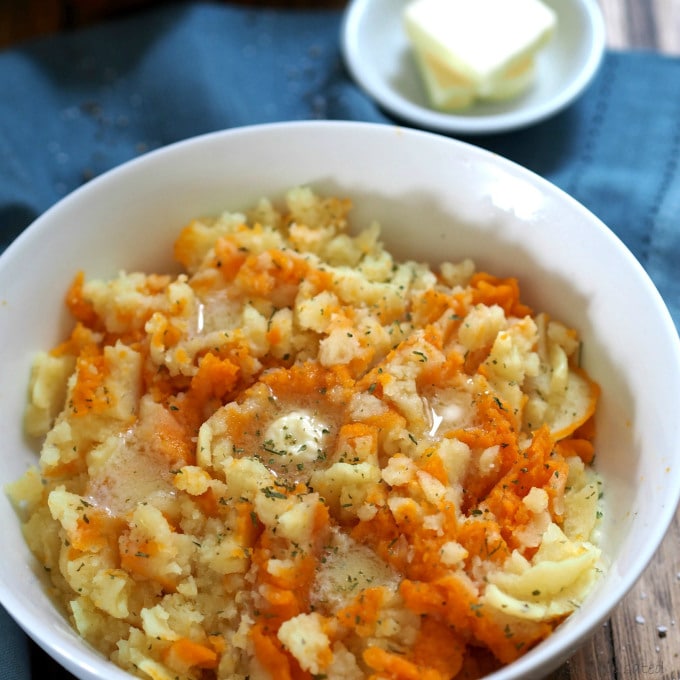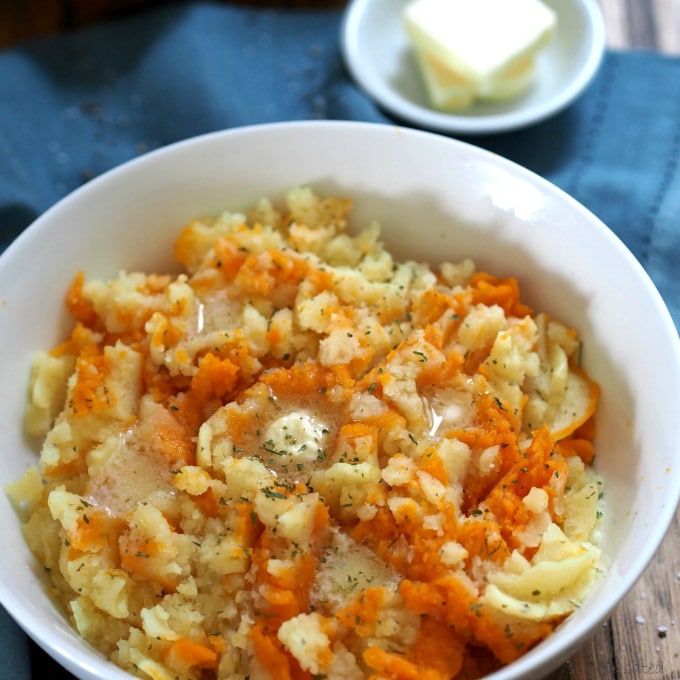 After this revelation, my brain cells were piqued, and I wondered what other traditionally boiled foods might cook and/or taste better using this method. The first food that came to mind were hard-boiled eggs. After a few failed attempts, I settled on a few tested basics to achieve my desired goal of perfectly cooked steamed eggs, eggs with no greenish-gray ring around them, eggs with non-rubbery egg whites and no broken shells.
Here are the basics for making Hard-Cooked Steamed Eggs:
Use a double boiler (or steamer basket inside a larger pan).
Bring the water to a full boil then add the eggs.
Steam the eggs for 13 minutes.
Plunge them into icy water.
When they are cool enough to touch, press and roll the eggs against the side of the bowl or on the counter to break the shell then place them back into the ice water.
Allow the eggs to cool 15 minutes. This will allow water to seep between the broken peel and the egg making it a snap for peeling the eggs.
Peel the eggs.
Seriously, that is – it!
Enjoy!
It might be a good idea to do test an egg after 13 minutes to see if the yolk has cooked to your liking. Thirteen minutes was perfect timing for the way I like my eggs, but if you prefer an eggs with a harder yolk, just lengthen the time by minute increments until they are perfect for you. If you prefer softer-yolk eggs, just shorten the time by a minute the next time.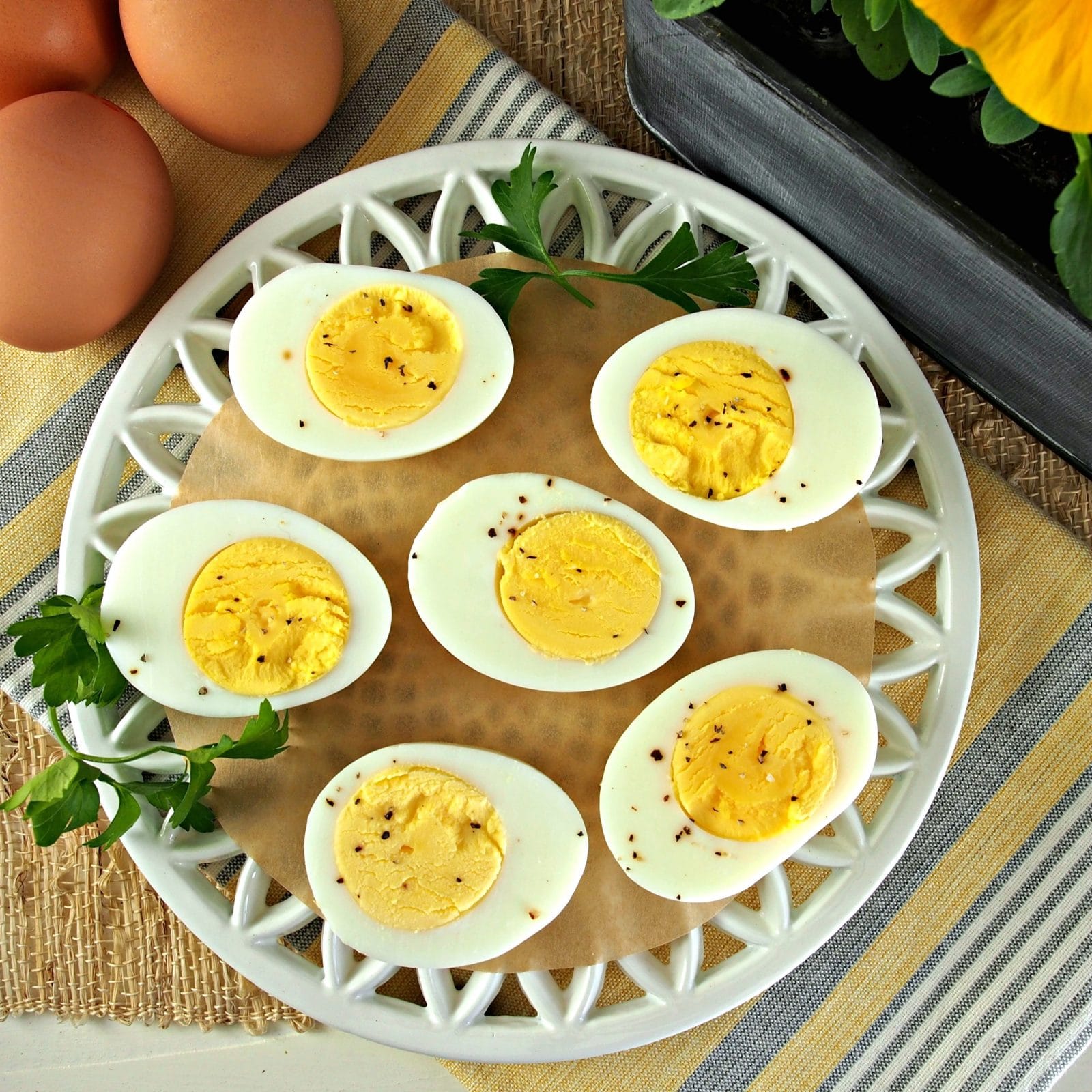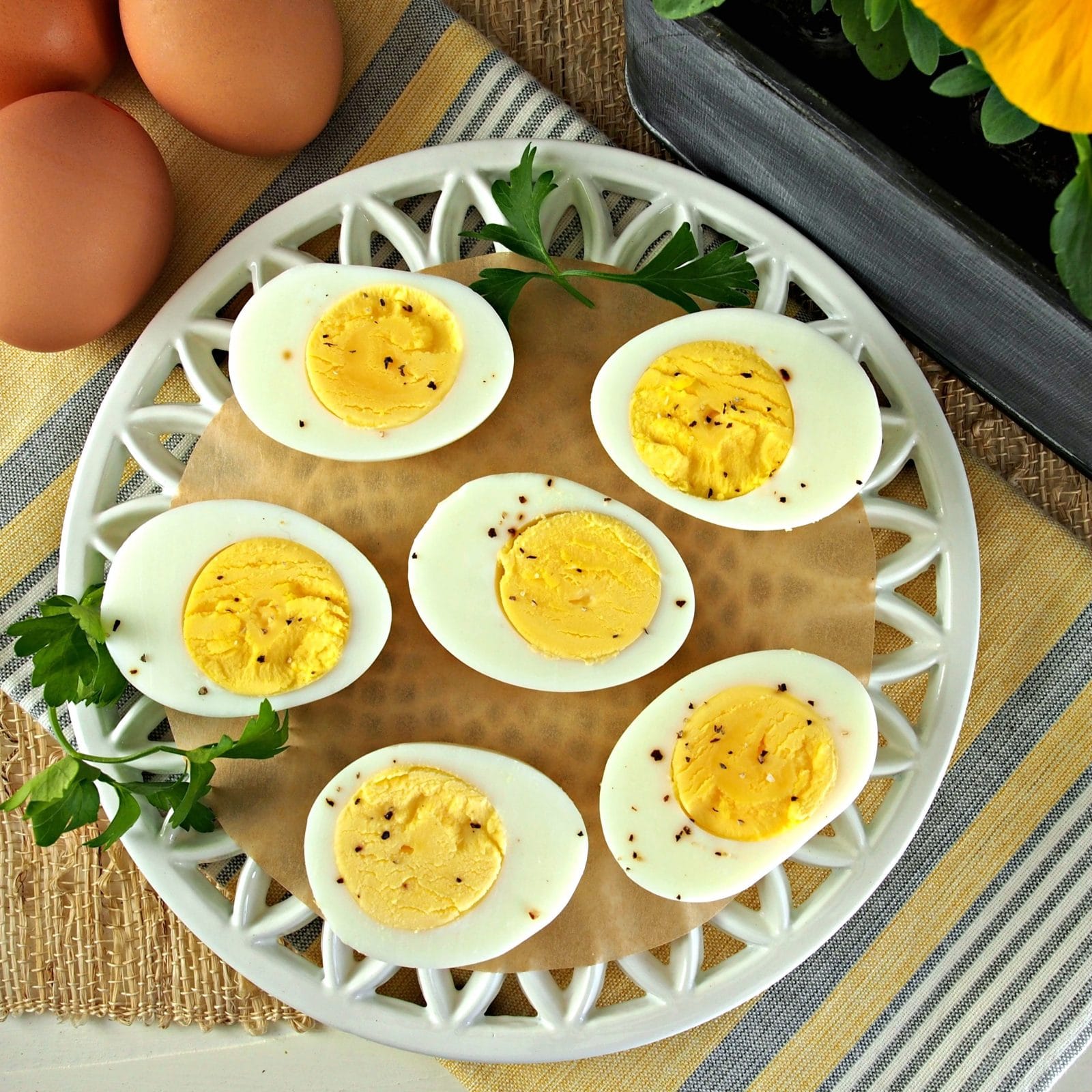 See? We now have Hard-Cooked Steamed Eggs that are perfectly cooked.
…and perfect to use with this amazing recipe, Pesto on Eggs with Sugared Pecans. Mmm-Mmm and Oh! So! Good!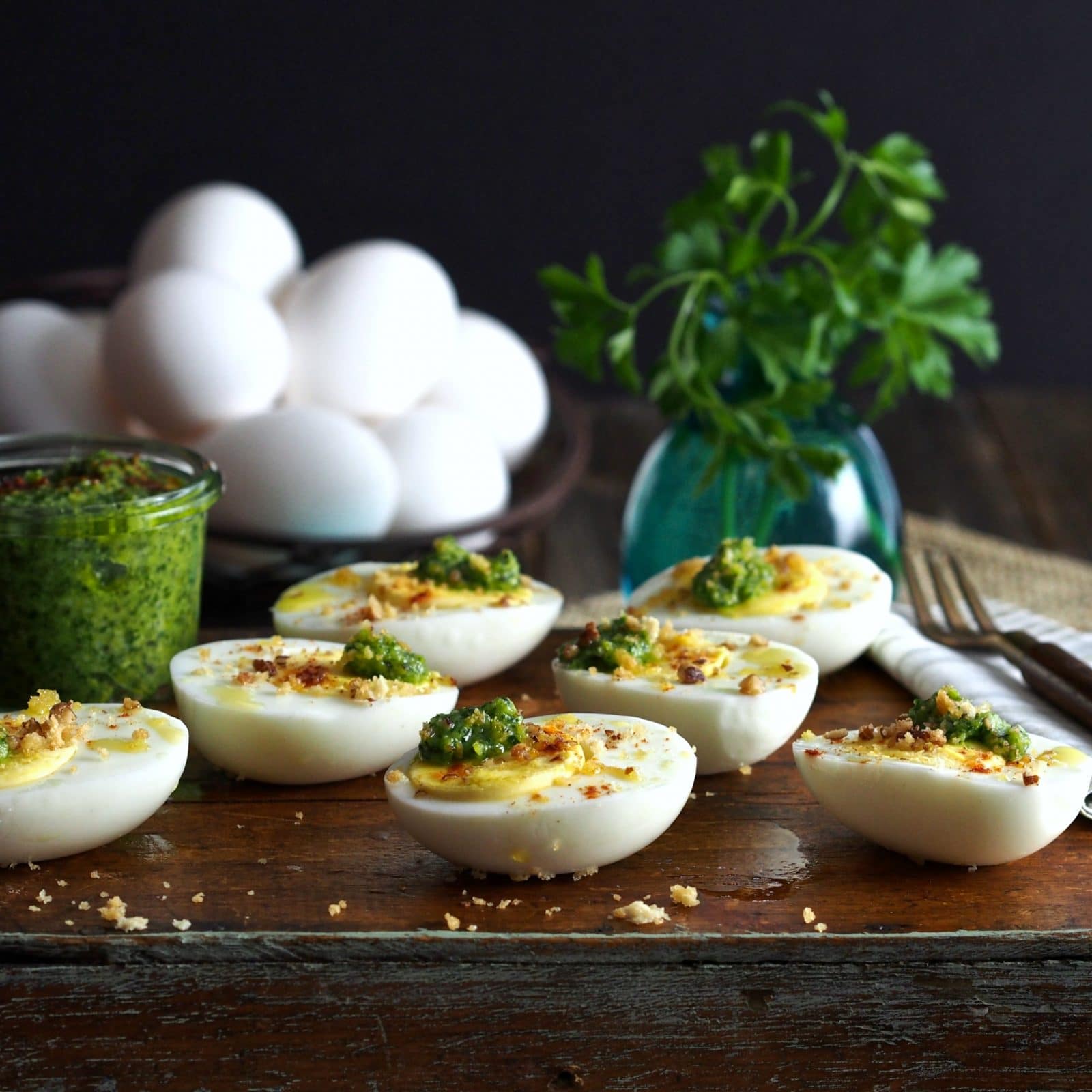 PS. It is my experience that Hard-Cooked Steamed Eggs peel more easily, but if a beginning nudge is needed, gently slide the edge of a small spoon between the egg and the membrane covering the egg. Wiggle it in and around the egg to release the shell.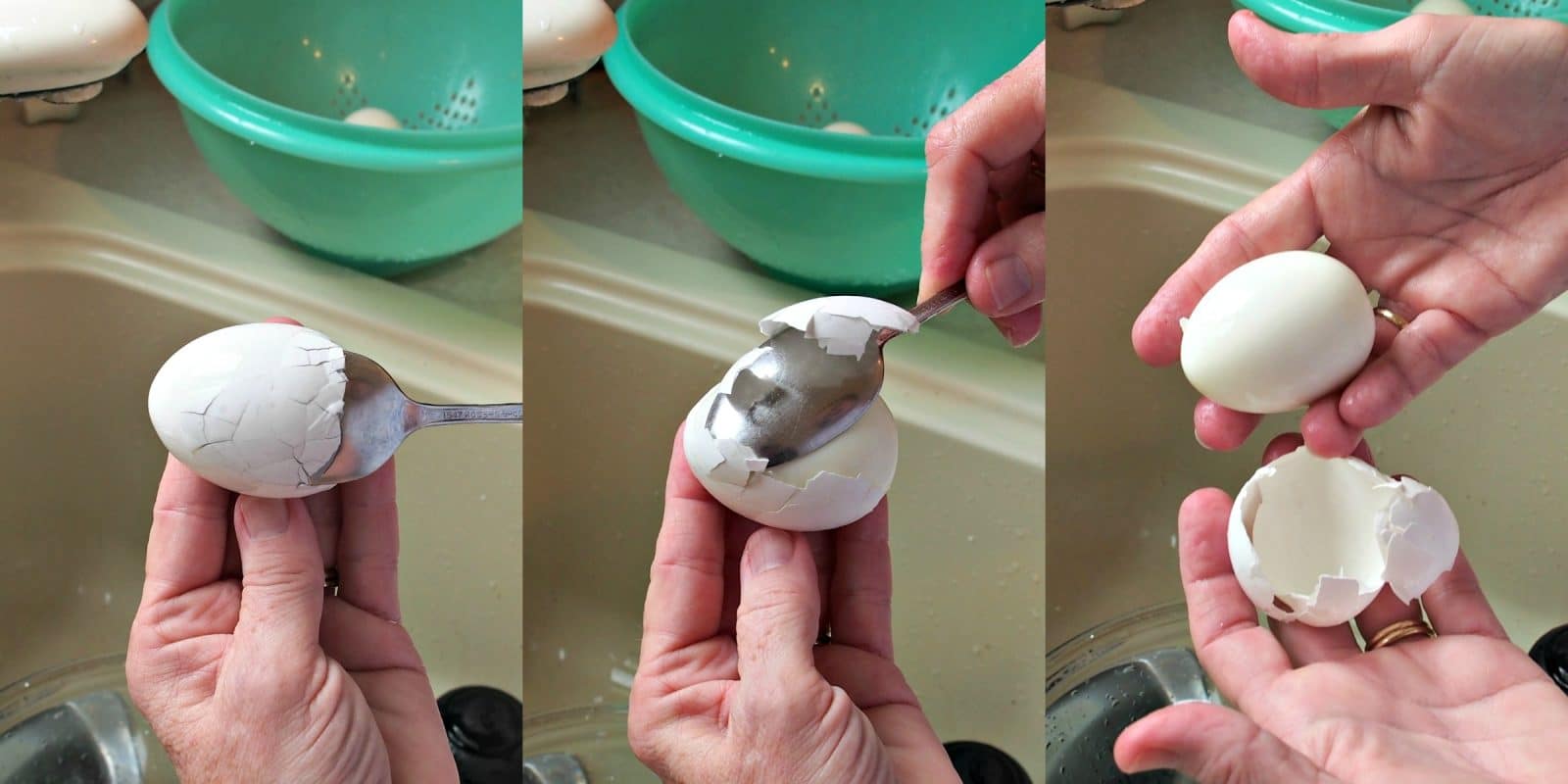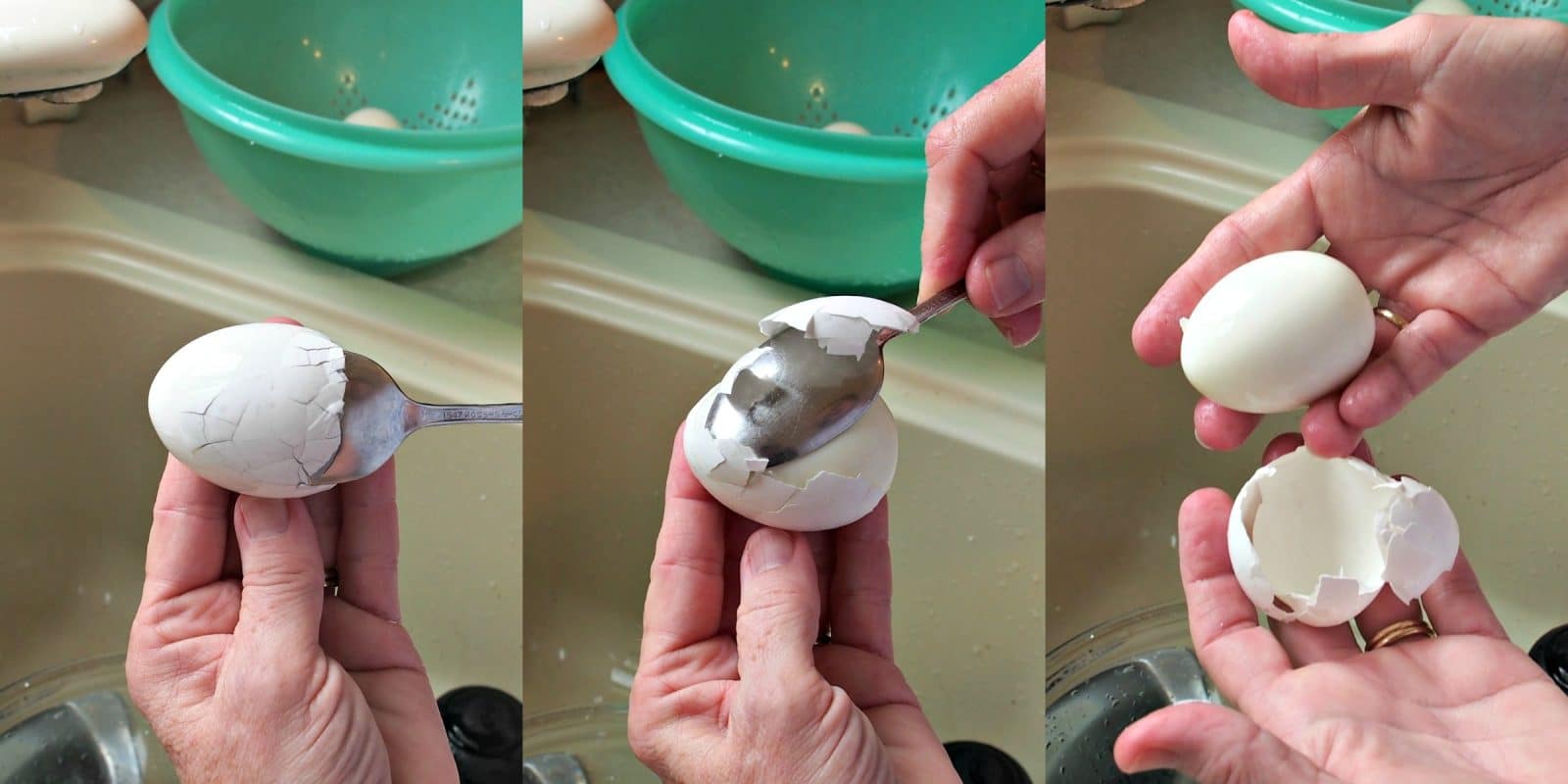 Enjoy!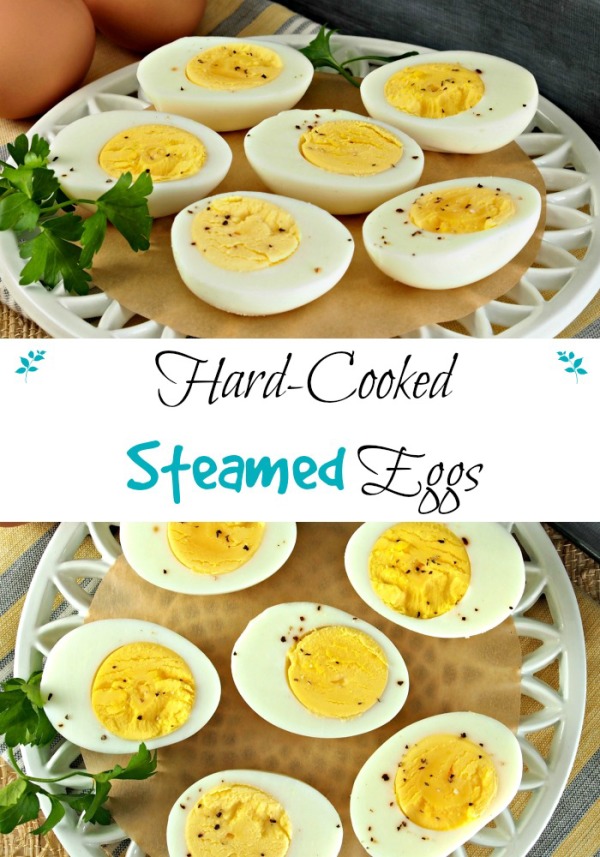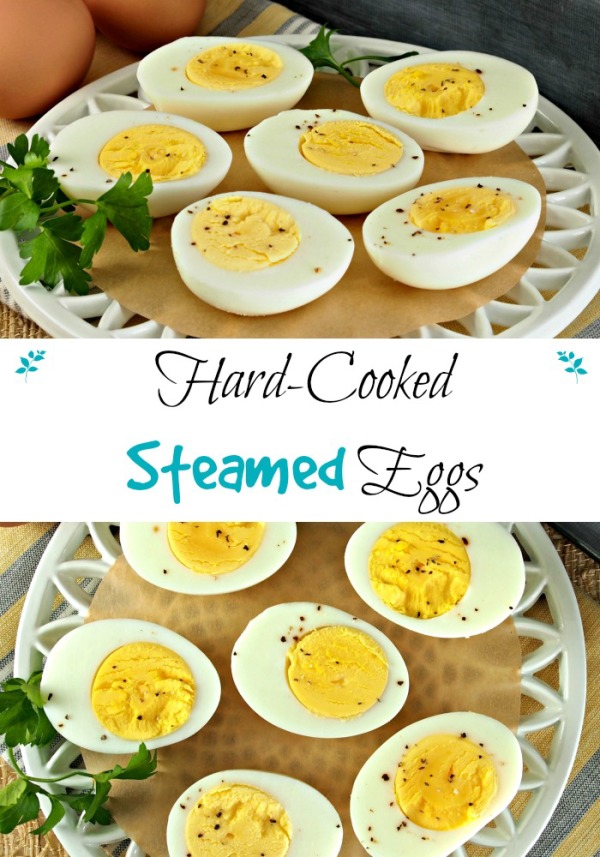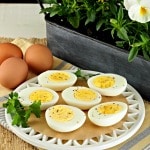 Hard-Cooked Steamed Eggs
Hard-Cooked Steamed Eggs. Steaming eggs instead of boiling them creates eggs with perfect yellow yolks, perfect whites & eggs that are easier to peel. Egg perfection.
Ingredients
6

eggs

large

2

cups

water

1

bowl

ice water
Instructions
Place 2 cups water in the bottom of a double boiler (use enough water so the pan doesn't go dry, but not enough to touch the bottom of the top of the double boiler pan).

Place the upper pan of the double boiler over the bottom portion and cover it with the lid. Bring water to a full boil.

Place eggs in the upper pan of the double boiler, cover with the lid and boil the eggs 13-14 minutes. (It is best to test an egg at 13 minutes to ensure the egg is to your liking.)

While eggs are cooking, fill a large bowl with ice water and set it aside until eggs are ready.

When eggs are cooked, immediately remove them from the pan and place them in the ice water. Allow eggs to cool a few minutes, then break the shells and place them back in the cold water for 15 minutes.

Once eggs have cooled completely, peel immediately and serve or place in an airtight container (lined with a paper towel to absorb moisture) and keep refrigerated. *See notes.

The eggs will keep refrigerated up to 5 days.
Recipe Notes
*Peeling eggs before refrigerating them works best. I find the shells are more difficult to remove the longer the eggs have been refrigerated. Be sure to keep the eggs in an airtight container (lined with a paper towel to absorb moisture) so they don't absorb any possible refrigerator odors.
Nutrition Facts
Hard-Cooked Steamed Eggs
Amount Per Serving (1 egg)
Calories 0
* Percent Daily Values are based on a 2000 calorie diet.