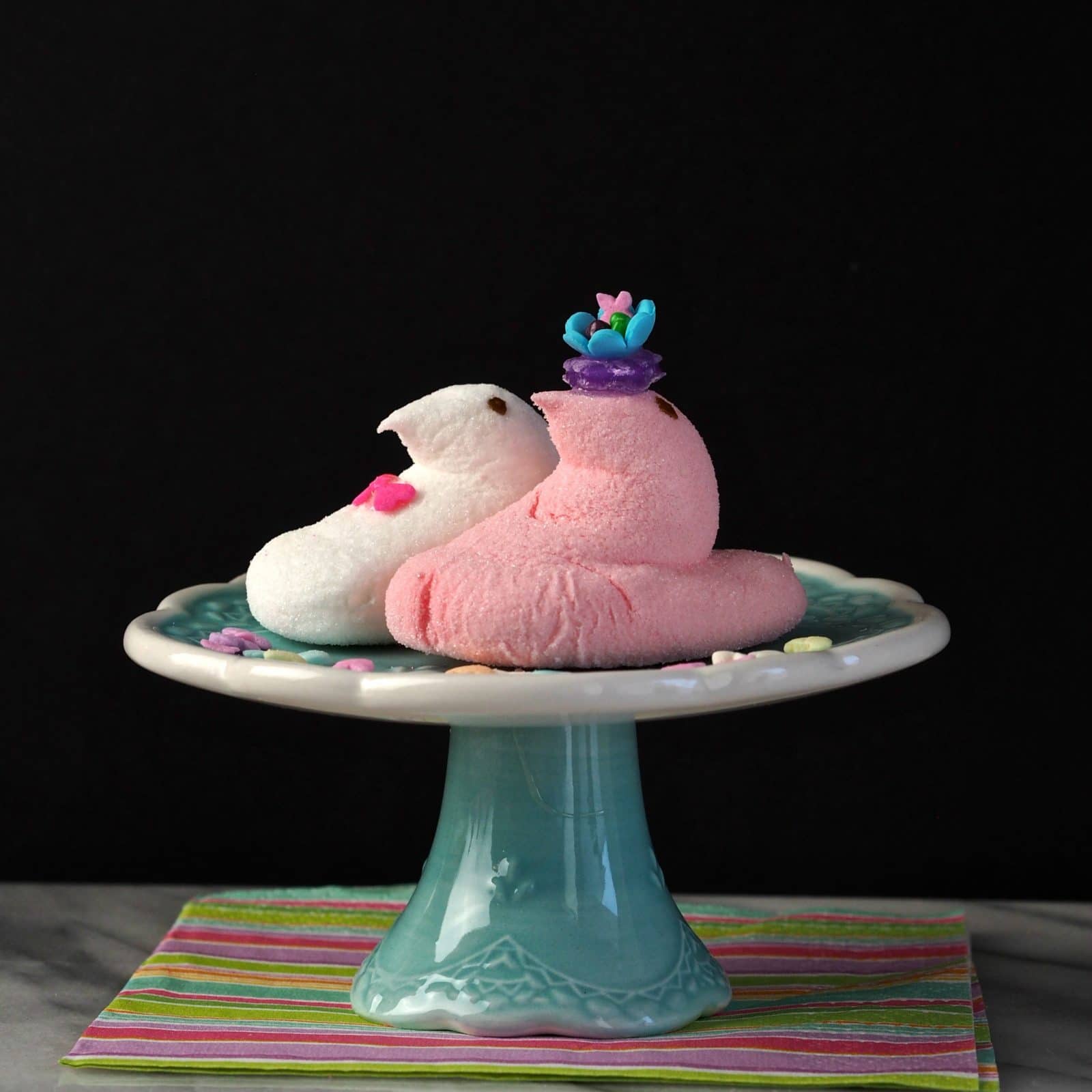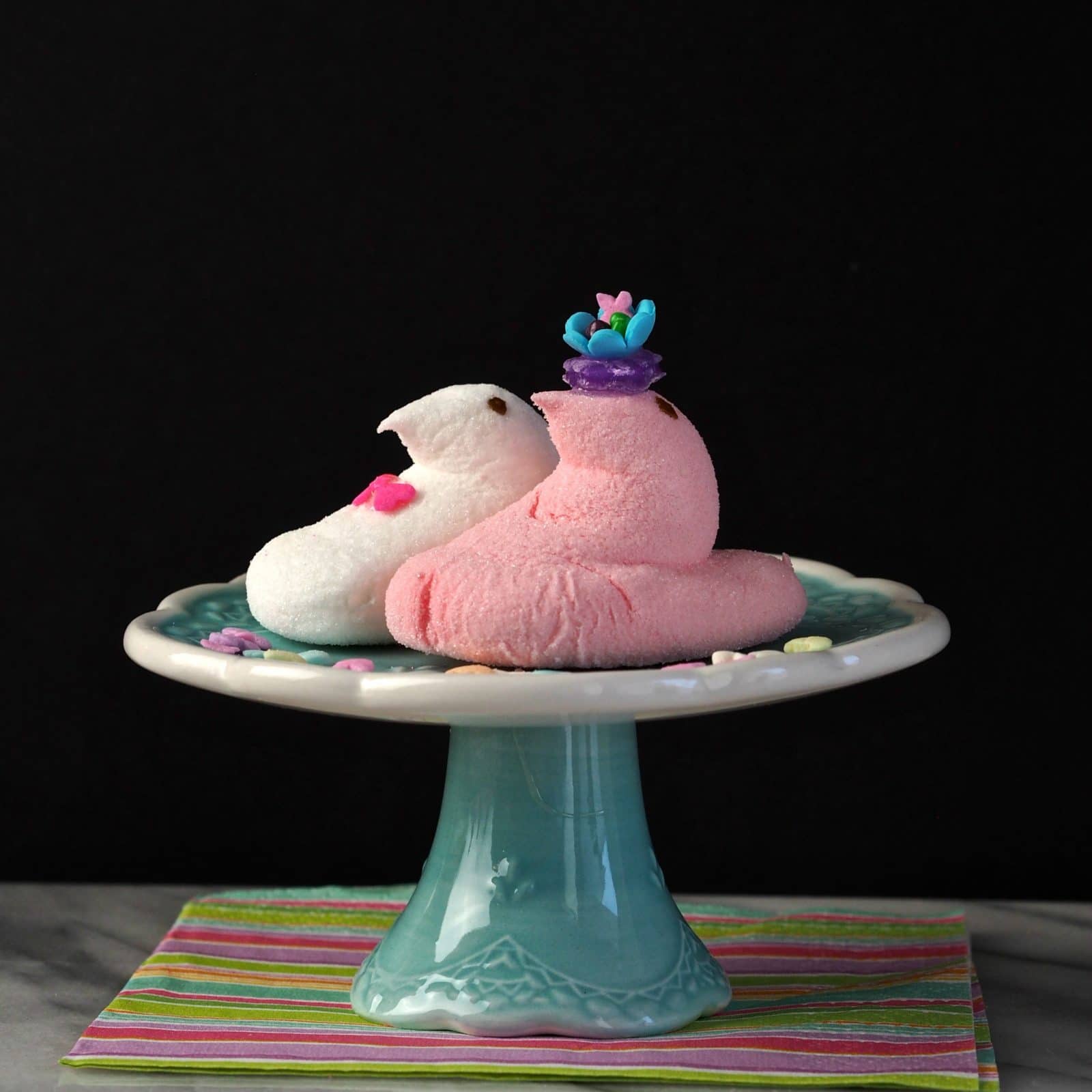 Peeps on Parade.
Peeps love to get dressed up for Easter – and – they love an Easter parade. I found out just how much after bringing them home from the grocery store this week.
Soon after arriving home from the store, I began hearing a song from my childhood. My husband, Jeff, wasn't home at the time, so I thought the music must have been coming from outside my house. When it became louder, I realized something strange was going on INSIDE my house and decided I better figure out the mystery.
I followed the sound straight to the kitchen and this is what I saw.
…and this song, Easter Parade, was the song they were singing.  They told me they were practicing for their Easter Parade.
In your Easter bonnet with all the frills upon it
You'll be the grandest lady in the Easter parade
I'll be all in clover and when they look you over
I'll be the proudest fellow in the Easter parade
On the avenue, Fifth Avenue, the photographers will snap us
And you'll find that you're in the rotogravure
Oh, I could write a sonnet about your Easter bonnet
And of the girl, I'm taking to the Easter parade
Songwriter
IRVING BERLIN
I stuttered, "Hhhoww?" and they replied, "Our bonnets are easier and cuter to make than that ham you serve every year."
Then they said, "Get busy, we're on our way to Fifth Avenue, and we want photos taken while we look our best."
Gosh, it was difficult to get them all to hold still and to smile at the same time.
Of course, I had to get photos of each family.  These Peeps were a little snobbish, but do make such a handsome couple.
I just did what the Peeps told me to do.  How does one argue with Peeps?
How does one argue with Peeps on Parade?
Enjoy!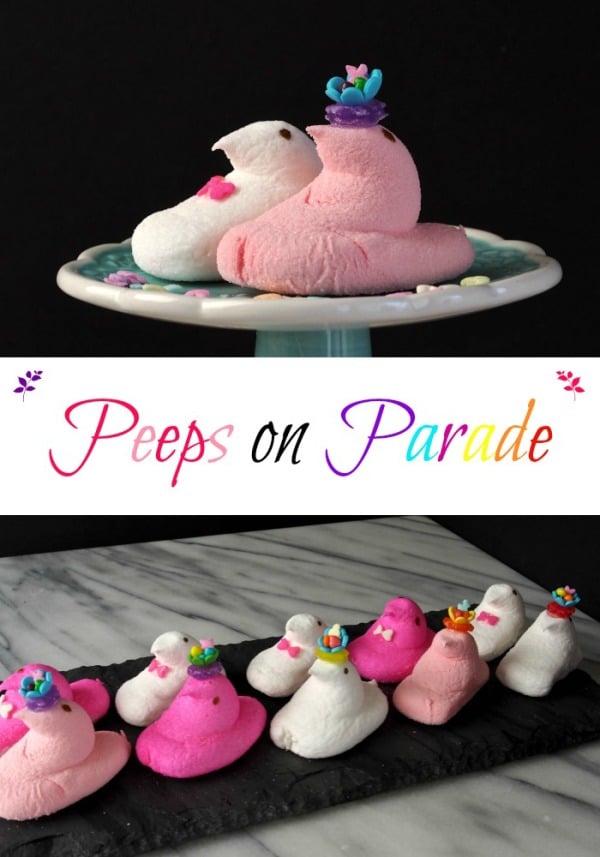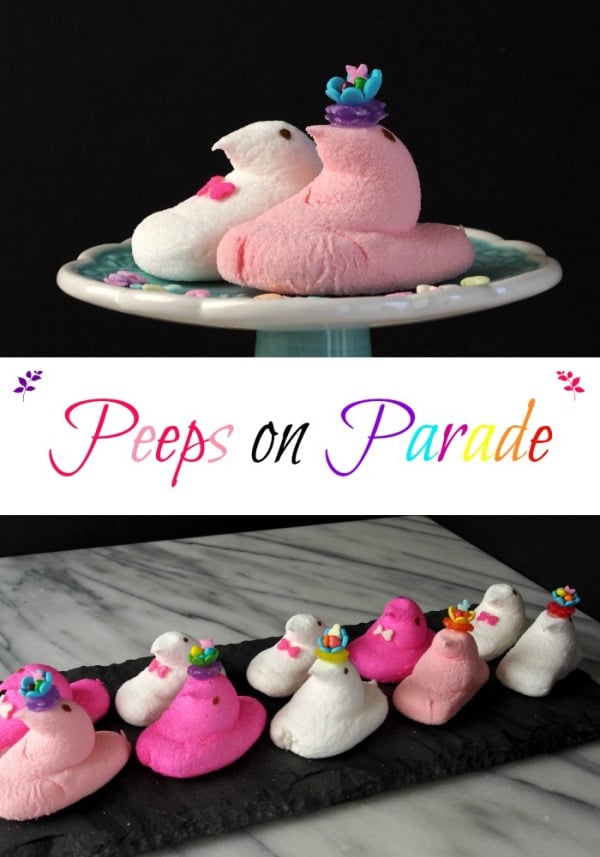 Peeps On Parade
Peeps couples all dressed up for the Easter Parade. Candy bow ties for the men and candy flower bonnets for the ladies.
Ingredients
Chick Peeps

-------------------------

For Bonnets & Bow Ties:

Gum Drops Candies

Clear scripting gel

icing gel

Wilton Icing Decorations

flowers in six colors

Rainbow Nerds Candies

Easter cake/cupcake sprinkles

Heart cake/cupcake sprinkles for bow ties

-------------------

Special Equipment Needed:

Fondant cutter or mini cookie cutter

round or flower shaped

Fondant roller or rolling pin
Instructions
Sprinkle counter top or cutting board with sugar.

To Make the Bonnets:

Roll out gum drop with fondant roller or rolling pin then use the fondant/cookie cutter to cut out base of the bonnet.

Using scripting gel, glue flower decoration onto the gumdrop base with scripting gel.

Place a drop of scripting gel in the middle of the flower then place two nerd candies and an Easter sprinkle on top of the "glue" to make the bonnet.

Attach the bonnet to the peep. Voila!

------------------

To Make Bow Ties:

Glue two heart shaped sprinkles, points touching, on the "neck" of the peep.

Enjoy!
This hot-pink peep is for my "Sweet Peep".