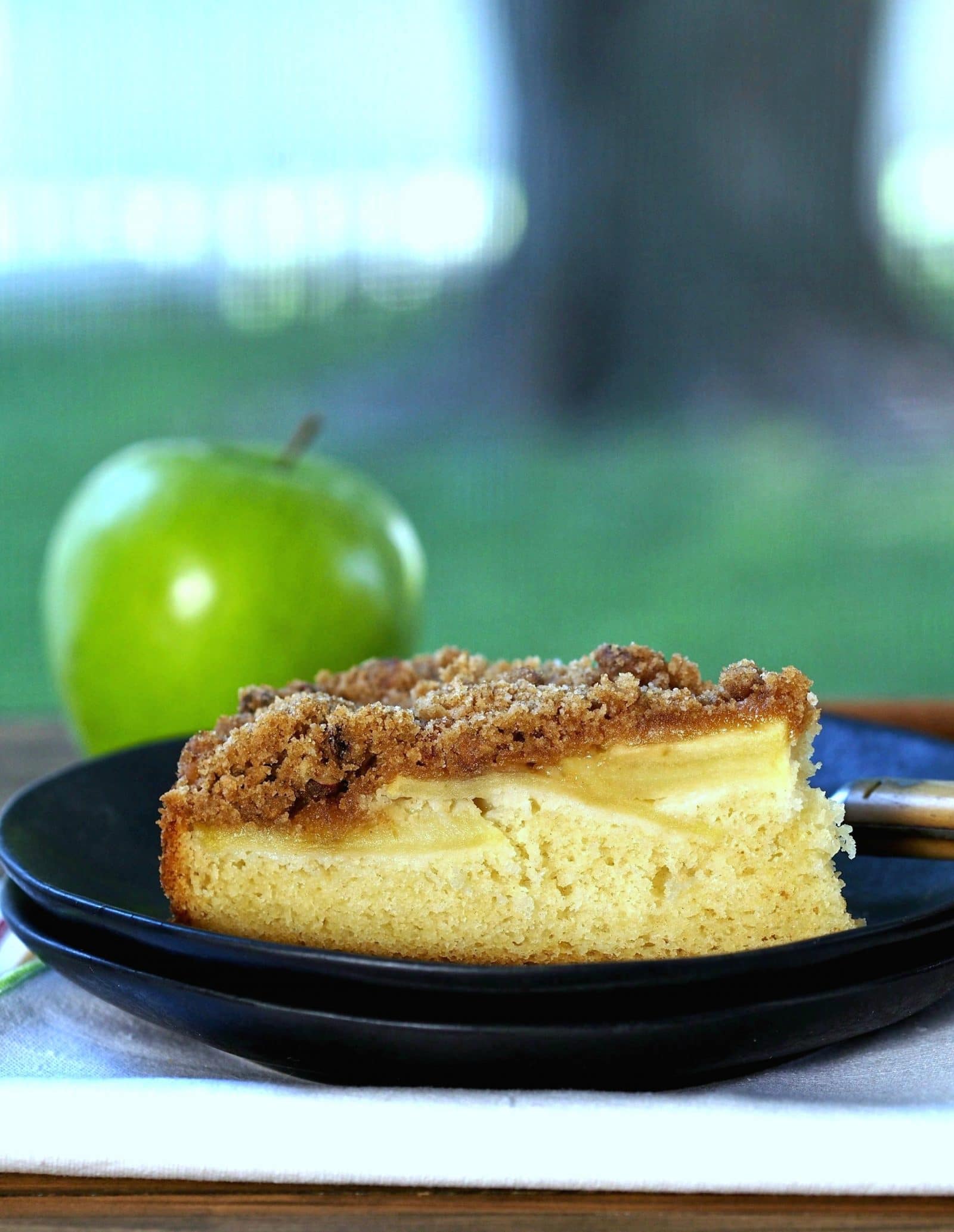 I have been a stalker since 1997. I do not apologize. The one stalked has no idea, but, if she did, I'm sure she would be pleased.
Years ago, while searching for a cake recipe, I came across Stephanie Jaworski's food blog, Joy of Baking.  In 1998, there were few food blogs and even fewer terrific food blogs. I was impressed then, as I am now, with the quality and organization of Stephanie's posts, recipes and videos. Every recipe I tried then, and have tried since, has been delicious and has turned out exactly as described. It has been an invaluable resource for me, and I encourage anyone needing a great recipe, for any baked item, to check out Stephanie's website. You won't be disappointed.
Except for a few minor changes, Apple Streusel Cake is Stephanie's recipe. The cake is very similar to a New York crumb cake but with apples tucked under the cinnamon, pecan streusel topping. It is light and tender and a great companion to a hot cup of coffee.
My favorite Joy of Baking recipe is the Butter Cookie.  I tweaked the recipe (just a little) by adding coarse salt and almond extract, and it is a keeper. It is my personal favorite and the following versions can be found on Simply Sated:
Another favorite Joy of Baking recipe and video is Meringue Ghosts, and here is my interpretation:
Stephanie, if you ever read this, I want you to know I have enjoyed stalking you and will continue to do so. I will also continue to sing your praises when asked to name my favorite baking blog, and I thank you (and your husband) for sharing your talent, knowledge, recipes and love of baking.
Apple Streusel Cake
Tender cake baked with sliced fresh apples & topped with a cinnamon, pecan, brown sugar streusel. Serve as a dessert or breakfast cake. --------------------- Original recipe: Joy of Baking, Apple Streusel http://joyofbaking.com/AppleStreuselCake.html
Total Time
1
hour
5
minutes
Ingredients
Streusel Topping:

½

65 grams cup all-purpose flour

¼

cup

55 grams dark brown sugar, firmly packed

¾

teaspoon

ground cinnamon

¼

teaspoon

kosher salt

3

tablespoons

40 grams unsalted COLD butter, diced

½

cup

50 grams toasted pecans, almonds, hazelnuts or walnuts, chopped

---------------------

Cake Batter:

1

cup

130 grams all-purpose flour

1

teaspoon

4 grams baking powder

¼

teaspoon

salt

¼

cup

55 grams unsalted butter, room temperature

½

cup

100 grams granulated sugar

1

large egg

room temperature

½

teaspoon

vanilla extract

1/3

cup

80 ml buttermilk or low-fat plain yogurt, room temperature

3

Granny Smith

Rome, Braeburn apples (or a combo), peeled, cored and cut into 1/8 inch slices
Instructions
Preheat oven to 350F. Butter and lightly flour an 8-inch springform pan.

For Streusel Topping:

Combine flour, sugar, cinnamon and salt in a medium bowl. Cut the cold butter into the flour mixture (using a fork or pastry blender) until the mixture is the size of peas and looks crumbly. Stir in chopped nuts and set aside until needed.

-------------------------

For Cake:

In a different bowl, whisk the flour, baking powder and salt.

In the bowl of electric mixer fitted with paddle attachment, beat butter until creamy. Add sugar and beat 3 minutes or until lighter in color and fluffy.

Add the egg and vanilla and beat on medium until combined.

Add the flour mixture alternately with the milk, beginning and ending with the flour mixture. Beat just until combined.

Pour the batter into the prepared pan and level it smooth.

Arrange the apple slices evenly on top of the cake batter.

Cover the apple slices with the streusel topping.

Bake at 350F for 45-50 minutes or until a toothpick inserted in the center comes out clean. Transfer cake to a cooling rack to cool.

Serve cake warm or at room temperature with a scoop of ice cream or real whipped cream on top. Drizzle with salted caramel sauce, if desired.

Leftovers can be covered and stored at room temperature up to 2 days.

Enjoy!