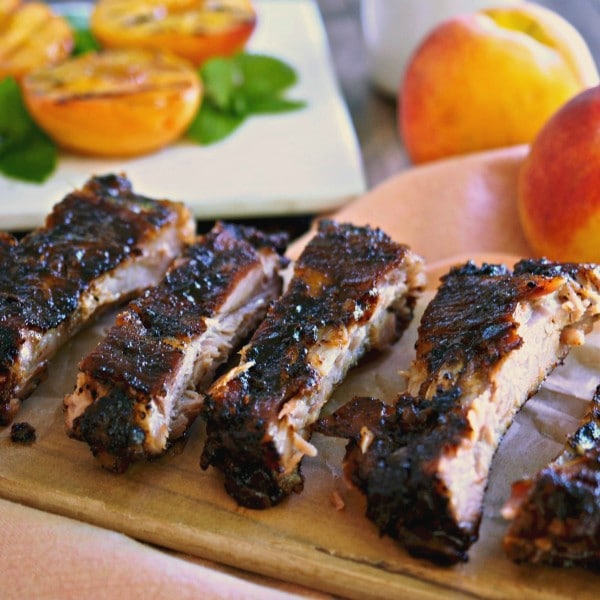 It isn't every day my husband, Jeff, walks in the door with a bottle of peach bourbon tucked safely in his suitcase. In fact, that day was the first time it had ever happened – with Jeff. At the end of this post, I'll share a story about the first (and only other) time the other residing parent brought Kentucky hard liquor into our home, but back to Peach Bourbon Baby Back Ribs for now.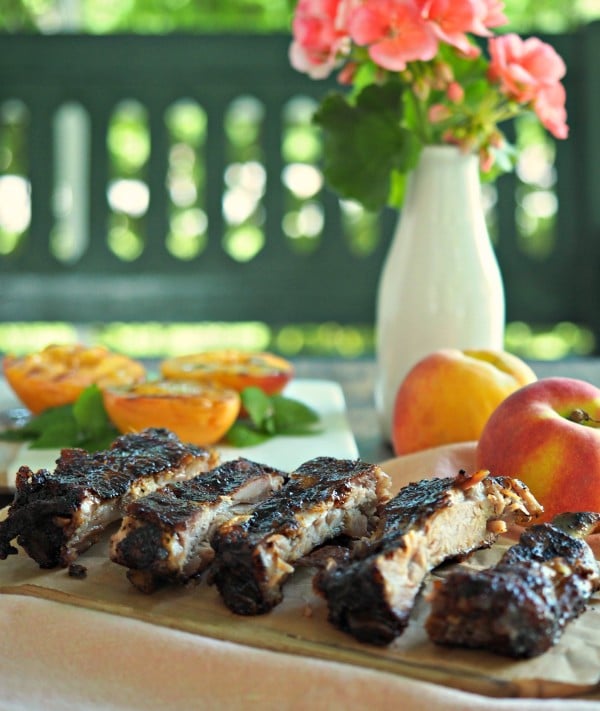 Jeff had just returned, and peach bourbon was the first thing he wanted to share with me. While in Kentucky, he had toured the Evan Williams distillery and purchased a bottle of the bourbon he liked best. You see, we aren't heavy drinkers (at all), so I was truly surprised and amused. I took an itsy-bitsy-teeny sip and immediately began a mental list of dishes I wanted to make with the sweet, kicked-up, peachy concoction. That is the exact moment my Peach Bourbon Baby Back Ribs recipe was conceived.
There was a slab of baby back ribs in the freezer, my favorite barbecue sauce in the fridge, and fresh peaches on the counter; each waiting to take direction from their culinary instructor – me.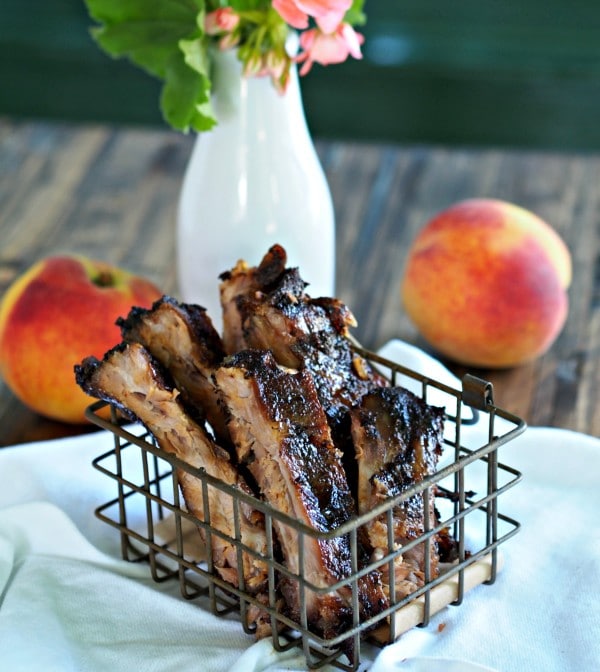 Peach Bourbon Baby Back Ribs are all about ease and taste. They are packed with the lively flavors of cumin, brown sugar, chili powder, smoky paprika, red pepper, barbecue sauce & peach bourbon. Hello deliciousness!
Peach Bourbon Baby Back Ribs are made in a few easy steps: mix together spices, rub the ribs with said spices, let ribs tenderize in the fridge a couple of hours, bake said ribs, caramelize sauce onto the cooked ribs. Ta-da!!
These ribs are (almost) fall-off-the-bone, melt-in-your mouth fantastic, and once you taste them; you will call me your new best friend.  I'm so glad Jeff came home from Kentucky with a bottle of peach bourbon.   A delicious dish was inspired, and a great memory was brought to mind.
Like I said in at the beginning of this post, this was the second time one of us came back from Kentucky with hard liquor hidden in our luggage. The first time was in 1995 (ish) when I returned home from a church youth trip. The Kentucky county my youth group visited was a "dry" county, but I found out the sheriff had moonshiner friends. During a visit with the local sheriff, I had innocently asked him how moonshine tasted. He described the process of making moonshine and told me if it were made correctly, it would be clearer than water, have a clean, crisp taste and would burn all the way down the gullet as it made its way to the stomach. It was also best served ice cold. After a week of painting, cleaning horse stalls, weeding, mowing, singing, shed building, eating the best, fresh-off-the-stalk, uncooked corn – ever, and making friends in the community, we had to leave. An hour before our group was scheduled to bid farewell, the sheriff stopped by and told me he had something in his car he wanted to give me. I followed him to his police car, and he handed me a mason jar of moonshine in a brown paper sack. He also told me, as he nervously looked around, to keep it hidden from view until we got out of the county.   I did as directed and, thank goodness, my church youth group and I made it safely out of Kentucky.  After I got home, I placed the jar of moonshine in the fridge. One day, a week later, I walked into the kitchen just in time to stop my ten-year old son from taking a big swig. He, mistakenly, thought it was a jar of ice-cold water. My sheriff friend had indeed given me the clearest, very best moonshine Kentucky had to offer. As far as what happened to the moonshine, well – I'll leave those involved in the imbibing to tell that story:-)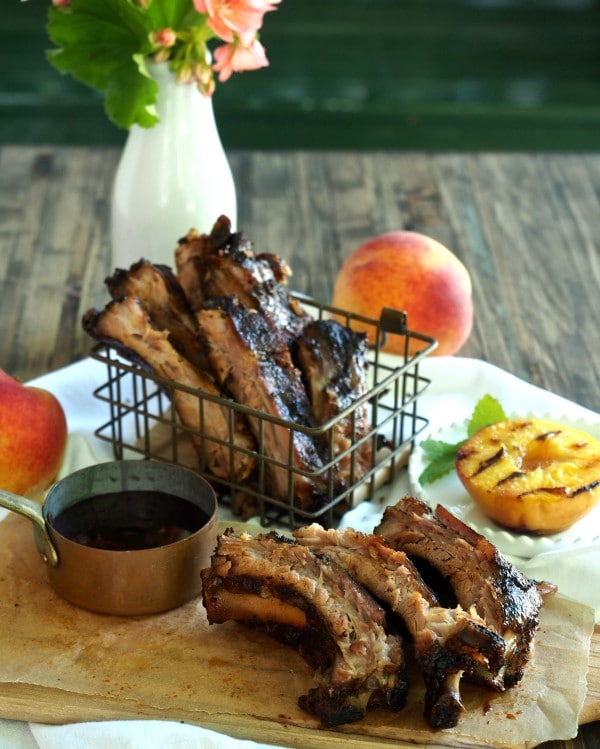 Today, I am giving you crazy-great ribs made with some of the best peach bourbon Kentucky has to offer. Thank goodness most of us don't live in a "dry" county.
Enjoy!
Note: Peach Bourbon Baby Back Ribs can be made without liquor. I haven't made them this way, but I'm sure substituting peach nectar, peach juice, apple juice or cider for the peach bourbon would work out just fine.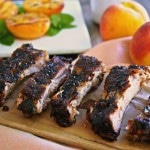 Peach Bourbon Baby Back Ribs
The BEST RIBS, EVER! Perfectly seasoned, (almost) fall-off-the-bone, tender ribs - baked, then grilled with peach bourbon barbecue sauce. Adapted from:
Tasting Table Baby Back Pork Ribs
Cook Time
2
hours
40
minutes
Total Time
2
hours
40
minutes
Ingredients
*Note: This recipe calls for the ribs to be refrigerated overnight

but they can be cooked after 2 hours, if desired.

For the Spice Rub:

1½

cups

dark brown sugar

¼

cup

kosher salt

1

tablespoon

ground cumin

1

tablespoon

smoked paprika

½

teaspoon

red pepper flakes

2

tablespoons

chili powder

1

teaspoon

freshly ground coarse black pepper

Opt. – 1 teaspoon garlic powder

---------------------------

For the Sauce:

6

pounds

baby back pork ribs

probably 2 slabs

1/3-1/2

cup

peach bourbon - I use Evan Williams Peach Bourbon Whiskey *see note if wanting non-alcoholic ribs

½

cup

favorite barbecue sauce - I use Blue's Hog Original Barbecue Sauce

2

tablespoons

cider vinegar
Instructions
Cover a baking sheet with aluminum foil.

In a small bowl, whisk together all spice rub ingredients.

Remove the thin membrane from the bony side of the ribs. Here is a useful tutorial by

Weber.

Place each slab of ribs on the foil-lined baking sheet. Sprinkle each side of the ribs with spice rub and firmly press the rub into the ribs. Cover ribs with foil and refrigerate 2 hours or overnight.

One hour before cooking the ribs, remove them from the fridge to let stand at room temperature.

When ready to cook, preheat oven to 300F.

Keep ribs tightly covered with foil and bake 3 hours.

Remove ribs, but don't open the foil. Allow ribs to rest 30-60 minutes.

While ribs rest, prepare the grill and mix the sauce.

For the sauce, whisk together barbecue sauce, peach bourbon and cider vinegar.

When coals are ready, dab or mop the ribs with the sauce and place ribs over the hot coals for 3-5 minutes per side (depending on the heat of the grill) just until ribs are heated through and sauce is lightly charred.

Cut into smaller serving portions, 3-6 ribs per person.

Transfer the ribs to a serving platter. Cut into smaller serving portions, 3-6 ribs per person.

***See Notes for make-ahead and freezing tips.

------------------------------

Alternate cooking method: If it isn't possible to fire up the grill, the ribs can be finished under the broiler in the oven.

Heat broiler.

Place ribs bony-side up on the foil-lined cooking sheet and brush with bourbon bbq sauce.

Place tray of ribs, uncovered, under the broiler 1-2 minutes (watch closely).

Turn ribs over and brush the meaty side of ribs with bourbon bbq sauce.

Broil 1-2 minutes or until sauce begins to caramelize.

Remove from oven and let ribs rest at least 15 minutes before serving.
Recipe Notes
To make non-alcoholic: substitute peach juice or peach nectar for the bourbon.
*Make-Ahead: The ribs can be oven cooked up to 2 days prior to serving. When ready to serve, remove from fridge 15 minutes before grilling then grill as directed.
***To Freeze: These ribs freeze beautifully. Two ways: 1. Wrap the baked ribs with plastic wrap and a double layer of foil, and place them in Ziploc freezer bags. When ready to serve, thaw the ribs overnight in the fridge, remove the wrapping and grill as directed.
Wrap the ribs after grilling (and cooling) in plastic wrap and 2 layers of foil, and place in Ziploc Freezer bags. When ready to serve, either thaw in the fridge overnight or cook from frozen. Remove the plastic wrap, rewrap in foil and cook at 350 until thoroughly heated.
link