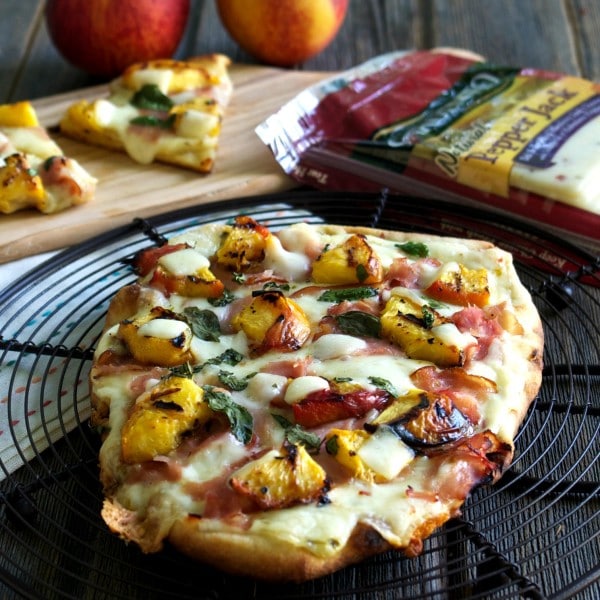 I love peaches, I love cheese, and I love, love, love Grilled Peach & Pepper Jack Pizza.  When the flavors of this pizza met – they immediately said "I do".
This love song was sung at their wedding…
 I love peaches, I love cheese,
I love the flatbread and it loves me.
Peaches and cheese and flatbread and me
A slice, a slice, a slice, a slice, boy!
(My version of Ben Oakland's famous song about coffee, "Java Jive".)
To give this pizza a hot "kick", I layered flatbread with slices of Sargento ® Pepper Jack Natural Cheese Slices. To give it natural sweetness and to balance the heat, I drizzled it with honey and topped it with a fresh grilled peach and deli ham slices. To smooth out the flavors, I added Sargento Provolone Natural Cheese Slices on top, and to give the pizza a vibrant fresh flavor – a sprinkling of fresh basil from my herb garden was the right choice. Perfection!!

The great thing about Sargento Slices is that they are cut from blocks of 100% real, natural cheese.  It is a delicious cheese my family loves, and it is cheese I love feeding my family.
"Modern" pizza, as we know it, came from Naples, Italy in the 18th or 19th century. My version, using Sargento 100% real, natural cheese slices, was born last week, and my-oh-my, it is delicious!
My husband said, "This is the best pizza you have ever made."  I had never used sliced cheese on pizza prior to making this version, but it worked out so well that will be my preferred method when making pizza from now on. The crust stayed crispy, and the cheese layer on top gave the pizza the perfect ooey-gooey, cheesy texture needed for making pizza great.
Summer weather brings summer food – easy, flavor-packed, fresh, gorgeous food and Grilled Peach & Pepper Jack Pizza fits the bill. I love the ease of outdoor cooking, and I especially love sitting on our screened-in porch and visiting with friends and family while sharing simple, beautiful meals such as this.
For all you cheese heads out there, be sure to check out this terrific roundup of 10 Cheesy Recipes for Memorable Summer Meals at AOL.com using Sargento Natural Cheese Slices.
I'm so glad grilled peaches and cheese tied the knot, and once you taste Grilled Peach & Pepper Jack Pizza, I know you will be, too.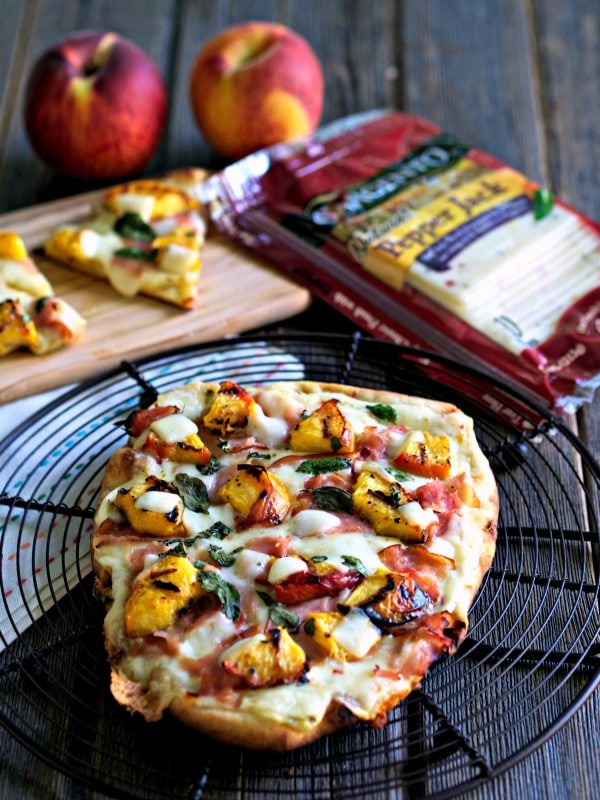 Make sure to check out Sargento on social, and share your Sargento Cheese summer creations with #realcheesepeople!
Facebook: https://www.facebook.com/SargentoCheese
Twitter: https://twitter.com/SargentoCheese
Instagram: http://instagram.com/sargentocheese/
Pinterest: https://www.pinterest.com/sargentocheese/
Enjoy!
Compensation for this post was provided by Sargento Foods via AOL Media.  The opinions expressed herein are mine and are not indicative of the opinions or positions of Sargento Foods or AOL.
Grilled Peach & Pepper Jack Pizza
Easy, quick & delicious. Flatbread layered with Pepper Jack cheese slices & grilled peaches.
Servings
1
pizza - 1 serving
Ingredients
1

flatbread or Naan

Olive oil

3

slices

Sargento Pepper Jack Natural Cheese Slices

http://www.sargento.com/real-life/real-vs-processed.

1

fresh unpeeled peach

ripe but firm, sliced into ¼" rings.

2-3

slices

deli ham

roughly chopped

Honey

to drizzle

2

slices

Sargento Provolone Natural Cheese Slices

http://www.sargento.com/real-life/real-vs-processed cut into ½" squares

Fresh basil

chopped or left whole

1/8

teaspoon

Red pepper flakes

optional
Instructions
Prepare grill. If using charcoal, place coals only on one side so there is direct and indirect heat available.

Lightly brush peach slices with olive oil.

Lightly brush both sides of flatbread with olive oil.

Lightly drizzle honey over the bread.

Place Sargento Pepper Jack cheese slices on top. If needed tear the cheese to fit the bread. Set the bread aside until peach slices are grilled.

Place peach slices on the grill over the direct heat.

Grill until the peaches have grill marks then turn peaches over and cook until peaches have softened just a little and have grill marks.

Cut peach slices into chunks and place them on the pizza.

Place sliced ham on the pizza.

Dot the cut-up Sargento Provolone Cheese Slices on top and sprinkle pizza with fresh basil.

Sprinkle with 1/8 teaspoon hot peppered flakes, is desired.

Place pizza on the grill over indirect heat for 6-8 minutes - turn every 1-2 minutes. Keep lid closed as much as possible. Cook pizza until the bottom crust is golden and the toppings are hot.

Enjoy!
Recipe Notes
The pizza can be cut into small pieces and served as an appetizer, if desired.
link
link
link