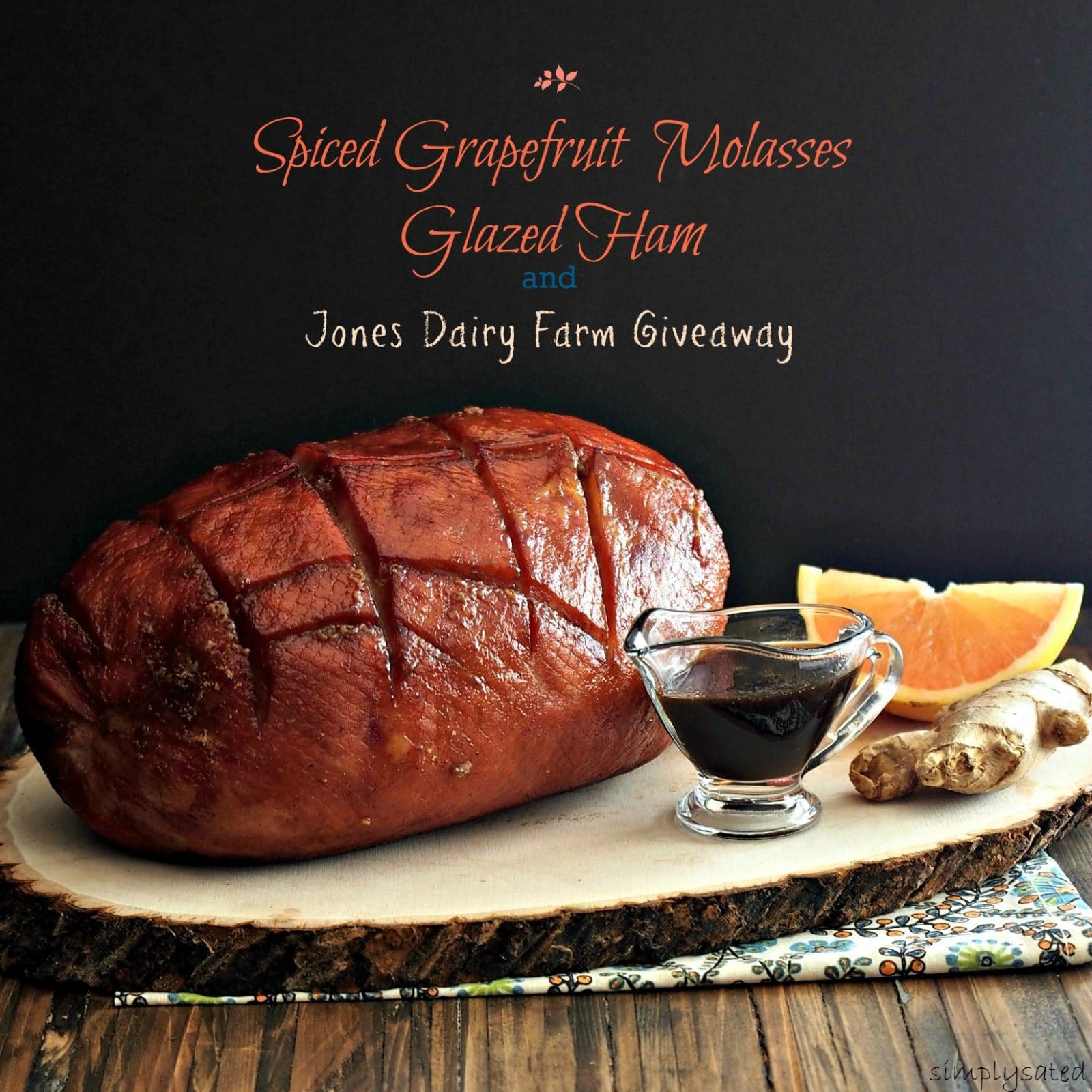 Are you ready for one of the best glazed-hams – ever?   Well, my peeps (he-he) you have come to the right place.   Spiced Grapefruit Molasses Glazed Ham is the ham for you.
First, let's begin with the perfect ham – a plump, juicy, all-natural, no preservatives, Jones Dairy Farm Family Ham.  In Jone's Dairy Farm's own words, their goal is "To deliver natural, authentic, high-quality products that you and your family can feel good about. It's a promise we've delivered on since 1889. It's a promise we make—from our family to yours."   From my own personal experience, it's a promise Jones Dairy Farm keeps.  This is ham that has been perfected for six generations.  Of course, this particular ham hasn't been around that long, but its ancestors sure were.
By the way, be sure to enter the Jones Dairy Farm Giveaway found below for a chance to win a Bone-In Ham and Roasting Pan.  Plus, note the 20% off coupon code for any Jones Dairy Ham purchases made before March 27, 2015.
Jones Dairy Family Ham, when sliced into, is so juicy the ham juices flow down the side.  It is full of flavor without being full of fat.
For a sneak peek into summer and a punch of flavor, let's add grapefruit juice – yep, grapefruit juice. To balance that kick of citrus and delight our spoiled sweet tooth, add a touch of dark brown sugar and to thicken things up a bit – silky (slower-than-molasses) molasses will work just fine.
We are definitely heading in the right direction, but we aren't finished yet. It's now time to add some aromatic spice to this dish, and we don't want just any spice. We want the entire molasses-cookie-clique-of-spices: nutmeg, ginger, cloves and cinnamon.  Just wait until you smell this "Babe" cooking.
I think you now understand when I said Spiced Grapefruit Molasses Glazed Ham, or as I like to call it "Glam-Ham", is one of the best glazed-hams to serve any time of the year.
For an alternative and fun presentation and a way to add more grapefruit flavor, attach grapefruit slices to the ham before baking.
Now, just a few more things for you to do.  Head over to Jones Dairy Farm to get the Spiced Grapefruit Molasses Glazed Ham recipe, and while there, look through their recipe file where you will find a ton of flavorful recipes ranging from ham glazes to salads to breakfasts and entrees – many of them gluten-free.
**GIVEAWAY**  For the Jones Dairy Farm Bone-In Ham & Roasting Pan GIVEAWAY, enter HERE.
**20% OFF**  In addition, shop HERE for 20% off online ham purchases made before March 27 and use Promo Code HAM20.
Enjoy!
This is a sponsored post on behalf of Jones Dairy Farm, but please be assured all opinions are my own.