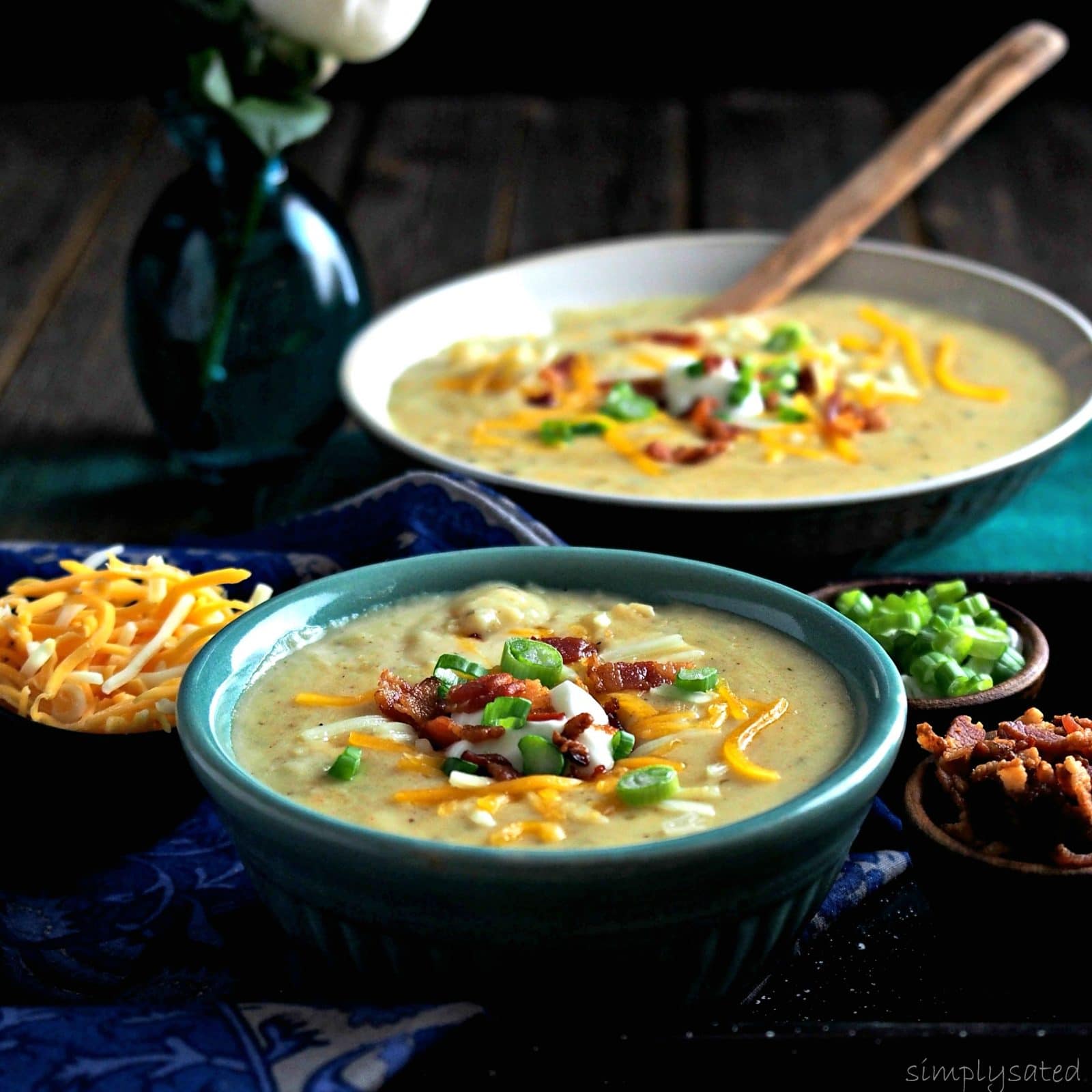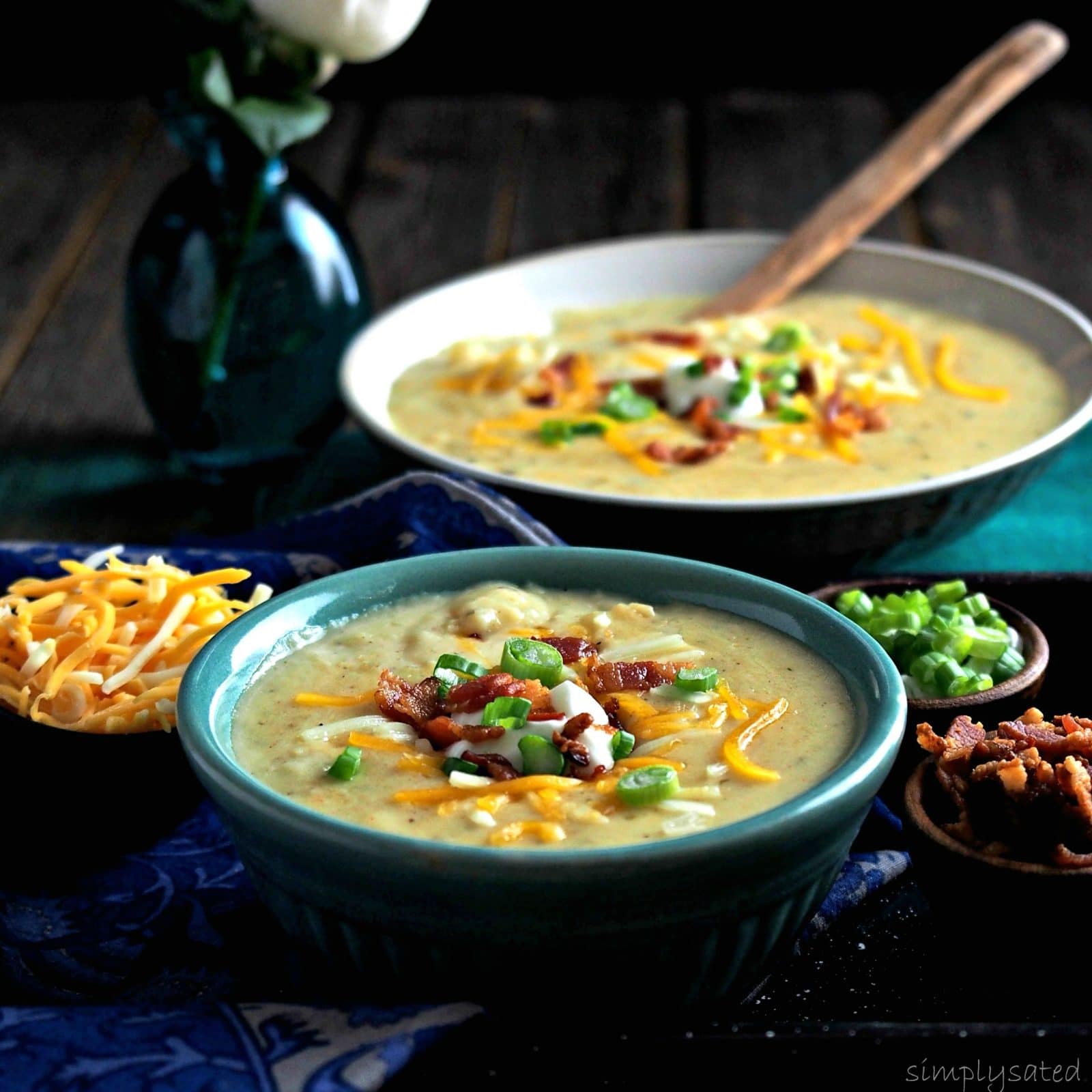 Three-Cheese Baked Potato Soup.
I'm fortunate to live in a part of the world with changing climates. I would get bored if all seasons were the same. With that said, I'm tired of the gray, black and white of winter and ready to see the colors of spring.
If you have the winter doldrums, you aren't alone. If you have the winter doldrums, I'm here to bring you comfort. If you have the winter doldrums, let your soupspoon go skinny-dipping straight into a bowl of Three-Cheese Baked Potato Soup, and you will quickly feel better.
The potatoes are in the oven, and the aromas of sizzling bacon, sautéing onions and garlic are creating a ballet around my kitchen.   I'm fairly proud of myself, though, by showing a ton of restraint and limiting my indulgences to only two tiny bits of bacon. With that said, I am getting very close to shoveling every bit of bacon in my mouth with all this goodness wafting around me.
Finally, the potatoes are ready and it's time to bring all ingredients together for the swim party. We'll need onions, garlic, herbs, seasonings, milk, chicken stock, potatoes, white cheddar, Colby Jack, Gruyere, sour cream, crispy bacon and green onions. Now, if that doesn't sound like a great gathering; I don't know what does.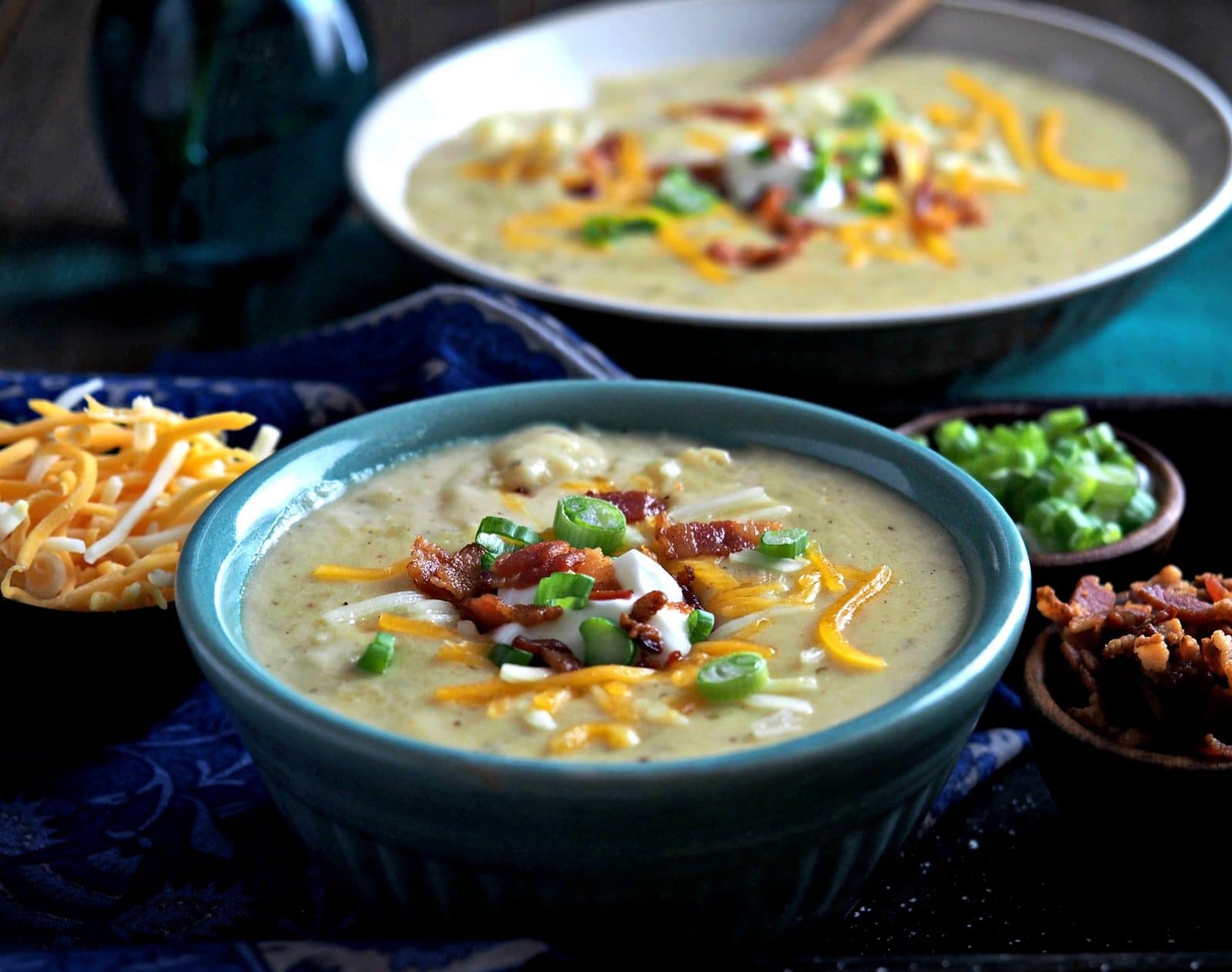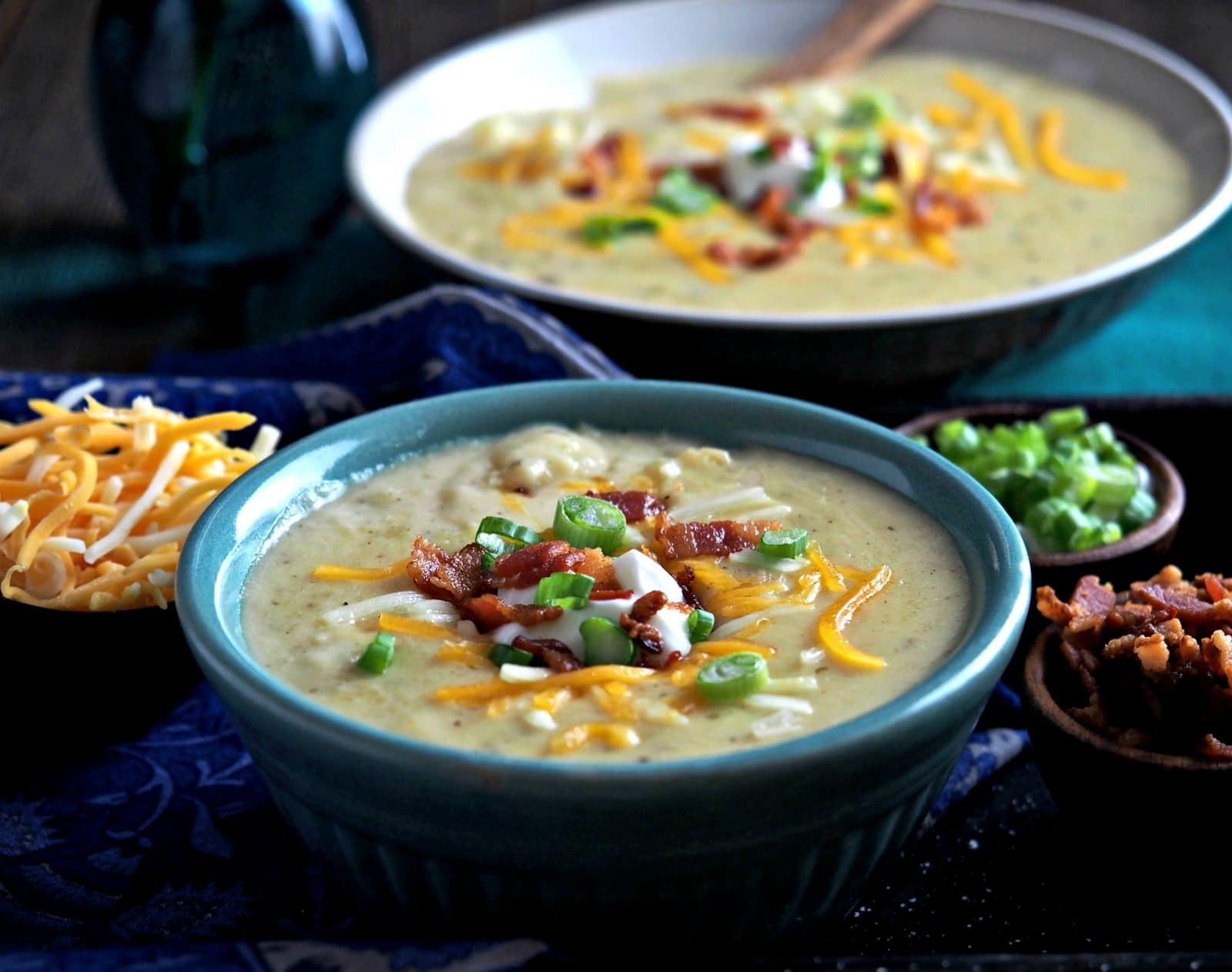 Now it's time for your soupspoon to take a soup-diving plunge. I'm so happy mine did. Even though it is only seven degrees on the opposite side of my kitchen door, I'm all Three-Cheese Baked Potato Soupy warm and comforted.
Enjoy!

Loaded Baked Potato Soup
Three-Cheese Baked Potato Soup. The perfect potato soup with a combination of white cheddar, Colby Jack & Gruyere cheese.
Total Time
1
hour
15
minutes
Ingredients
3

pounds

Yukon Gold potatoes or red potatoes

8

slices

bacon

cut into 1/8" slices and cooked crisp

½

onion

minced & sautéed

1-

clove

garlic

minced & sauteed

½

teaspoon

Parisien Herb or Herbes de Provence

1/8

teaspoon

red pepper flakes

½

teaspoon

kosher salt

½

teaspoon

ground black pepper

3

cups

milk

3

cups

chicken stock

unsalted

6

ounces

1½ cups sharp white cheddar cheese, shredded

2

ounces

½ cup Colby Jack Cheese, shredded

2

ounces

½ cup Gruyere cheese, shredded

1-

cup

Greek yogurt or sour cream

1-

tablespoon

chicken base or granules

optional and only if needed for more flavor

-------------------

For Garnish:

2-3

tablespoons

minced fresh chives or sliced green onion

For Garnish:

Extra sour cream

or Greek yogurt, cheese, crispy bacon crumbles and crackers.
Instructions
Preheat oven to 425F.

Wash and dry potatoes then prick with a fork. Cover potatoes in aluminum foil and cook at 425F for 45-60 minutes or until done. When cooked, let cool 10 minutes then peel. Mash half of the potatoes and cut the other half into 1-inch cubes. Set aside.

Cut bacon into 1/8" slices then place in a large Dutch oven over med-high heat and cook until crisp. Remove bacon pieces to a paper towel-covered plate and set aside to add at time of serving.

Keep 2 tablespoons bacon grease then place minced onion in the bacon grease. Sauté onion over medium heat until onion is translucent and add minced garlic and sauté 30 seconds more.

To the sautéed onion/garlic mixture, add potatoes, herbs, red pepper flakes, salt, pepper, milk and chicken stock. Cook until thoroughly heated, stirring constantly.

Turn heat to low and add cheese and yogurt (or sour cream).

Taste the soup after cheese has melted to see if more flavoring is needed. If the soup seems a little bland, add chicken base (or granules) and stir until incorporated.

To serve, pour soup in bowls and top with bacon, dollop of sour cream, green onions, extra cheese and crackers.

Enjoy!