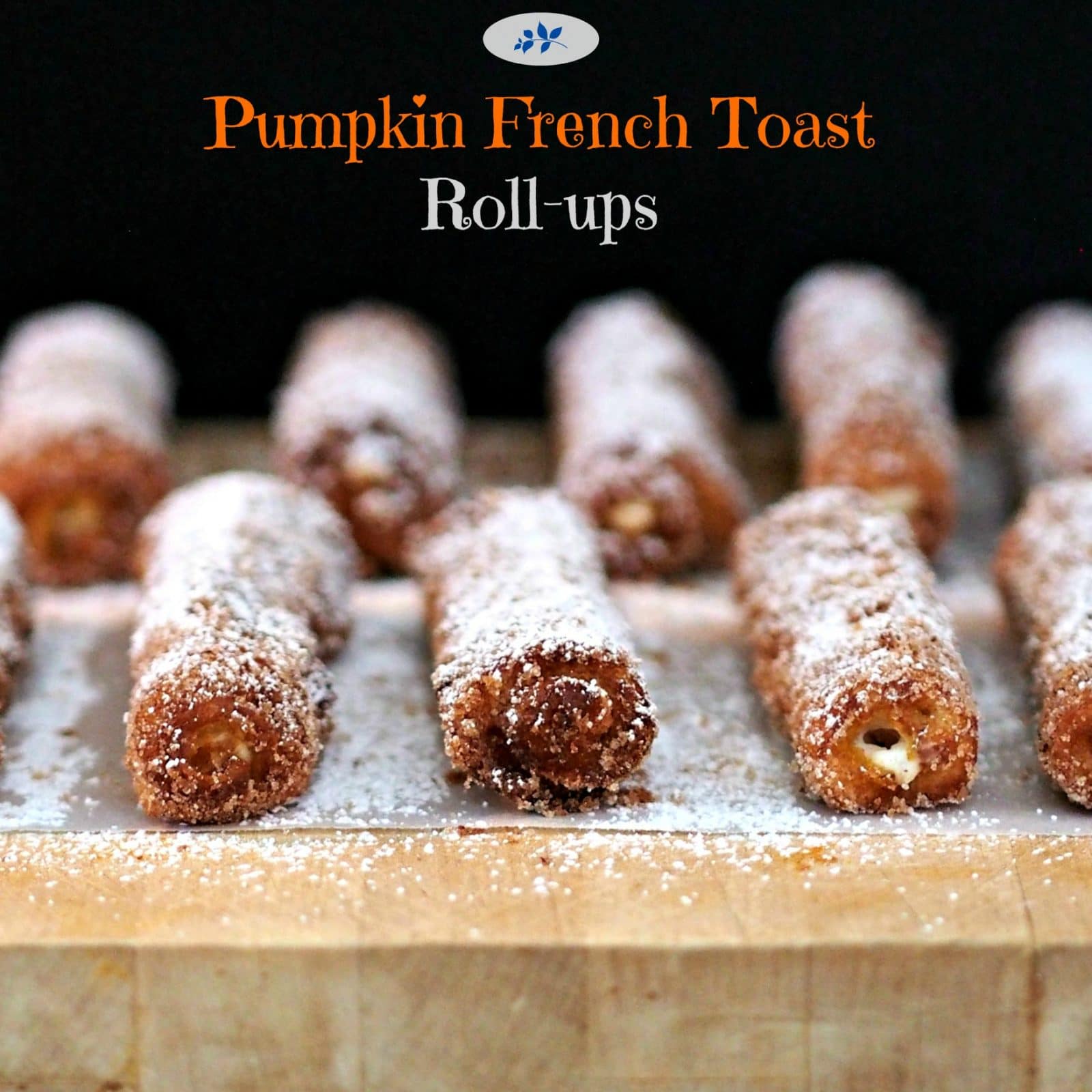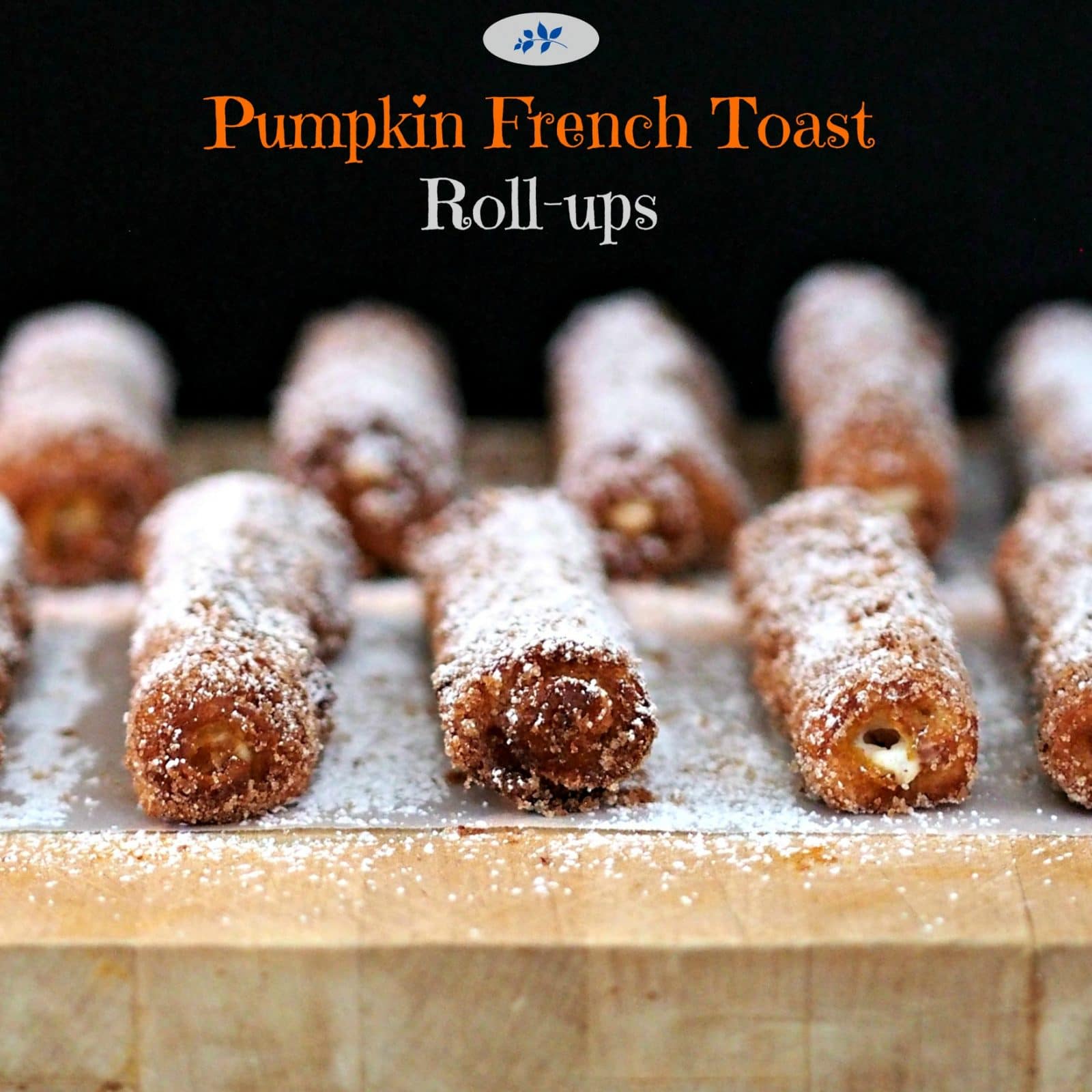 Pumpkin French Toast Roll-ups say, "Have you noticed?  The evenings are getting cooler, leaves are just beginning to change and autumn is coming!"
Yes!! Pumpkin season – and my favorite time of the year – is nigh. I was born in the best month of all months, October, and love all things "fall." It makes me happy.
I adore it all: the smells, colors, cool evenings, jackets, jeans, anything pumpkin, Indian corn, falling leaves, mums, hayrides, bonfires, apples, comfort foods and fragrant spices. You get the idea.
Apple Brown Sugar Coffee Cake satisfied my cinnamon craving until my husband and I ate every crumb, so I knew I needed to get my "fix" a different way. A batch of Pumpkin French Toast Roll-ups was the perfect solution.
This is an easy treat and, as an added bonus, just a few ingredients are required: square, white sandwich bread, Pumpkin Pie Mix, cream cheese, cinnamon-sugar, butter/oil, eggs, milk, vanilla and powdered sugar. That's it and this is how it is made –
See, wasn't that fun? Like I said, the fall season makes me happy.
Last year, my pumpkins also made some particularly over-indulgent, hedonistic, cohabiters in my backyard absolutely giddy.
I worked hours decorating my backyard with beautiful pumpkins, mums, gourds, autumn leaves and acorns. When finished, it was a feast for the eyes – and only the eyes – or so I thought. Unbeknownst to me, and in reality, I had laid out a veritable smorgasbord for some rodents. Yes, rodents – I now refuse to get cozy with them by calling them squirrels!!
The morning after decorating my yard for the fall, I noticed a small pumpkin from one of the hanging baskets was missing. The next day and the day after, other pumpkins disappeared. Evidence of the mischief is in the before and after photos above.
After three pumpkins were stolen, I searched the backyard for my missing gourds. A-ha! Proof, and my suspicions confirmed, in the form of pumpkin crumbles found scattered in the fork of a tree and around the base of its trunk. Mystery solved – problem NOT!
I pride myself on living in harmony with most of God's creatures. Except for the bat that landed on my husband's face in the middle of the night (God rest his soul – the bat's not my husband's), I have always invited other species to live nearby or with me. I am usually a most-welcoming sort, but these thieves truly took advantage.
I have to say one thing about these fatty fellows – they weren't selfish. Oh no!  They must have invited their entire extended family because every last (edible) decoration disappeared. After each smallish gourd had been devoured, they started eating the larger pumpkins in the window boxes. I realized I had lost not only the battle, but the entire war and wasn't about to replenish their supplies.  I waved the white flag and threw the pumpkins one-by-one into the yard for all to enjoy.
Just yesterday I found an early fallen leaf with these words scratched on it stuffed under my kitchen door, "Could you sprinkle a little cinnamon on the pumpkins this year?"  I guess the culprits figured out I'm a food blogger.
Now grab some bread and make yourself a treat – just be sure to eat them before the squirrels find out.
Enjoy!

Pumpkin French Toast Roll-ups
Pumpkin French Toast Roll-ups are a fun and easy treat to satisfy any cinnamon or pumpkin craving - at least for awhile:-)
Ingredients
1

loaf square white bread. Sara Lee White Bread has the perfect texture

1

small can Libby's Easy Pumpkin Pie Mix – *see notes

1/4

teaspoon

pumpkin pie spice

optional

4

ounces

Cream Cheese

2

eggs -

1/4

cup

milk

1

teaspoon

vanilla

1/2

cup

Cinnamon Sugar

Oil & butter for frying - *see notes

Powdered

or confectioners sugar for dusting the roll-ups
Instructions
Cut the crust off of each bread slice.

Roll each slice of bread flat.

/4 in from one end of the bread, spread a thin layer of cream cheese 1-inch wide across the width of the bread.

Spread 1 teaspoon pumpkin pie mix over the cream cheese.

Starting at the end with the pumpkin & cream cheese, roll the bread tightly into a cigar shape. Set aside until the butter/oil is hot and the egg mixture is ready.

In a shallow bowl, combine eggs, milk and vanilla - whisk until well combined.

Place the oil or butter (or both) in the skillet and bring to a medium-high heat, but not hot enough for the butter to burn.

Dip each roll-up into the milk/egg mixture, then place seam-down in the hot skillet. Cook 5-6 roll-ups at one time.

Let the roll-ups cook on one side then turn as needed until all sides are cooked.

Remove from the skillet and immediately roll in cinnamon-sugar.

Enjoy!
Recipe Notes
*There are several ways to cook roll-ups. I used a mixture of oil and melted butter and enough to come about 1/4 way up the roll-ups so the result was more like cooking do-nuts. The second way is to fry them in butter - more similar to cooking French Toast - add more butter as needed. The third way is to bake them, but I did not like the result as well (of course).
-------------------------------
*If Libby's Easy Pumpkin Pie Mix (the kind with the pie spices already mixed in) can't be found, use Libby's 100% Pumpkin and add spices as if for making pumpkin pie - check the recipe on the back of the can.