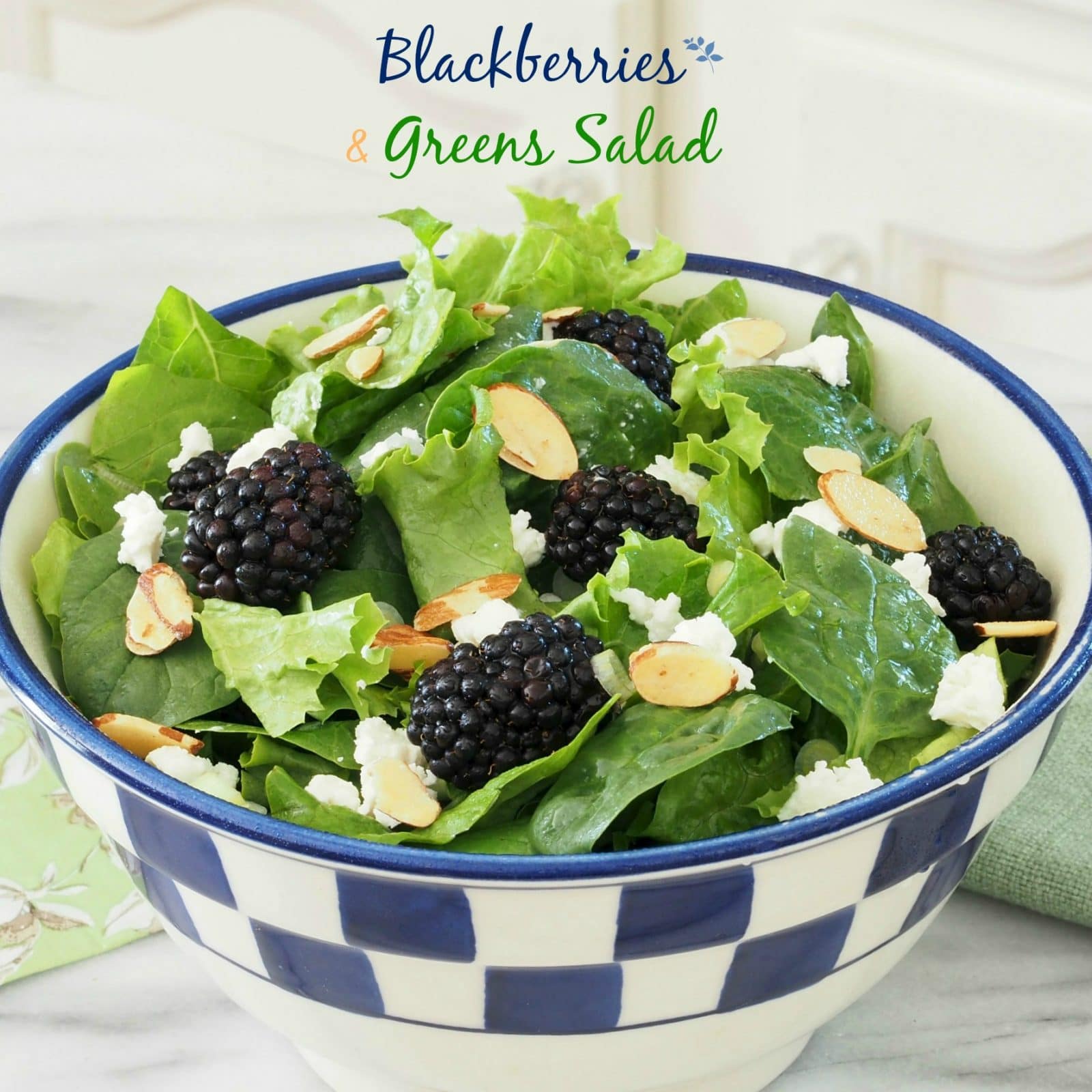 We have all heard the saying, "Looks can be deceiving."  Blackberries & Greens Salad is like that.  The ingredient list is simple but the finished product looks and tastes extraordinary – as is the case with  Grilled Pineapple with Lime Zest and Spaghetti Pomodoro.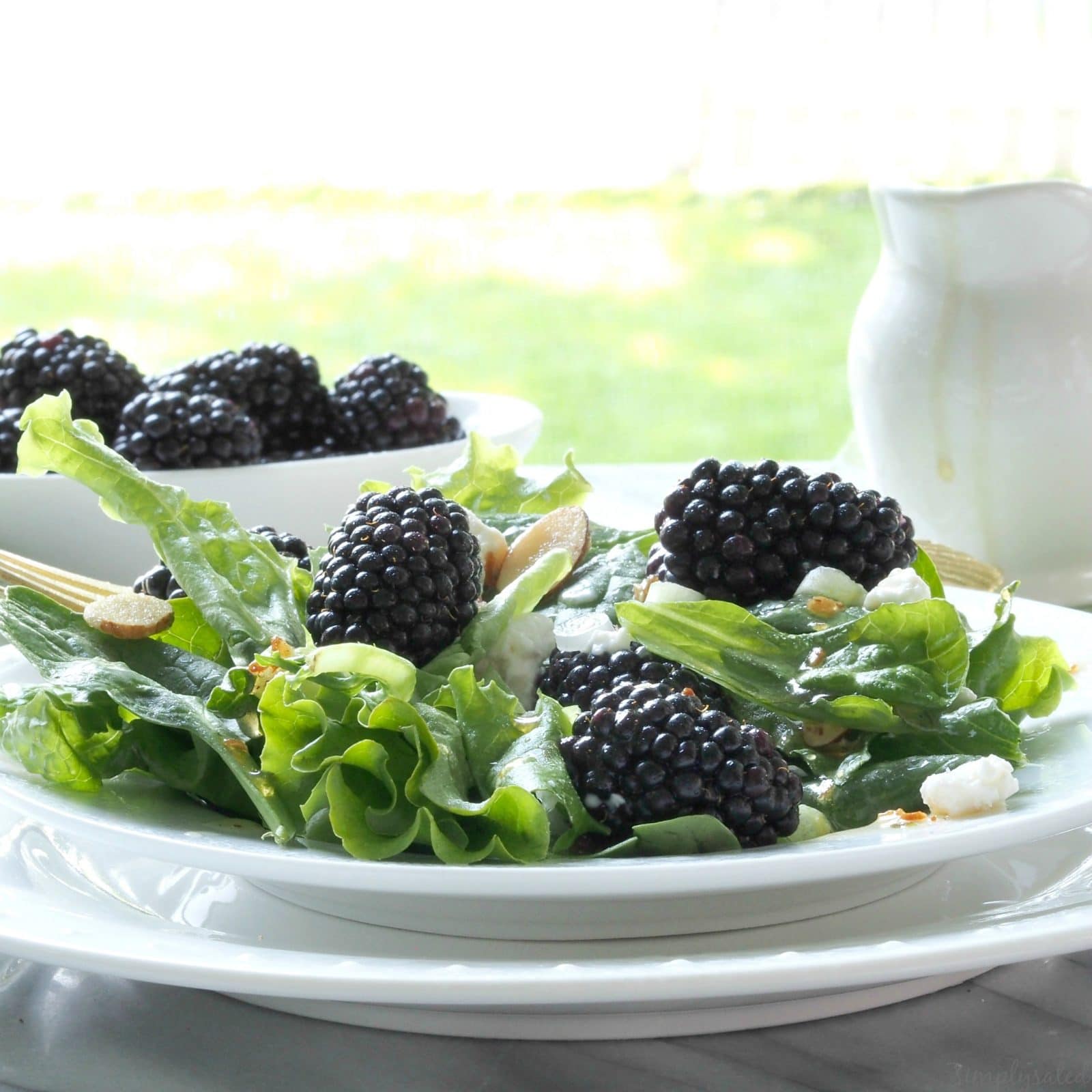 Blackberries & Greens Salad is like a beautiful, unpretentious, middle school teacher.  Her beauty is obvious and many assume she doesn't have much money — until she donates her Monet, Picasso and Warhol to the new art museum in town.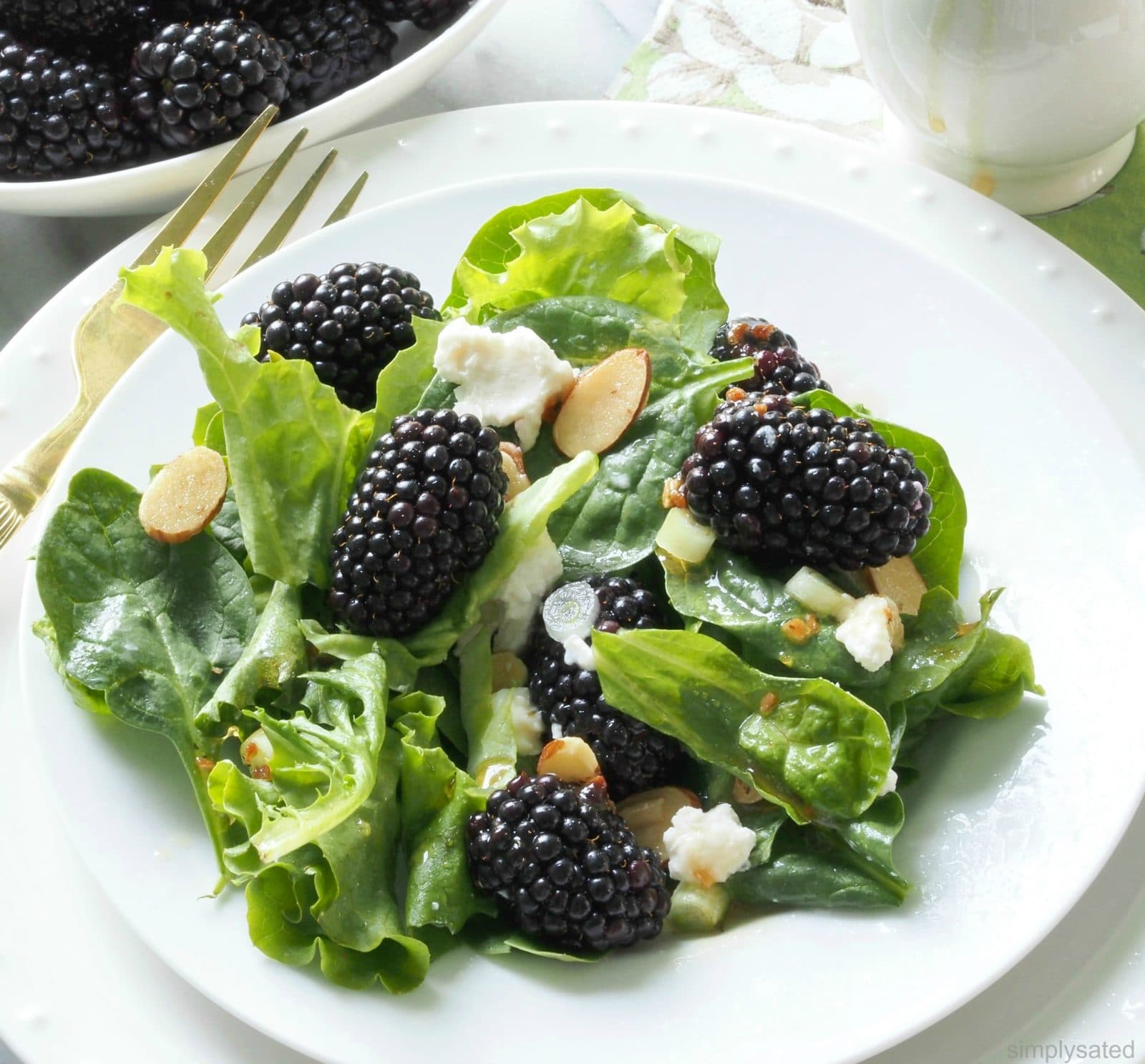 This salad is similar.  It is gorgeous with its greens and blues, but one might assume a little flavorless until the first bite.   My, oh my, that is when its richness in textures and flavors shine through.  This salad has it all – sweet berries, leafy greens, touch of green onions, crunchy almonds and creamy goat cheese with a kick of spicy acidity from balsamic vinegar.  Place this on the table and other dishes blush from embarrassment.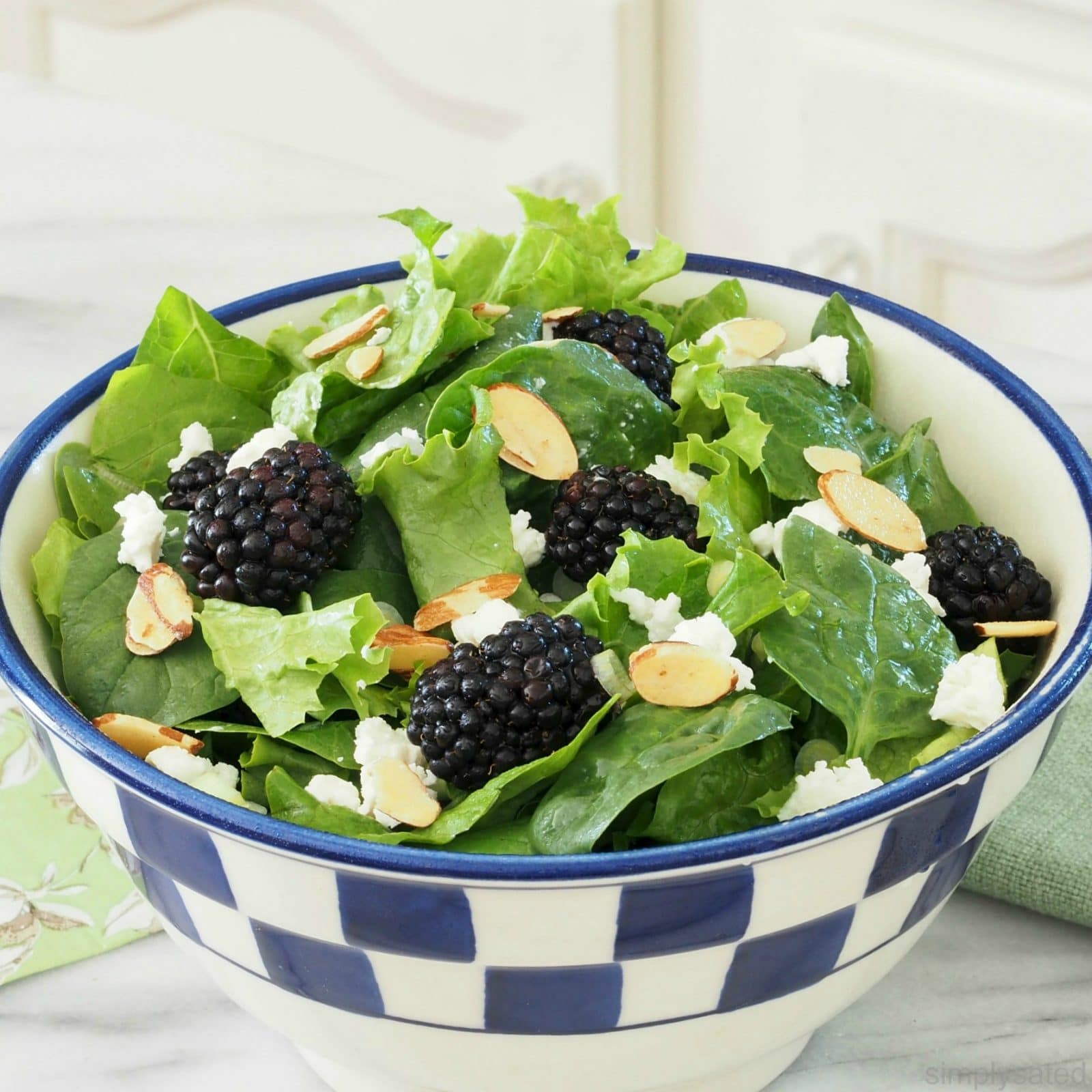 Enjoy!
…just a thought.  Have you ever wondered why blackberries are called blackberries when they are really navy blue?

Blackberries & Greens Salad
Blackberries & Greens is a delicious green salad with blackberries, almonds, goat cheese then topped with splash of balsamic vinaigrette. This salad is just as good with other fruit - peaches, strawberries, blueberries are a few examples. It is a great salad for any occasion.
Ingredients
For the Salad:

3

cups

Leafy greens - washed

dried and torn into bite-size pieces.

1

pint

fresh blackberries - washed and dried

2

green onions - sliced thin

1/2

cup

sliced

toasted almonds - I use Fresh Gourmet Honey Roasted Almonds

1/4

cup

diced goat cheese - I use honey goat cheese for this recipe.

-------------------

For the Vinaigrette:

1

tablespoon

honey

¼

cup

Blackberry-Ginger Balsamic Vinegar or see notes*

¼

cup

extra virgin olive oil

1

green onion or shallot – sliced & minced or ½ teaspoon dried onion flakes

¼

teaspoon

kosher salt

¼

teaspoon

ground black pepper

1

tablespoon

fresh tarragon

diced – opt.

1

tablespoon

fresh mint

diced – opt.
Instructions
For the Salad:

Place all ingredients into a salad bowl.

Mix gently.

Cover and refrigerate until ready to serve.

--------------------

For the Vinaigrette:

In a medium deep bowl, add all ingredients except the olive oil.

Whisk until well blended.

While still whisking, drizzle the oil into the mixed ingredients and whisk quickly until the oil is incorporated.

Cover and set aside until ready to serve.

When ready to serve, whisk the vinaigrette prior to serving.
Recipe Notes
If Blackberry-Ginger Balsamic Vinegar is unavailable, use a different favorite flavor or plain balsamic vinegar.
Or...
1/4 cup blackberries which have been muddled and strained to remove seeds,
¼ cup balsamic vinegar,
pinch of ground ginger