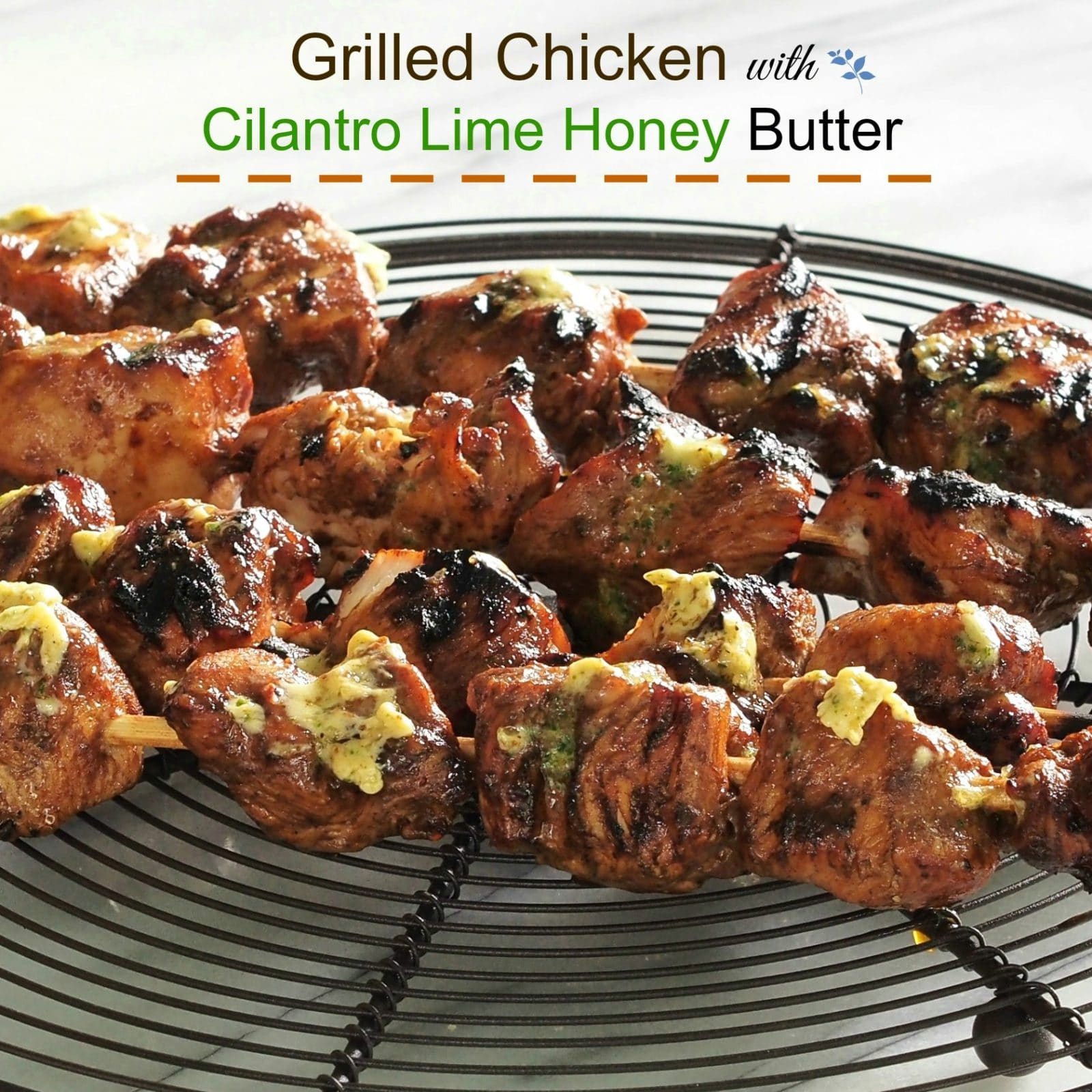 Grilled Chicken with Cilantro Lime Honey Butter is MGBFF (My Grills Best Friend Forever). During the winter I feel sorry for my grill. Every time I see it during the long, cold months, I feel a pang of guilt and have to look away.
It seems so sad and depressed…covered and forlorn…out in the dark garage…unable to do what it loves to do…unable to cook one of its very best friends.
Now we are in the middle of summer and all sadness has been left behind. We are in mid-grilling season and my grill is having the best summer ever!
Two delicious sides my grill has been busy cooking this summer are Grilled Asparagus with Prosciutto and Grilled Pineapple with Lime Zest, but Grilled Chicken Kebabs with Cilantro Lime Honey Butter is the dish that makes it most happy.
I first saw this recipe at McCormick Spices and it is called Southwestern Grilled Chicken with Lime Butter.  I have made it with whole chicken pieces and as kebabs.  The kebabs turned out more flavorful since the spices cover more area of the bite-sized chicken pieces, but the dish is delicious made either way.
This dish has layer upon layer of flavors. Your tongue will quickly think, "Hey, this does have great Southwestern spices." then the next thought will be, "Hey – what is going on here?  This chicken is Mediterranean or maybe Jamaican." I considered renaming this dish Southwestern Mediterranean Jamaican Grilled Chicken Kebabs with Cilantro Lime Honey Butter but thought it a tad long.  Grilled Chicken with Cilantro Lime Honey Butter covers all regions.
Whatever you choose to name this dish, it really doesn't matter, because it is scrumptious and is the best excuse to grill tonight or any night.
The chicken alone is fantastic but topped with Cilantro Lime Honey Butter it becomes a spectacular entrée. The butter is so delicious on its own I thought it deserved to take center stage in its own blog post.
Oh no – here we go again. I hear a commotion out the kitchen door and my grill is throwing another hissy fit. I better feed it what it wants before it throws hot coals at the house like the last time.
Enjoy!

Grilled Chicken with Cilantro Lime Honey Butter
Grilled Chicken with Cilantro Lime Honey Butter is a delicious blend of flavors - Southwestern, Mediterranean & Jamaican with seasonings that can be used on any meat.
Ingredients
4

chicken breasts - skinned and boned

1

tablespoon

chili powder

1

tablespoon

ground cinnamon

1

tablespoon

brown sugar

1

teaspoon

unsweetened cocoa powder

½

teaspoon

salt

¼

teaspoon

coarse black pepper

3

tablespoons

olive oil

1

tablespoon

balsamic vinegar

Cilantro Lime Honey Butter - http://www.simplysated.com/cilantro-lime-honey-butter/
Instructions
Soak bamboo skewers in water at least one hour or use metal skewers.

Pat the chicken dry with a paper towel.

Cut chicken breasts into cubes, place in a shallow pan and set aside

Combine all ingredients (except chicken) in a small bowl and mix until well blended into a paste.

Spread the chili mixture all over chicken with spoon or basting brush.

Cover and refrigerate at least 30 minutes.

When the grill is ready, thread the chicken pieces onto the skewers.

Grill chicken using medium heat for a gas grill or indirect heat for a charcoal grill.

Close the lid and grill turning the chicken every 2-3 minutes until chicken is cooked through (approximately 12-15 minutes). Kebabs cook more quickly than whole chicken pieces.

DO NOT overcook - the chicken will get tough quickly.

Take the chicken off the grill, cover with foil and let it rest 5 minutes before serving.

When ready to serve, dot the chicken with Cilantro Lime Honey Butter.

The seasoning paste may be made ahead and Cilantro Butter may be made ahead and frozen.

Bring the Cilantro Lime Honey Butter to room temperature before using.