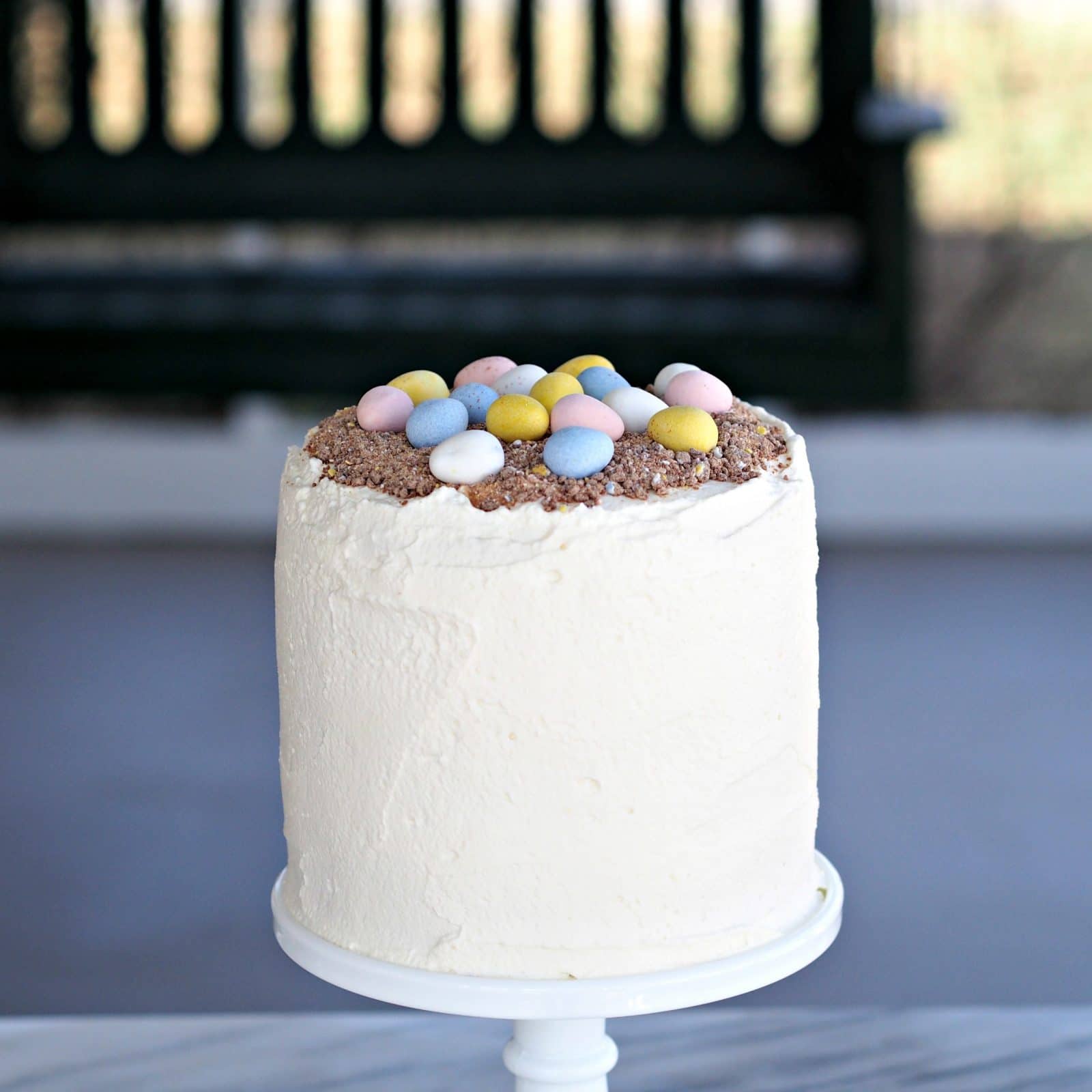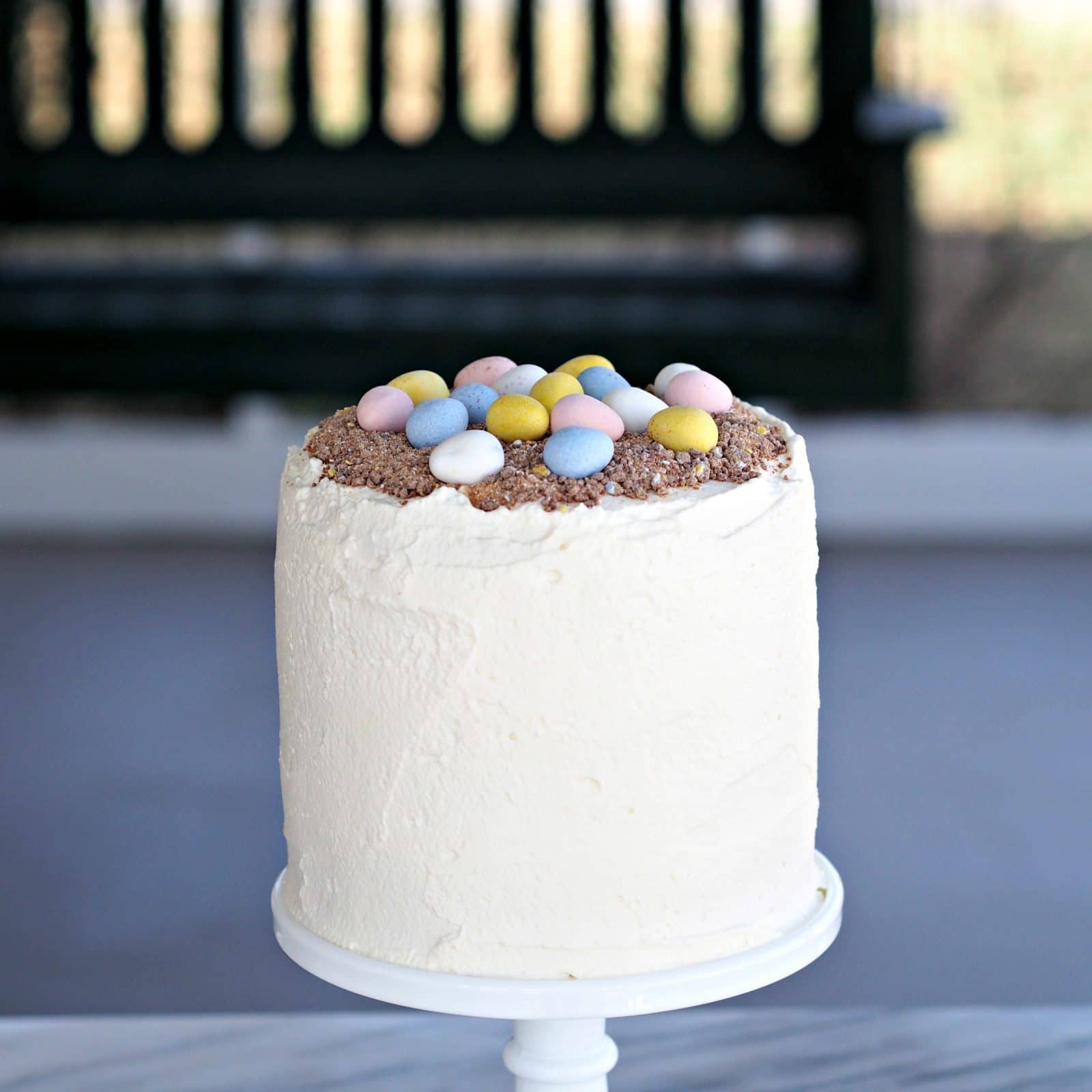 You don't need to go on an Easter egg hunt to find some of the eggs in my Cadbury Mini Eggs Cake, but you will need to take a closer look to find all.
The showoffs are sitting right on top, and don't they look cute in their yellows, pinks, whites & blues!
Not even the gingham chicks can find the camouflaged eggs, disguised as soil, right under their feet.
Now, let's go inside to find eggs that love to surprise – the ones that would jump out of the cake and yell "Happy Easter" if I would let them. They are a big part of the goodness holding Cadbury Mini Eggs Cake together – Mascarpone Whipped Cream and Crushed Cadbury Mini Eggs Frosting.
Cadbury Mini Eggs Cake with Mascarpone Whipped Cream & Crushed Cadbury Mini Eggs Frosting is the entire name of my cake.  Now THAT is one delicious mouthful.
By the way – the crushed eggs are fantastic and would add a surprising sweet crunch of chocolate to many desserts and sweet dips.

Cadbury Mini Eggs Cake with Mascarpone Whipped Cream Frosting
Layers of white cake married with Mascarpone Whipped Cream Frosting mixed w/crushed Cadbury Mini Eggs. Original Cake Recipe - Cook's Illustrated Classic White Cake (https://www.cooksillustrated.com/recipes/1070-classic-white-layer-cake-with-raspberry-almond-filling)
Total Time
1
hour
15
minutes
Ingredients
For Mascarpone Whipped Cream & Cadbury Mini Eggs Frosting:

2

bags Mini Cadbury Eggs

8

ounces

Mascarpone Cream

room temperature

2

cups

heavy cream or whipping cream

cold

2

tablespoons

powdered sugar

1-

teaspoon

vanilla extract

-------------------------------------

For Classic White Cake:

2¼

cups

9 ounces cake flour

1-

cup

whole milk

room temperature

6

large

¾ cup egg whites, room temperature

1

teaspoons

almond extract

2

teaspoons

vanilla extract

1¾

cups

12¼ ounces granulated sugar

4

teaspoons

baking powder

1-

teaspoon

table salt

12

tablespoons

1½ sticks unsalted butter, softened but still cool

---------------------

For Decorations:

Gingham Chicks *See Notes
Instructions
For Mascarpone Whipped Cream & Cadbury Mini Eggs Frosting:

Pour 1½ bags Cadbury Mini Eggs in a food processor fitted with a metal blade. Process until eggs become fine crumbs. (Separate out ½ cup for topping)

In a mixing bowl, pour heavy cream (whipping cream). With an electric mixer fitted with the metal whisk, beat the cream on HIGH for 1 minute.

Turn mixer to LOW, add powdered sugar and vanilla then turn mixer to HIGH.

Whisk cream 1 more minute or until thicker and add Mascarpone.

Whisk until smooth and creamy.

Divide whipped frosting in half and place in two separate bowls.

Into half the frosting, fold crushed Cadbury Mini Eggs (except ½ cup) until well combined.

Set the frosting aside until cake is ready to frost.

---------------------------------------

For Classic White Cake:

(6x2 inch) cake pans or 2 (8x2) pans

Spray cake pans with cooking spray the cover bottoms only with parchment paper.

Spray parchment paper then lightly dust pans with flour then turn upside down to tap out excess flour.

Preheat oven to 350F.

Combine milk, egg whites and almond & vanilla extracts into a medium-sized bowl and whisk together until blended.

In the bowl of electric mixer, mix cake flour, sugar, baking powder and salt on low speed just until combined.

Add butter and continue beating on low speed until mixture resemble moist crumbs. No streaks of flour should remain.

Separate out ½ cup milk mixture then add remaining milk mixture to flour mixture.

Beat at medium speed (higher speed if using hand-held mixer) for 1½ minutes.

Add the remaining ½ cup of milk mixture and beat on medium 30 seconds more.

Scrape down sides of bowl and beat on medium speed 20 seconds more.

Pour batter equally into prepared cake pans. Use a rubber spatula to spread batter evenly.

Place pans in oven with 3 inches space between pans and oven walls to allow for air circulation.

Bake 20-30 minutes (depending on pan size) or until a toothpick inserted in the center comes out clean.

Remove cakes from oven and place on cooling rack for 3 minutes.

Loosen cakes from sides of pans with a sharp knife then invert cakes onto cooling racks. Allow cakes to cool completely before decorating.

-----------------------------------

To Assemble Cake:

Once cakes have cooled, use a sharp knife to cut off any "bubble" tops and to level the cakes. A flat cake surface is best.

Using a pastry brush, dust off tops, sides and bottoms of cake to remove loose crumbs.

Layer the cakes with Mascarpone Whipped Cream & Cadbury Mini Eggs Frosting mixture.

Using an offset spatula, cover the cake with a thin crumb coating of the reserved, plain Mascarpone Frosting (refer to photo collage) and refrigerate the crumb-coated cake for 30 minutes.

Remove cake from fridge and frost with the remaining plain, Mascarpone Whipped Cream Frosting.

Spread reserved ½ cup crushed Cadbury Mini Eggs on the top and place the reserved whole Cadbury Mini Eggs on top of the crushed eggs.

Enjoy!
Recipe Notes
*The gingham chicks are a Meri Meri (http://www.shopmerimeri.com/ ) product I purchased a couple of years ago. I'm not sure they are still available online, but similar chicks could be made using stickers placed on construction paper (or thin cardboard), cut out and fastened to toothpicks.