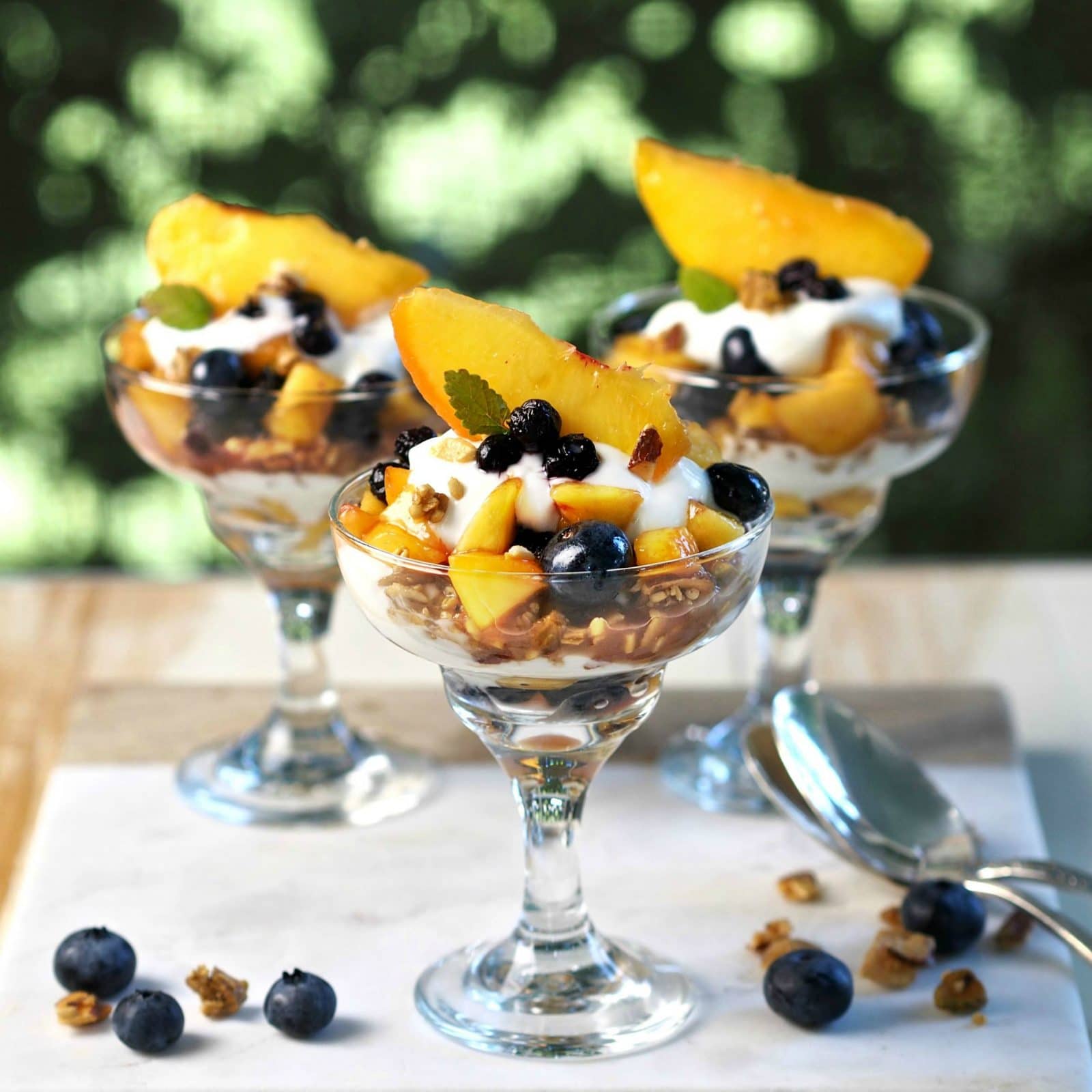 Parfaits are so beautiful. Seriously, just look at these Blueberry Peach Yogurt Parfaits – they make me smile and want to throw a party.
Parfaits can be anything you want them to be: healthy, decadent, smooth, crunchy, fruity or cakey. They can be made with your favorite flavors and colors and in any season. They aren't snobbish and are happy eaten whenever you want – from breakfast to a late-night snack.
These Blueberry Peach Yogurt Parfaits are created with delicious and healthy ingredients: Greek yogurt, seasonal peaches, fresh & dried blueberries, oats, pistachios and toasted almonds.  Cheers for health! Cheers for flavor! Cheers for you and me!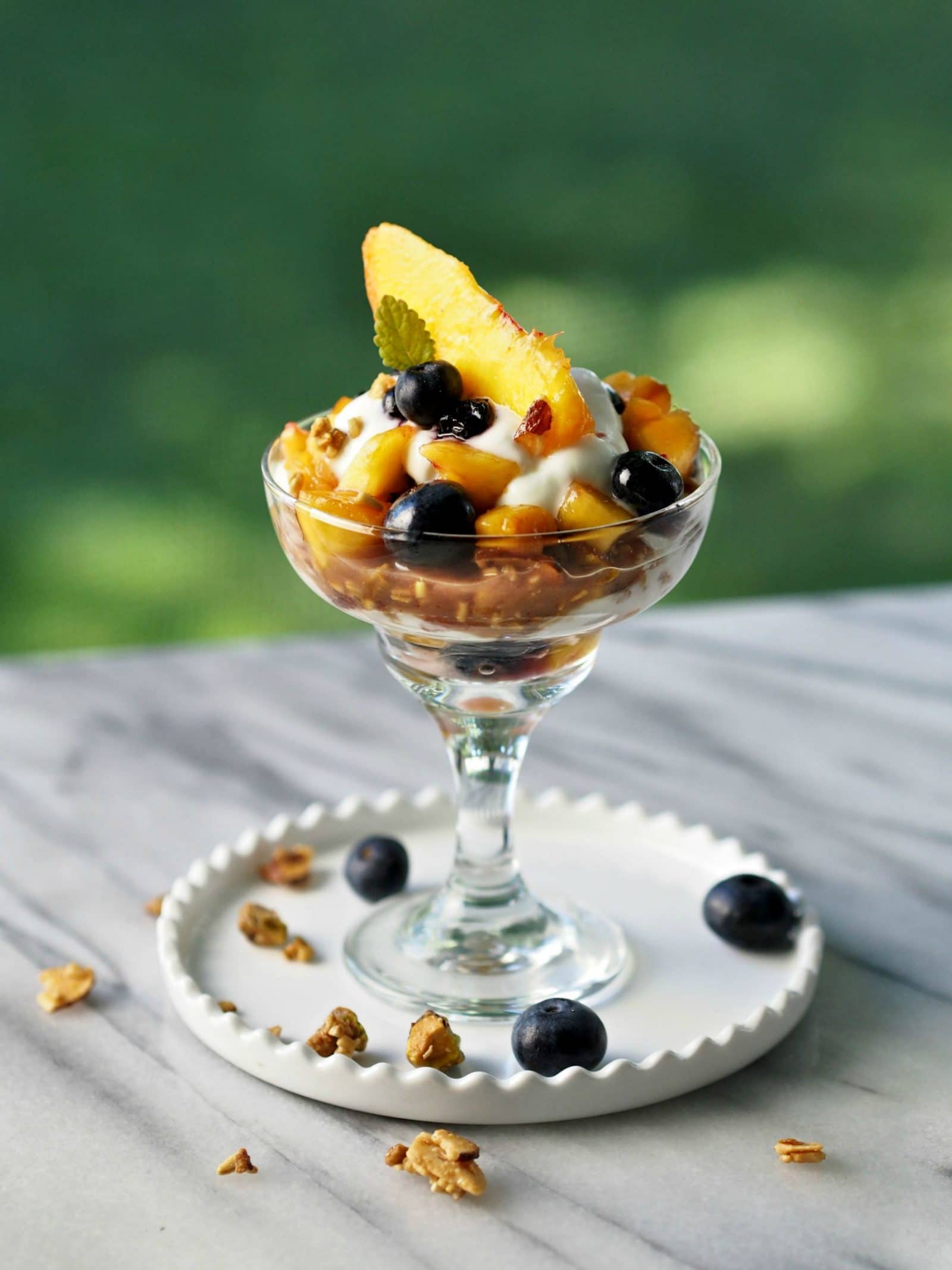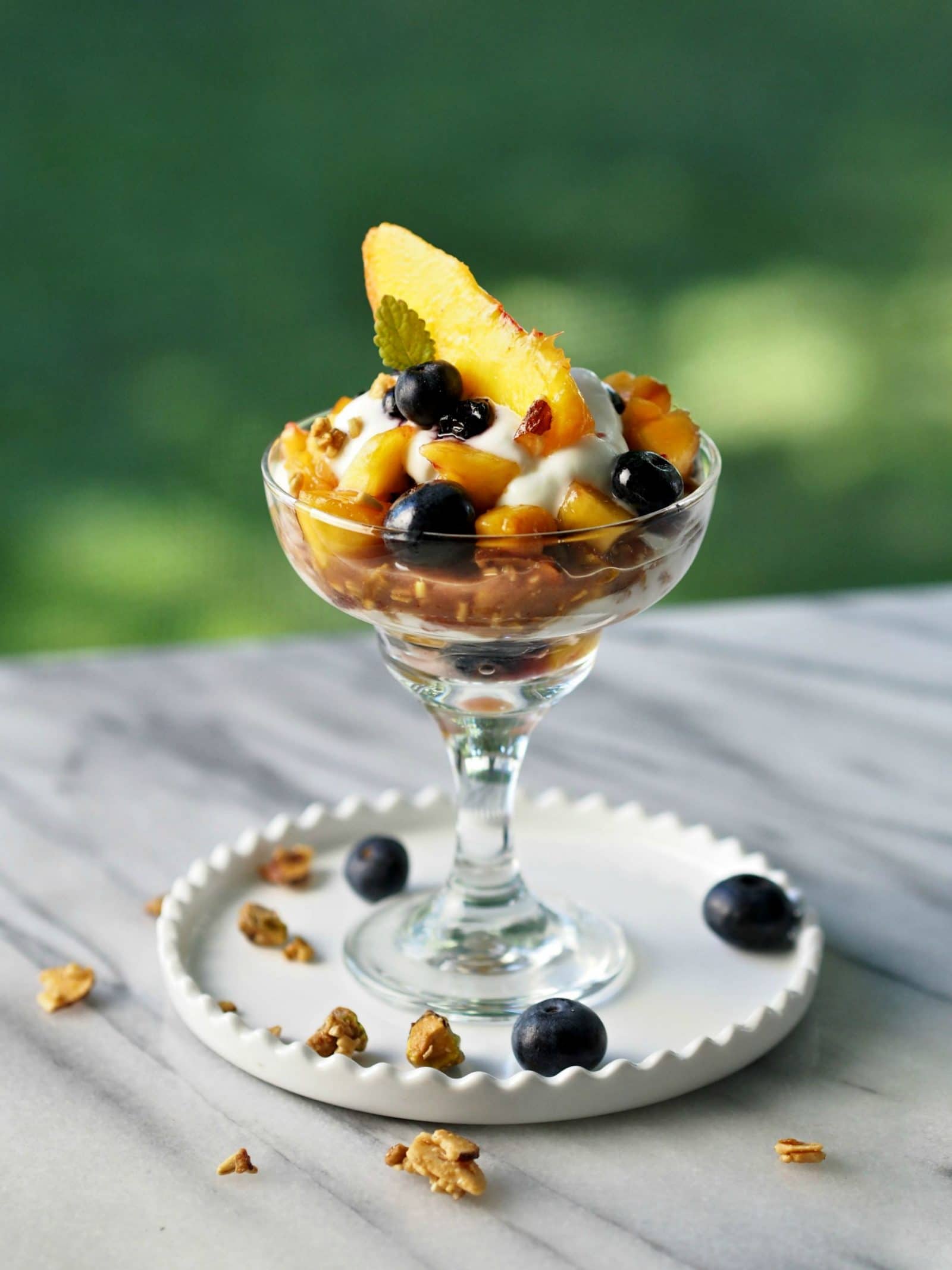 I just talked myself into having a party, and Blueberry Peach Yogurt Parfaits will be the guest-of-honor.  Many other Simply Sated stars will be there: Coffee-Crusted Filets, Two-Potato Gratin, Salted Toffee Oyster Crackers and Orange Brown Sugar Sweet Tea – you must attend.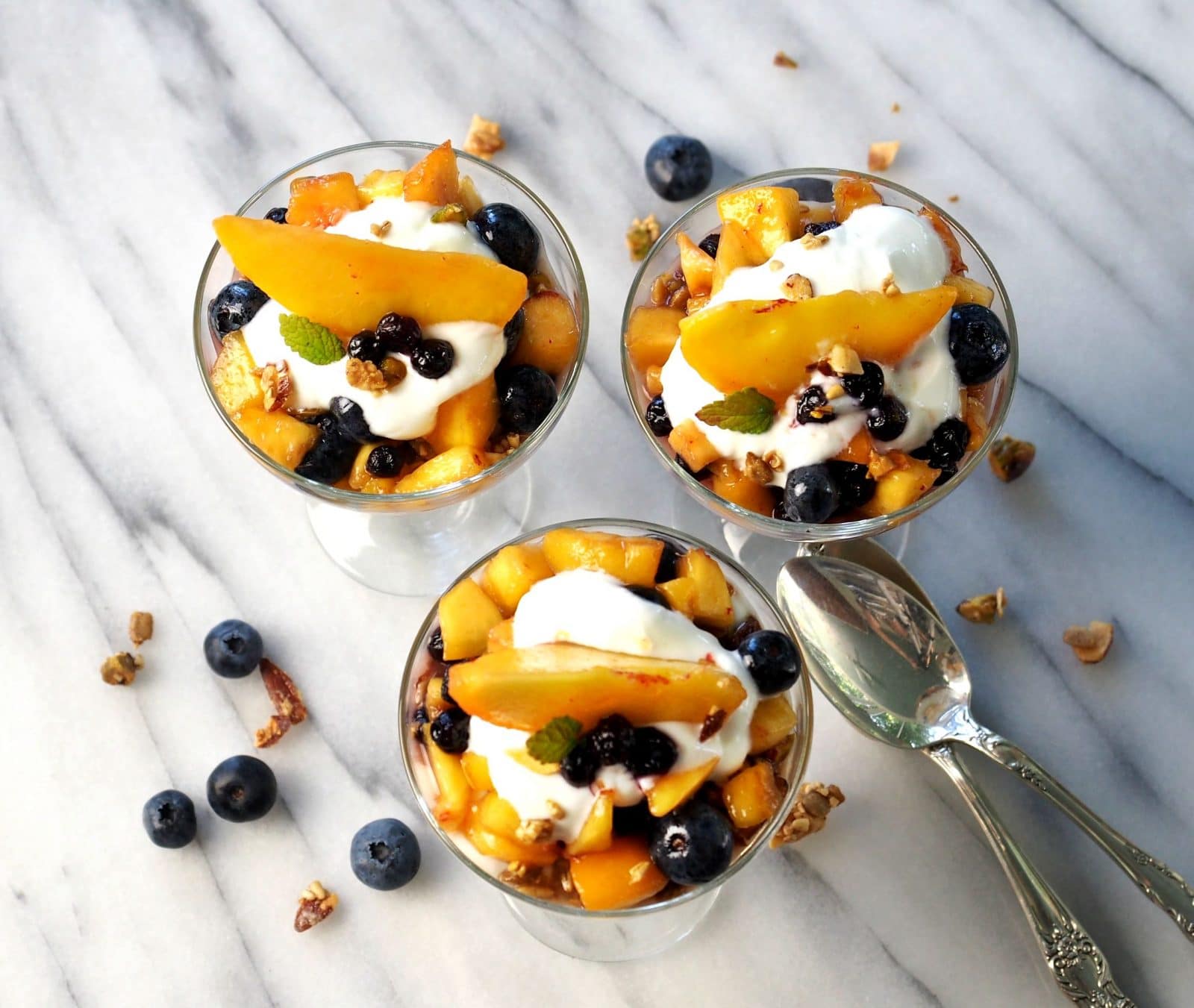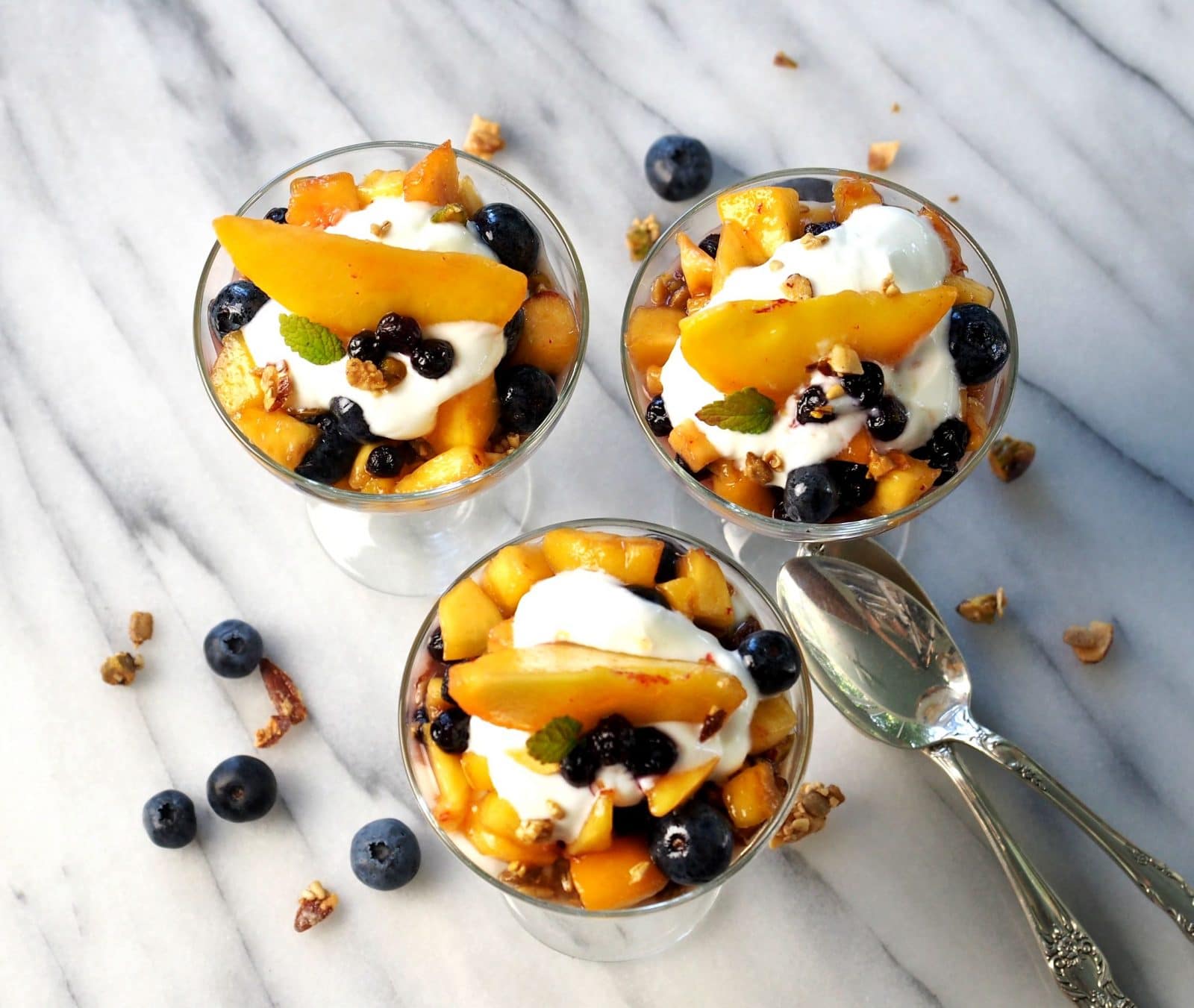 I sure hope the parfaits come prepared to speak, because I know the other guests will except to hear from such an esteemed honoree. I can practically hear the clapping…
"Parfaits! Parfaits! Parfaits! Parfaits!!! We won't shut up 'till you stand up."
Enjoy!
Blueberry Peach Yogurt Parfaits
Blueberry Peach Yogurt Parfaits - the perfect healthy breakfast or dessert. Fresh fruit, Greek yogurt, Maple Granola - smooth, naturally sweet & crunchy.
Ingredients
For the Maple Granola:

½

cup

steel-cut oats

½

cup

regular rolled oats

oatmeal

1

cup

slivered

sliced or chopped oven roasted almonds

½

cup

honey roasted sunflower seeds

pine nuts or pepita seeds

½

cup

shelled pistachios

chopped

½

cup

100% real maple syrup

¼

teaspoon

coarse kosher salt

----------------------------

Optional Additions:

Dried Fruit

add after baking

Other nut varieties

Coconut

Ground Cinnamon

nutmeg or pumpkin spice

-----------------------------

For the Fruit:

1

cup

fresh blueberries

washed & dried

1

cup

fresh peaches plus wedges for top garnish

peeled & chopped (leave one peach wedge per parfait)

¼

cups

dried blueberries

(Trader Joe's Wild Blueberries are great.)

1-

tablespoon

fresh lemon juice

2

tablespoons

Agave Nectar or honey

2

pints

Vanilla Greek yogurt

Regular yogurt can be substituted.

Garnish: Mint leaves
Instructions
Preheat oven to 350F.

Mix together all granola ingredients except salt. Pour onto the parchment or foil-lined baking sheet sprayed with cooking oil.

Sprinkle with coarse salt.

Bake 25-30 minutes or until golden and crispy.

Remove from the oven to cool.

———————

For the Fruit:

Mix together prepared fruit, agave syrup & lemon juice.

Stir gently and set aside.

———————-

To Assemble Parfaits:

Place fruit mixture in the bottom of small glass or parfait glass.

Sprinkle granola over fruit.

Spoon Greek Yogurt over the granola.

Repeat a second time.

Top with a peach wedge, blueberries, extra granola & mint leaf.

Serve immediately or refrigerate until ready to serve (not more than 10 minutes).

Freeze extra granola for later use.

Enjoy!