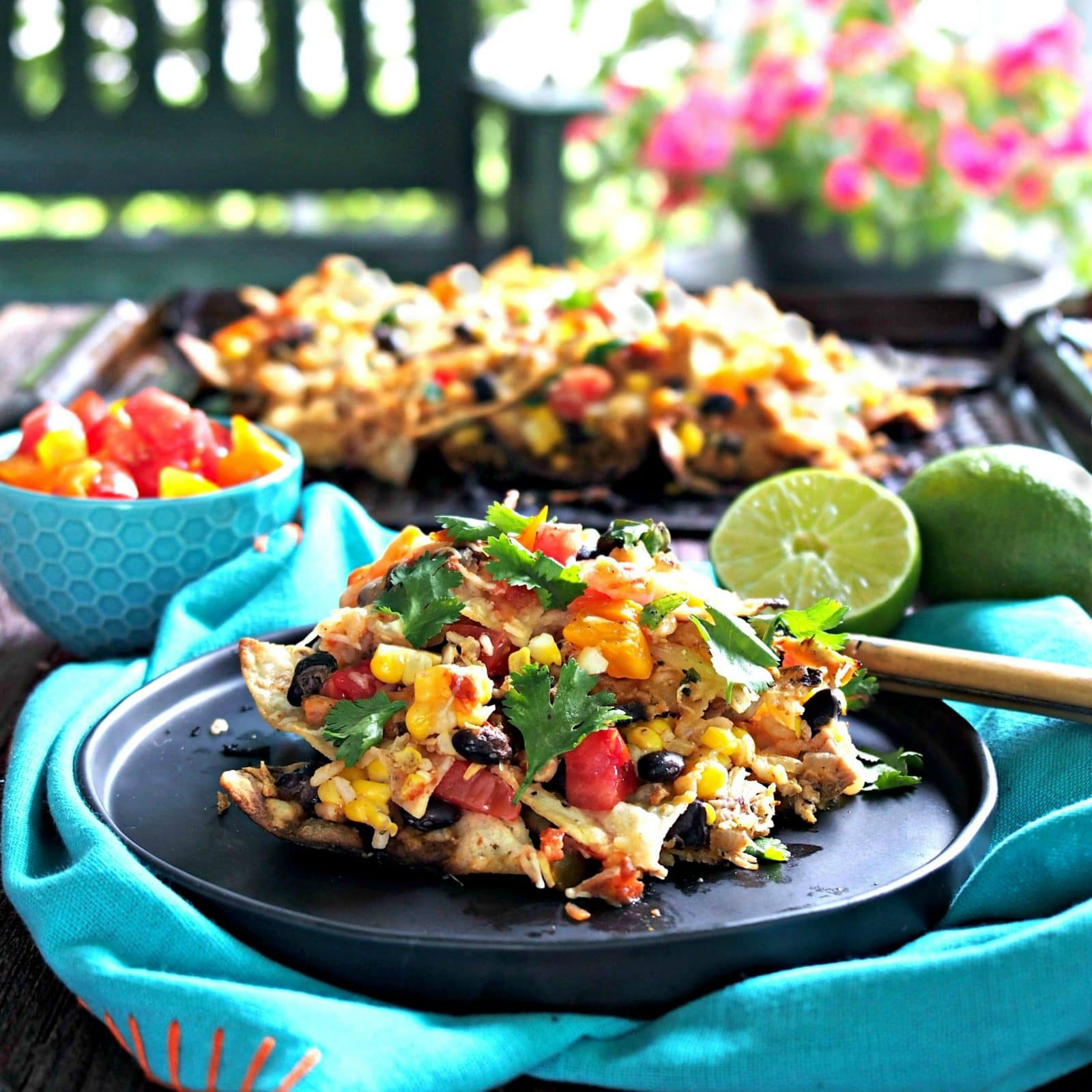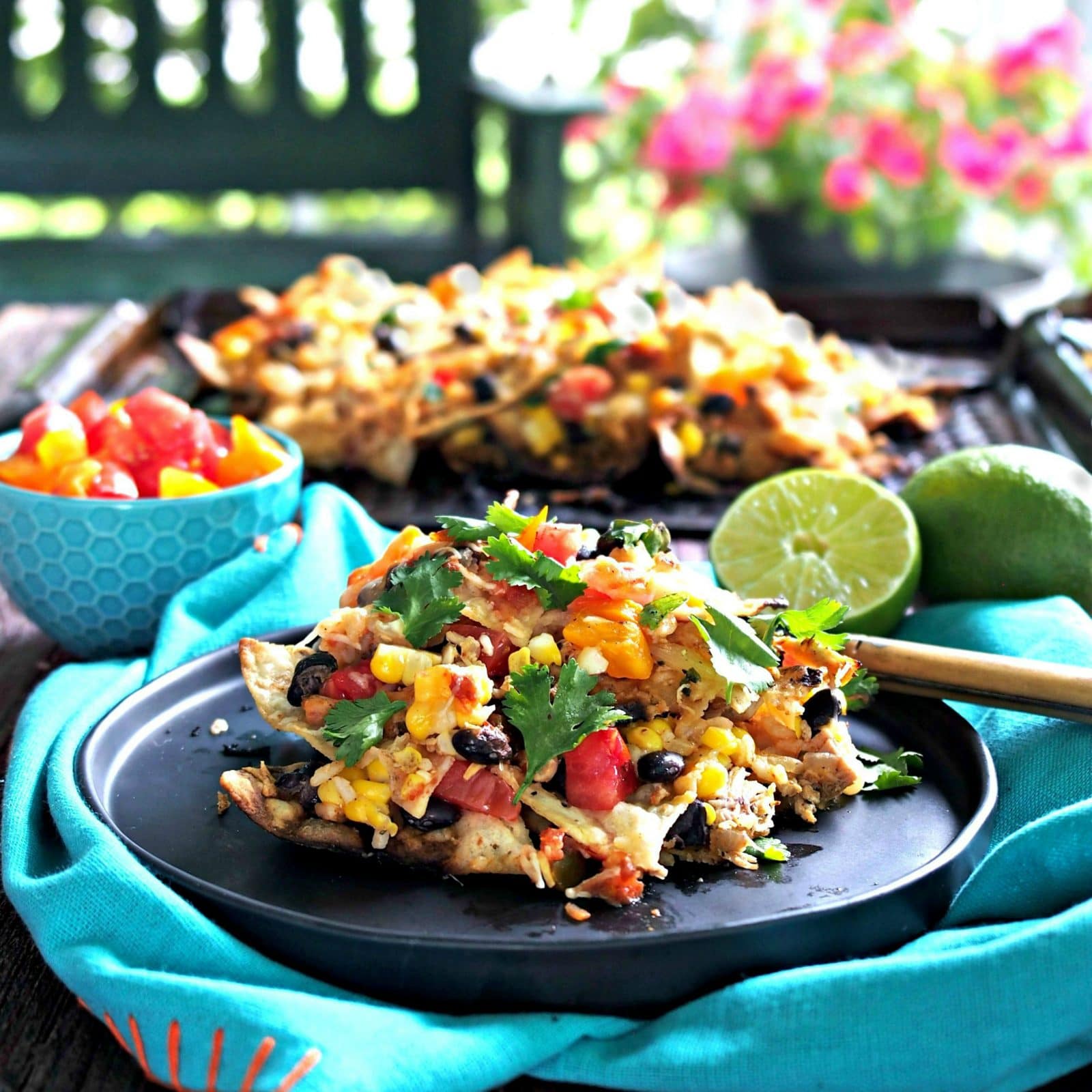 Anytime I hear the word "nacho" I think of my dear friend, Steve P., and his silly joke. I'll have to share the joke later, though, because right now I need to tell you about these Grilled Tequila Lime Chicken Nachos.
Oh. My. Gosh!! I love grilled nachos and Grilled Tequila Lime Chicken Nachos are my ultimate favorite. If you love Applebee's Fiesta Lime Chicken, you will love it just as much (if not more) made nacho-style.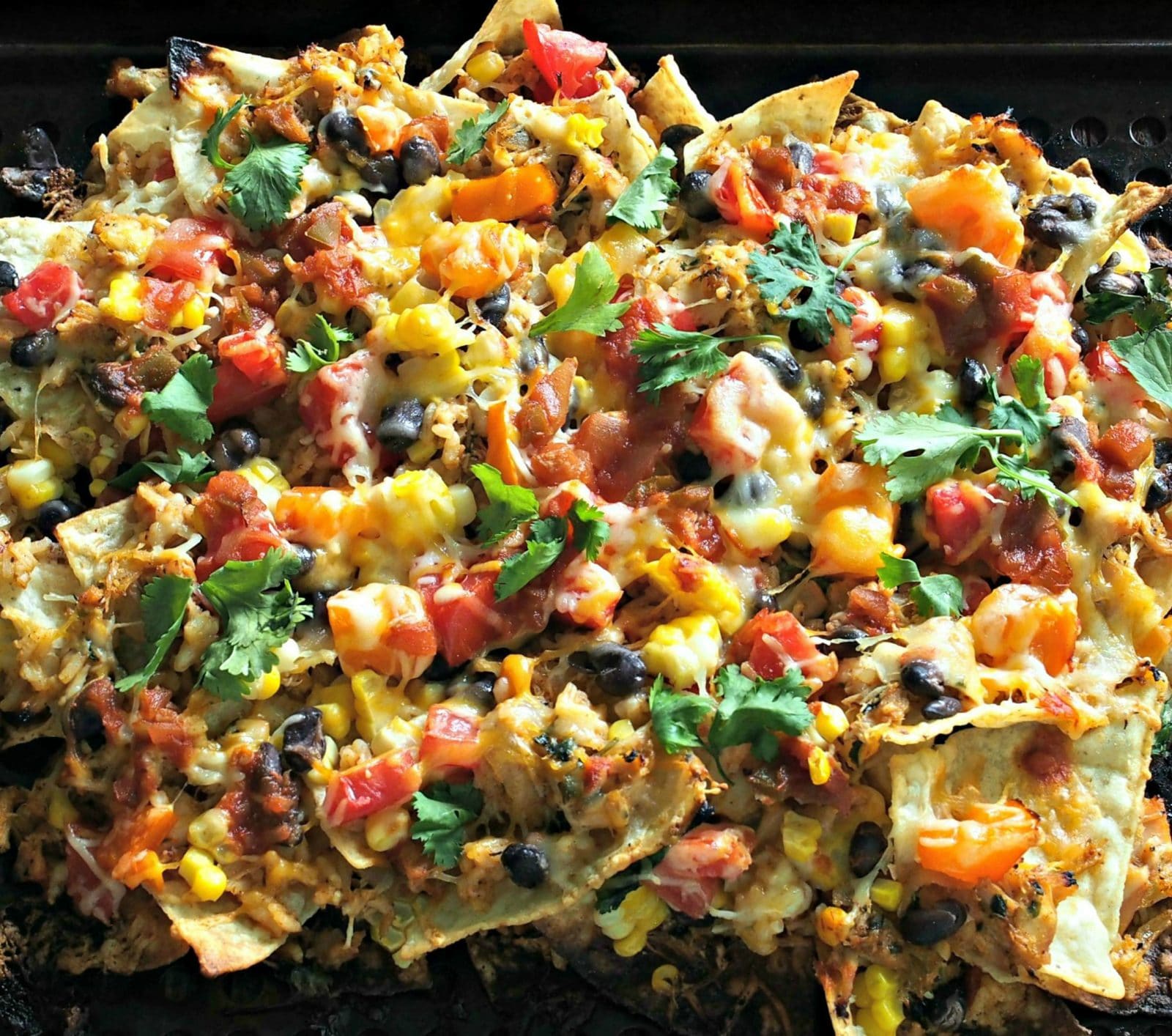 This dish is stacked with layers of flavors and textures – crunchy tortillas, summer tomatoes, corn cut-off-the-cob, fresh cilantro, grilled tequila lime chicken, black beans, spicy Mexican rice and ooey-gooey cheese – all of it infused with smoky goodness.  The photo below shows the layering process. It is basically two layers of all ingredients beginning with Tostito-style chips and ending with cheese and fresh cilantro.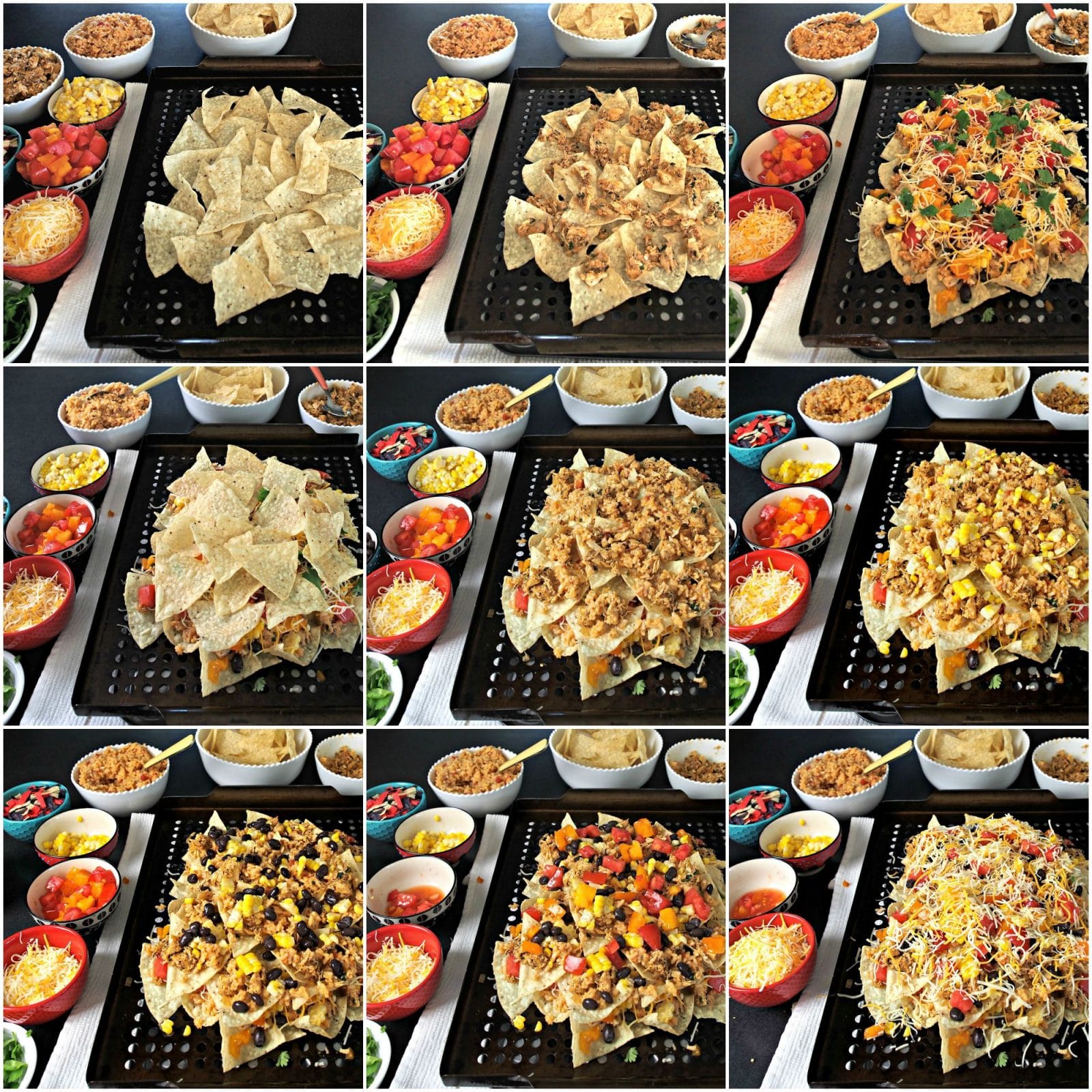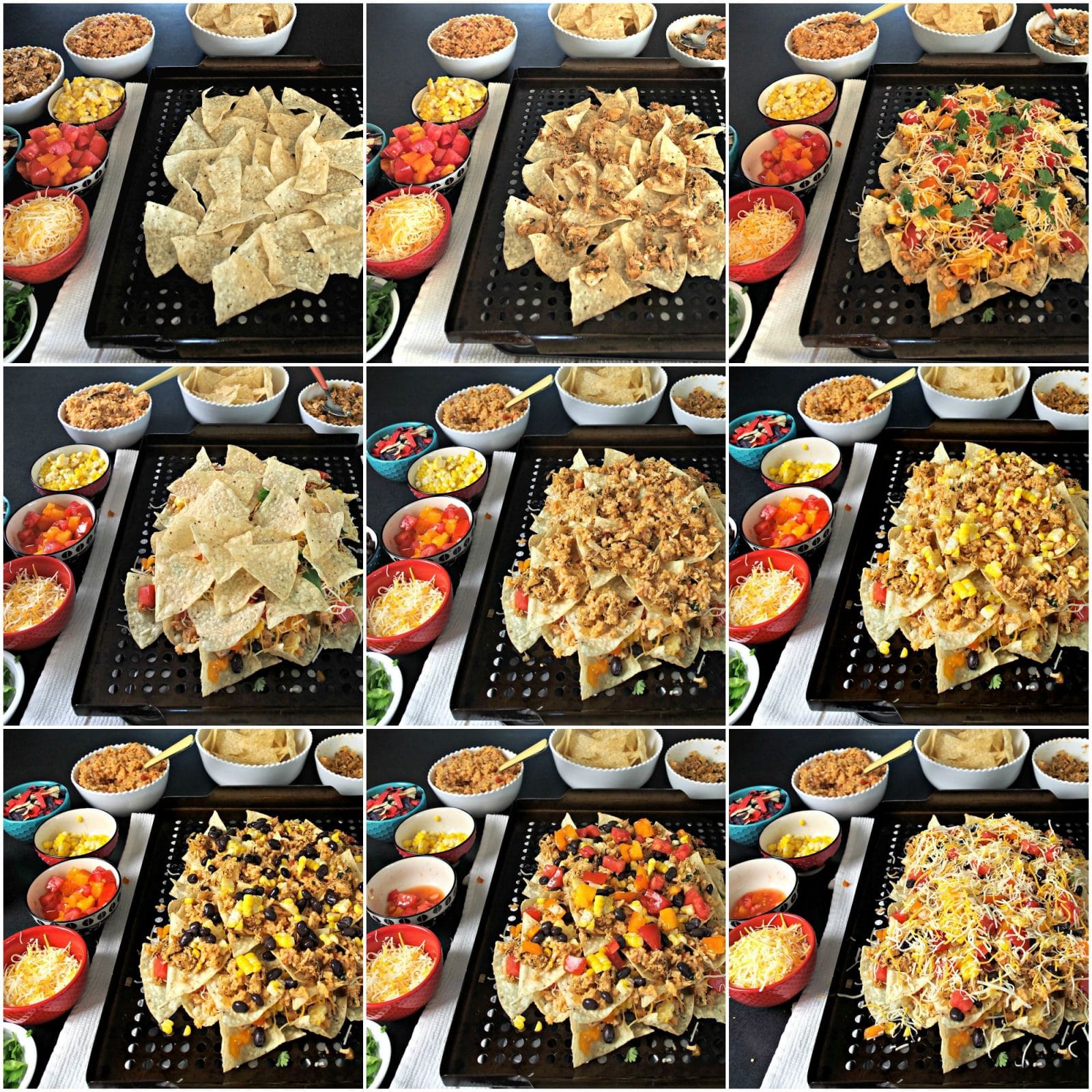 The first time I ate grilled nachos, I was surprised just how tasty they were and my first thought was, "Why haven't I eaten these before?" Since then, I have made several varieties – all with great success.   My daughter and I made two other flavor-filled versions (BBQ Chicken and Traditional Mexican-Style Chicken) for her blog, The Cookie Rookie, a couple of years ago.  You can check out the recipes HERE.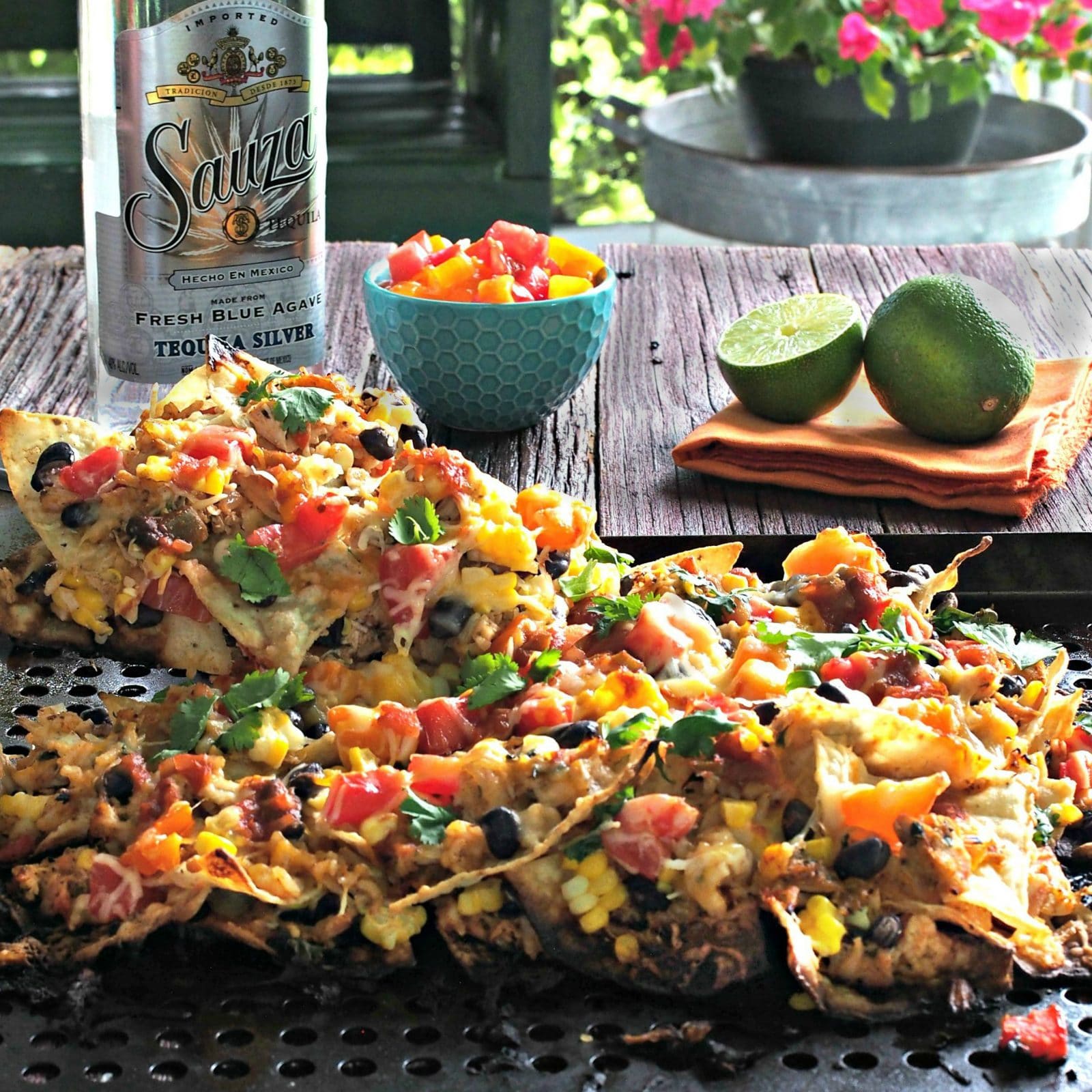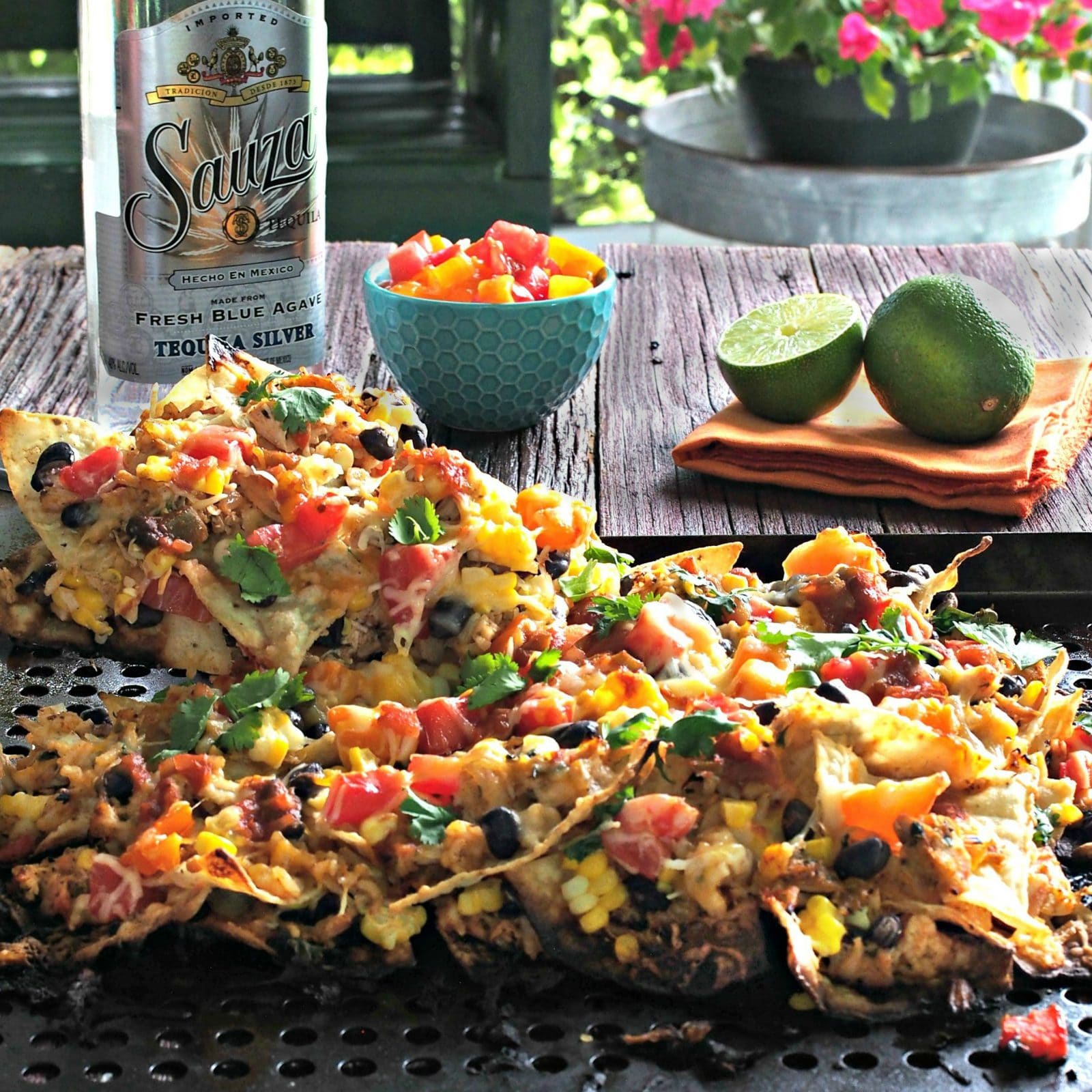 My husband, Jeff, and I have mastered the grilling technique. Once the coals are ready, place the coals on only one-half of the grill creating two cooking zones (direct & indirect heat). Please note – since taking the photos, we have perfected the cooking method and now place the pan of nachos over foil for a portion of the cooking time. This allows time for the nachos to heat thoroughly without burning. All the detailed instructions can be found below within the recipe.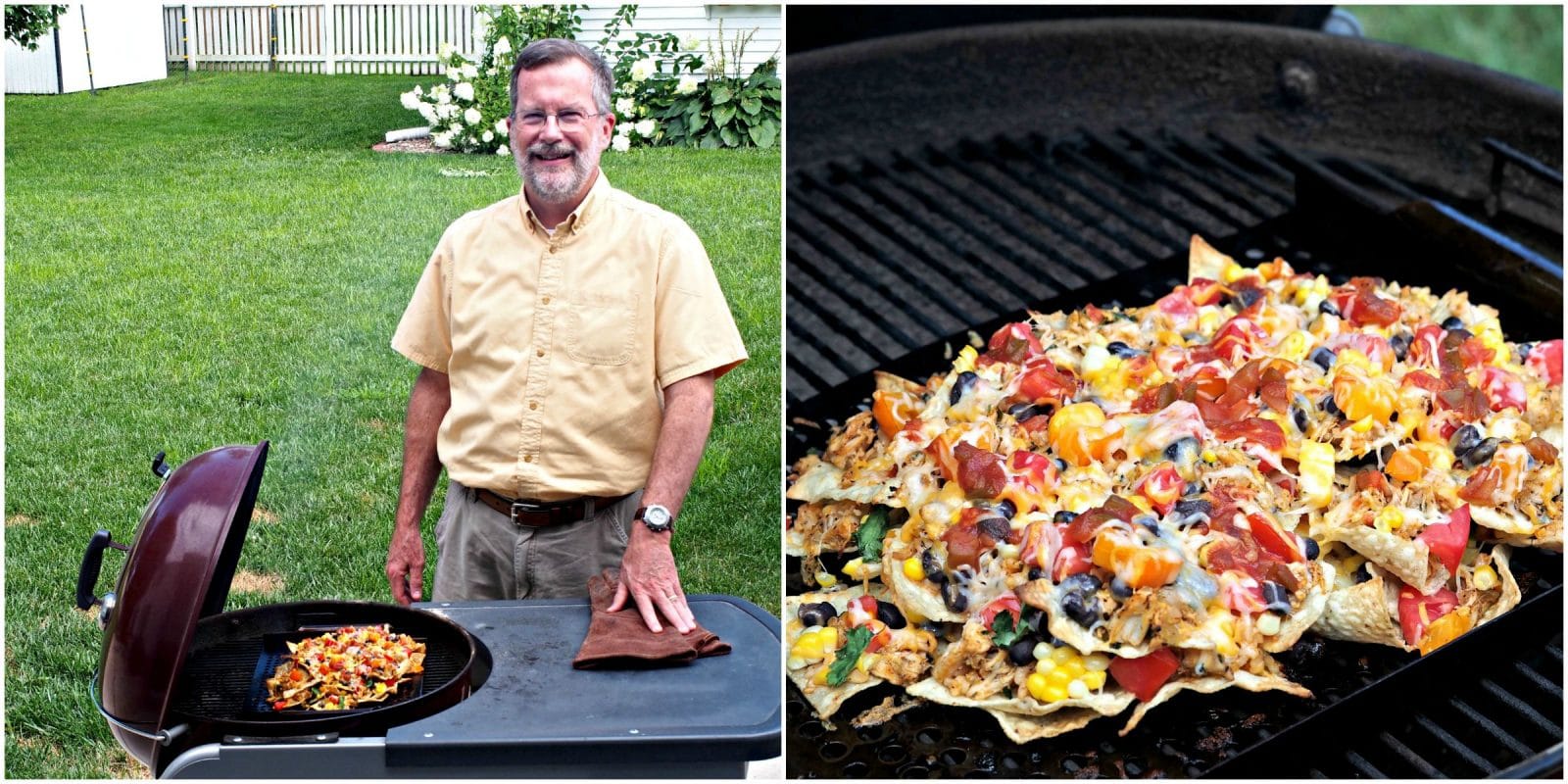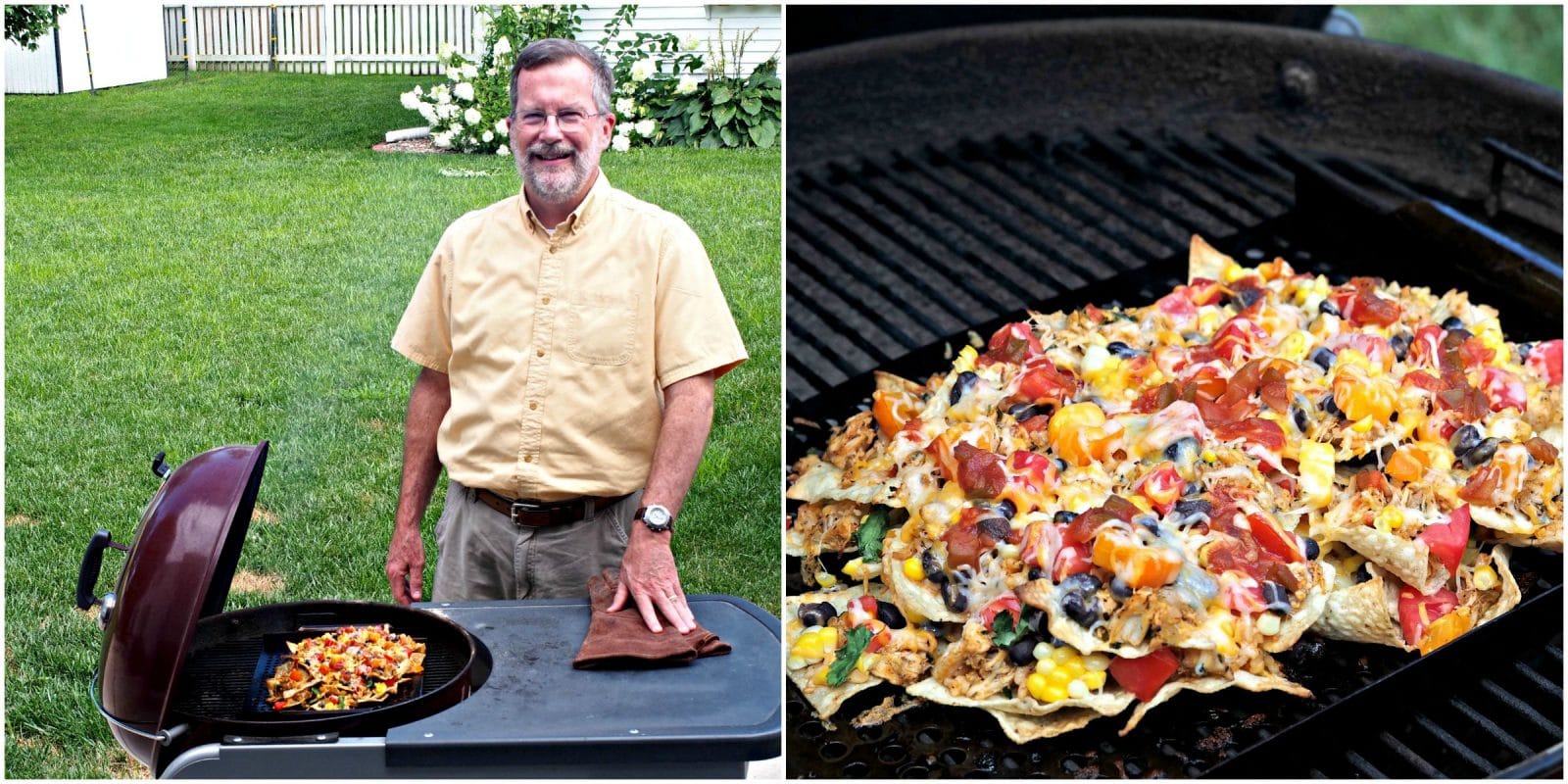 Now, it's time to share the joke I mentioned in the first sentence.  This is for you, Steve.
Me:       "Please pass the cheese."
Steve:   "You can't have it."
Me:        "Why can't I have it?"
Steve:    "Because it's "na(t)-cho" cheese!!!"
(Did you hear the bada-bing?)
It's been too long, Steve. Come for a visit. I'll make Grilled Tequila Lime Chicken Nachos. I even promise I'll share some cheddar cheese with you.
Enjoy!
Grilled Tequila Lime Chicken Nachos
Grilled Nachos layered with quick Mexican Rice, beans, tequila-lime chicken, cheese, tomatoes and all things good. The best grilled nachos - ever!
Ingredients
Note: There are several ingredients but not nearly as many as it seems. Both the Mexican Rice and the Tequila Lime Chicken mixture use the same seasonings and cheeses.

-------------------------------------

For the rice: Prepare while coals are heating or can prepare up to two days before.

1-

cup

water

1-

cup

Minute Rice

½

teaspoon

salt

½

teaspoon

ground black pepper

¼

sweet yellow onion

diced

1

clove

garlic

minced

1/3

cup

diced tomatoes with green chiles

include 1/3 can of juice

¼

teaspoon

ground cumin

¼

teaspoon

smoky paprika

¼

teaspoon

chili powder

¼

cup

Mexican Blend cheese

1

chipotle pepper in adobo sauce

minced (optional for more heat and smoky flavor)

---------------------------------------------

For the Tequila Lime Chicken: Can prepare up to two days before.

2

tablespoons

olive oil

2

tablespoons

butter

½

sweet yellow onion

sautéed in 2 tablespoons butter & 2 tablespoon oil

1

cloves

garlic

minced & sautéed with the onion

1

cup

diced rotisserie chicken

1 rotisserie chicken yields approximately 3 cups diced chicken. Use 1 cup and freeze any extra for later use. *See note.

½

lime

juiced

¼

cup

tequila

¼

teaspoon

chili powder

¼

teaspoon

ground cumin

¼

teaspoon

smoky paprika

½

teaspoon

salt

½

teaspoon

ground black pepper

1-

tablespoon

honey

----------------------------

½

can black beans

drained

1

ear corn-on-the-cob

grilled and kernels removed or 1 can sweet corn, drained.

1-to

mato

diced or yellow & red cherry tomatoes, halved

1½

cups

Mexican blend cheese

shredded

Fresh cilantro

chopped

¼-½

bag

regular size Tostitos

Picante Sauce

opt.

----------------------------------

Garnishes:

Fresh cilantro

chopped

Picante Sauce

Sour Cream

Black olives

Jalapenos
Instructions
Prepare grill. If using coals, place hot coals over only half of the grill to have two cooking zones - one with direct heat and one with indirect heat.

--------------------------------------------

For the Mexican Rice:

Cook Minute Rice according to package directions for 2 cups rice.

After rice is cooked, keep heat off and add all other ingredients. Mix well and set rice aside until ready to assemble the nachos.

---------------------------------------------

For the Tequila Lime Chicken mixture:

Heat butter and oil over med-high heat until hot, but don't allow butter to burn. Add chopped onion and sauté 3-5 minutes until onion is translucent. Add minced garlic and sauté 1 minute more.

Reduce heat and add diced chicken, lime juice, tequila, chili powder, cumin, smoky paprika, salt, ground pepper, honey. Stir and simmer until heated through and tequila/lime juice has reduced. Set aside.

----------------------------------------------

To Assemble and Cook the Nachos:

Place a layer of Tostito-style chips on a grill pan.

Sprinkle layers of the chicken mixture, rice, beans, corn, cheese, cilantro and salsa (go light) on top. Repeat with a second layer.

Place aluminum foil over the griddle over the indirect heat.

Place the nachos over the foil, close the lid and cook 5 minutes. Spin the pan 180 degrees and cook another 5 minutes over the foil and with the lid closed.

Remove the foil and cook nachos over indirect heat 10 more minutes - spin 180 degrees after 5 minutes.

Place the pan of nachos over the direct heat and grill 1-2 minutes. Watch closely to prevent burning.

If more time is needed for the center to heat, place the nachos over the indirect heat and check every 15 seconds until heated through.

Remove from heat and serve with toppings of your choice.

Enjoy!
Recipe Notes
Note: 2 grilled chicken breasts, seasoned & cubed, can be substituted for the rotisserie chicken.
*Note: Grilled Nachos are fantastic and cooking options are limited only by your imagination. Some of my favorites are: BBQ chicken, Buffalo Chicken, BBQ Pork, Fajita Nachos, Beef Taco Nachos, Chicken & Potato Nachos – the list goes on & on.