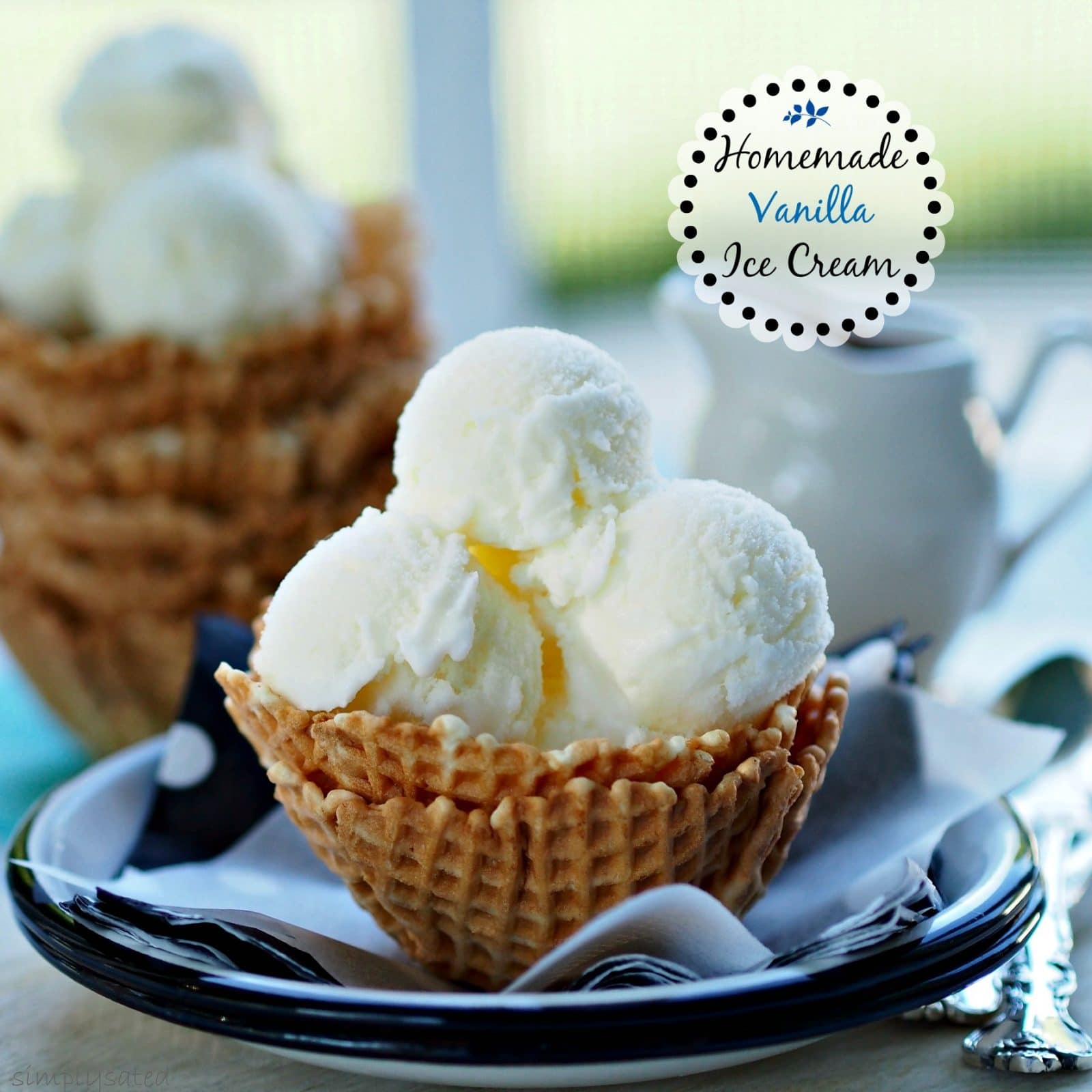 Don't let a scoop of Homemade Vanilla Ice Cream fool you. She sits there all white and colorless – looking so bland – pretending she has no flavor, but underneath that façade she is wearing a sly smile. Homemade Vanilla Ice Cream has a secret; she knows she is created with the most popular flavoring of all-time.
When my husband and I were dating, I was shocked the first time we went to Baskin Robbins and he ordered a vanilla shake. I had never heard anyone order a vanilla shake. I laughed out loud and asked, "Why, when you could choose any one of these 31 delicious flavors, would you choose vanilla?" His answer? "I love it!"   Well, I guess that says it all!  Vanilla is the ideal flavor and that is why it is added to almost every baked good and dessert known to man.  Who doesn't love vanilla?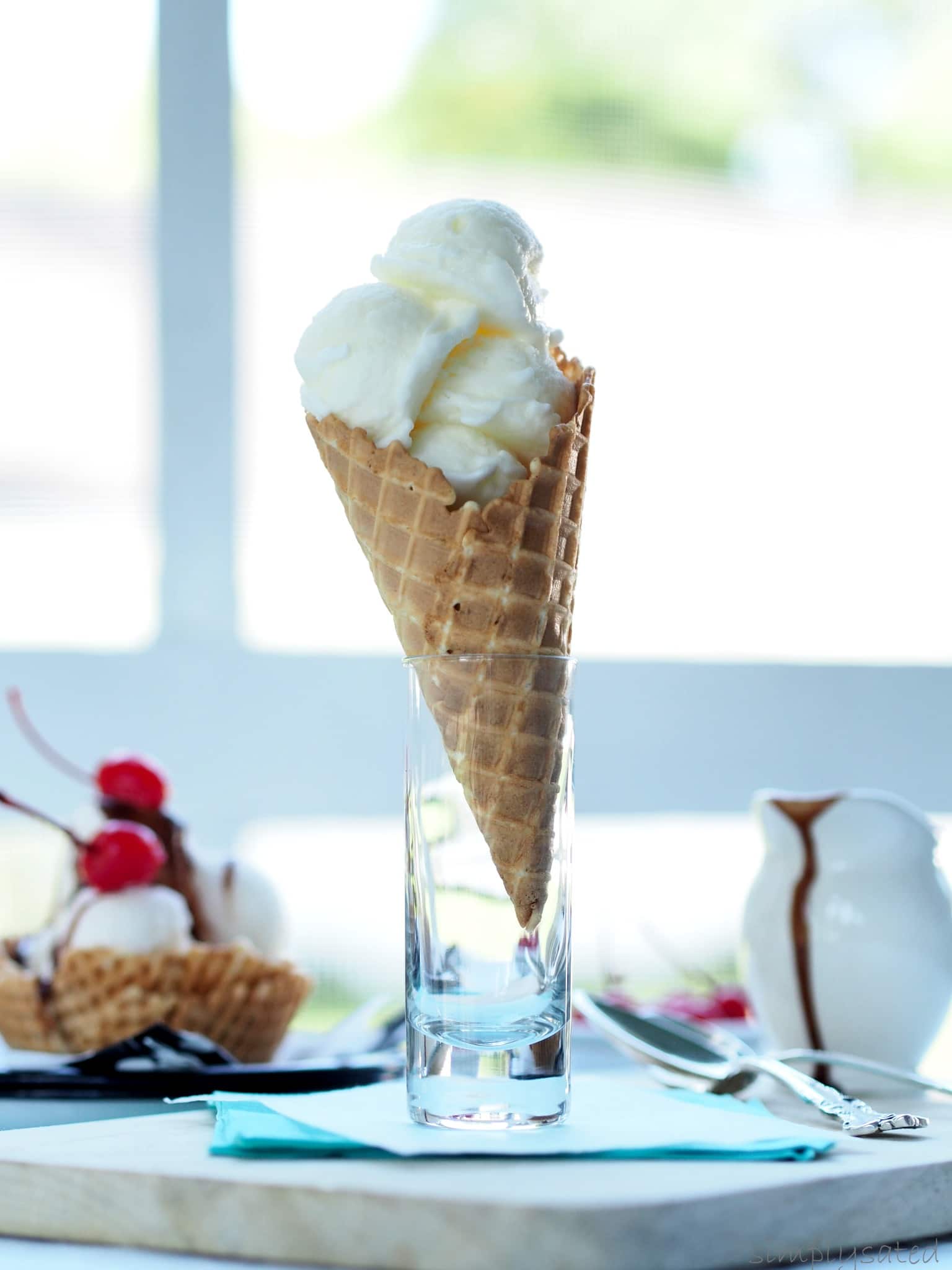 Homemade Vanilla Ice Cream is friendly to all and proud of her easy nature.  She is confident and knows she has flavor galore, however, she does love getting dressed up every now and then and especially loves to wear Homemade Hot Fudge with Frangelico and two cherry hats.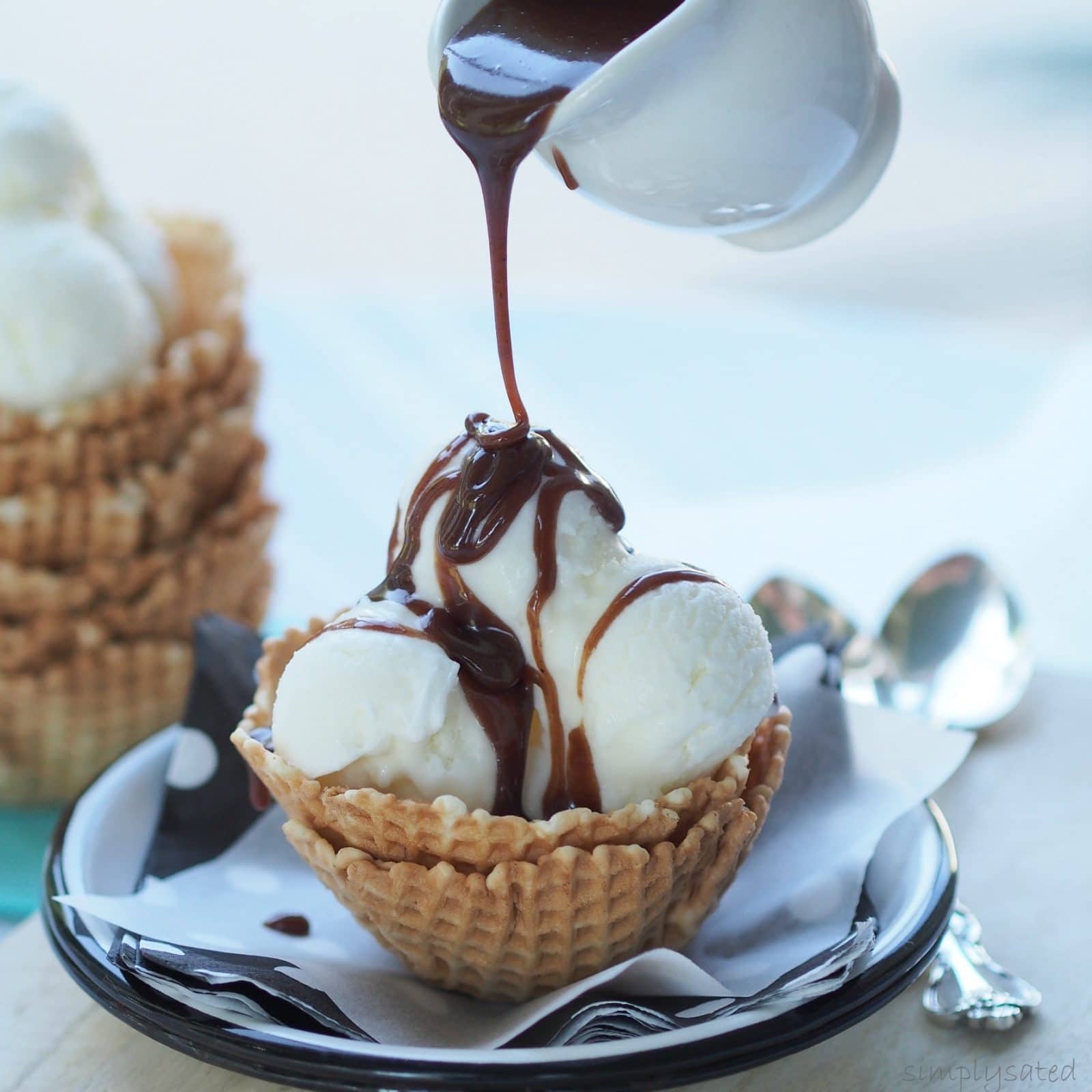 I did a little research on FavoriteFlavorsAncestry.com and discovered something very interesting. I found out Homemade Vanilla Ice Cream's real name.
Her real name is "Homemade-Vanilla-I'm-a-Much-Bigger-Deal-than-Cinderella-Ice Cream."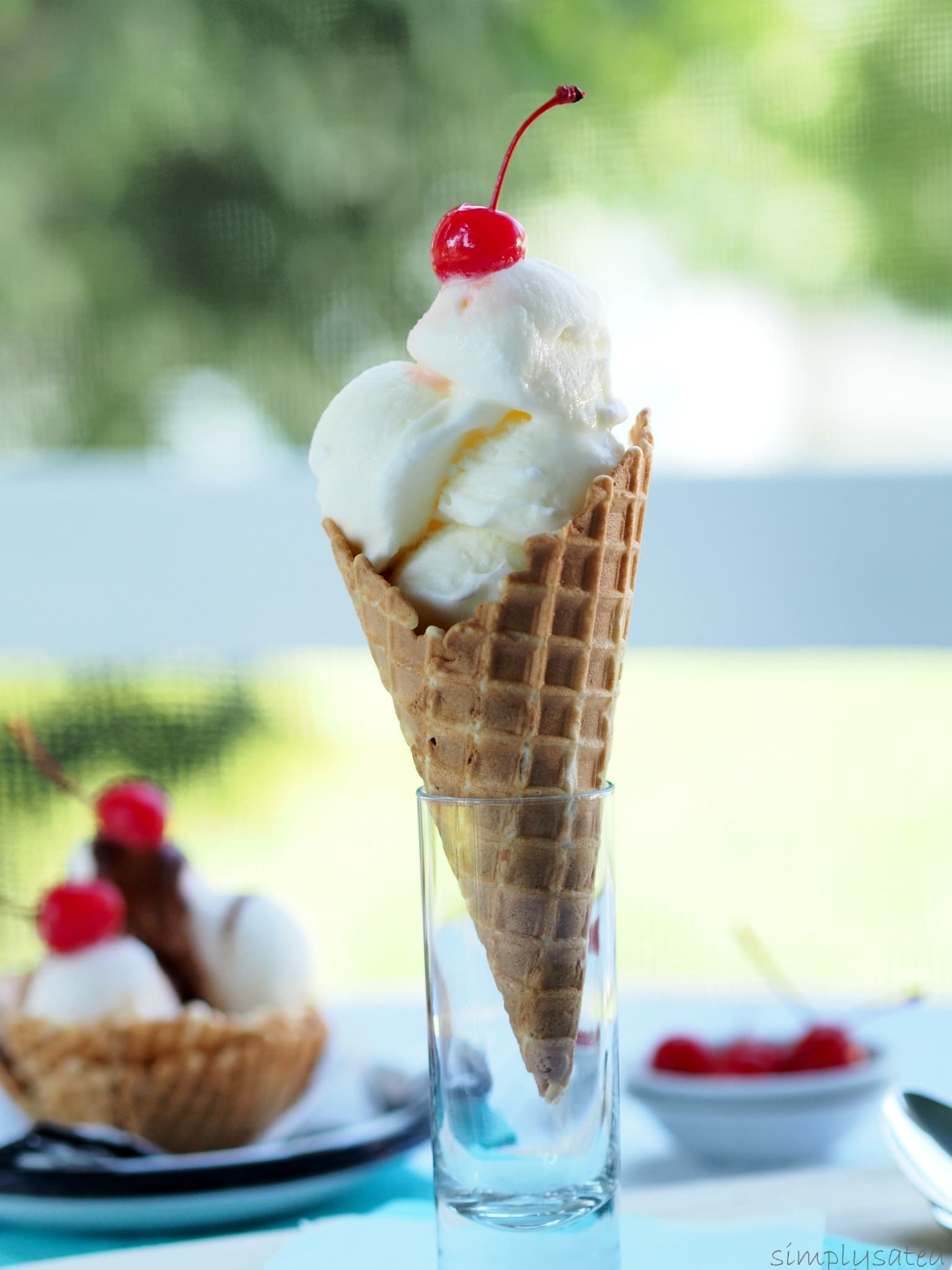 I hope she never finds this out and gets too big for her sugar cone britches.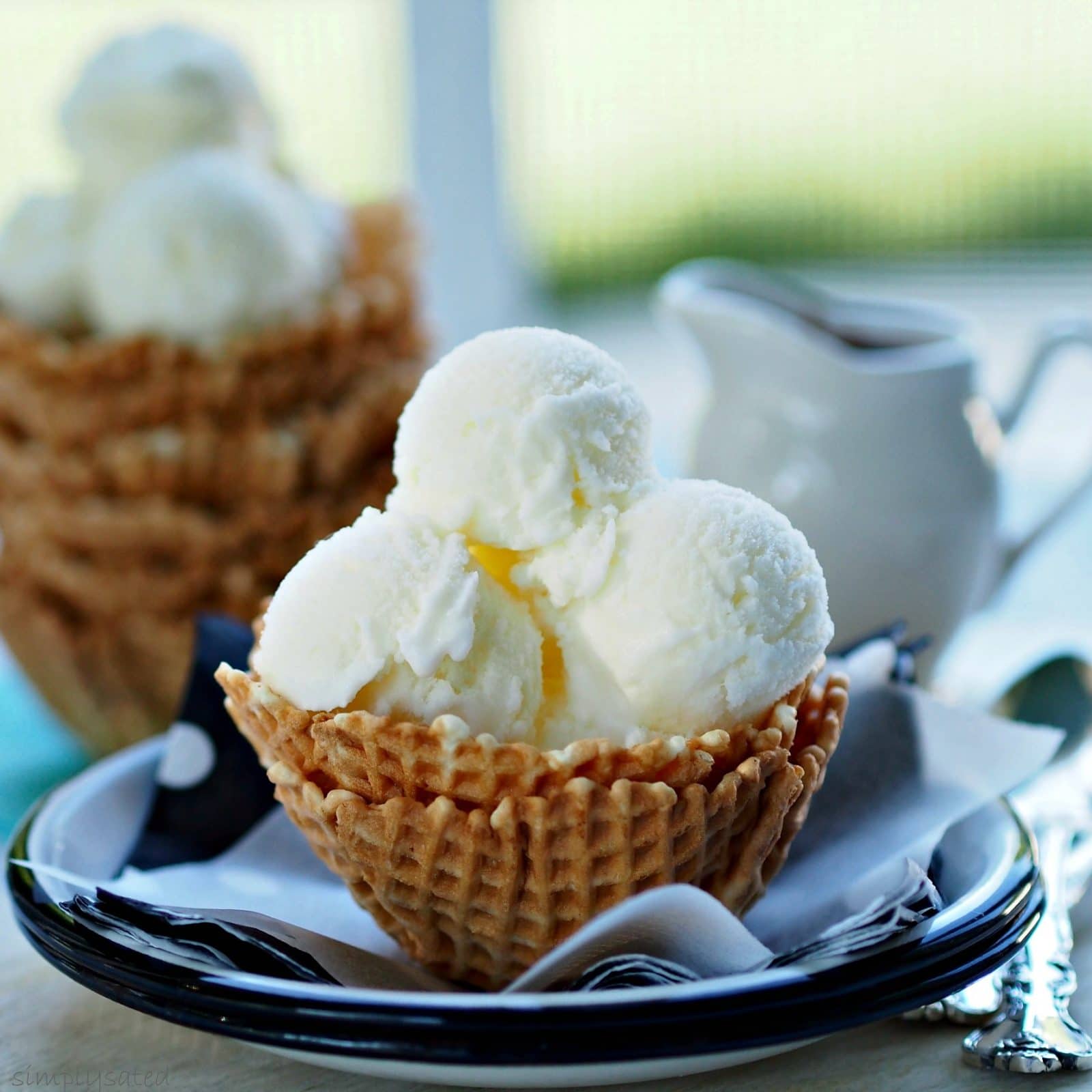 Enjoy!
I end this post with a huge "thank you" to my daughter, The Cookie Rookie, for capturing the beauty of Homemade Vanilla Ice Cream.

Homemade Vanilla Ice Cream
Homemade Vanilla Ice Cream is an easy, no-bake, delicious ice cream.
Ingredients
1 ½

cups

skim milk

1 ½

cups

heavy cream

¾

cup

granulated sugar

1/8

teaspoon

kosher salt

1

tablespoon

pure vanilla extract or vanilla bean paste or why not 1-1/2 teaspoons of each.
Instructions
Read all instructions before proceeding.

These are instructions when using a Cuisinart Ice Cream Maker. If using a different ice cream maker, follow manufacturers directions.

The day before:

Freeze the Cuisinart Ice Cream Maker Freezer Bowl overnight. If it is already in the freezer, proceed to the next step.

The day of:

Combine milk, sugar and salt in a medium bowl and whisk until sugar is dissolved.

Stir in heavy cream and vanilla.

Cover & refrigerate at least one hour or overnight.

When ready to make:

Place the frozen ice cream bowl in the Cuisinart Ice Cream Maker and turn it on.

Pour the ice cream mixture into the Cuisinart frozen freezer bowl.

Let mixture thicken 15-20 minutes.

After 15-20 minutes, the Ice Cream will be thick but maybe not as firm as desired.

Transfer mixture to a freezer container and freeze approximately 2 hours or overnight before serving.