Cranberry Orange Almond Shortbread Cookies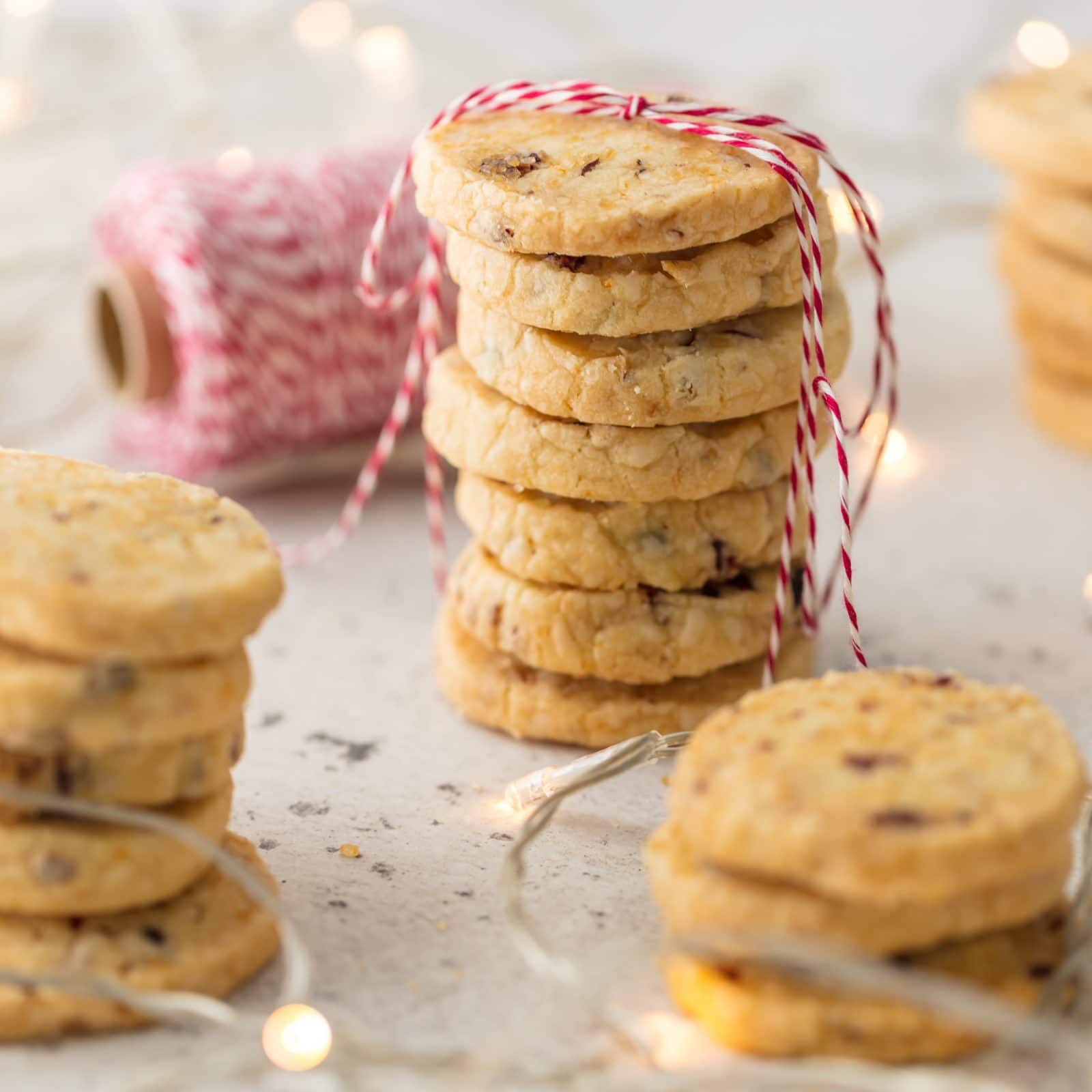 What can one say about Cranberry Orange Almond Shortbread Cookies?
What can one say about the combo of cranberries, orange zest, almond extract all rolled up in an easy to make shortbread cookie dough. Well, I'm here to tell you what to say…GET BUSY!!
I apologize – I don't mean to be pushy, but I NEED to be pushy.
Cranberry Orange Almond Shortbread Cookies are scrumpdilyicious delicious…and they are addictive…so be careful…be very careful…you don't want to make too many at one time…so many there will be leftovers in the house…while you are there…alone. Just sayin'!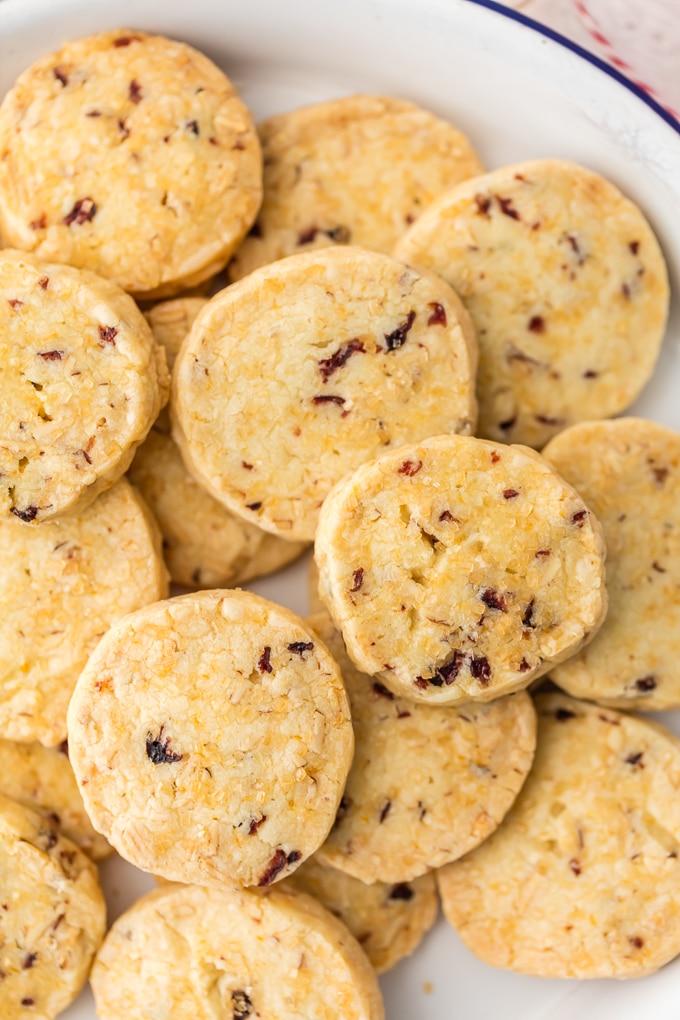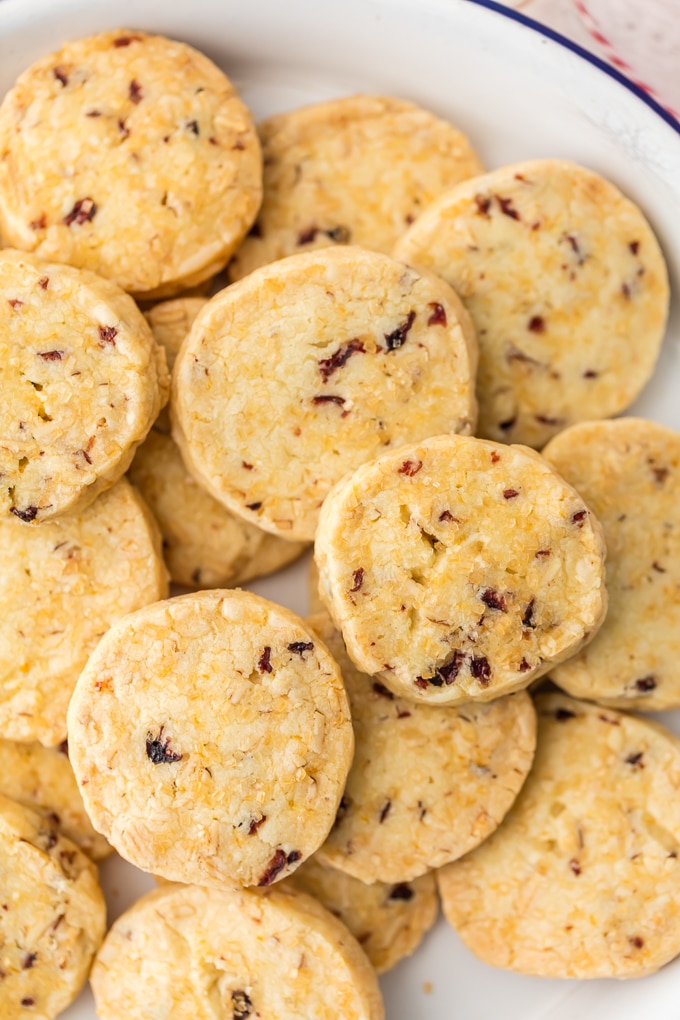 These cookies are one of my all-time favorites.
With that said, I first made them in 2012 (or so). So, I guess I should say they have been one of my all-time favorite cookies since 2012. I first saw this recipe on Martha Stewart website – I think this is the link HERE.
Of course, I gave it my little tweaks, which in my most humble opinion, improved the recipe enormously (sorry Martha). I added coarse sea salt and honey roasted sliced almonds. YUM!!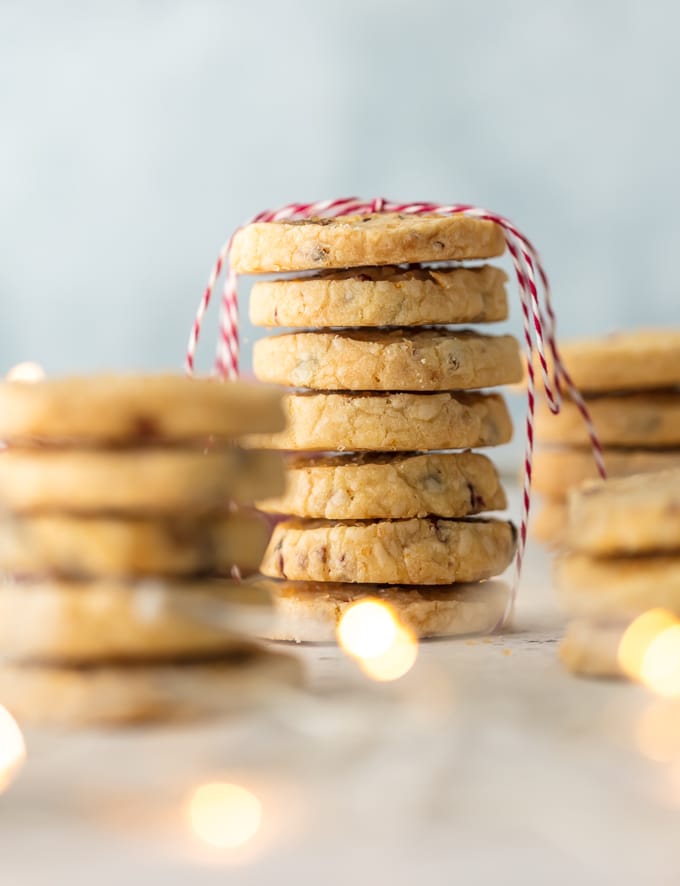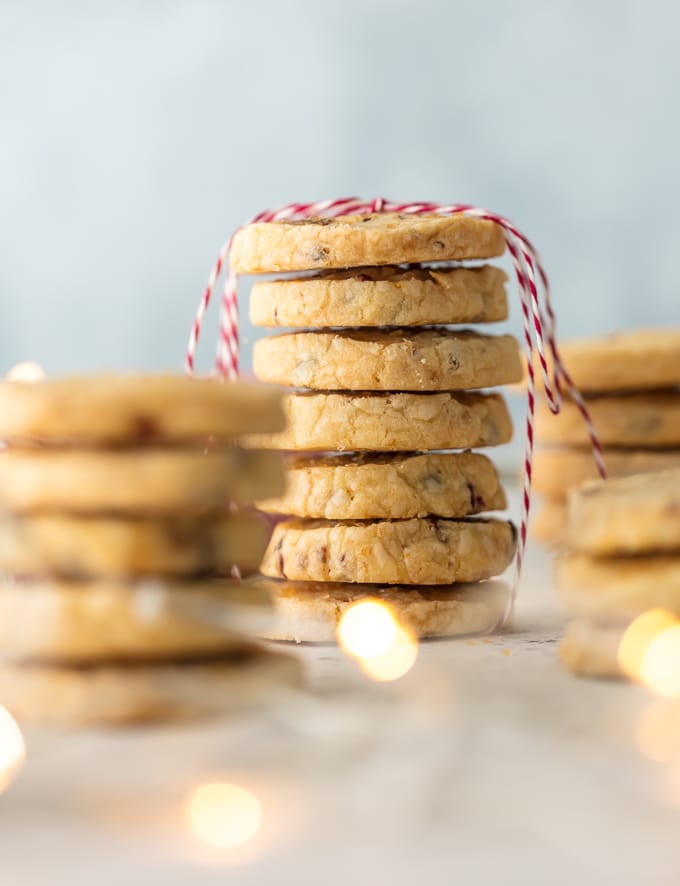 Others have been known to ice Cranberry Orange Almond Shortbread Cookies with a white chocolate glaze.
Believe me, I have been tempted for two reasons. They would look adorable and they would be crazy delicious, but…I am on a diet for Pete's sake.
One of the best things about these cookies is they freeze beautifully, and if you cook them frozen, just add a few minutes in baking. Voila! Within 30 minutes, you will have a perfect almond(y), cranberry(y), orange(y) cookie(y) sweet to satisfy your sweet tooth or serve your guests.
Any-which-way you slice them, Cranberry Orange Almond Shortbread Cookies are easy, darling and superb. You cannot go wrong having these gems just waiting in your freezer when guests drop by or just when you need a sweet treat.
I assure you, you will fall in love, just like I, with these little gems.
Enjoy!
Please take a moment to look around Simply Sated for other holiday favorites:
Rum-Glazed Soft Gingerbread Cookies
A huge shout-out to Becky Hardin (aka: my daughter), The Cookie Rookie for taking these terrific photos.
Please check out her Sherbet Mimosas and Pepper Jelly Hogs in a Blanket. Both recipes will make your next party THE gathering everyone raves over.
Cranberry Orange Almond Shortbread Cookies
Cranberry Orange Almond Shortbread Cookies. Cranberries, oange zest, honey almonds all rolled up in an easy shortbread cookie dough. A perfect sweet treat.
Prep Time
1
hour
15
minutes
Total Time
1
hour
35
minutes
Ingredients
1

cup

unsalted butter

room temperature

1

cup

confectioner's sugar

powdered sugar

¾

teaspoon

almond extract

¼

teaspoon

coarse sea salt

½

teaspoon

table salt

1

tablespoon

orange zest

2

cups

flour

sifted

2/3

cup

Fresh Gourmet Honey Roasted Sliced Almonds

or toasted sliced almonds

1/3

cup

dried cranberries

chopped

Coarse turbinado or raw sugar

optional
Instructions
Preheat oven to 325F.

Line 2-3 baking sheets with parchment paper.

Place butter, confectioner's sugar, almond extract, coarse salt and table salt in the bowl of a stand mixer. Beat 3 minutes on MED-HIGH speed.

Add orange zest and beat 1 minute on MED-HIGH speed.

Add sifted flour, turn mixer to LOW and mix just until flour is incorporated.

Fold in almonds and dried cranberries.

Pat dough into a 1½ -inch diameter log and wrap in plastic wrap.

Freeze dough until firm, at least 1 hour. *See note if wanting to freeze cookies for a later use.

Remove dough from freezer and slice into ¼-inch thick slices.

Place dough on parchment-covered baking sheet 1-inch apart.

Sprinkle with coarse, decorator sugar, if desired

Bake at 325F for 20-25 minutes or until edges turn golden.

Remove cookies from oven and, after 2 minutes, transfer cookies to cooling rack.

Enjoy!
Recipe Notes
At this point, dough can be wrapped in plastic wrap and foil, placed in a freezer bag and frozen for later use. When ready to use, slice and bake as directed. Note - The dough will need to thaw 10 minutes before slicing and an additional 5-10 minutes bake time.
The frozen dough will keep up to 3 months.
*For Orange Chocolate Chip Shortbread Cookies:
Substitute almonds and cranberries for 1-cup mini, semi-sweet chips.
Add ¼ teaspoon orange extract.