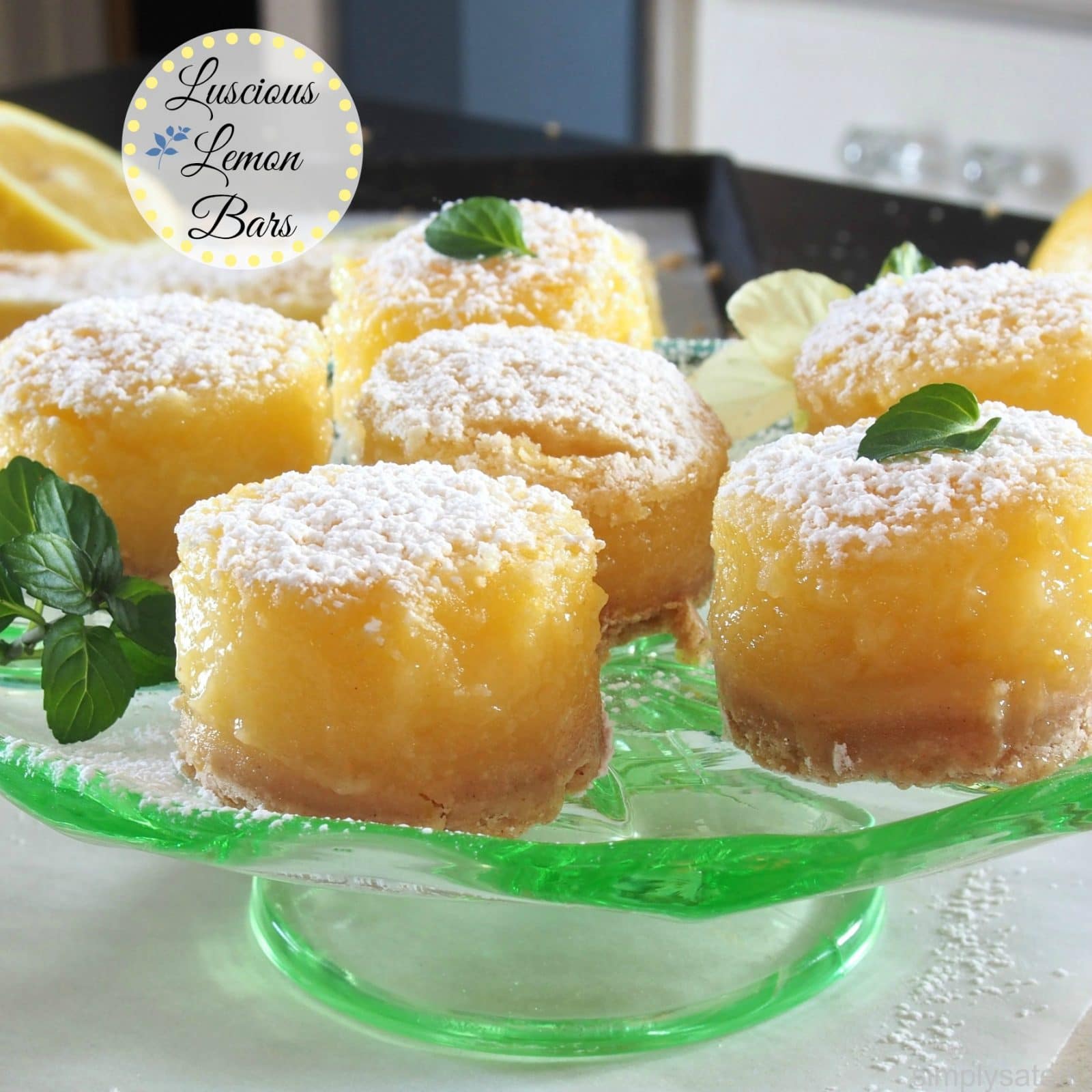 Luscious Lemon Bars.  I have never been a person who jumps out of bed the second the alarm goes off.  You know – THAT person – the one who awakens with a huge grin, hums while opening the blinds to let in the sunshine then skips into the bathroom to take a shower while singing this song at the top of his/her voice.
Zip-A-Dee-Doo-Dah
Zip-a-dee-doo-dah, zip-a-dee-ay
My, oh my, what a wonderful day
Plenty of sunshine headin' my way
Zip-a-dee-doo-dah, zip-a-dee-ay
Mister Bluebird's on my shoulder
It's the truth, it's actual
Ev'rything is satisfactual
Zip-a-dee-doo-dah, zip-a-dee-ay
Wonderful feeling, wonderful day!
(Lyrics by Ray Gilbert
© 1945 Walt Disney Music Company)
No early morning zip-a-dee-doo-dahing for me!!  Mr. Bluebird can wait two hours after I awaken to fly out of my mouth.  As a child, my parents had to draaaaag me out of bed and, at times, resorted to throwing cold water on me so I would get up in time for school.  I don't blame them one bit, and trust me, I had my fair share of payback raining down on me when getting my children out of their own beds every morning.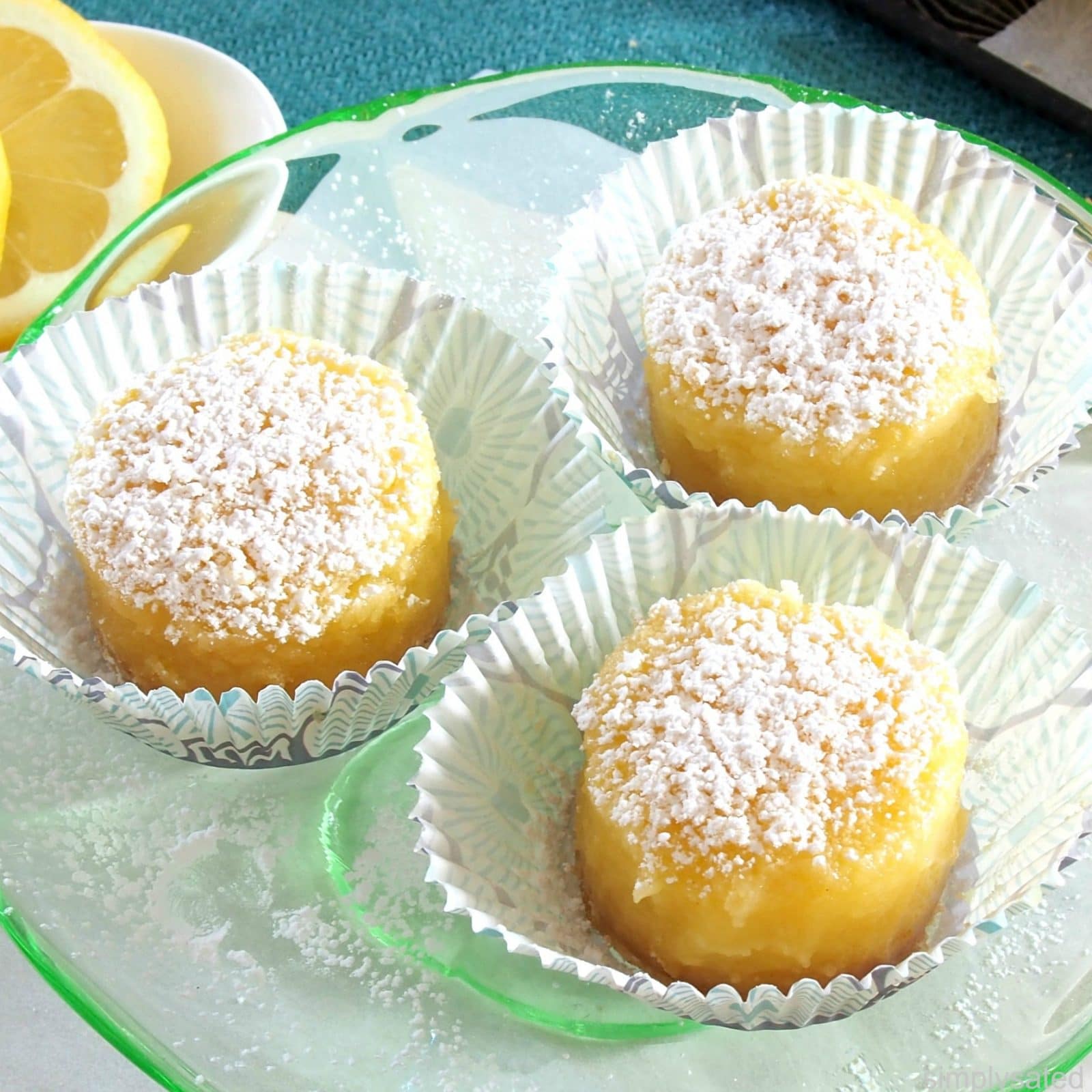 Today?  Today was different.  Today, I knew these beauties were waiting for me in the fridge and I flew out of bed bright and early.  It was almost like Christmas morning.
I ran downstairs and threw open the refrigerator door.  It was as if I was looking at miniature suns with rays of light bouncing off of them right there in my kitchen.  My eyes reflectively squinted.  I took one bite and before I knew what was happening, music surrounded me and I heard these words,
Zip-a-dee-doo-dah, zip-a-dee-ay,
Wonderful feeling, wonderful day!

then I realized the song was coming from my own mouth.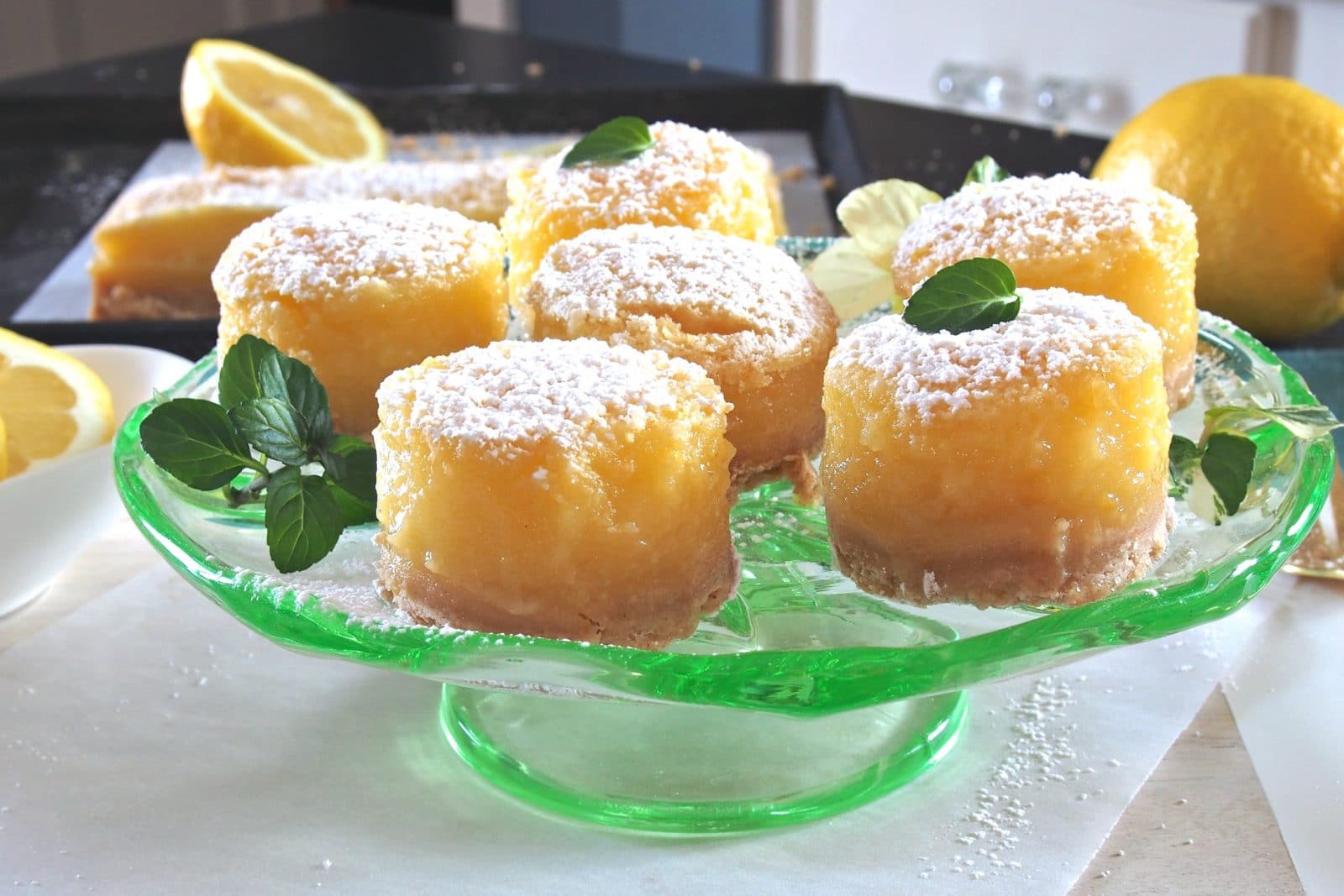 Betty Crocker's Lemon Squares is the first completely homemade dessert I ever made and it holds a special place in my heart.  I now use the recipe I am sharing today since it has more lemon flavor, but I still love Betty Cs.  Whichever you prefer, you can't go wrong.  Luscious Lemon Bars is a top-notch dessert in my cookbook. 
I enjoyed being a morning person today.  Maybe if I make Luscious Lemon Bars more often, I will become one. It's too bad my parents (and I) didn't realize this earlier.
Enjoy and have a Zip-a-Dee-Doo-Dah, Mr. Bluebird type of day!
Recipe Inspiration: Food Network Classic Lemon Bars Recipe
Luscious Lemon Bars
Luscious Lemon Bars - the perfect lemony sweet/tart custard on a shortbread crust. A great traditional dessert.
Total Time
1
hour
20
minutes
Ingredients
For the crust:

12

tablespoons

1 1/2 sticks cold unsalted butter - diced

2

cups

all-purpose flour

1/4

cup

packed light brown sugar

1/2

cup

confectioner's sugar plus more for garnish

1/4

teaspoon

kosher salt

or coarse salt

------------------

For the Filling:

6

large eggs - 4 whole eggs plus two egg yolks

2

cups

granulated sugar

1/3

cup

all-purpose flour - sifted

1

teaspoon

grated lemon zest

approx 1-2 lemons

3/4-1

cup

fresh lemon juice

approx. 8 lemons
Instructions
For the Crust:

Preheat oven to 350F.

Grease a 9x13 inch pan with baking spray or oil.

Line the same pan with aluminum foil, leaving a 2-inch overhang on all sides.

Grease the aluminum foil with cooking spray or oil.

In a food-processor, place the butter, flour, both sugars and salt.

Pulse until the dough comes together and the butter is pea-size.

Press the dough evenly into the prepared pan and about 1/2 inch up the sides. Make sure there are no cracks.

Bake until the crust is golden brown - approx. 25 minutes.

---------------------

For the Filling:

In a medium bowl, place eggs and egg yolks, sugar and flour and whisk until smooth.

Add lemon zest and lemon juice and whisk until incorporated and smooth.

When the crust is finished cooking, remove it from the oven and reduce the temperature to 300F.

Pour the filling over the warm crust and return it to the oven.

Bake until the filling is set. 30-35 minutes at 300F.

Let the bars cool to room temperature in the pan on a cooling rack.

Once at room temperature, place the bars in the fridge until firm, at least 2 hours.

Lift out of the pan using the foil.

Slice into desired sizes or cut into shapes using biscuit cutters.

Dust liberally with confectioner's sugar (powdered sugar) before serving.

Cover and refrigerate leftovers.