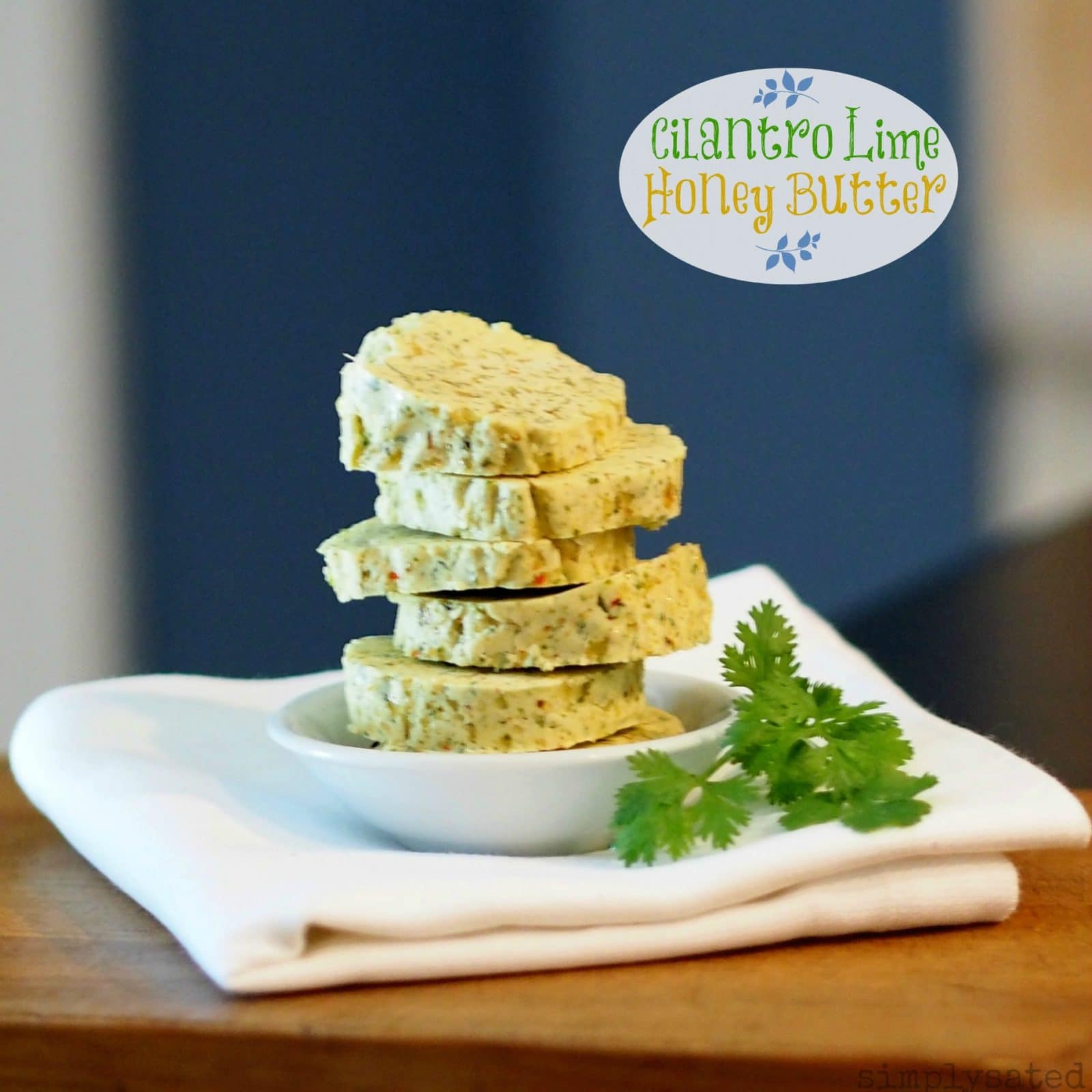 Cilantro Lime Honey Butter isn't a simple old butter.  This is butter that has been infused with other ingredients – cilantro, lime, honey & a chipotle pepper.  It is butter that will be chosen to enhance the flavors of some of your favorite foods such as Grilled Chicken with Cilantro Lime Honey Butter.  This is a compound butter.
I like to think of compound butters as having complex personalities.  You know, like the pale, shy guy down the street who looks like all he does is stay home to stare at C-Span.  In truth, he is much more interesting than he looks.  In truth, he lives for the weekends when he flies to Paris to sell watercolors of nudes next to the River Seine.  Please don't ask me how I know.
Cilantro Lime Honey Butter is kind of like that guy, and is as interesting as its name sounds but subtly so.  No one flavor shouts "Hey!! Taste me, look at me, I'm the best."  They are in this thing together.  They know they have to work together to make their life as interesting as it can be.  One flavor does not outshine the others because they know their job is to complement, not overwhelm, the dish they are creating.
Compound Butter flavor combinations are endless and I look forward to sharing my favorites with you.  Here is a sneak peek of a few favorites: Cincinnati Chili, Blueberry Ginger, Lemon Herb & Indian Spice.  Oh my gosh, I can taste them right now.
Uh-oh!  I would love to tell you more about compound butters but the guy down the street just called.  He said he is going away this weekend to visit his great-aunt Myrtle and asked if I would water his flowers.  I told him "Oui, mais j'ai la moitié de l'argent vous êtes payé pour l'aquarelle de moi. " 
Bon appetit!

Recipe inspiration: McCormick's Lime butter

Cilantro Lime Honey Butter
Cilantro Lime Honey Butter is a compound butter that will enhance many of your favorite dishes: steak, chicken, pork or seafood. This is superb paired with Grilled Chicken (http://www.simplysated.com/grilled-chicken-cilantro-lime-honey-butter/)
Servings
8
-10 pats of butter
Ingredients
1/2

cup

1 stick unsalted butter - room temperature

1

tablespoon

honey

1/2-1

chipotle pepper in adobo sauce – minced

remove seeds if a milder taste is desired

¼

teaspoon

black pepper

pinch

or coarse salt - if using salted butter - do not use

1

tablespoon

fresh lime juice

1

tablespoon

Vidalia or sweet yellow onion – minced

¼

c

fresh cilantro leaves – minced

¼

teaspoon

chili powder

optional
Instructions
Place butter in a mixing bowl and beat on med-high until lighter in color and softened.

Add all other ingredients and beat until incorporated.

On large piece of plastic wrap, roll the butter mixture until it forms a short log.

Tightly roll it in plastic wrap and twist the ends of the plastic wrap. to seal.

Refrigerate or freeze until ready to use.

Makes 1/2 cup or 8 tablespoons of compound butter.

Enjoy!