Butter Toffee Pretzels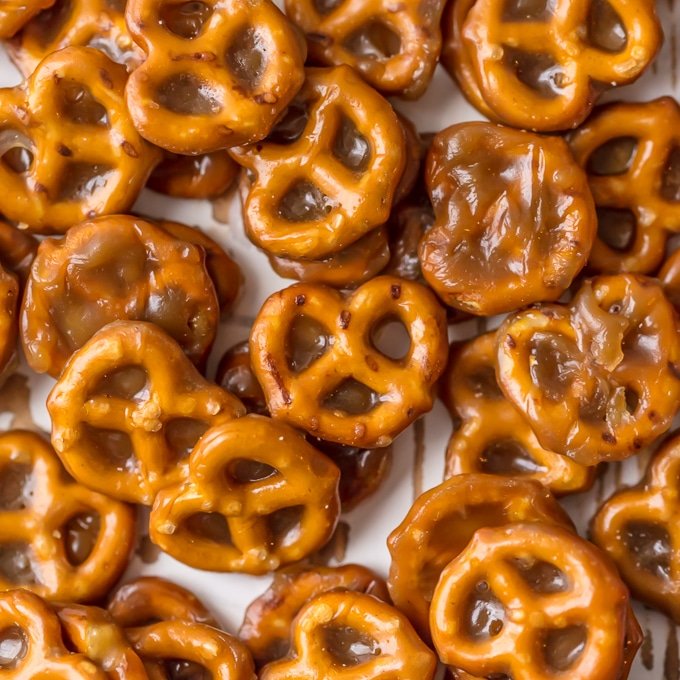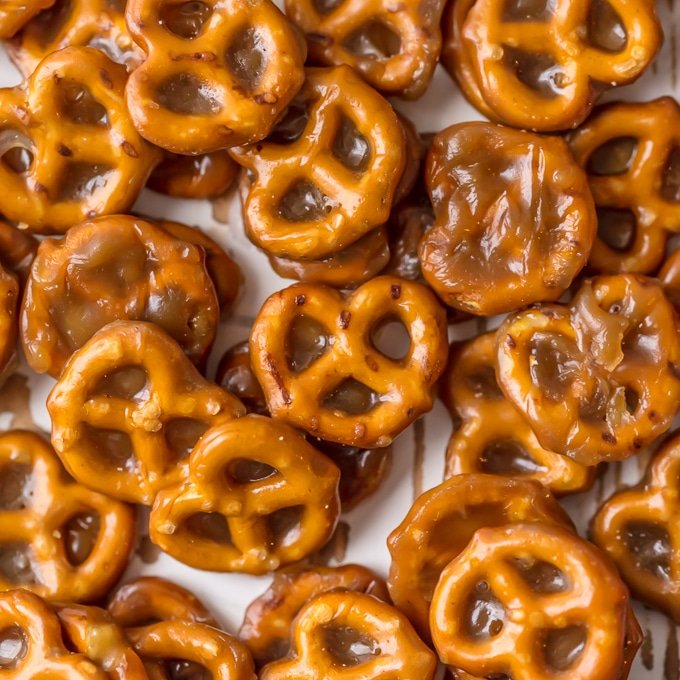 I have racked my brain trying to think of a few words to honor my Butter Toffee Pretzels. All words failed until Sonnet 43 by Elizabeth Barrett Browning came to mind, so of course, I had to write my own version of Mrs. Barrett's sonnet…
 Similar to a Sonnet (No. 1)
Butter Toffee Pretzels
How do I love thee, Butter Toffee Pretzels,
Let me count the ways.
I love thee to the depth and breadth and height
My stomach can stretch,
after I've eaten more than I should of these little mor-zels.
 By: Susie "Barrett Browning" Gall
 …my upmost apology to Elizabeth Barrett Browning for adulterating her most beautiful poems.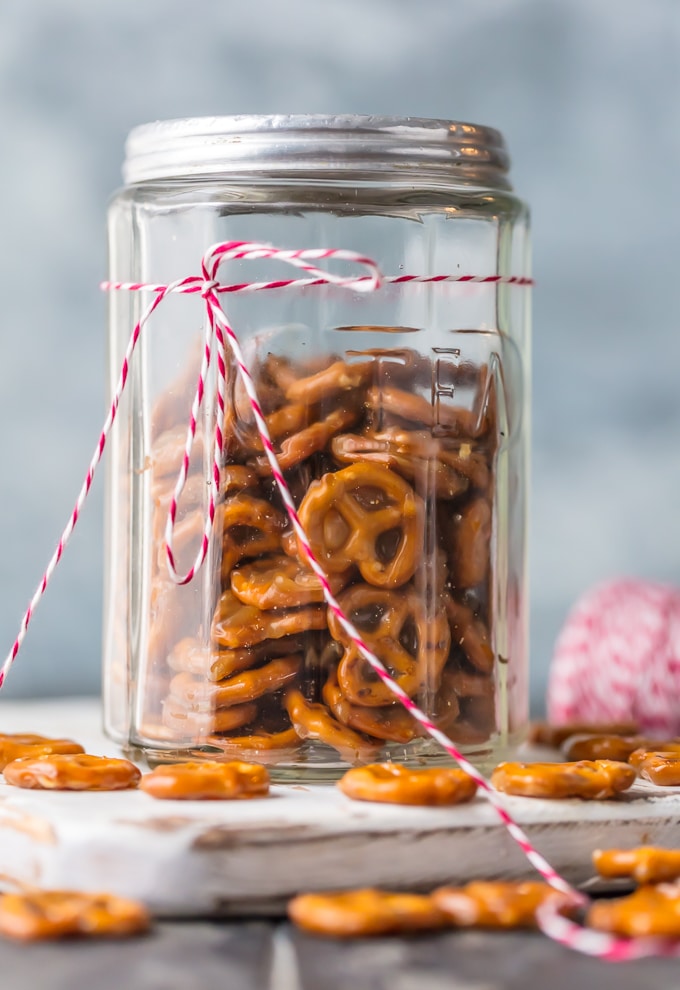 These easy pretzels are just that…easy. They are also a terrific mix of sweet & salty that seems to be my (and everyone else's) favorite food combination these days. "Sweet and salty" is one of my strongest cravings. Thankfully, I can find the remedy to my cravings with Butter Toffee Pretzels, Salted Toffee Oyster Crackers, Salted Caramel Apple Pie and The Cookie Rookie's Sweet & Spicy Bacon Wrapped Tater Tots.
Whew and Yum!!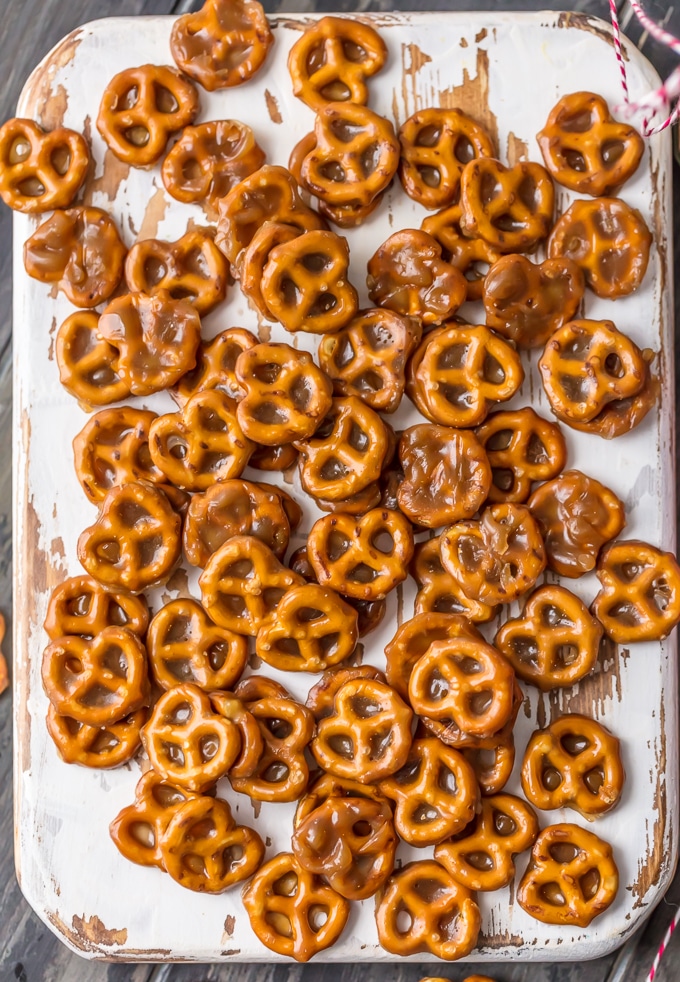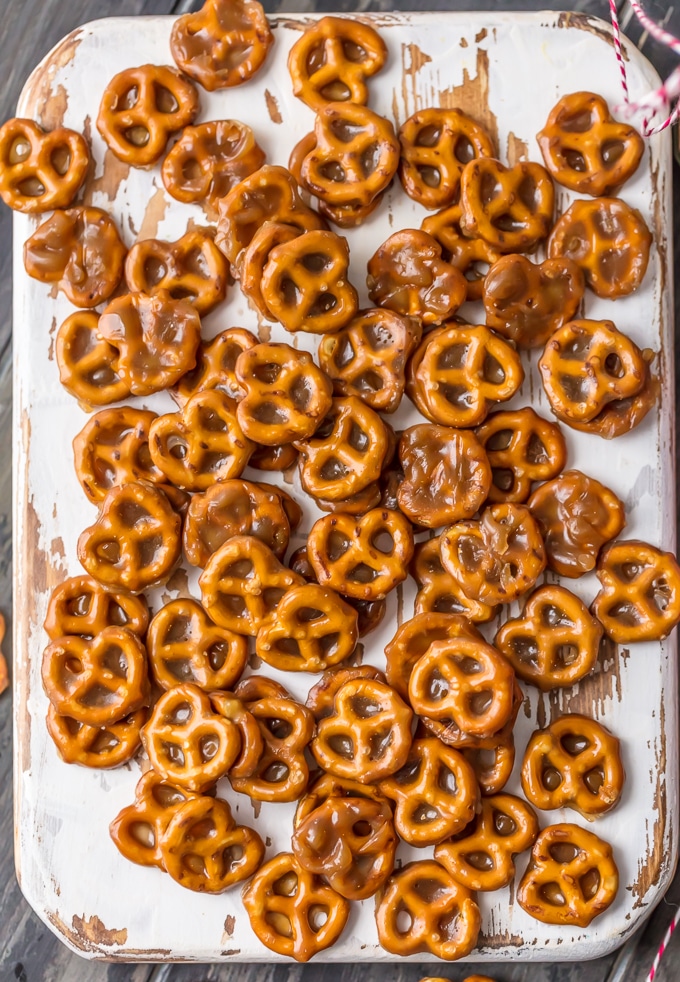 To make Butter Toffee Pretzels, just dip pretzels in a basic butter toffee mixture, fish the pretzels out of the butter toffee, and place them on a cooling rack to dry. Voila! Sweet & salty perfection! The only tricky part is being sure to bring the toffee mixture to 305°F (hard crack) on a candy thermometer. If the temperature doesn't reach the "hard crack" mark, the coating on the pretzels will end up a little sticky.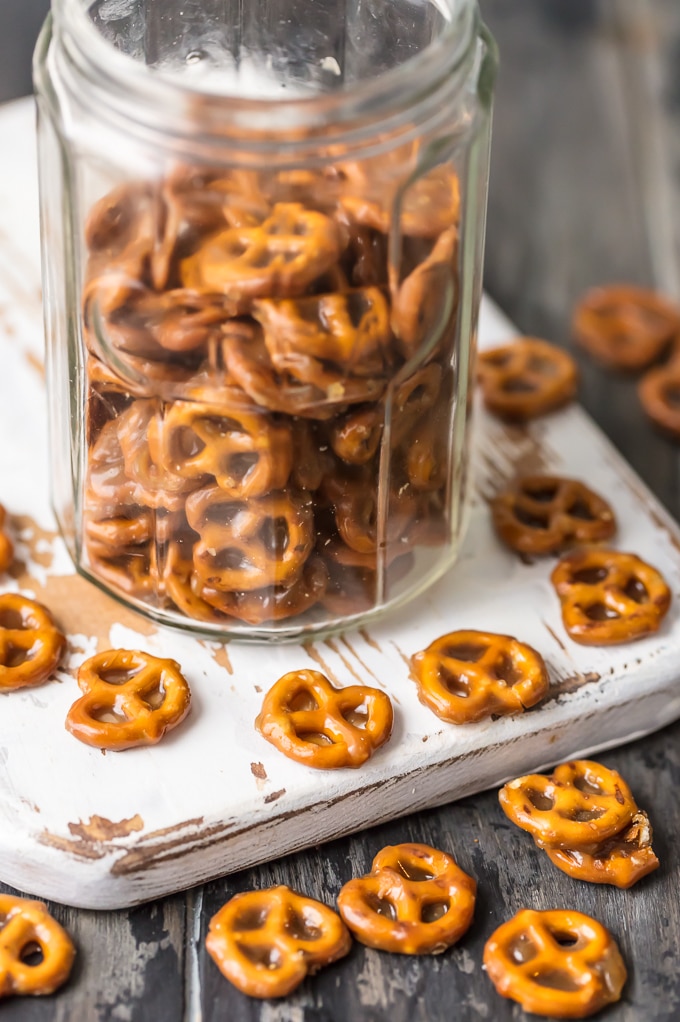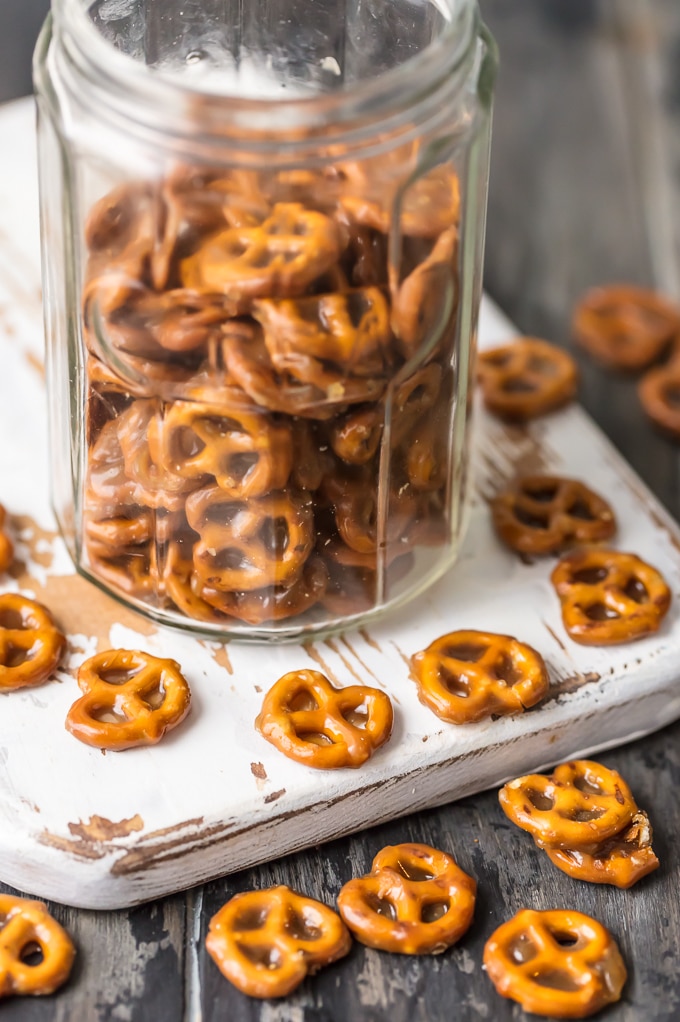 It takes a little patience waiting for the mercury to climb to 305°F on a candy thermometer, so take advantage of the slight pause in your day and study up on Mrs. Browning's most-loved…
How Do I Love Thee, Let Me Count The Ways. (Sonnet 43)
How do I love thee? Let me count the ways.
I love thee to the depth and breadth and height
My soul can reach, when feeling out of sight
For the ends of Being and ideal Grace.
I love thee to the level of everyday's
Most quiet need, by sun and candle-light.
I love thee freely, as men strive for Right;
I love thee purely, as they turn from Praise.
I love thee with the passion put to use
In my old griefs, and with my childhood's faith.
I love thee with a love I seemed to lose
With my lost saints – I love thee with the breath,
Smiles, tears, of all my life! – and, if God choose,
I shall but love thee better after death.
After reading this beautiful sonnet again, I can (somewhat) honestly say it describes my love for Butter Toffee Pretzels perfectly:–)
 Once again, your photography showcases my creations beautifully.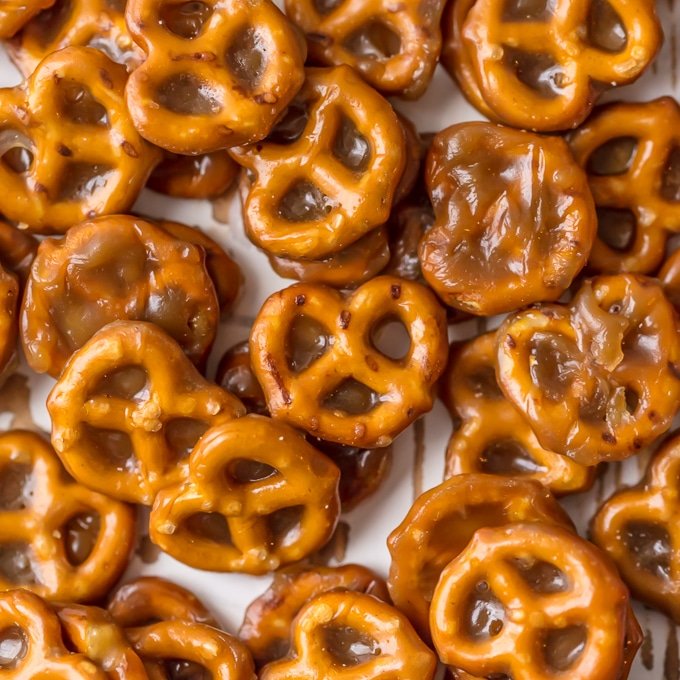 Butter Toffee Pretzels
Butter Toffee Pretzels. Mini pretzels dipped in butter toffee. The perfect sweet & salty treat to satisfy everyone's sweet & salty craving. Easy & addicting
Ingredients
4

cups

miniature pretzel twists

1

cup

unsalted butter

1

cup

granulated sugar

2

tablespoons

water

½

teaspoon

coarse salt

1/2

teaspoon

vanilla extract
Instructions
Heat oven to 200°F and cover a baking sheet with foil. Place a cooling rack over the pan, and spray the rack with nonstick cooking spray. Set aside.

In a medium heavy saucepan, melt the butter, sugar, water and salt over MED-LOW heat. Stir often with a wooden spoon.

Bring the mixture to a boil and turn the heat down to MED-LOW. Bring the mixture to 305°F, remove from the heat and stir in the vanilla.

Working quickly, pour the pretzels into the toffee mixture and stir. Transfer the pretzels, a few at a time (with a toothpick or fork) to the prepared cooling rack/baking tray, laying them side-by-side without touching.

Bake at 200°F for 20-30 minutes to dry out the pretzels and to ensure they won't be sticky. Transfer the pretzels to a cooling rack to completely cool.

Once the toffee pretzels have cooled. Allow the pretzels to sit uncovered, overnight, on the counter. Keep in an airtight jar or bowl.

The pretzels will stay fresh up to 3 weeks.

Enjoy!
Recipe Notes
A candy thermometer is necessary for making this recipe.