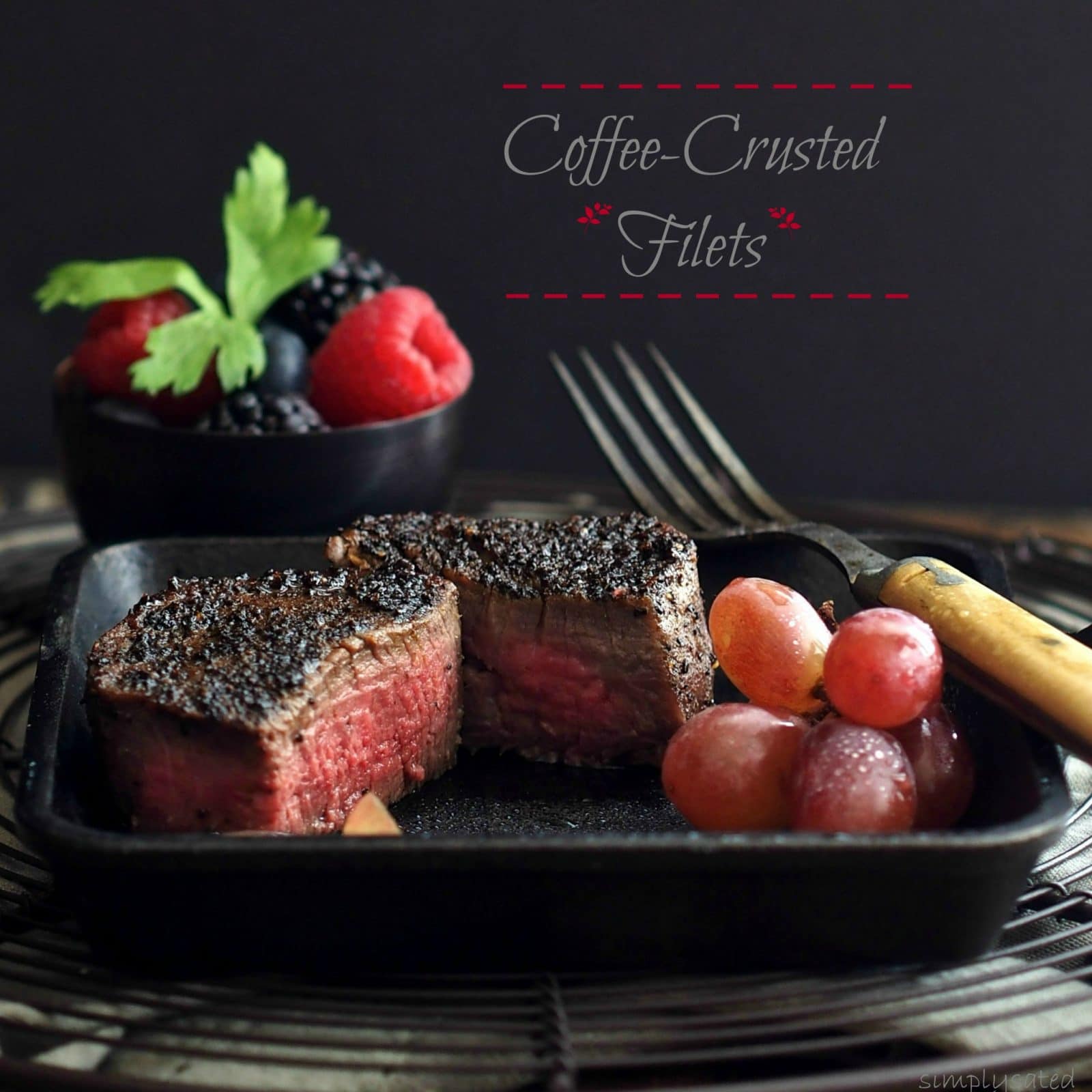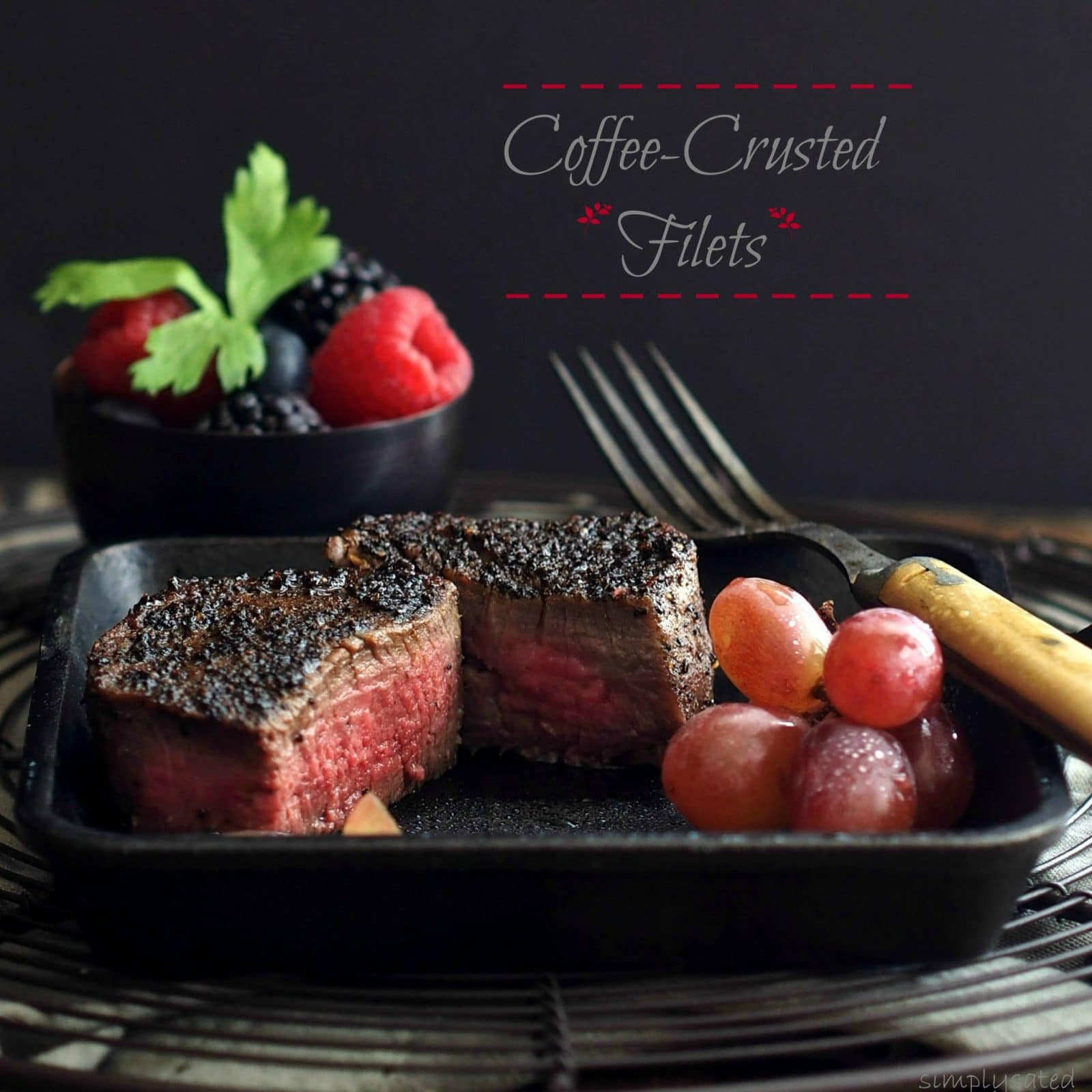 Coffee-Crusted Steak.
Did you ever in your lifetime think of rubbing coffee granules all over a gorgeous filet? Me neither! The thought never entered my mind until I came across a recipe last summer from Southern Living for Coffee-Rubbed Skirt Steak.
At first I wasn't sure I would like the combination of coffee and steak, but the more I thought about it; I knew it was worth testing, and my version of Coffee-Crusted Steak was born.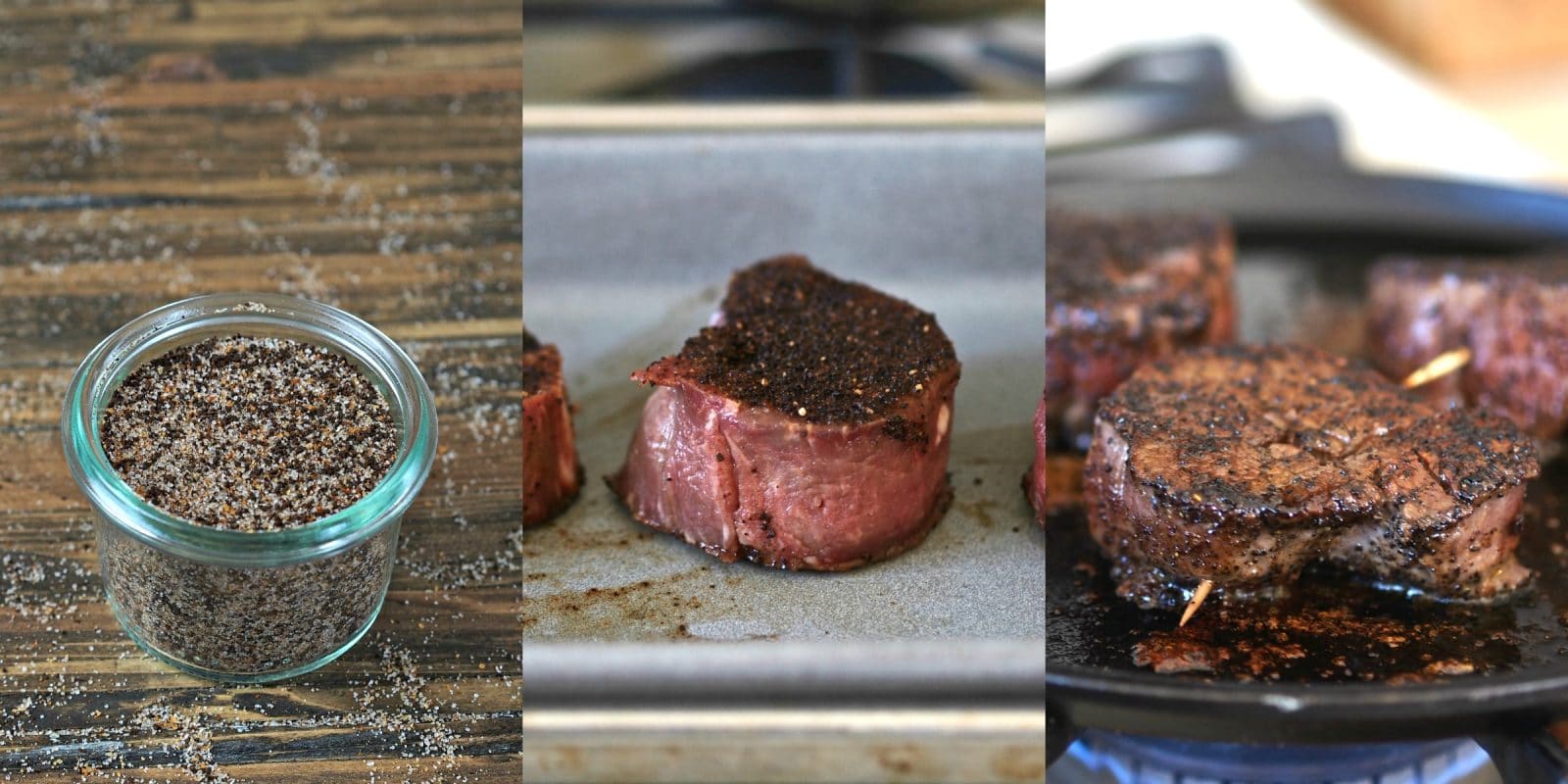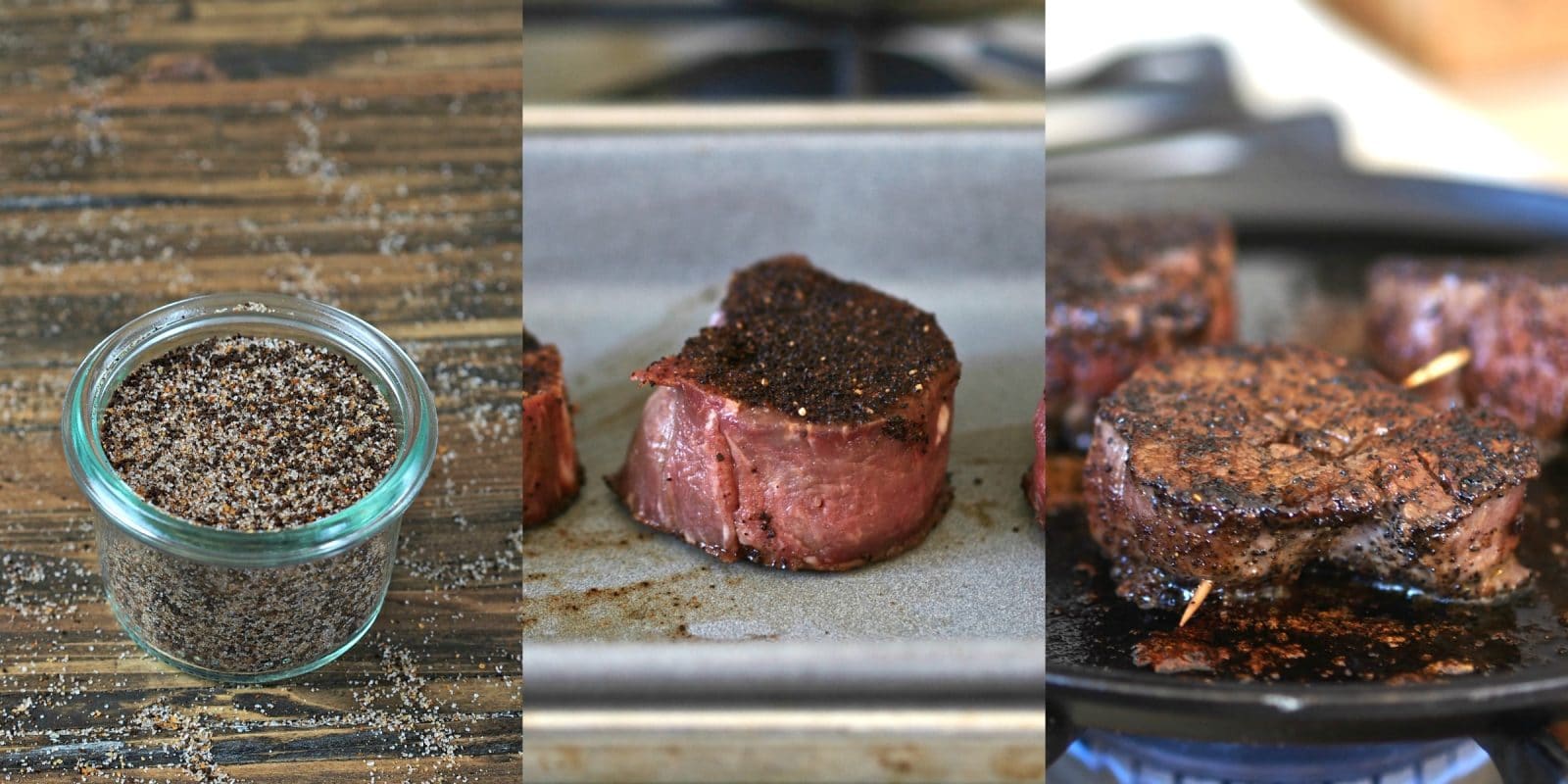 Coffee has become a favorite ingredient added to all types of dishes: cakes, ice cream, nuts, cocktails, poultry and the list goes on. I love coffee and I love steak, so what could be worse than trying? Not trying!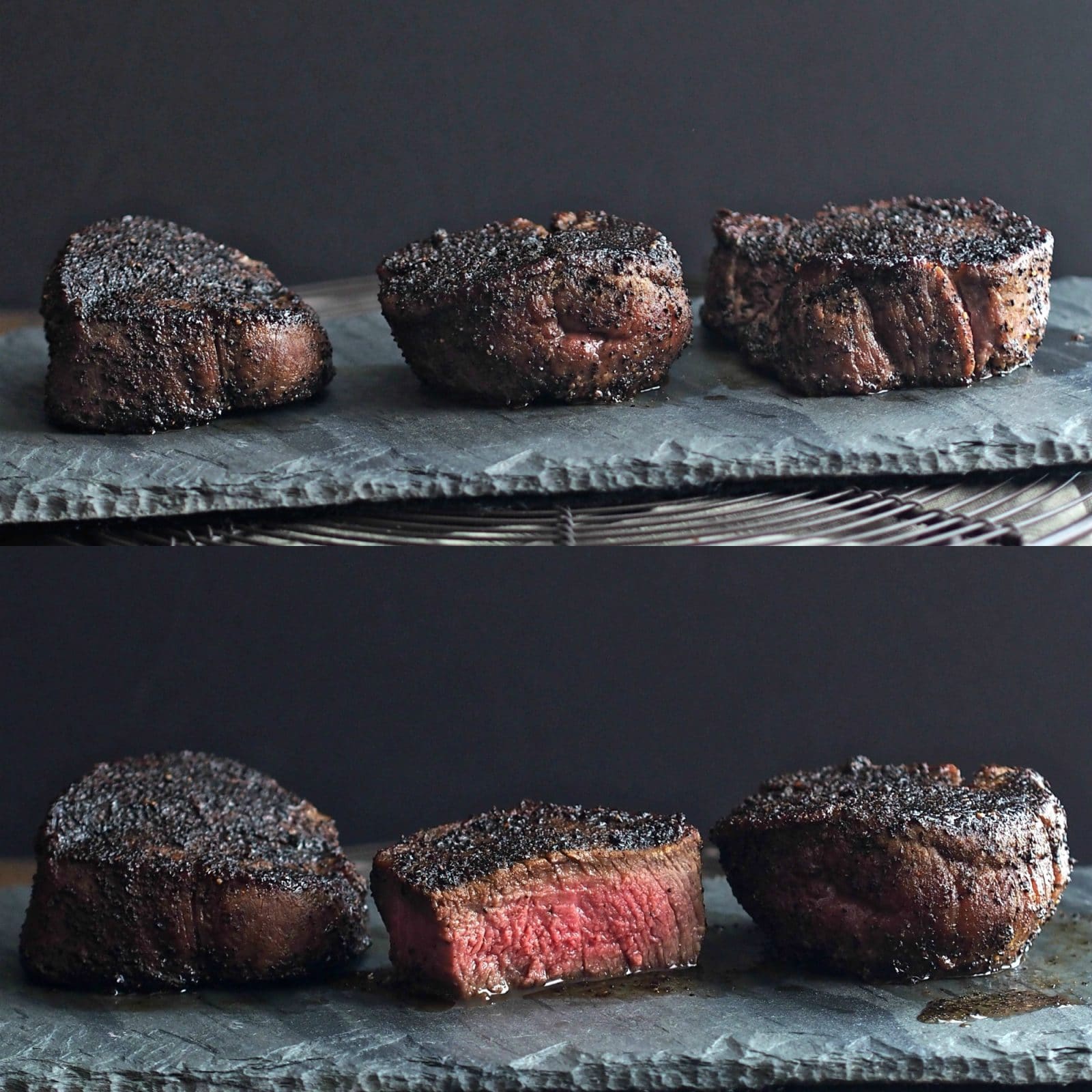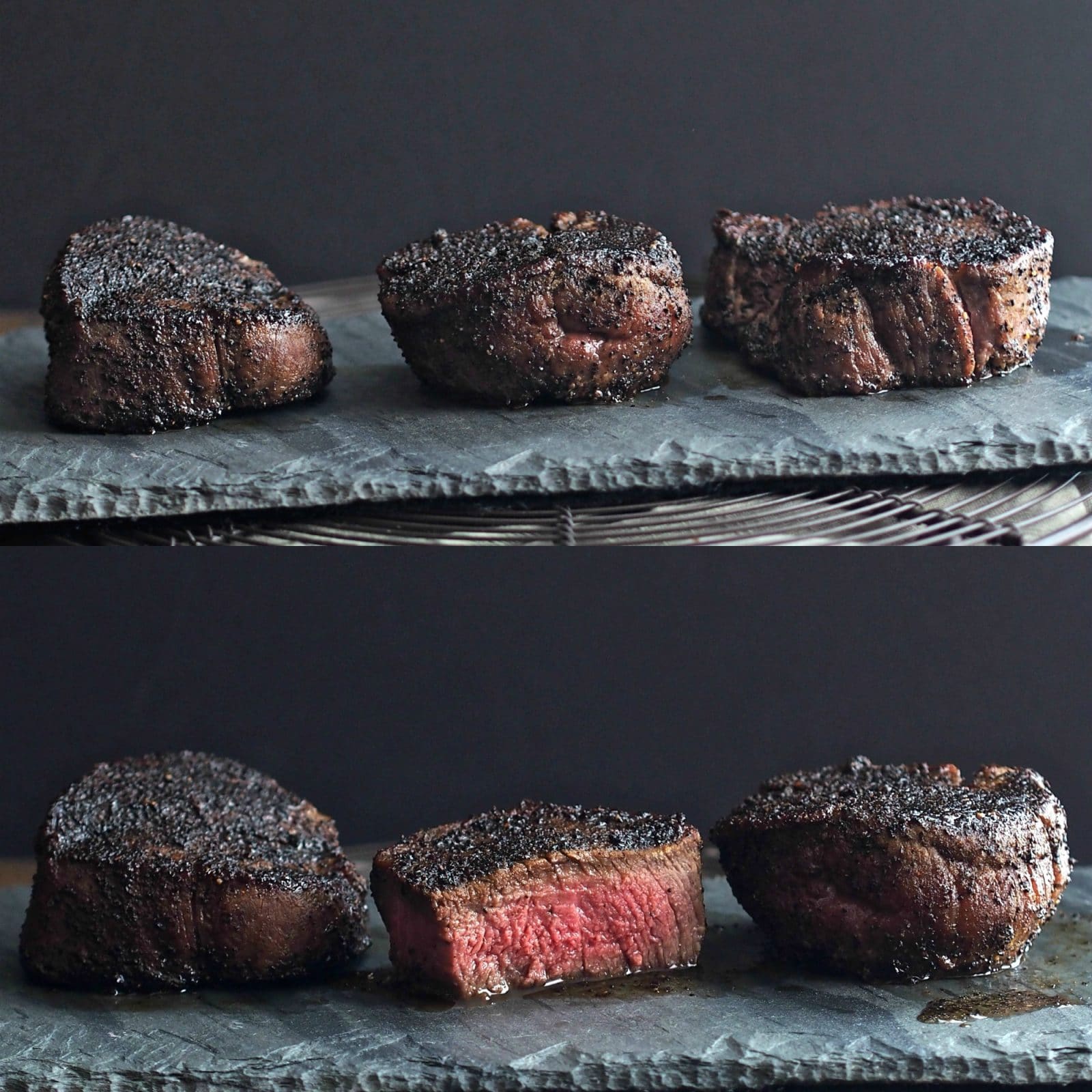 I have been rewarded often and disappointed rarely when it comes to my adventurous streak concerning cooking. This is one more time my efforts were rewarded, and Coffee-Crusted Steak turned out to be one of the best steaks I have ever eaten. While cooking, the coffee and the juices from the steak formed a crust around the steak and the result was delectable.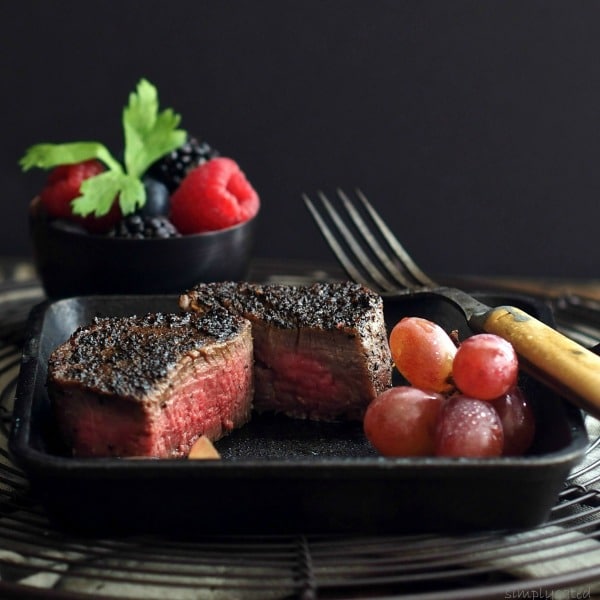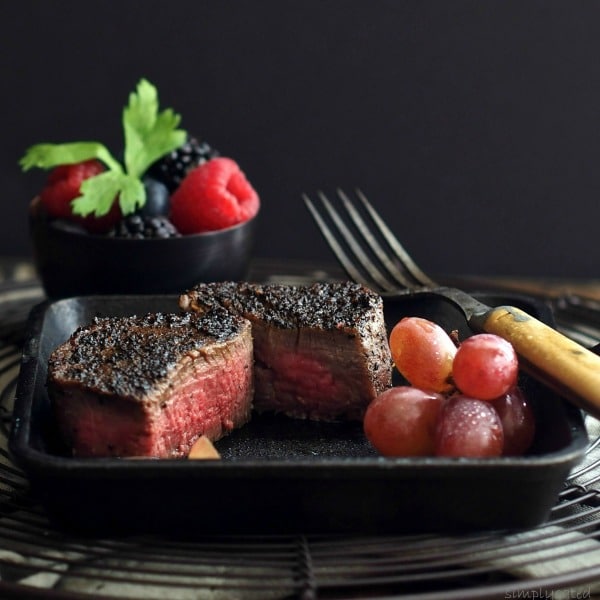 Coffee-Crusted Steak is fantastic without sauce, but if you really want to impress your Valentine (and I know you do), go the extra mile and make the Brandy Peppercorn Sauce with Parmesan to serve on the side. The leftovers can be saved to use elsewhere if nobody licks the bowl clean.
So, it's time to get out the coffee and to get out the steaks and to give your Valentine and yourself a treat.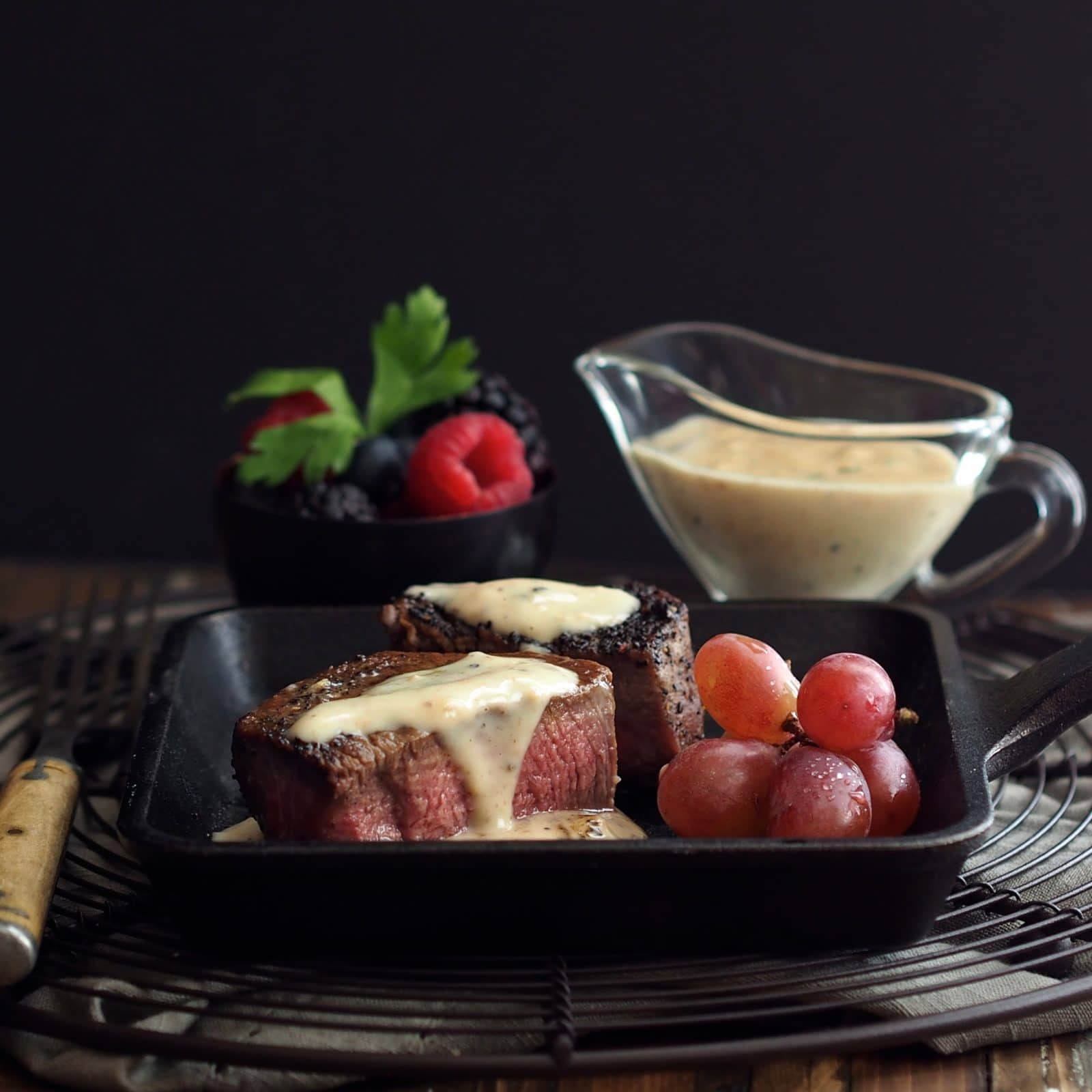 Enjoy!
PS.  My husband and I have made Coffee-Crusted Steaks several times and using two cooking methods. We have grilled them and pan-seared (as in this recipe). Both techniques work well, but I do think pan-searing works the very best for this recipe.

Coffee-Crusted Steak
Coffee-Crusted Steak - the best steak you will ever eat. Seasoned with coffee, sugar, salt, pepper & smoky paprika; pan-seared & oven-cooked to perfection.
Ingredients
4

5-ounce or 8-ounce filet mignon

2

tablespoons

olive oil

--------------------

For the Coffee Seasoning Salt:

1

tablespoon

coarsely-cracked black peppercorns

freshly ground

2

tablespoons

Smoky Paprika

½

cup

Lowry's Seasoned Salt or equivalent

½

cup

granulated sugar

if using a darker roast coffee, add an extra ¼ cup granulated sugar

½

cup

coffee granules

finely ground

--------------------

For the Brandy Peppercorn Sauce with Parmesan – optional

but oh-so-good: (http://www.simplysated.com/brandy-peppercorn-sauce-parmesan/ )
Instructions
One hour before cooking, take the steaks out of the refrigerator and pat dry with a paper towel.

Brush both sides of steak with olive oil.

Sprinkle both sides of steaks with 2 teaspoons Coffee Seasoning Salt and rub the mixture into the steaks.

Set steaks aside to warm to room temperature approximately 1 hour.

While steaks are resting, make the Brandy Peppercorn Sauce (if using).

Preheat oven to 400F.

After steaks are at room temperature, lightly sprinkle both sides of the steaks with coffee seasoning salt.

Heat a cast iron pan over high heat.

Place 1-tablespoon olive oil in the hot pan and place the steaks in the pan.

Sear the steaks 2-3 minutes without lifting or moving them or until crusty and brown. Flip the steaks over and cook them another 2-3 minutes or until they have a nice sear.

Transfer the cast iron skillet with the steaks to the hot oven and cook the steaks until medium-rare (130F internal temperature) or to your liking. Check the steaks internal temperature after 2 minutes, then every minute until they reach the desired temperature.

I prefer steaks to be cooked to medium (135F internal temperature). *Remember the meat will continue cooking after it is removed from the heat source.)

Remove the steaks from the pan, set them aside covered with a foil-tent to rest 5 minutes before serving.

-----------------------------

If using Brandy Peppercorn Sauce:

After the steaks have cooked and while the steaks rest, de-glaze the pan with ¼ brandy, bring to a boil and cook a few minutes then add this mixture to the Brandy Peppercorn Sauce with Parmesan. Stir the sauce over medium heat until the pan de-glazed pan drippings are incorporated into the sauce.

Serve the steaks with the sauce on the side to allow each person to add their own.

Enjoy!