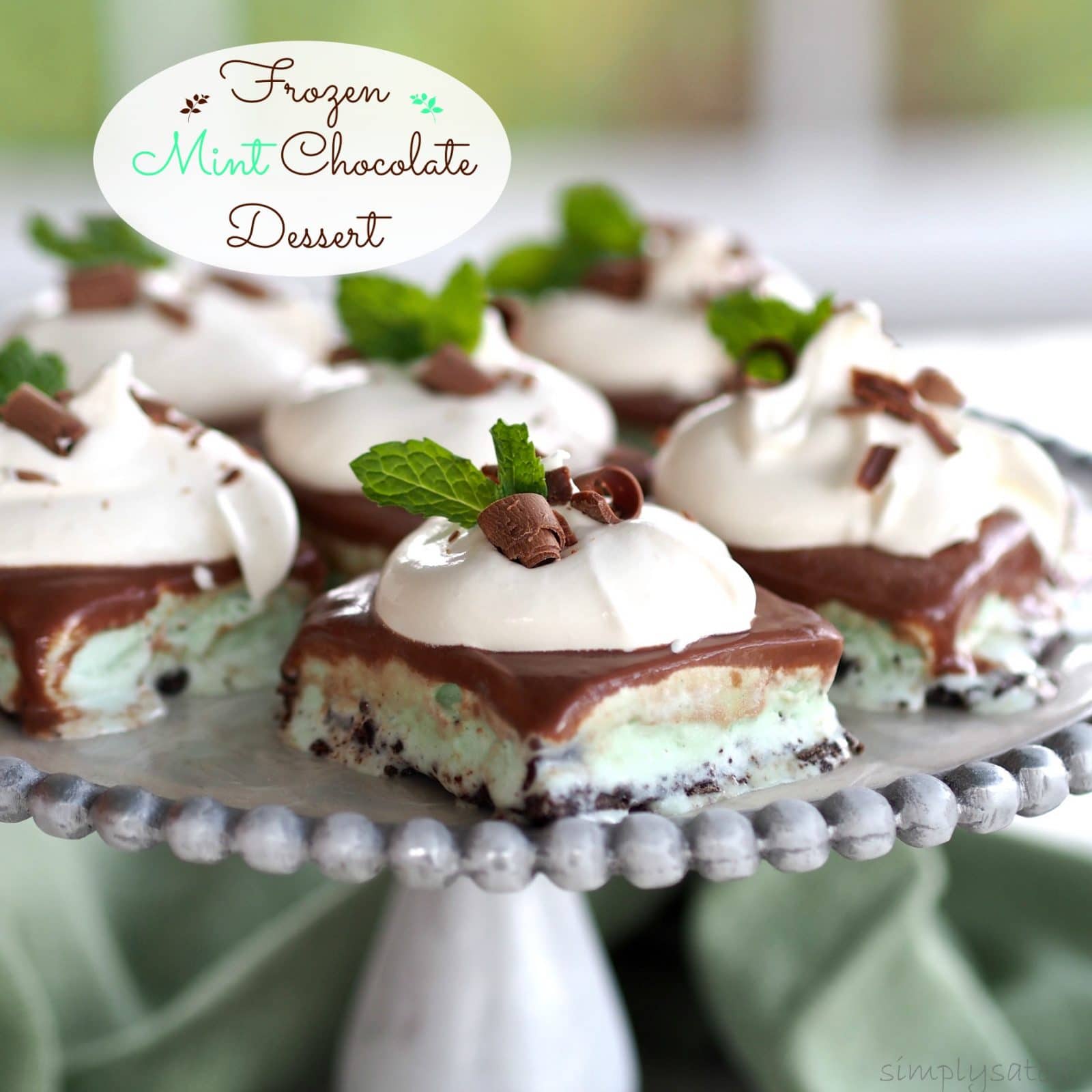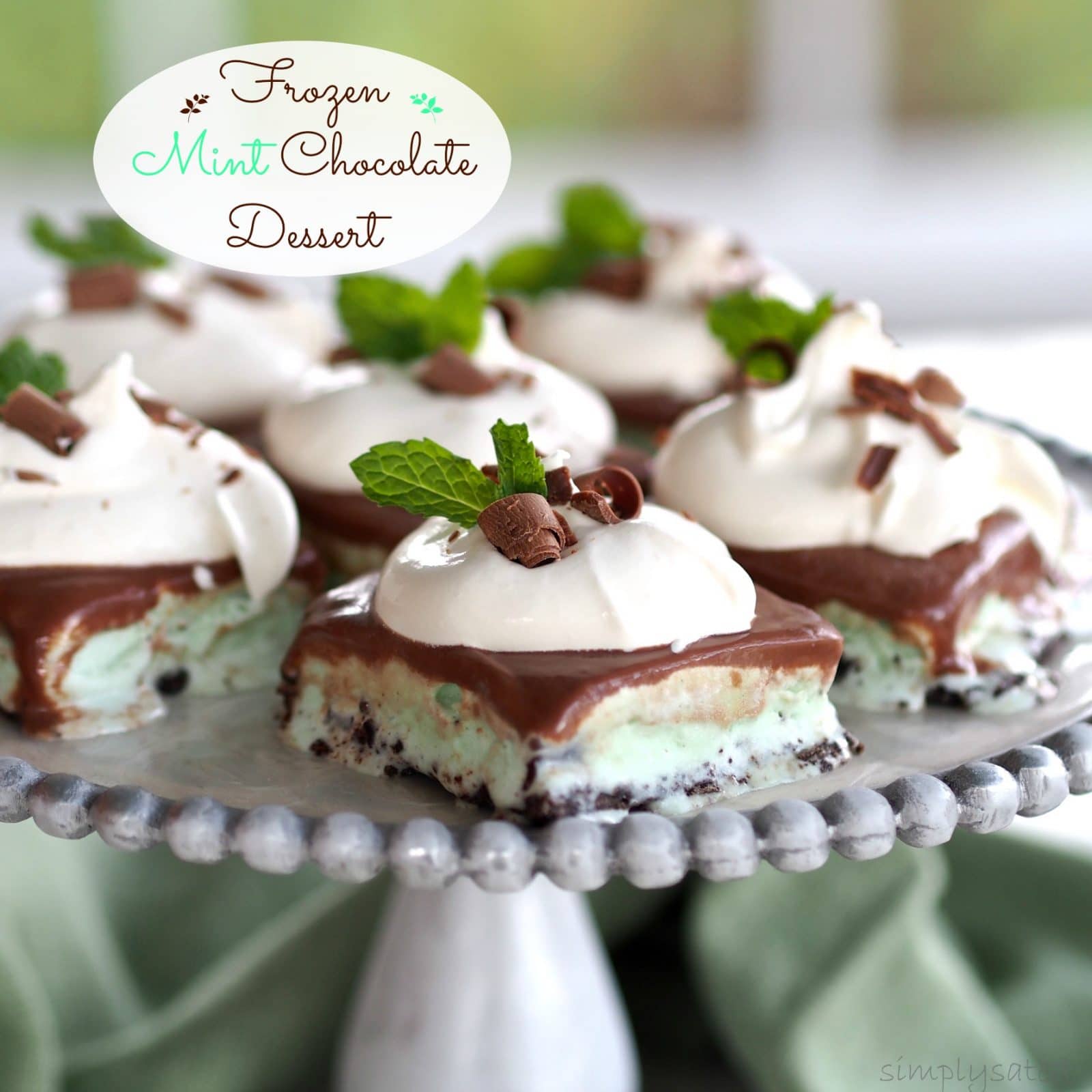 Frozen Mint Chocolate Dessert
Here you go sweet Anna.  I know how much you love this dessert.
What is it about mint; is it the cooling effect, the taste or the scent? Well, of course, it is the combination of all three that creates that oh-so-refreshing lift, and just when you need it most, it can help out in a pinch.
"Ode to Mint"
Oh mint,
How I love you so.
Did the guy with the bad breath
Get the hint
When I stuck in his mouth
A peppermint?
     By Susie Gall
Mint, by itself, can be crazy good but why stop there? We might as well "double our pleasure, double our fun" and invite chocolate to this party.
Let's start with a layer of crushed Oreos and butter. I know we could stop right there, but would that warrant all this attention? Okay then. Next, we'll add a layer of mint-chocolate chip ice cream then cover that with scrumptious fudge sauce. Hold your horses there, Sundance, we aren't quite finished. Now, pile on the whipped topping of your choice and, to make it even more beautiful, sprinkle on some shaved chocolate. Now – for that last step, the "WOW" factor step; crown each serving with a cute, little mint leaf or two.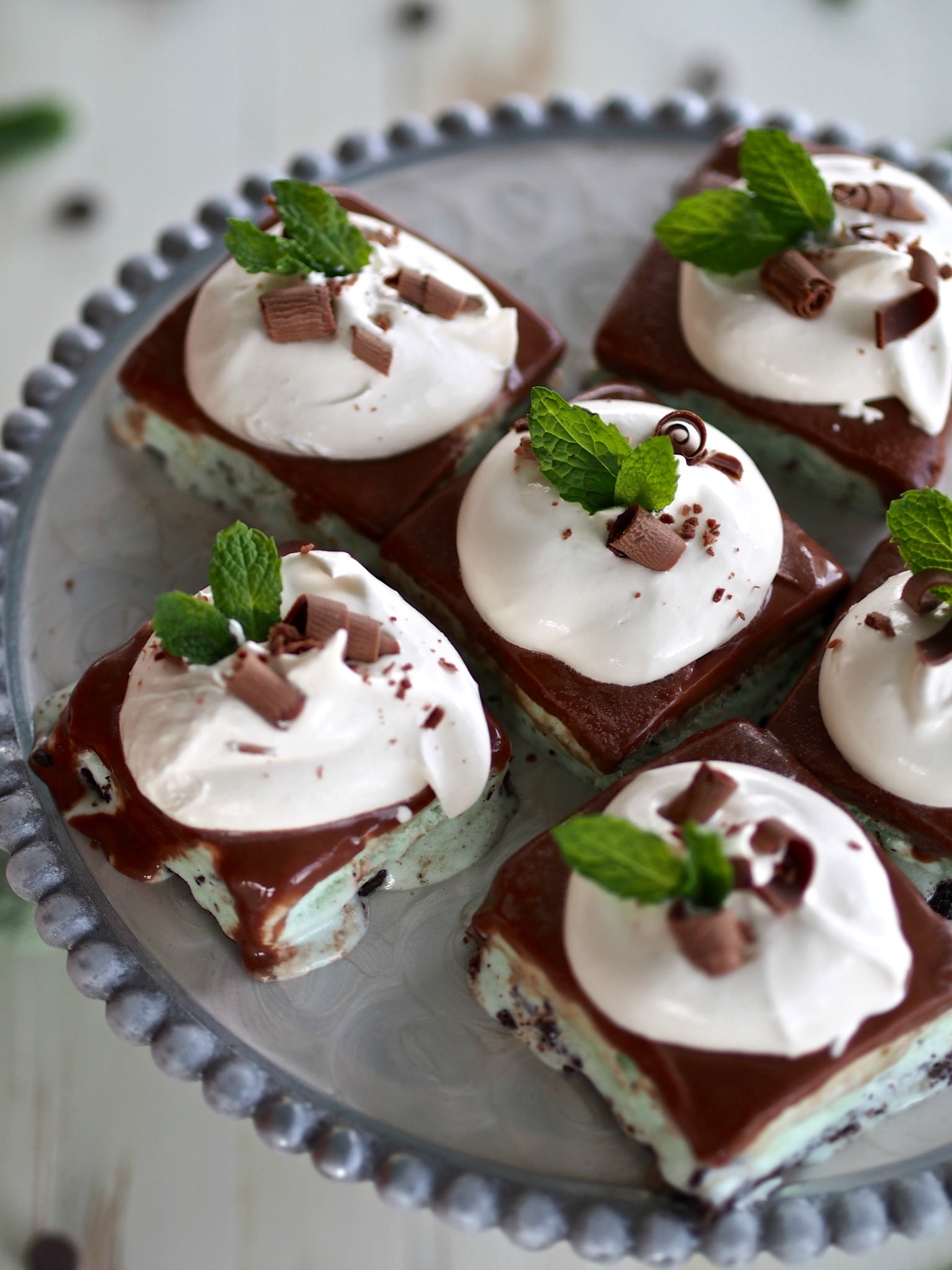 Now, that is what I'm talking about!!
Chocolate and mint is one of the best flavor combinations known to man and Frozen Mint Chocolate Dessert won't disappoint. It will put pep-in-your-step, up-in-your-down and add a smile-to-your-style.
When you take your first bite, you just might feel like you have taken one-step closer to the glory land.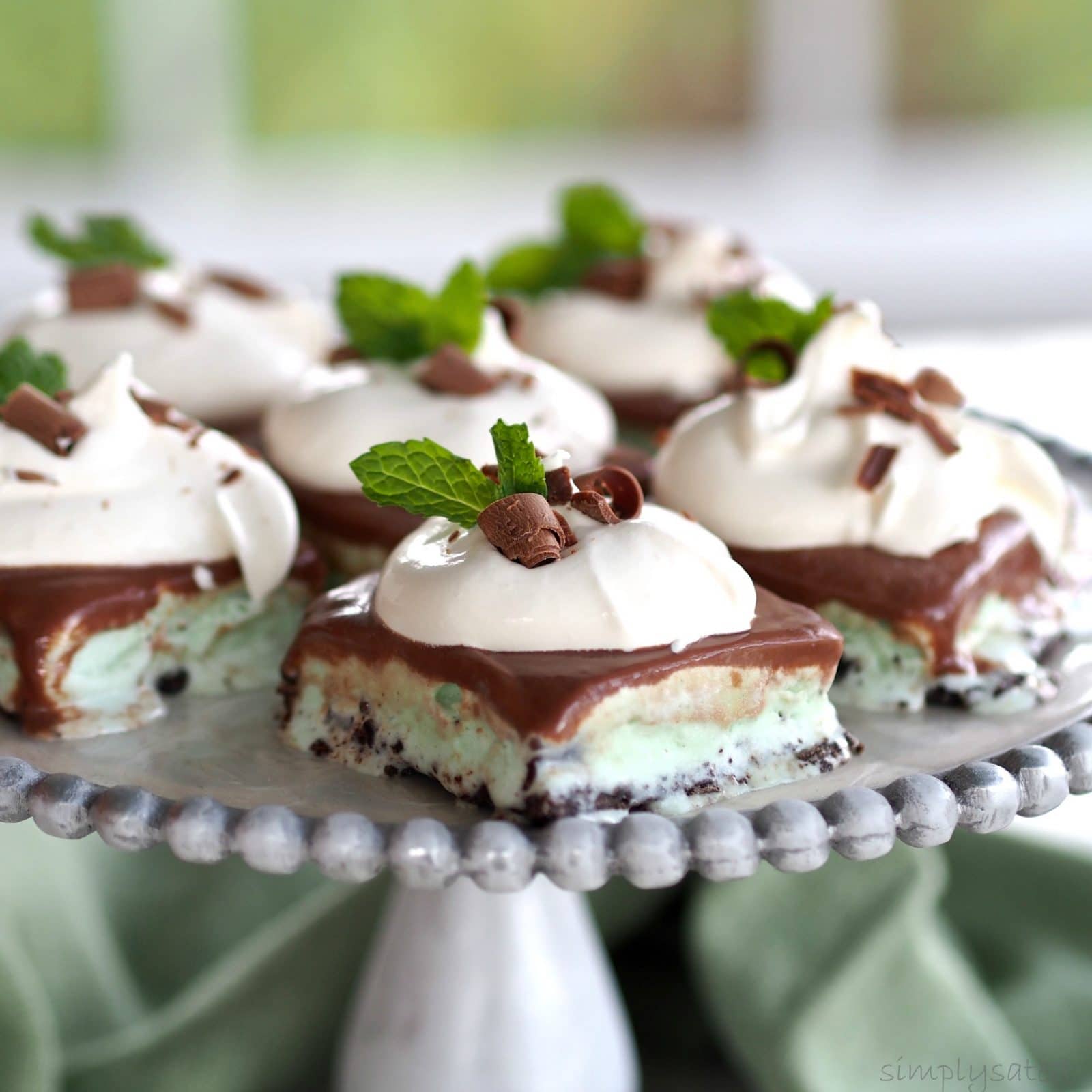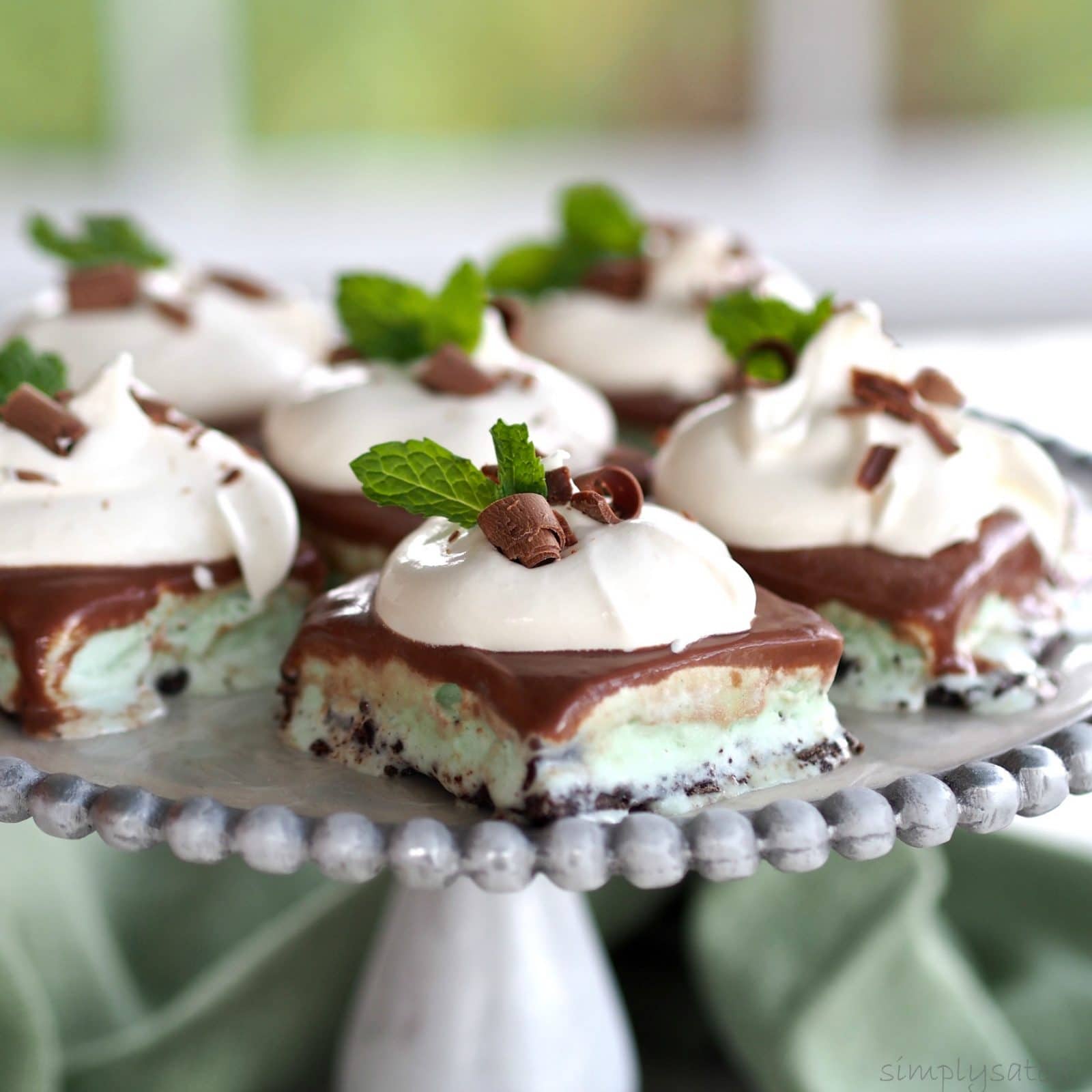 Enjoy!
FYI – it is good advice to make two desserts; one to serve immediately and one to keep in the freezer. This desserts creates serious cravings.
Frozen Mint Chocolate Dessert
Dessert with an Oreo crust layered with mint chocolate chip ice cream, whipped topping & chocolate shavings. --------------- Original recipe at Midwest Living: http://www.midwestliving.com/recipe/chocolate/chocolaty-frozen-mint-dessert/
Total Time
2
hours
15
minutes
Ingredients
2

cups

crushed Oreo Cookies – ½ package or 18 cookies

1/3

cup

5-1/3 tablespoons butter, melted

¼

cup

granulated sugar

½

gallon

mint-chocolate chip ice cream

slightly softened

1

cup

semisweet chocolate pieces – Ghiradelli

1/3

cup

butter

1

cup

sifted powdered sugar

1 12-

ounce

1-1/2 cups can evaporated milk

1

teaspoon

vanilla

1 8-

ounce

container frozen whipped dessert topping

thawed

Chocolate shavings
Instructions
Place Oreos in a food processor fitted with the metal blade pulse into fine crumbs.

Add melted butter and granulated sugar then pulse 3-4 times.

Press into a 15x10x1-inch baking pan (or cupcake liners **see Notes) and set the pan in the freezer to chill 10-15 minutes.

Cut the ice cream into ½ inch thick slices.

Lay the ice cream over the Oreo layer and, carefully, spread evenly.

Cover and return the pan to freezer to harden - 30-40 minutes.

*see Notes

---------------------------

While the dessert is hardening in the freezer make the chocolate sauce.

For the Chocolate Sauce:

In a small saucepan, melt the chocolate and 1/3 cup butter.

Add milk and powdered sugar.

Cook on medium-low heat, stirring often, for 20-25 minutes or until thickened slightly.

Stir in vanilla extract and mix well.

Take off the heat and let sauce cool completely.

After the chocolate has cooled, pour the chocolate sauce over the ice cream and return the dessert to the freezer for 30 minutes or until firm.

Spread dessert with thawed whipped topping.

The dessert can be served immediately or return it to freezer until topping is frozen.

Once the topping is frozen, serve immediately or wrap in plastic wrap and aluminum foil until ready to serve.

Will keep well in the freezer up to 4 weeks.

Enjoy!
Recipe Notes
The dessert is made in stages to allow each layer to freeze. If desired, layer the Oreos and ice cream, freeze it overnight, then finish the dessert the next day.
-------------
*This dessert can be made with using muffin tins. Line the tins with cupcake liners first.