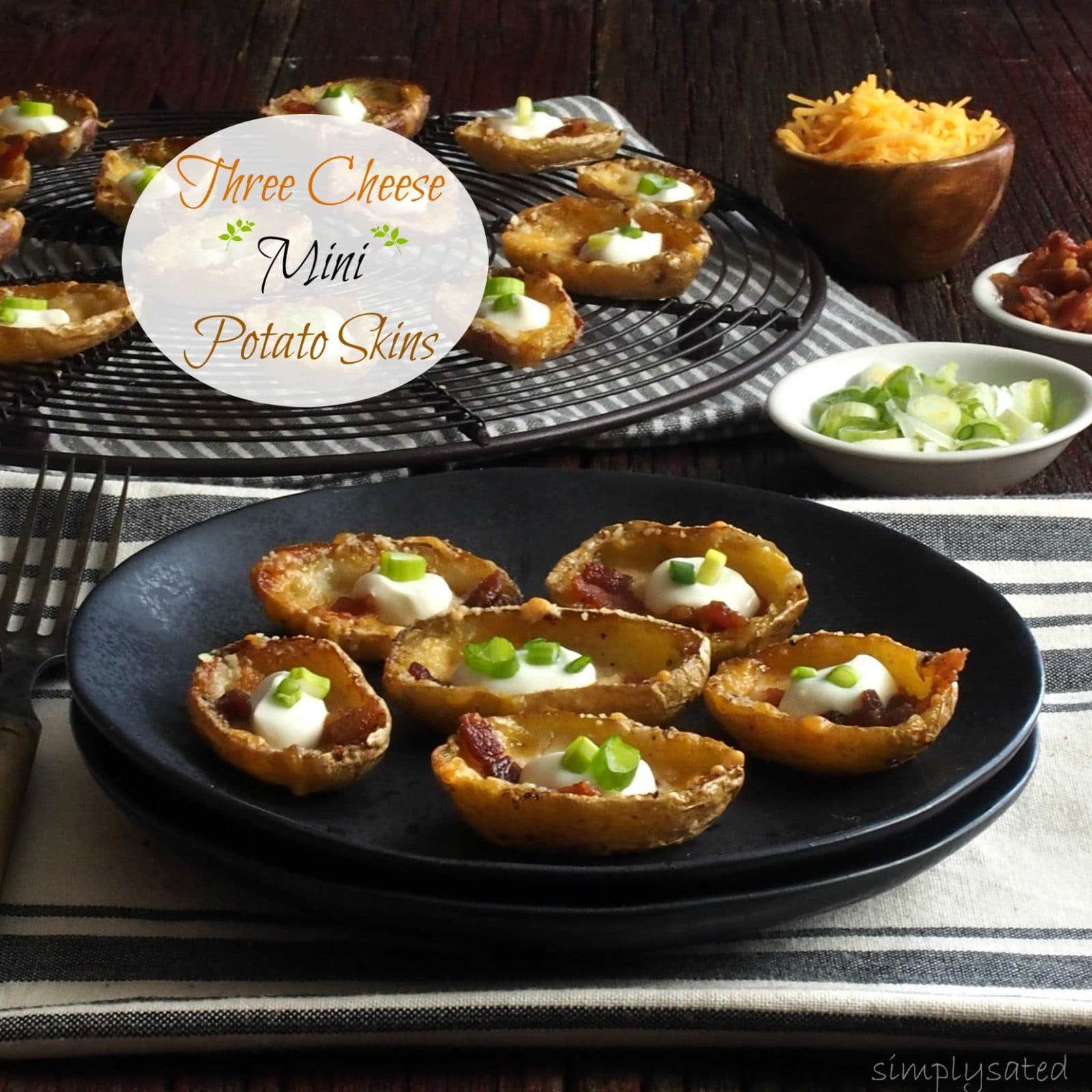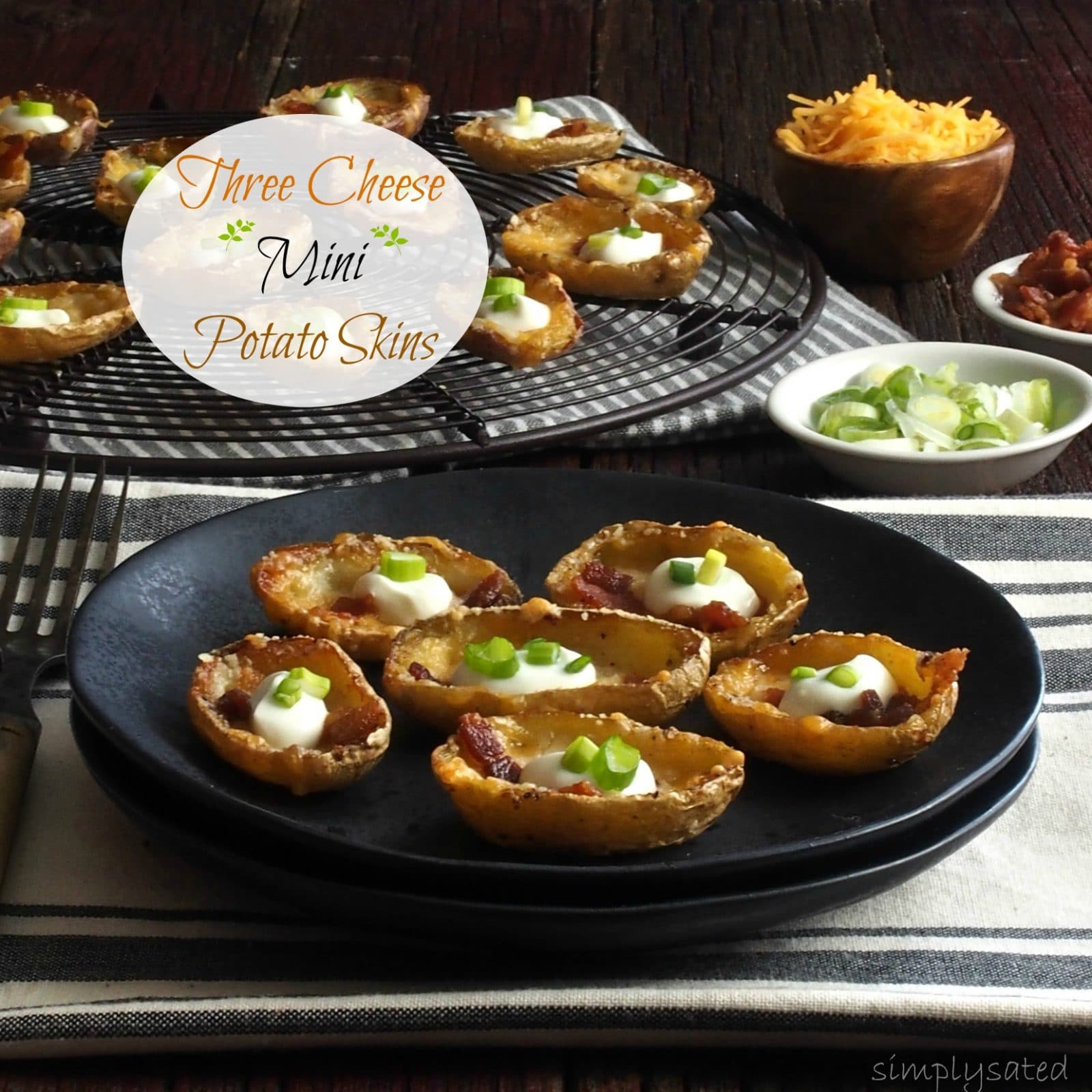 I have been humming "Let's Call the Whole Thing Off" the entire time I spent preparing Three-Cheese Mini Potato Skins for its starring role on Simply Sated. The song, written by the Gershwin brothers in 1937 for the film Shall We Dance starring Fred Astaire and Ginger Rogers, is best known for it's refrain which compares the two lover's different dialects.
You say eether and I say eyether,
You say neether and I say nyther;
Eether, eyether, neether, nyther,
Let's call the whole thing off!
You like potato and I like potahto,
You like tomato and I like tomahto;
Potato, potahto, tomato, tomahto!
Let's call the whole thing off!
If you can spare five minutes, HERE is the scene in which Fred Astaire and Ginger Rogers decide they "better call the calling off off!" (begin about 40 seconds in to the video).
But oh! If we call the whole thing off,
Then we must part.
And oh! If we ever part,
Then that might break my heart!
So, if you go for oysters and I go for ersters
I'll order oysters and cancel the ersters.
For we know we need each other,
So we better call the calling off off!
Let's call the whole thing off!
Truth be known (and you can understand why) the song comes to mind every time I make a potato or tomato dish.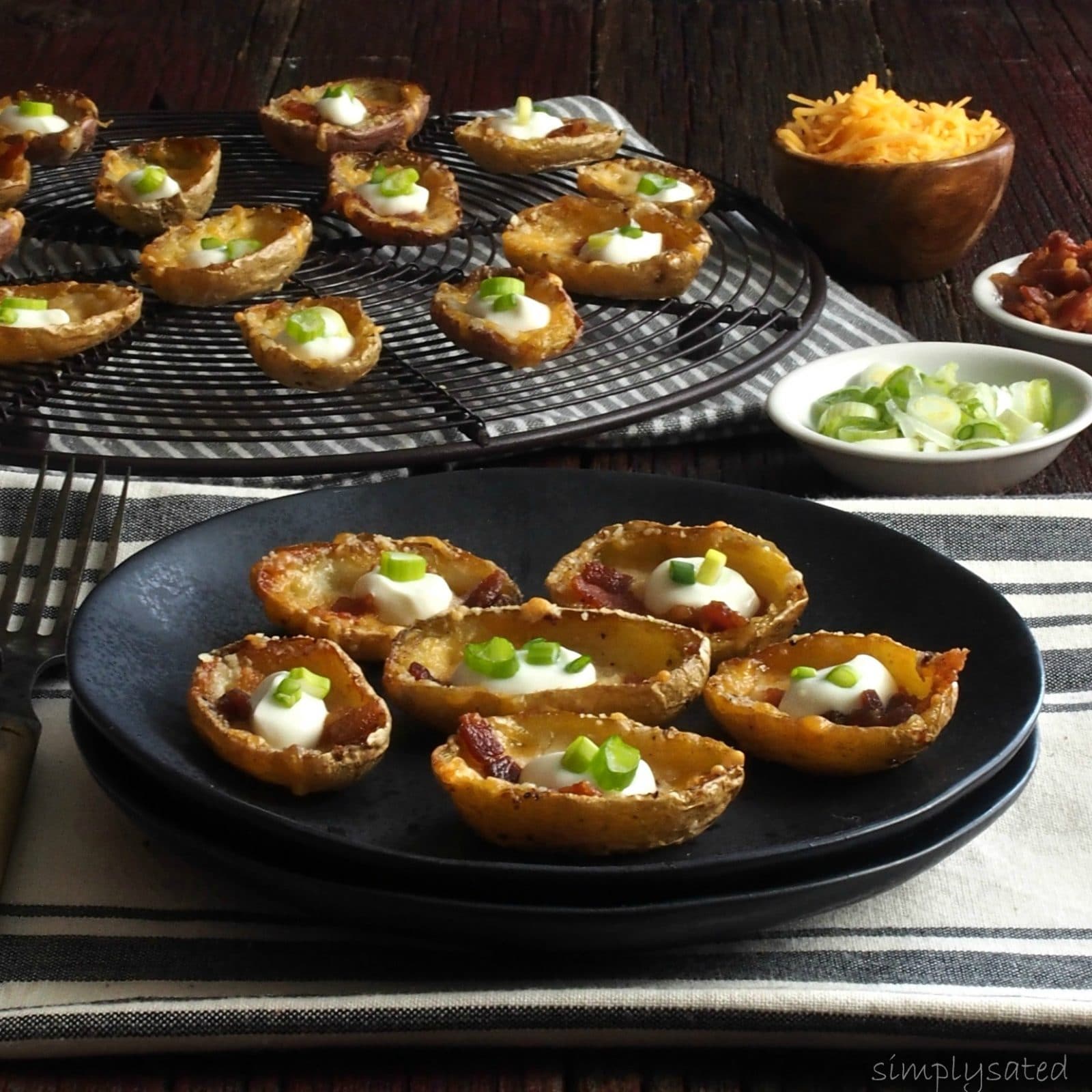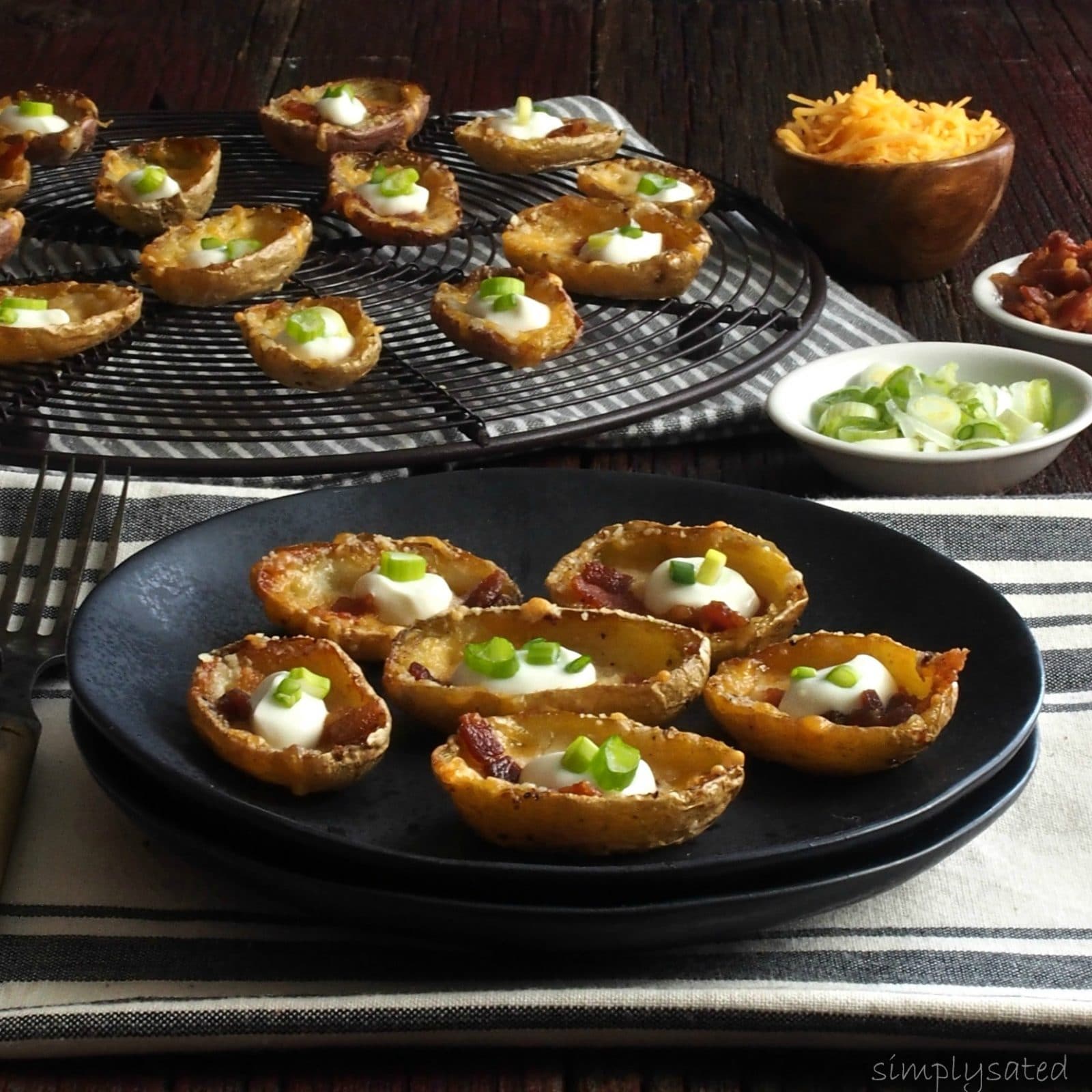 Okay then, back to these delicious spuds. Simply put, Three-Cheese Mini Potato Skins are so, so, so, so, so, soooo gooood!! I love them and you will, too. Plus, they are easy to make even though there are a few steps. Please, trust me, they are worth it!
Here are the basics.
Wash the potatoes.
Dry said potatoes.
Bake the potatoes.
Cut potatoes in half and scoop out the flesh.
Butter and bake until crispy the aforementioned potatoes.
Load potatoes with your choice of yumminess.
Bake potatoes until all the cheesy goodness melts.
Garnish with more of the foods you love.
Eat the most delicious, perfect and cutest-you-have-ever-seen, Mini Potato Skins.
Done!
Please, please "don't call the whole thing off" when it comes to trying out Three-Cheese Mini Potato Skins. I made potato skins for the first time today, with a little help from Fred & Ginger, and know if I can do it, you can, too.
Whether you say potato or potahto, it doesn't matter at all.  You will love these potatoes.
Enjoy!
I mentioned these potatoes are cute and so are my Baby Hasselback Potatoes. If you love cute and if you love potatoes, be sure to check out the recipe. ( http://www.simplysated.com/baby-hasselback-potatoes/ )

Three-Cheese Mini Potato Skins
Three-Cheese Mini Potato Skins. The perfect bite-size appetizers. Mini potato skins loaded with three cheeses, bacon, sour cream, green onions and any other toppings you love.
Servings
4
-5 (4-6 potato skins per person)
Ingredients
12

new

baby or mini potatoes

Kosher salt and freshly ground black pepper

2

tablespoons

canola or olive oil

2

tablespoons

butter

melted

½

cup

cheddar cheese

shredded

¼

cup

Gruyere cheese

grated

½

cup

Parmesan cheese

grated

3

strips bacon

fried crisp and chopped

Salt & pepper

to taste

*See notes.
Instructions
Preheat oven to 400F

Scrub potatoes clean then dry with a paper towel.

Prick each with a fork then brush them with canola or olive oil.

Place on a foil-lined baking sheet and sprinkle with salt & pepper.

Bake at 400F for 25-30 minutes until soft inside a just a little crispy on the outside.

Remove from the oven and turn the heat to 425F.

Let potatoes cool for 5 minutes then cut in half lengthwise.

Use a small spoon to scoop out most of the inside flesh. Be sure to leave a rim of 1/8" deep around the rim of the potato skin. Save the scooped potato flesh for another use such as potato pancakes.

Brush the potatoes all over with melted butter, place them skin side up (rounded side) and return them to the oven for 7-8 minutes or until edges have browned and are crispier. Remove potatoes from the oven.

Fill potato skins with cheddar, Gruyere, Parmesan and bacon crumbles.

Place the potatoes back in the oven until cheese is melted and bubbly, 3-4 minutes.

Remove potatoes from the oven and spoon a small dollop of sour cream in each then top with sliced green onions or chives.

Enjoy!
Recipe Notes
Don't forget the yummy, crispy baked cheese that has baked on the bottom of the baking sheet. It can be sprinkled on the potatoes, if desired. Yum!!
*This recipe is so versatile. You can add almost any other toppings from:
marinara, other meats, any cheese including Mascarpone, eggs, sweet peppers, chili - really anything you love to eat with potatoes. Have fun!