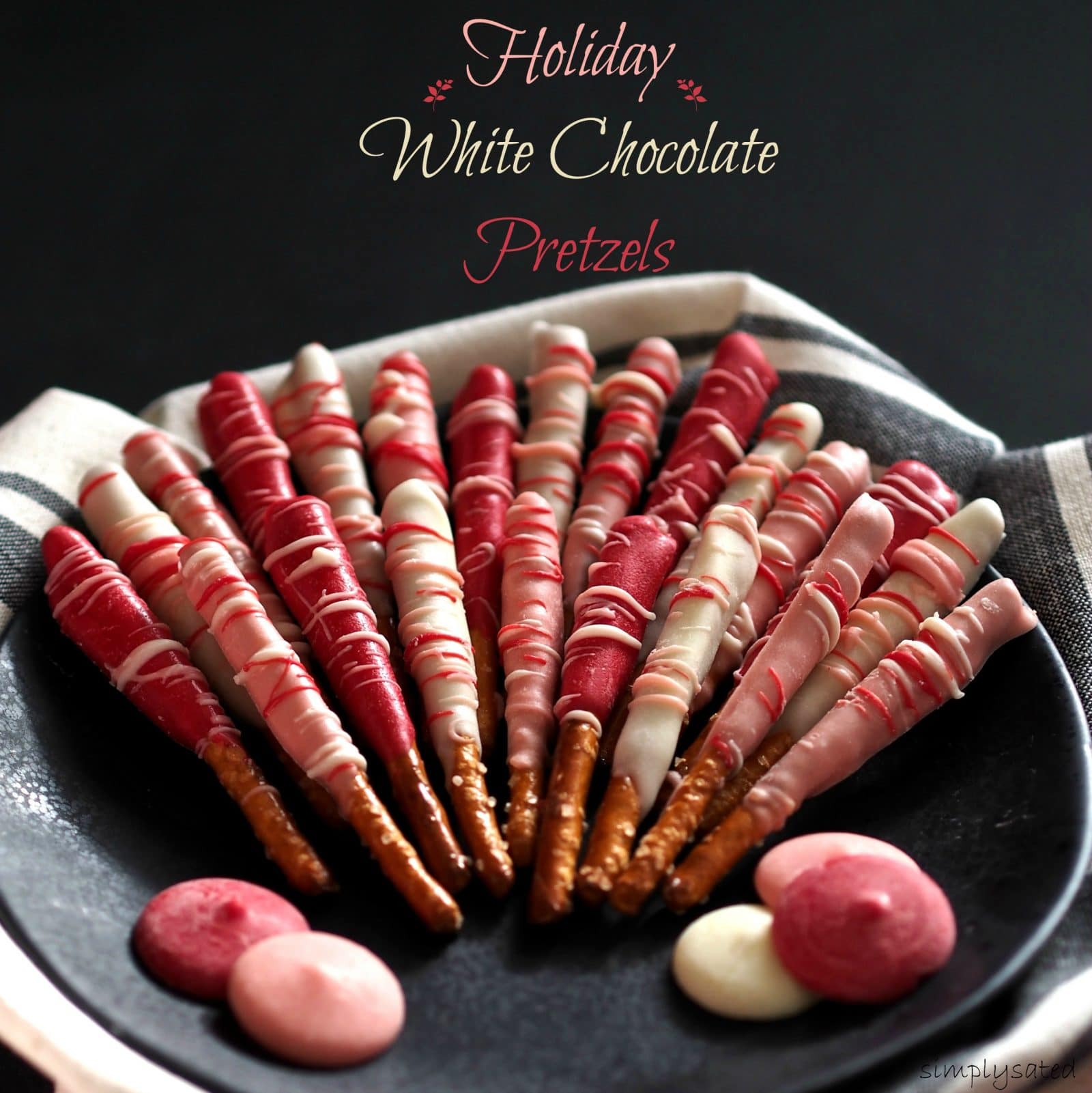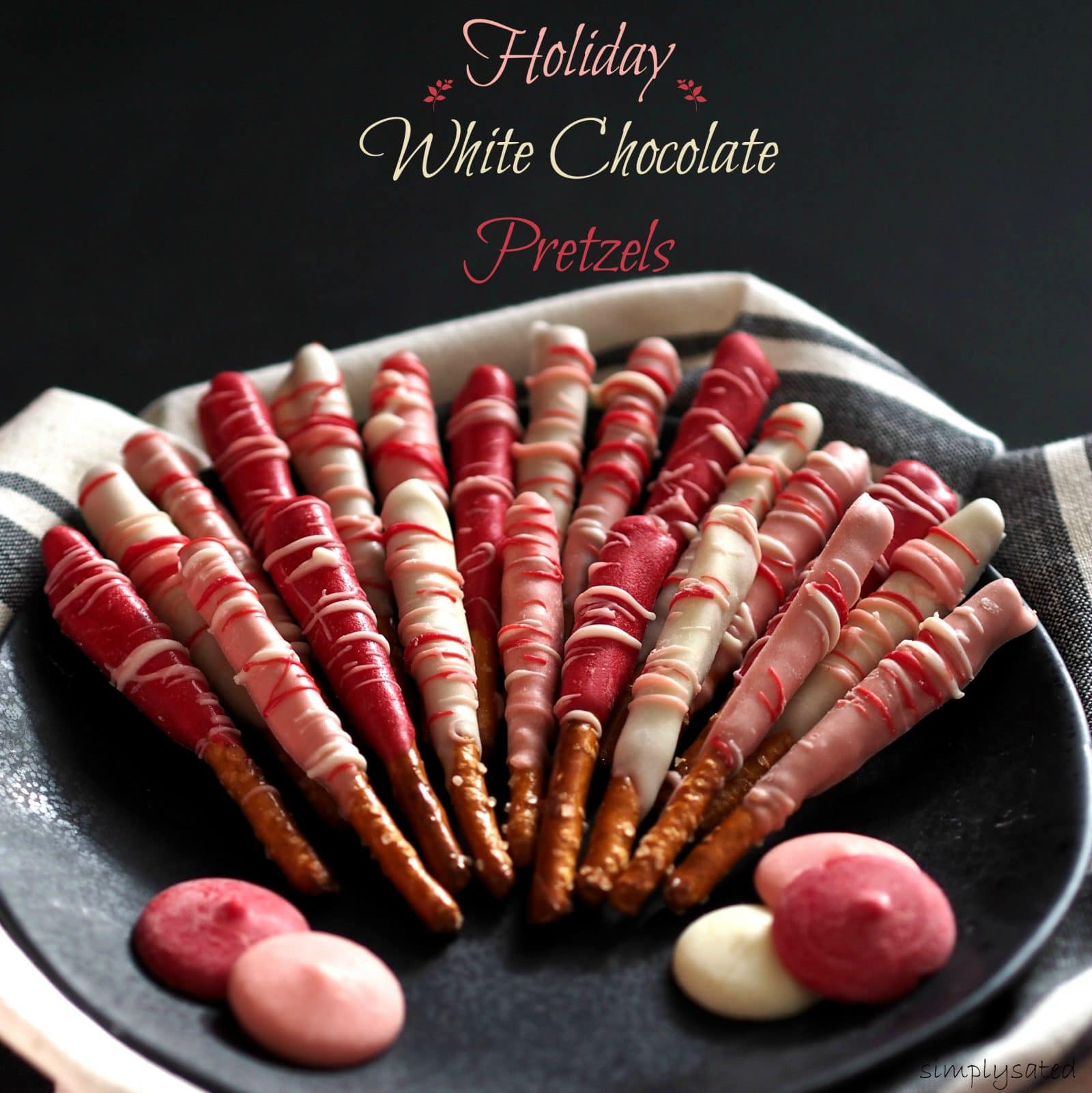 If you don't love these darling Holiday White Chocolate Pretzels you should be ashamed of yourself. I'm kidding. I just wanted to get your attention. I do love them, though, and for more than one reason.
 How Do I Love Thee? (Susie's "Sonnette" No. 1)
How do I love thee? Let me count the ways.
Thee are quick and easy to make.
Thee everybody loves.
Thee are tasty.
Thee are cute!
I have been making variations of these sweeties since my kids were very young and I was very much young-er. I have taken them to more holiday parties and pot-luck dinners than I can remember and have always gotten this response, "Oh, these are so cute."  Holiday White Chocolate Pretzels can be made for any holiday or any occasion – just pick the colors you need and begin dipping.
So if you want a treat that is simple, quick, tasty and adorable, Holiday White Chocolate Pretzels are the treat for you.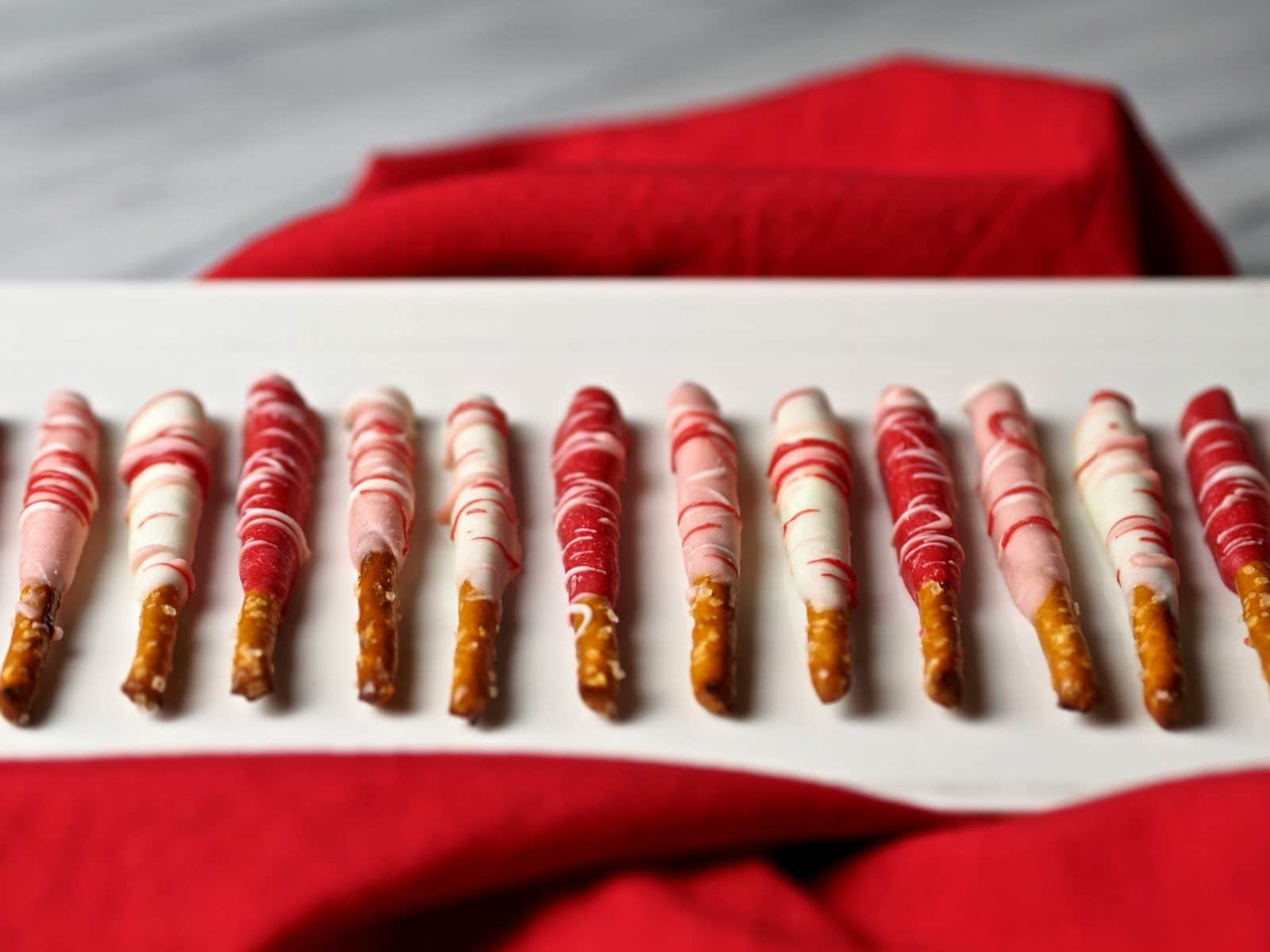 If Elizabeth Barrett Browning were here right now, I would extend my sincerest apologies for adulterating her famous Sonnet 43, "How Do I Love Thee?"  I do like to think she would chuckle just a little, but she would probably be aghast.
Enjoy!
PS. Yes, I do know my "sonnette" would never be considered a 14-line, 10-syllable per line sonnet. Thus the title, "Sonnette":-)

Holiday White Chocolate Pretzels
Holiday White Chocolate Pretzels - an easy, tasty and cute treat for any occasion or holiday and for any time of the year. Choose the colors and have fun.
Ingredients
Pretzels

as many as you want to make

White Chocolate or melting wafers

melted – enough to cover the pretzels

Pink gel candy color or pink melting wafers*

Red gel candy color or red melting wafers*
Instructions
Cover a baking sheet with parchment or waxed paper.

Melt the white chocolate at HIGH in a microwave-safe dish for 15 seconds, stir and repeat until the white chocolate is almost melted. When almost all is melted, stir until all is melted and smooth.

Once melted, separate the white chocolate into 3 bowls. Add pink coloring to one bowl of melted white chocolate and red to one bowl. Stir until well blended.

See Notes*

Dip 1 pretzel at-a-time in the melted white chocolate, swirl to cover all sides, gently shake excess white chocolate off the pretzel and place it on the covered baking sheet. Repeat until the desired number of pretzels is coated and in the desired colors.

Allow the pretzels to dry, approximately 20 minutes, then use the extra melted white chocolate to drizzle the pink, red & white chocolate over the pretzels.

Allow pretzels to dry completely then place them in an airtight container. Separate the pretzels layers with parchment. The covered pretzels will keep up to three weeks.

Enjoy!
Recipe Notes
*If using pink and red melting wafers, there is no need to use candy gel coloring.