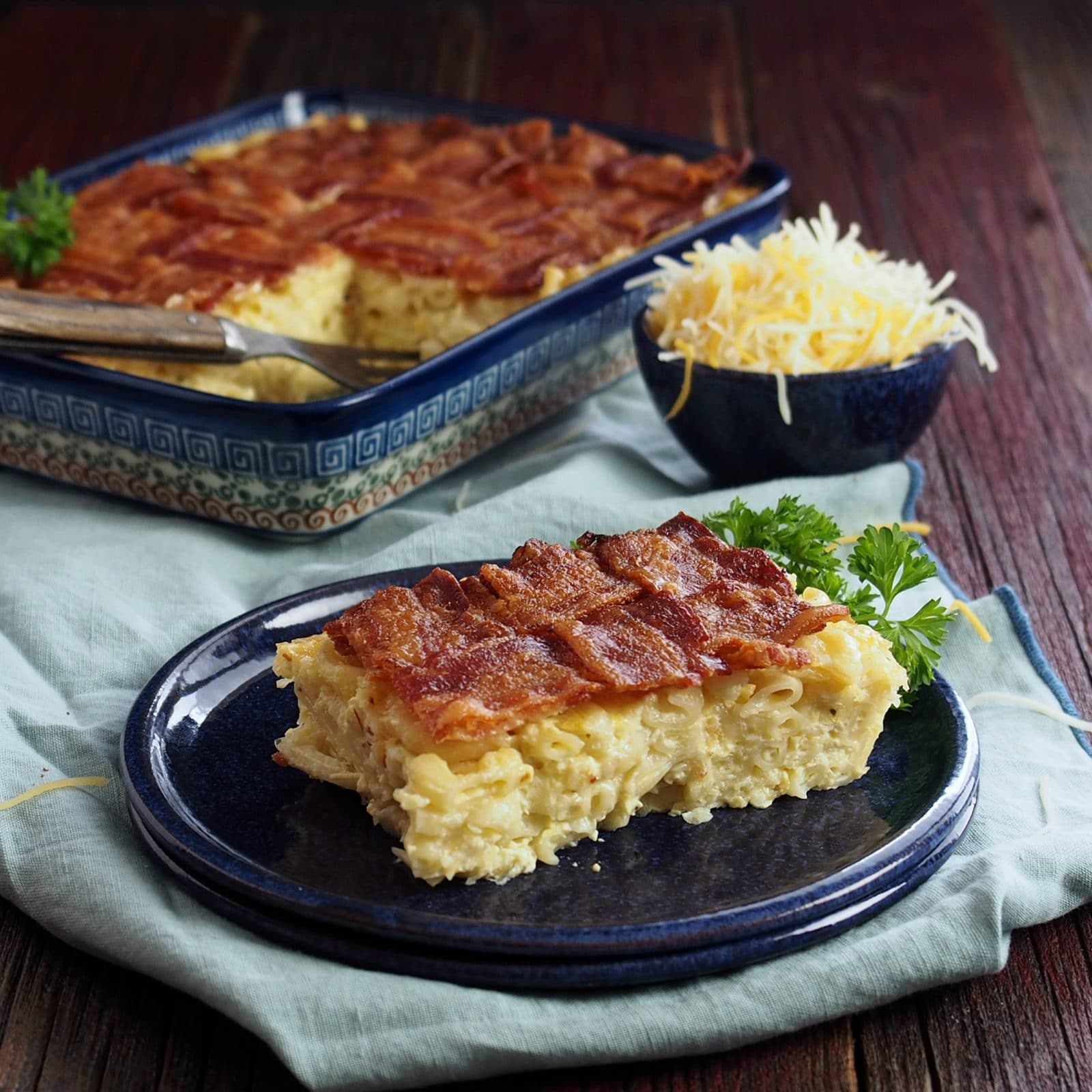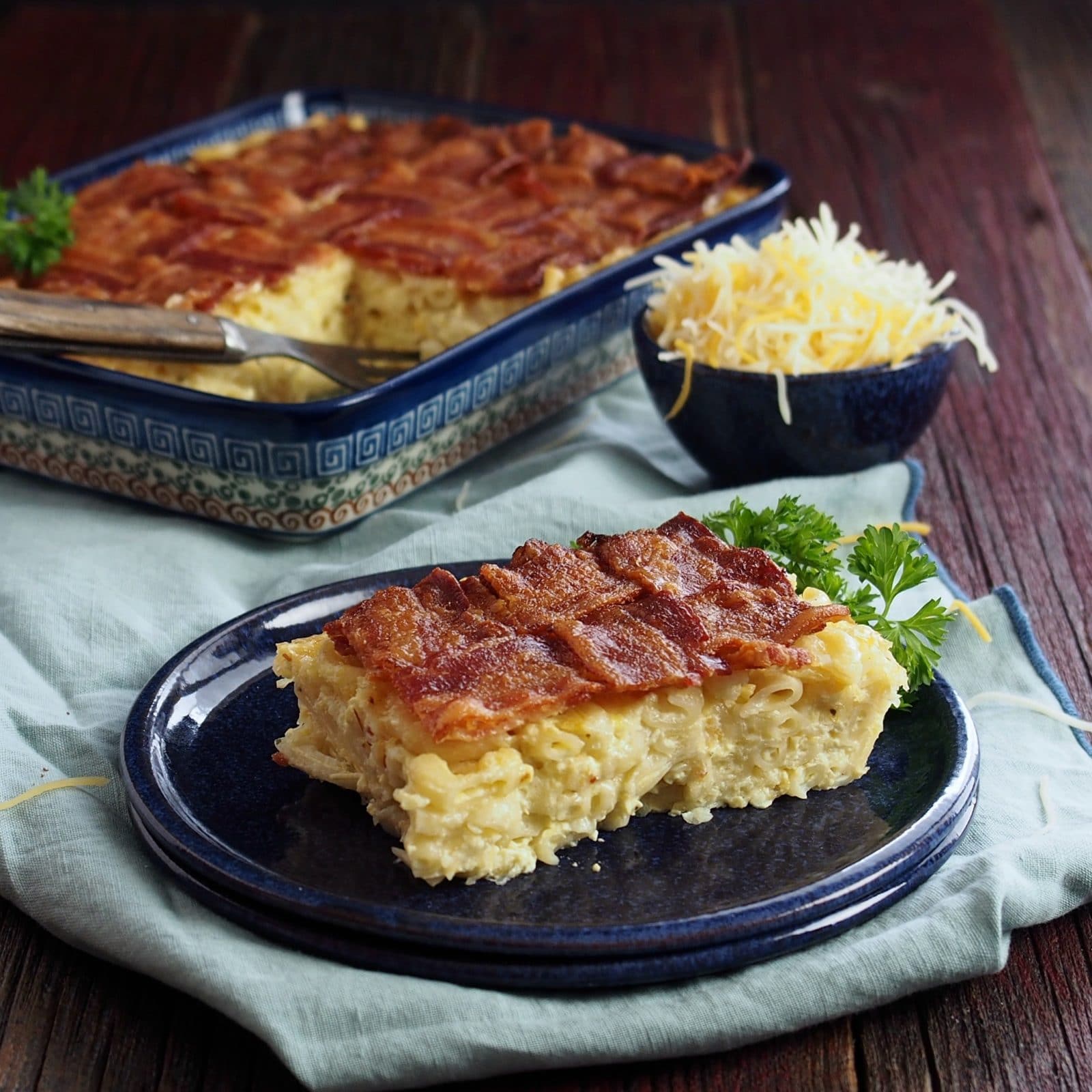 Macaroni & Cheese Quiche with Latticed Bacon seems a little silly, but it is really tasty and fun to make.  Plus, I must give credit where credit is due – to my Fairy Foodie Godmother.
Travel back in time six months to an early morning in my kitchen. As I was cooking bacon in the oven, it occurred to me that basket-weaving bacon together before cooking it might be an interesting thing to do. I chuckled to myself, thinking the idea a little silly, but couldn't get it out of my head. You see, that's what Fairy Foodie Godmothers do – they plant foodie ideas in foodies' brains.
Fast forward to one day a couple of weeks ago – a day when I had bacon, cheese, leftover cooked macaroni and leftover (still-liquid) quiche custard in the fridge all at the same time.
I knew the day had come to test the idea my Fairy Foodie Godmother had planted in my thoughts so many months prior – Latticed Bacon. I still wasn't sure the idea of bacon woven like a basket (NOT in the shape of a basket, mind you) would look appetizing, but decided to give it a try.   Sure enough, it worked beautifully, and ever since, I have thought of numerous ways in which Latticed Bacon can add a fun twist to a variety of dishes.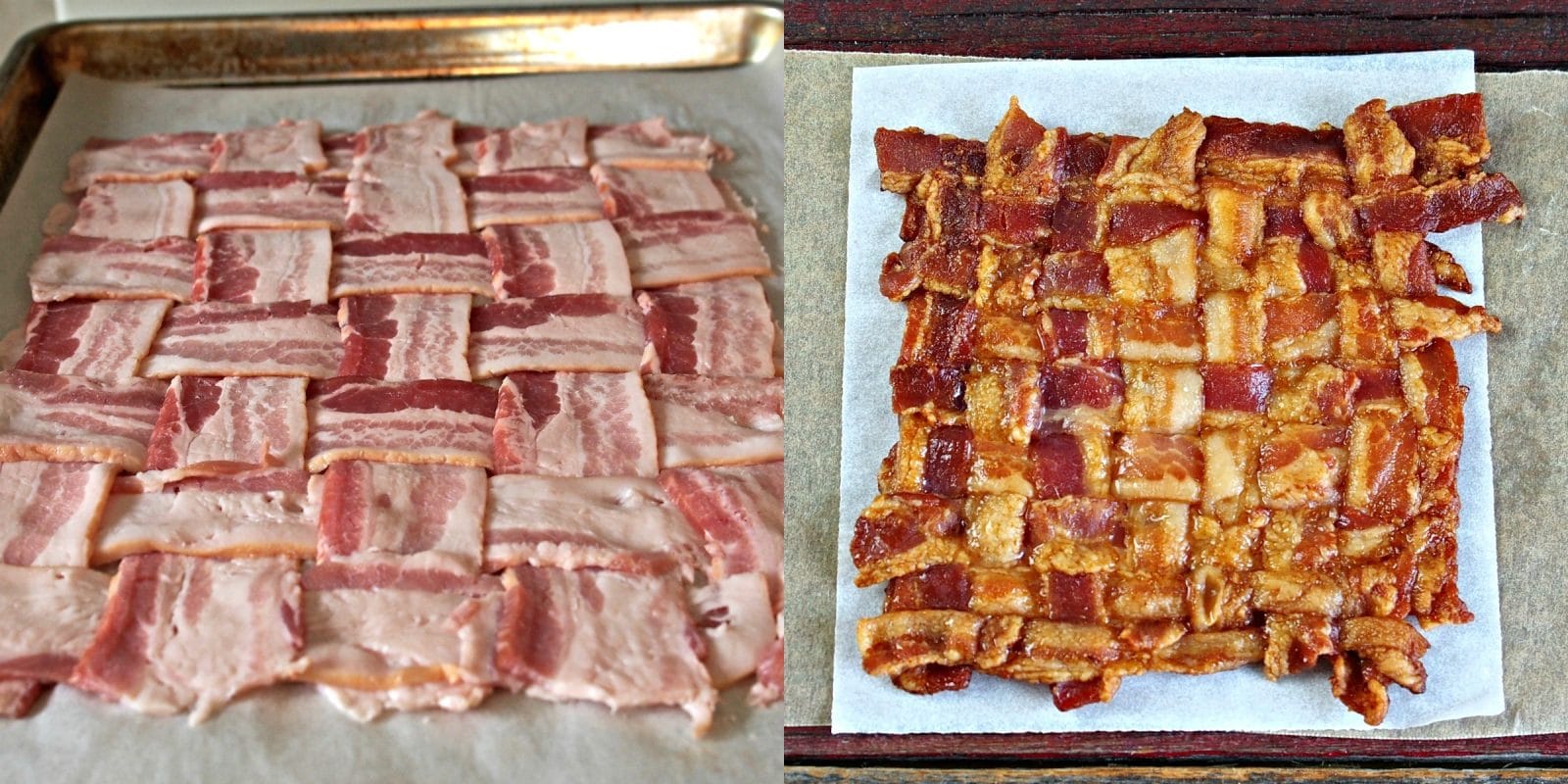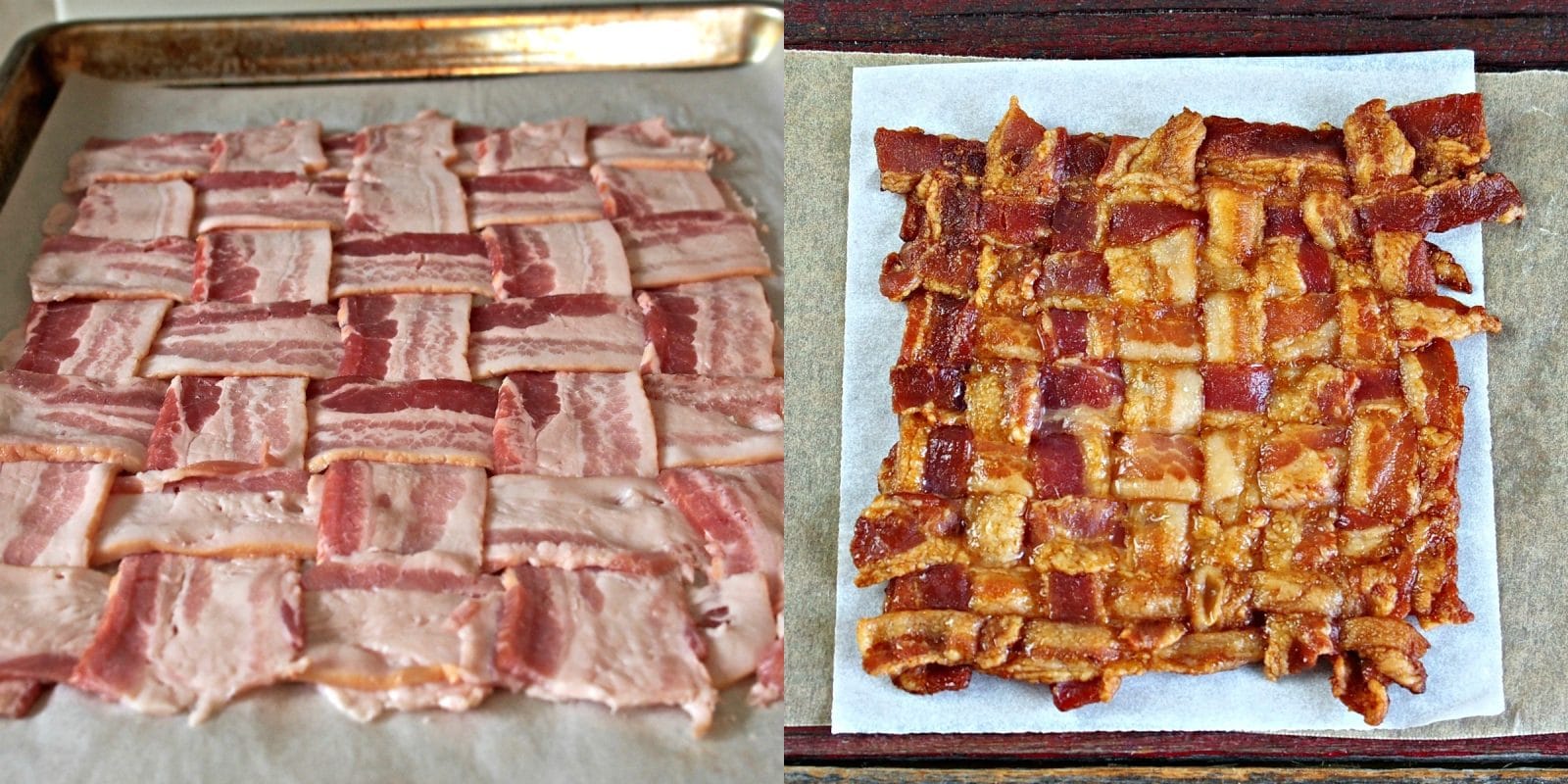 My personal Fairy Foodie Godmother wasn't finished with me yet and lobbed one more idea into the gray gardens of my brain – Macaroni & Cheese Quiche. Well, what else was I going to make with leftover macaroni and extra quiche custard?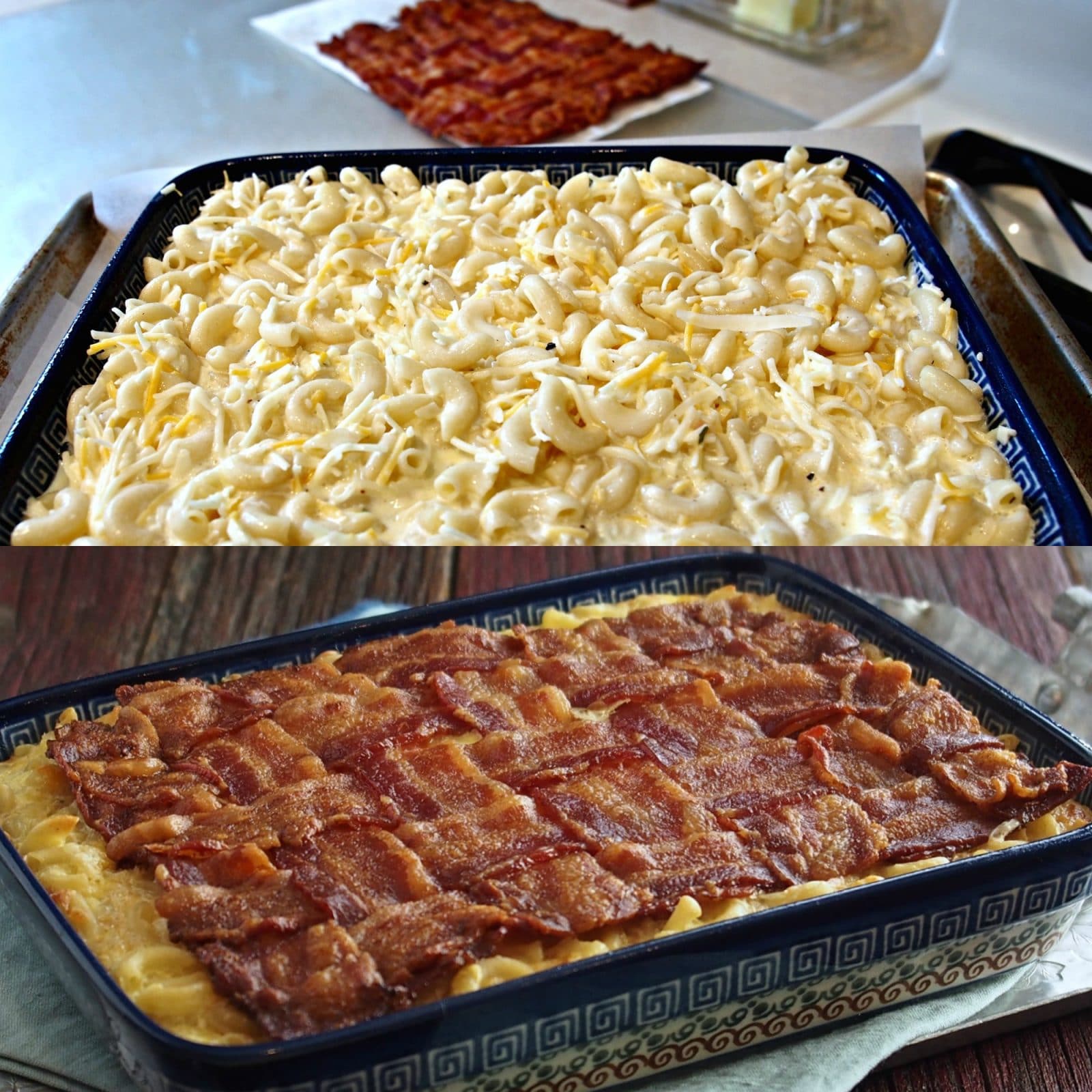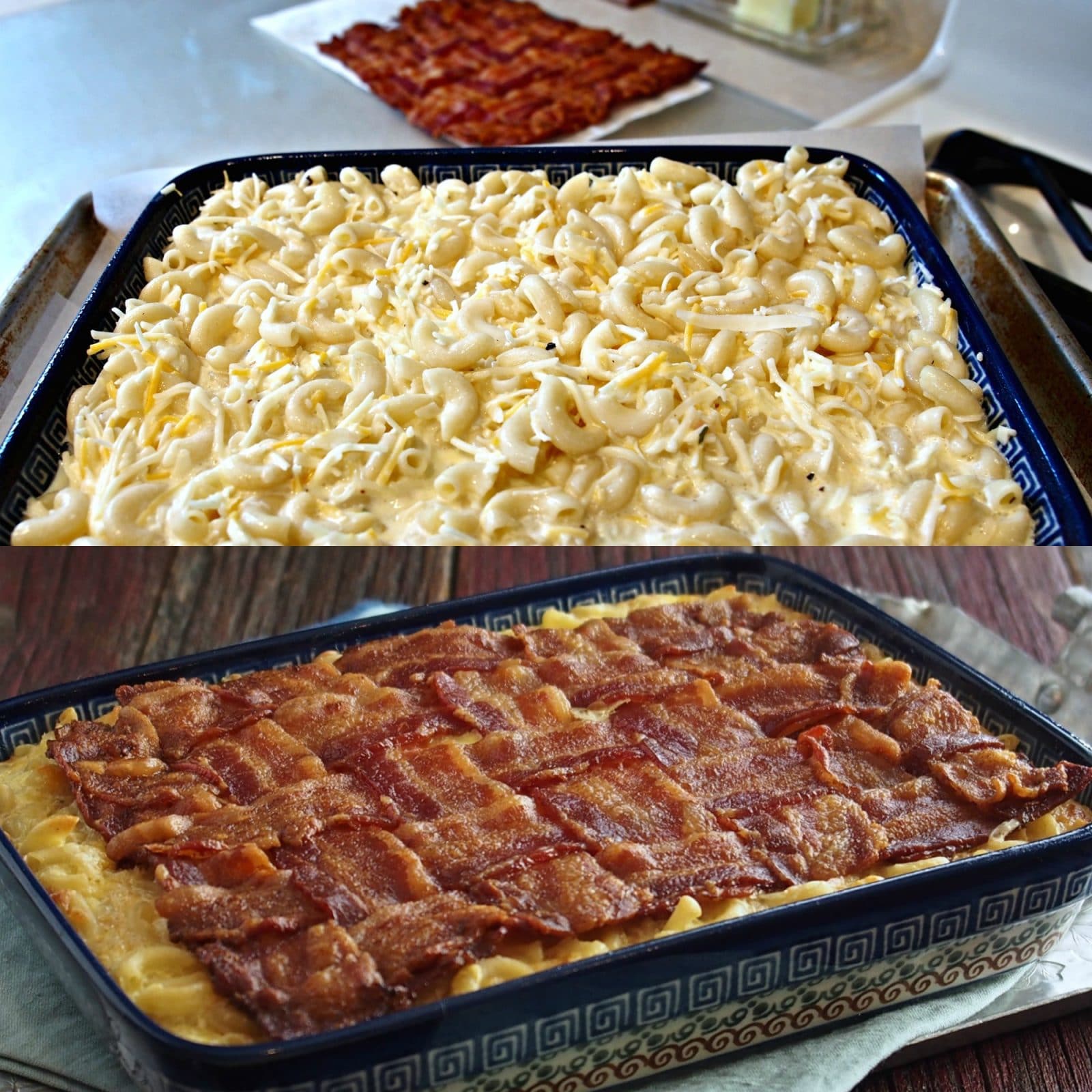 So, ladies and gents, that's how Macaroni & Cheese Quiche with Latticed Bacon came into existence. I hope you enjoy it even half as much as my Fairy Foodie Godmother and I did.
I sure got tired writing out "Fairy Foodie Godmother." It's time to give that chick a name.
Macaroni & Cheese Quiche with Latticed Bacon
Three food favorites come together to create this fabulous dish. Mac 'n Cheese, Quiche and Crispy Bacon.
Cook Time
1
hour
10
minutes
Total Time
1
hour
25
minutes
Ingredients
For Latticed-Bacon Top:

12

slices

bacon

-------------------------------

For Macaroni 'n Cheese Quiche:

1

pound

macaroni

cooked per package directions

3

eggs

slightly beaten

2

cups

cream or Half 'n Half

½

teaspoon

ground nutmeg

½

cup

Gruyere cheese

shredded

½

cup

Swiss cheese

shredded

½

cup

Cheddar

Monterey Jack or Mexican blend cheese shredded

1/8

teaspoon

red pepper flakes

¼

teaspoon

Bonnes Herbes

Parisien Herb

2

tablespoons

Parmesan

grated

½

sweet yellow onion

diced and sautéed, optional
Instructions
For Latticed-Bacon Top:

Preheat oven to 400F and cover a baking sheet with parchment paper.

On the parchment-lined baking sheet, place bacon slices side-by-side the same width as the casserole dish. Using more bacon strips, weave them in from top-to-bottom (follow the same method as making a lattice piecrust –

HERE

is a great tutorial:

Bake until crispy 20-25 minutes, turning it over halfway through cooking time.

Once the bacon is cooked through and crispy, remove it from the oven and place on a paper towel to drain. Reserve bacon grease for later use.

----------------------------

For Macaroni 'n Cheese Quiche

Preheat oven to 350F.

Spray a 1½-quart casserole dish with cooking spray.

Combine all ingredients in a large mixing bowl and mix well.

Pour macaroni mixture into the casserole dish and place it in the oven.

Bake at 350F for 30 minutes.

Place latticed bacon on top and bake another 10-15 minutes or until mixture is set.

If bacon begins to burn, loosely cover the dish with foil.

Once the quiche is set, remove it from oven and let rest 5 minutes before serving.

Enjoy!