When you eat Strawberry Black Pepper Jam; you get a surprise in every bite.  I bet I can guess what you are thinking right now.  "Are you sure about this? You want me to combine beautiful, red, luscious fresh strawberries with ornery, sneeze-inducing black pepper?"  Believe me, I understand and I suspect I guessed correctly because that is what I thought the first time I came across the idea of Strawberry Black Pepper Jam. Over the past few years, my taste buds have been pleasantly surprised by many interesting ingredient combos such as Grilled Pineapple with Lime Zest , and so, I decided to give it a try.
Holy cow, man, this jam is jammin'!! (I could not help myself.) I'm sure plain, old strawberry jam will never satisfy the wild side of my sweet tooth ever again.
Anyway and seriously, I am now addicted and not sure I can ever go back to the way life was before – life before black pepper was introduced to strawberry jam.
A side note: You know how, at the beginning of this post, I kind-of denigrated black pepper? Well, I'm feeling a little remorse after learning some interesting facts about this most popular spice. It seems long, long ago and in a far away land; black pepper was used as currency and presented to the gods as a sacred offering. My imagination runs wild thinking how the gods would have blessed me by offering them Strawberry Black Pepper Jam or Pistachio Strawberry Cream Spread.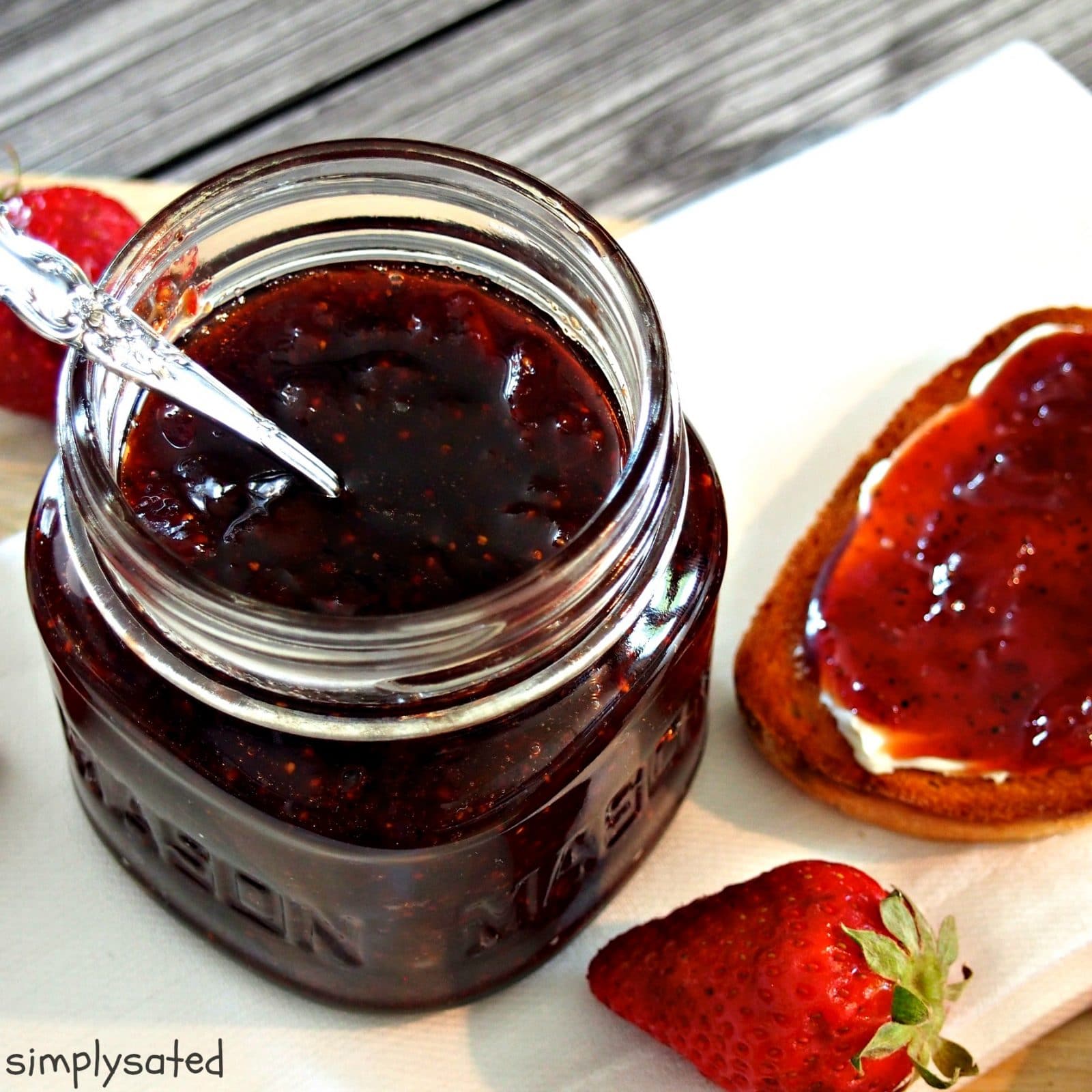 Enjoy!

Strawberry Black Pepper Jam
Strawberry jam infused with black pepper. A surprise in every bite. Recipe credit: Christie Maggi, Kitchen Conservatory in St. Louis, MO
Ingredients
2

pounds

fresh strawberries - cleaned and hulled

4

cups

sugar

1/4

cup

balsamic vinegar

1

tablespoon

black pepper

juice of 1 lemon -

opt.
Instructions
Prepare jelly/jam jars by placing the jar and lids in boiling water for 10 minutes then turn down the heat and let simmer until the jam is ready.

Place strawberries in a heavy bottomed saucepan.

Mash strawberries with a potato masher or fork.

Add sugar, balsamic vinegar, black pepper and lemon juice (opt.) then mix well.

Stir over low heat until the sugar is dissolved.

Turn heat to high until mixture comes to a full rolling boil. Stir often.

Turn the heat down but boil mixture until it reaches 220F on a candy thermometer. Watch closely and stir often.

Remove and drain the jars and lids from the hot water with tongs.

Transfer jam to hot sterile jars, leaving 1/4 to 1/2 inch headspace, then seal with the lids. Process in a water bath if not eating immediately. Read here for more info on canning preserves: Ball

Traditional Strawberry Jam

If the jam is going to be eaten right away, don't bother with processing, just refrigerate.

Enjoy!