Salmon Appetizers with Blueberry Hats is the easiest appetizer I have ever made. I opened my fridge and other than basic condiments, milk, eggs and butter, the only foods taking space on the shelves were leftover salmon and fresh blueberries. What is a food-blogger to do?
Whether it was inspiration or desperation, I'll never know, but Salmon Appetizers with Blueberry Hats was born and the result was delicious, healthy and cute.  I thought they were adorable. As I have written before, I'm a sucker for anything cute or little. Check out my Turkey Parmesan Sliders for proof.
My plate was brimming with salmon appetizers when I sat down to eat and to watch the Kentucky Derby.  Each time I looked from plate to TV, there was a screen full of women wearing their gorgeous hats and, low and behold, the blueberries with their basil leaf feathers propped on top reminded me of tiny Kentucky Derby Hats. Ta-da!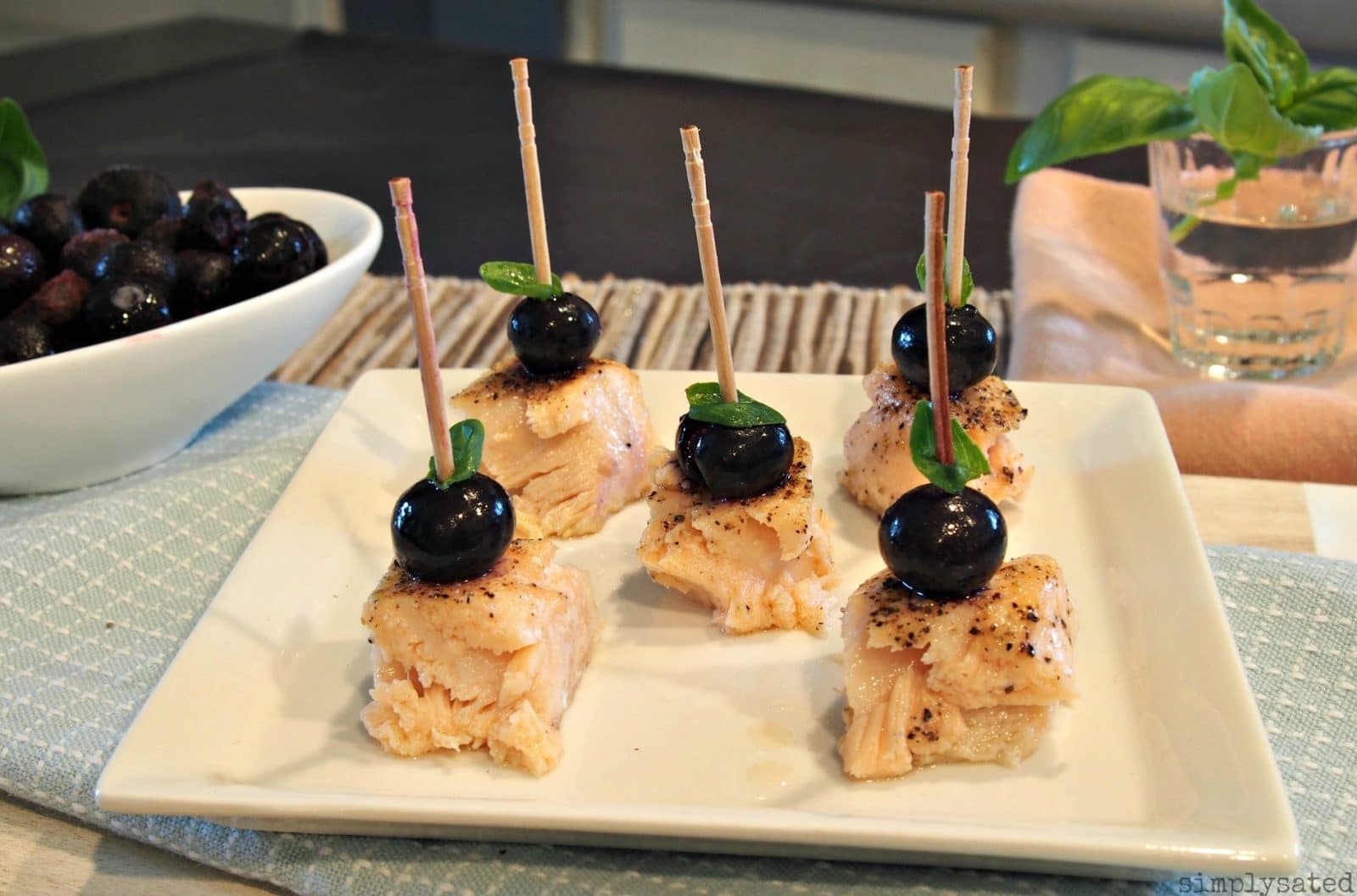 I might never pick a winning horse, but next year at my Kentucky Derby party Salmon Appetizers with Blueberry Hats will win first place at the buffet and snag that garland of roses.
Enjoy!

Salmon Appetizers with Blueberry Basil Hats
Salmon (grilled or baked) bites topped with a blueberry and basil.
Ingredients
Grilled or Baked salmon – leftovers are great to use or here is a how-to link for baked salmon:

Fresh blueberries - rinsed

Fresh basil leaves – new

small leaves
Instructions
Cut salmon into bite-sized cubes.

Use toothpick or hors d'oeuvre pick to spear a small basil leaf, then add a blueberry.

Stick the blueberry, basil pick in the salmon bite.

Repeat until all salmon are decorated.

That's it:-)

Enjoy!