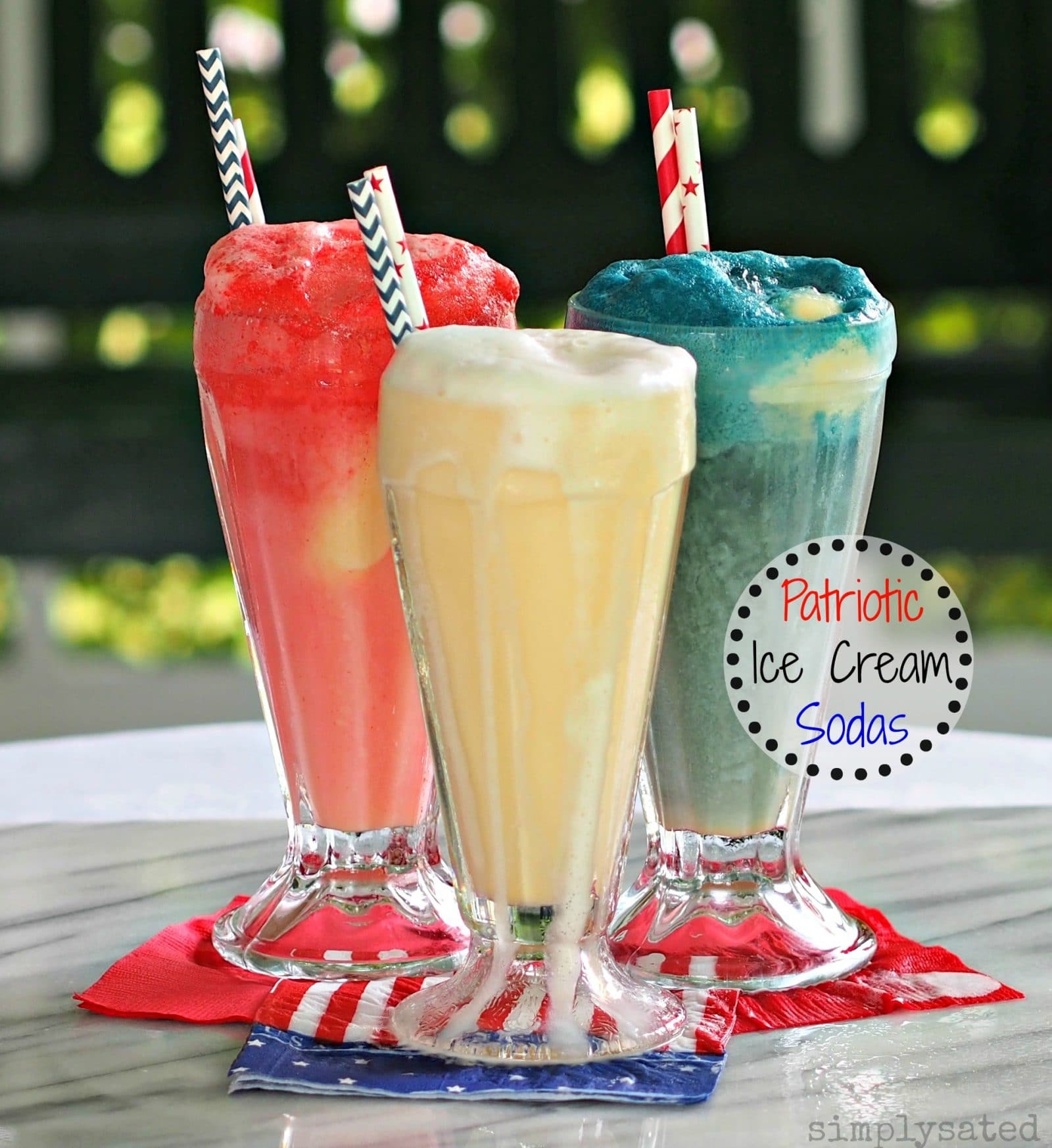 Patriotic Ice Cream Sodas! The last school bell of the year is ringing…summer vacation is here!!
Growing up, in my world, there was no sound I loved more than the last bell of the school year. It was the sound I looked forward to most, beginning with the first day of the school year. It conveyed freedom and adventure and ushered in summer vacation.
Some of my favorite summer adventures include:
Spending the day at the swimming pool and eating a Chick-O-Stick,
Playing softball anywhere my friends and sisters could find a large enough space,
Loading up the car with food, blankets, chairs and people then heading to the drive-in movie theater,
Catching (and releasing) fireflies in the front yard as my parents sat in lawn chairs and sipped on iced tea,
Exploring the creek and woods beyond the backyard fence and fishing for crawdads with raw liver,
Playing kick-the-can under the street light with my sisters and friends until our parents called us indoors,
The sweet smell of freshly mowed grass,
Spraying each other with the garden hose,
Picnicking with red-checkered tablecloths,
Swinging on the tire-swing under our 300-year old oak in our backyard,
Listening to my sister Linda tell my other sisters and me the scariest stories we've ever heard – while lying on a blanket, in pitch-black darkness, under the same old oak. Of course she had a flashlight highlighting her face from underneath her chin. Bloody Bones still gives me a chill.
My favorite summer activity of all was celebrating July 4th, our country's birthday. Our annual picnic with family and friends was the best day of every summer. There was absolutely no day better!!
Every year my dad's very large side of the family would pile into our very small home.   We would eat until our bellies swelled and we ignited enough fireworks to lose our hearing. My cousins were pyromaniacs and the holiday was spent dodging bottle rockets, sidestepping Roman Candles and tiptoeing around burning Snakes. My brother-in-law Donny could never resist lighting a firecracker under any unsuspecting, innocent soul relaxing in a lawn-chair. It is a miracle our home was never torched. The day was zany and dangerous and it was the best day of every summer.
At the end of the day, my dad's homemade ice cream made its appearance.  It was always the star of the party.  Like his ice cream, this dessert will be the star of your party and it shouts, July 4th is here – let's celebrate!!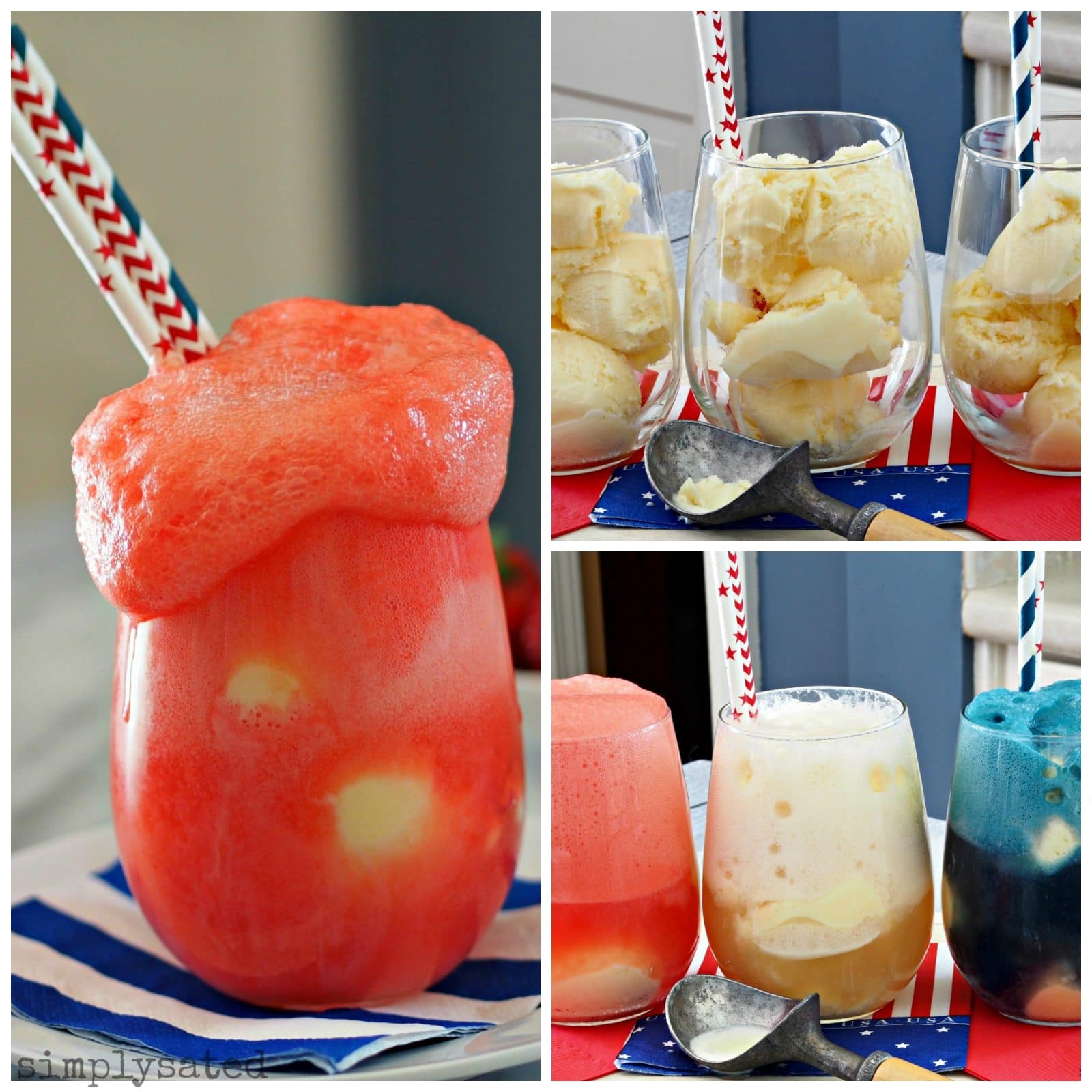 Happy, Happy Birthday, America!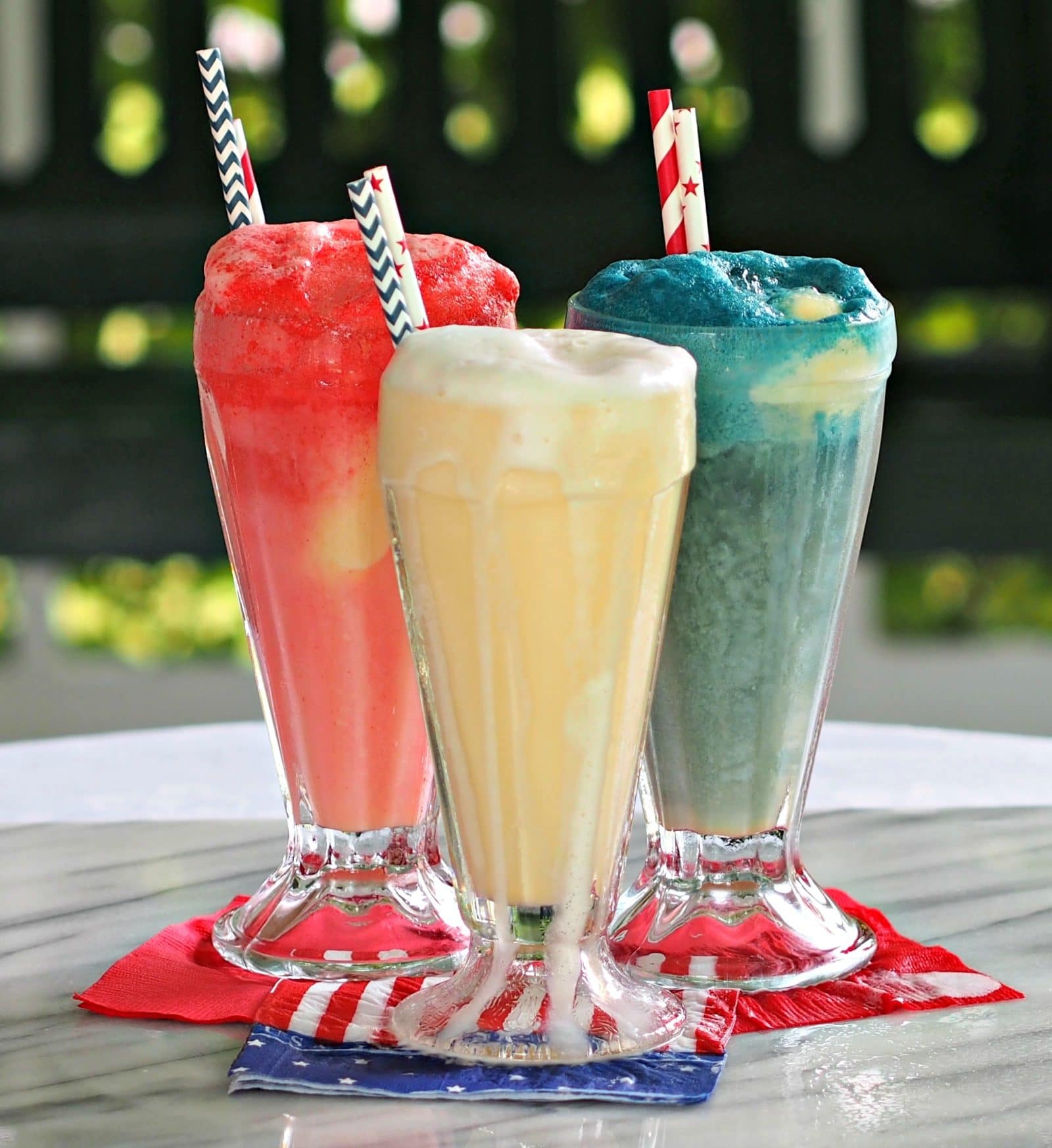 Enjoy!
Patriotic Ice Cream Sodas
Patriotic Ice Cream Sodas. Any flavor of ice cream combined with any flavor of soda. These beautiful desserts make any celebration memorable.
Ingredients
Ice cream - any flavor

Soda beverage - carbonated soda in any flavor
Instructions
Fill a glass with scoops of ice cream and pour your favorite carbonated soda over the top.

Let the carbonation settle a little, then repeat.

Repeat as necessary until the glass is full.

Serve immediately.

Enjoy!
Recipe Notes
These are flavors I used for each color:
Red soda -- Strawberry soda
White --------7-up
Blue ---------Jones Soda Co. has blue soda but if not, 7-Up with a few drops of blue food coloring added. see note*
*Be sure to use water-based food coloring so it blends completely.
(For the pictures, I used Izze Blueberry soda and added some blue food coloring. I think 7-up might work better.)