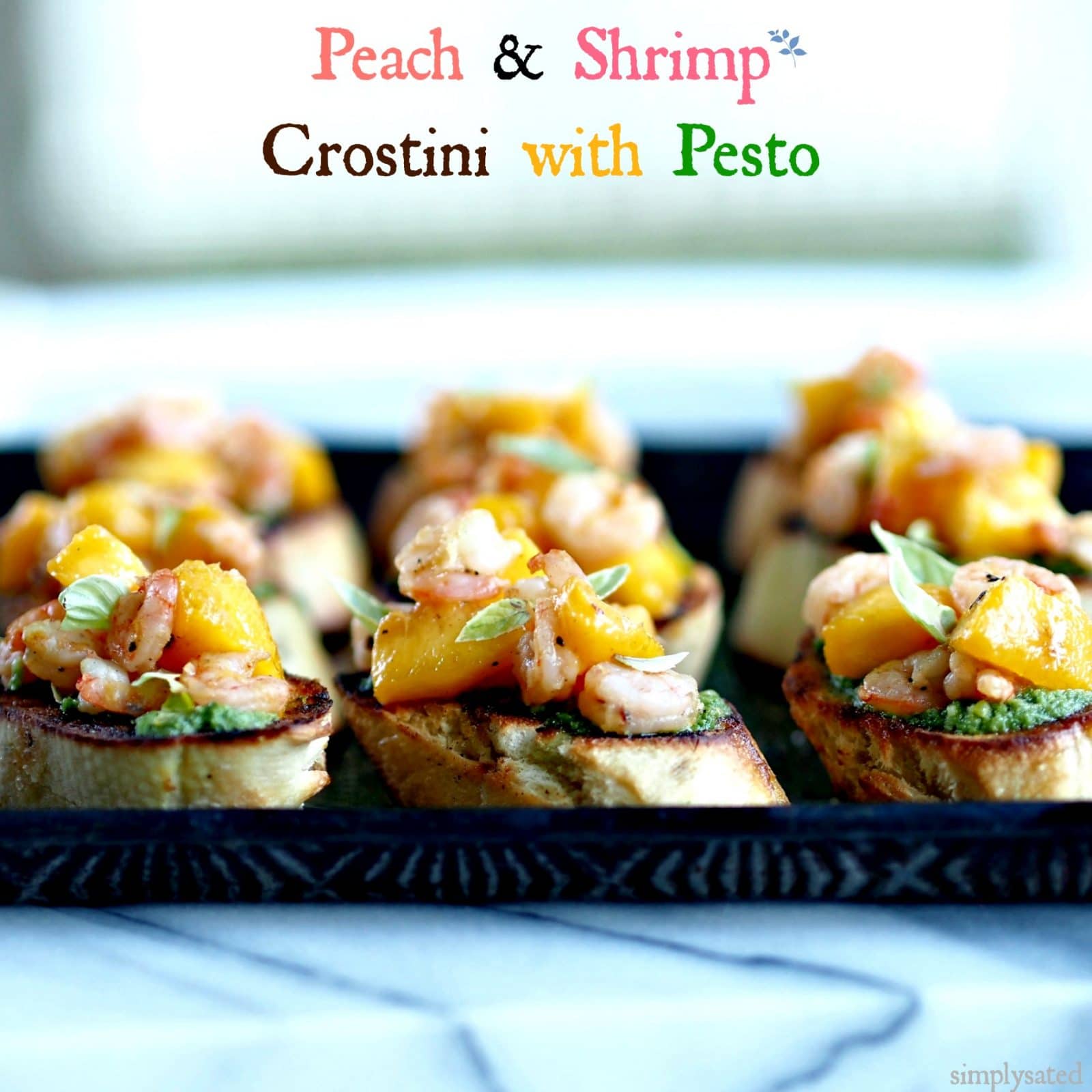 The following story of Peach & Shrimp Crostini with Pesto you are about to read is true. Since the person involved has already been named in other posts, I can do nothing to protect his innocence.
What was I to do? It was in the middle of a million (and one) things, it was supper time, my husband had just voiced his daily mantra, "I have a pain in my stomach – please make it go away", and I felt pangs of guilt each time I glanced at the succulent peaches sitting on the kitchen counter losing their patience with me. I was stressed!!
Believe me, I was tempted to ever-so-sweetly tell my husband exactly what he could do with that pain in his stomach and to call SOS–I Need To Eat (767-4346).  Luckily, I kept thinking about those gorgeous and expensive peaches on my counter.
I opened the fridge and stared – and stared – and stared. I hoped staring would ignite a genius, noshable spark and what do you know – it worked! I spied pesto in the fridge then remembered I had teeny, cooked shrimp in the freezer. I looked over at the peaches and they were pointing to the baguette next to them.
I put the spouse and grill to work. I did the prepping – he did the grilling. Inspiration or food-god intervention, you decide, but whatever it was – the result was delicious!
Peaches & Shrimp Crostini with Pesto became our entire meal that evening (if you don't count the Homemade Vanilla Ice Cream), and – my husband's pain was cured.
Enjoy!
**By the way – PLEASE DO NOT call the above number. It is purely a figment of my imagination.

Peach & Shrimp Crostini with Pesto
Peach & Shrimp Crostini with Pesto is an easy appetizer anytime fresh peaches are in the house.
Ingredients
1

baguette - cut into 1/2" slices

olive oil

3

fresh peaches - peeled & halved

pesto - your favorite homemade or store-bought

2

cups

Mini shrimp - I used frozen

pre-cooked mini shrimp thawed overnight in the fridge.

fresh basil leaves - chopped

dried can be used if fresh isn't available

balsamic vinegar

salt & pepper to taste
Instructions
Prepare the grill - heat the coals - you know the drill:-)

Brush both sides of each baguette slice with olive oil and set aside.

Brush or drizzle each peach half with a little olive oil.

Place the thawed shrimp in a colander and rinse with cold water.

Pour the shrimp onto a paper towel, pat dry.

Place the shrimp into a small bowl, drizzle with olive oil and season with salt & pepper.

When the coals are ready, place baguette slices on the griddle over the coals long enough to get grill marks on the bread. Turn each piece over to get grill marks on the other side. Watch very closely (they burn quickly)!

When grilled to perfection, place the baguette slices on a plate and set aside.

Place each peach half on the grill - cook each side until you get the desired grill marks then remove and set aside until ready to chop.

Place the shrimp in a grill basket and place over the coals just long enough for them to get a little color and some smoky flavor infused. Remove from the heat.

Once all the ingredients have been grilled, place each baguette slice on a grilling tray.

Spread each piece with pesto then top with shrimp & peaches.

Place the grill tray on the griddle on the side without coals and close the lid. Leave long enough to warm through - just 15 seconds or so - depending how hot the grill is. Crostini will burn quickly so watch closely:-)

Remove the tray from the grill, drizzle each crostini with balsamic and garnish with fresh basil.

Enjoy!