Chicken Tikka Masala and I fell in love one misty night in London. Doesn't that sound like the name of a romance novel? Let me explain.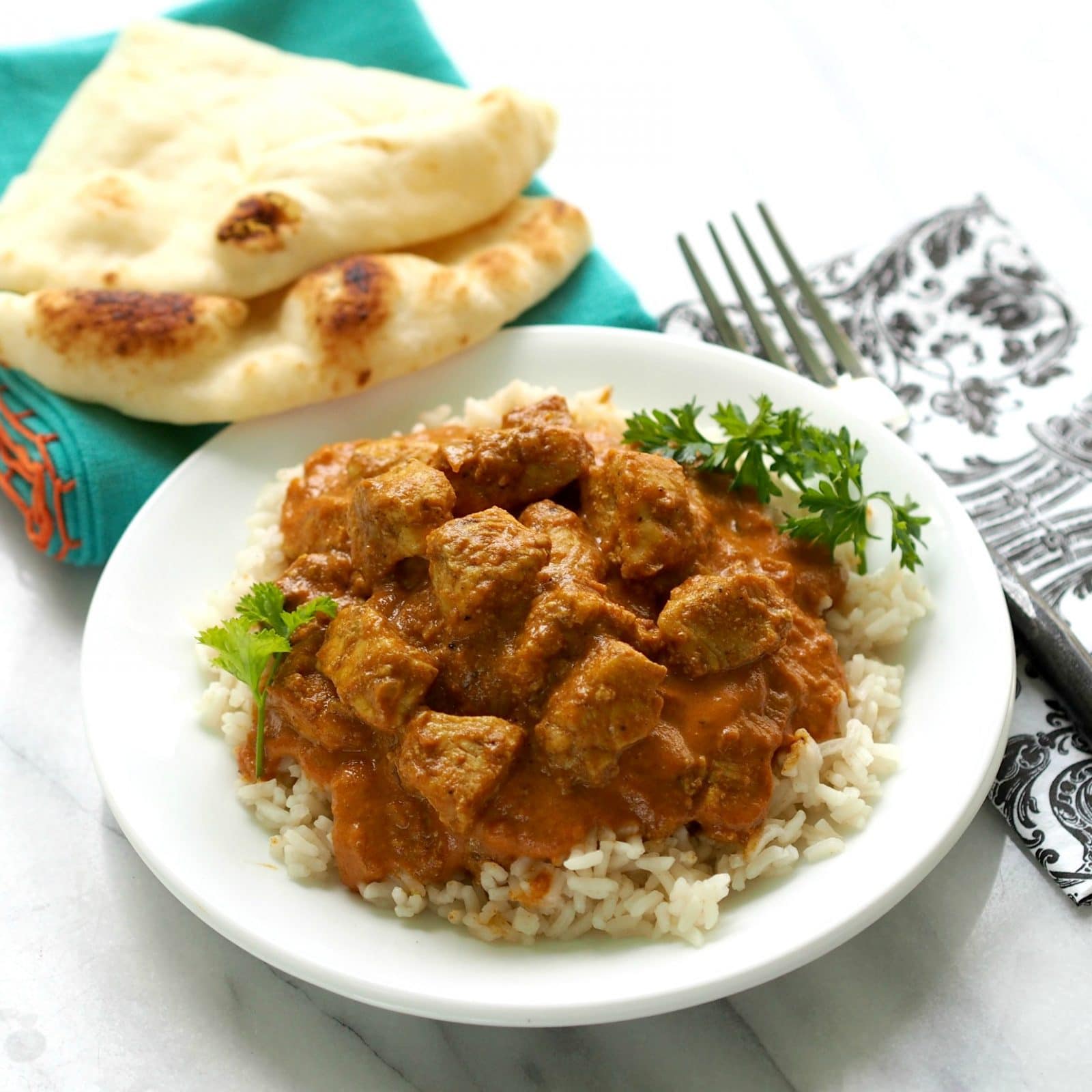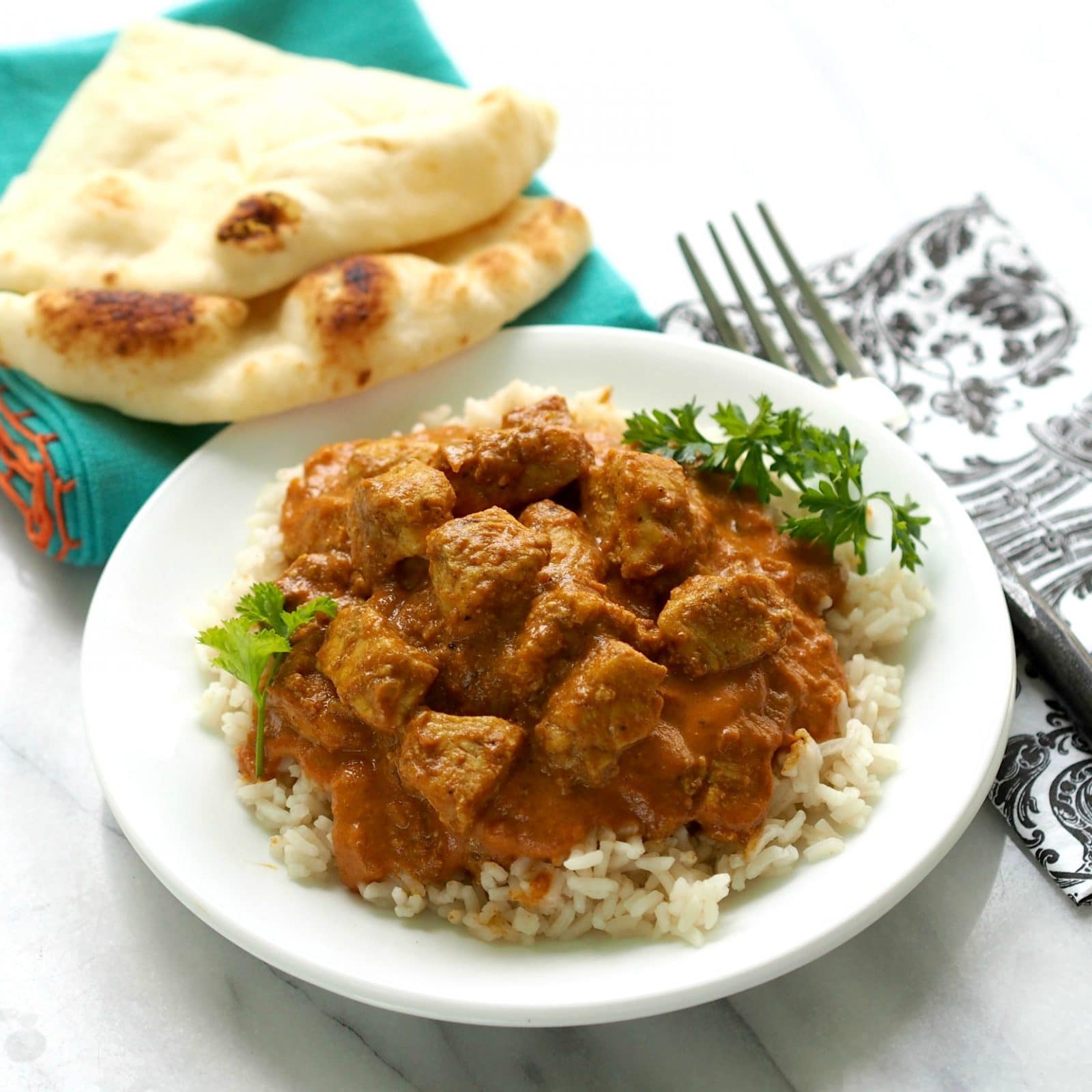 My husband taught in London at Imperial College London for four months in early 2009, and I was forced to go with him. I know – it was tough but I tried to keep a positive attitude! One evening several professors and friends met at an Indian restaurant in Kensington. I had never eaten Indian food and had no idea what to expect. A fellow professor kept repeating, "You gotta try the naan."   I had no idea what he was even saying and asked him to spell it. I still had no idea, but was certainly going to try it just to get him to stop saying, "You gotta try the naan." It reminded me of the phrase from Seinfeld, "You gotta see the baby".   Anyway!  We arrived at the restaurant in the heart of Kensington; were graciously met at the door by the owner and ushered to our table. The restaurant was, let's say – unassuming, but others had eaten there and said the food was outstanding. Quickly after arriving, mounds of naan (Indian flatbread) magically appeared at our table.  A contented look spread across the professor's face and the feasting began.   Each of us ordered a different dish then passed the food family-style around the table. In total, we shared 14 dishes and innumerable stacks of naan. By far, the dishes I loved most were Chicken Tikka Masala and naan. Oh! My! Gosh! The definition of the word epiphany is "a moment of sudden revelation or insight" and that is how I would describe my experience that night – epiphanic.
A few weeks after that evening, we returned to Missouri and I never forgot about that special evening. Although it took me five years to make one of my all-time favorite dishes, Chicken Tikka Masala is now a most-loved recipe at my home and I serve it at least twice a month. This recipe is an easier version than some, and to make it even simpler, I make it with spiced-up 5-minute rice.  It is one of those meals that tastes as great the second day as the first and leftover possibilities are numerous.
So, if ever in London, visit Memories of India in Kensington. You will fall in love, too, and become the main character in your very own romance novel.
Enjoy!
P.S. Although our meal was extraordinary, and I will go again if given the chance; we found out at the end of the evening when we received our check, naan is unlike the breadsticks at Olive Garden. They are not served in unlimited, free portions along with the main course. 🙂

Chicken Tikka Masala
Please read the entire recipe before beginning. While the sauce is cooking, prepare the rice and chicken. There are several ingredients, but each brings something special so try to include them all. The recipe is long, but easy - I think you will love it and, hopefully, it will become one of your favorites. I have combined three recipes for this recipe: Pioneer Woman's which looks amazing but a tad more involved, Epicurious and Allrecipes Curry Stand Chicken Tikka Masala.
Ingredients
For the Chicken:

4

chicken breasts – cut into bite-size pieces - skinless & boneless

½

teaspoon

kosher salt – or to taste

¼

teaspoon

ground black pepper

½

teaspoon

curry powder

½

teaspoon

Garam Masala

Indian spice (optional)

1-2

teaspoons

white sugar – to taste

¼

cup

Greek-style Yogurt

2

tablespoons

vegetable oil

----------------------------

For the Sauce:

1

medium sweet yellow onion – finely diced

4

cloves

garlic – minced

2

tablespoons

butter

2

tablespoons

canola or olive oil

4

teaspoons

cumin

1

teaspoon

salt

1

teaspoon

ground ginger

½

teaspoon

ground cinnamon

¼

teaspoon

turmeric

1/8-1/4

teaspoon

cayenne pepper or to taste

1

teaspoon

Garam Masala

2

teaspoons

paprika

1

14 ounce can tomato sauce or 1 (14.5 oz) can of diced tomatos - pureed in blender

1

cup

heavy whipping cream

4

teaspoons

white sugar

--------------------------

For the Rice:

2

cups

Minute Rice

5-minute variety

1

tablespoon

butter

1 1/2

cups

water

1

cinnamon stick

2 -4

whole cloves

2

cardamom pods - optional

1

teaspoon

cumin

1

teaspoon

salt

1/2

teaspoon

ground black pepper

1

small onion or shallot - minced and sauteed

optional
Instructions
For the chicken:

Cut the chicken into bite-size pieces and sprinkle with salt, pepper, curry, Garam Masala and sugar. Place it in a bowl or Ziploc bag.

Pour the yogurt over the chicken making sure to cover each piece. Set the chicken aside until ready to cook. If cooking within 10 minutes, it is fine to leave on the counter. If letting it rest more than 10 minutes, refrigerate until ready to cook.

Heat oil in a large skillet over medium heat.

Once the oil is hot, add the chicken.

Cook until the chicken is lightly seared and not quite cooked through - still a soft pink in the center. Stir often.

Turn off the heat when the chicken is still slightly pink inside.

----------------------------

For the Sauce:

Heat butter and oil in a different large skillet over medium heat.

Once the oil and butter are hot, add the diced onions.

Cook until translucent then add the minced garlic.

Cook one minute or until garlic becomes fragrant.

Add cumin, salt, ginger, cinnamon, turmeric, Garam Masala and paprika.

Cook 1-2 minutes.

Add tomato sauce, reduce heat to low and let the sauce thicken 10-15 minutes - stir often.

Add the cream and sugar and bring the sauce to a low boil.

Add the cooked chicken.

Keep the heat on low and simmer until sauce thickens and chicken is fully cooked - 15-30 minutes more.

---------------------------------------

For the Rice:

Place 1 1/2 cups water in a medium saucepan.

Add onion/shallot, cumin, salt, black pepper, 1 cinnamon stick, whole cloves and cardamom pods to the water.

With the pan covered, bring the water to a boil, then turn the heat to low and simmer 5 minutes.

After the water simmers 5 minutes, remove the cinnamon stick, cloves and cardamom before adding the rice.

Add the rice and stir.

Cover the pan and bring the rice to a boil.

Turn off the heat.

Stir the rice only once then place the cover back on and let the rice sit for 5 minutes or until all water is absorbed.
Recipe Notes
If planning on freezing Chicken Tikka Masala, make double sauce and freeze half. Freeze it separately without the chicken. When ready to serve, prepare the chicken as directed, then add it to the thawed sauce to simmer for 15-20 minutes or serve with rotisserie chicken.
If in a hurry, rotisserie chicken can be substituted for skillet cooked chicken.